White River Canoe Route
Paddle and portage fish-filled waters past wild cascades to the greatest of lakes.
Heading out the door? Read this article on the new Outside+ app available now on iOS devices for members! Download the app.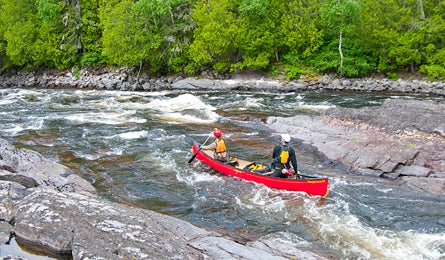 A swift channel just above Chicagoance Falls, Pukaskwa National Park. (Steve Howe)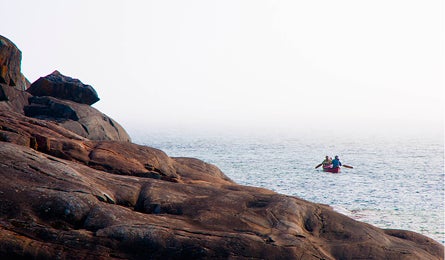 The White River Paddling Route ends on Lake Superior (Steve Howe)
For deep-woods adventure, you can't beat the 52 miles on the White River between White Lake Provincial Park and Lake Superior in Pukaskwa. There are 18 rapids on the stretch, from class II (easy) to class VI+ (fatal), each with a signed and mapped portage trail so you can skip any you choose. Most paddlers will walk at least half the drops, including the longest, a 1.4-mile mandatory portage around 100-foot Umbata Falls and its hydropower plant.
From White Lake Provincial Park, spend five days paddling through forested canyons and camping on granite ledges beside roaring rapids, before a four-mile lake paddle across Superior. Build in extra days in case winds or surf delay your lake travel.

Looking for more challenge? Run the longer, swifter and more remote Pukaskwa River (go in May or June). Fill any extra time fishing for "jack" (Northern pike), "pickerel" (walleye) and rainbow trout. For that you'll need an Ontario Outdoors Card ($10CAD) and a separate fishing license ($21-$76 CAD; 800-387-7011; mnr.gov.on.ca/en).
Map Crismar White River Wildwater; $13CAD; (905) 852-6151; chrismar.com

Permit Via Pukaskwa National Park; (807) 229-0801; pc.gc.ca
Guide & Gear Naturally Superior Adventures; naturallysuperior.com
Shuttle McCuaig Marine Services; $110CAD; (807) 229-0193; mccuaigmarine@shaw.ca

Map & GPS databackpacker.com/hikes/1395748

Online Trip Planning Extras

Get There Pukaskwa National Park lies on Highway 17 between airports at Sault Ste. Marie (250 miles south) and Thunder Bay (428 miles west). You can get supplies in the town of Marathon, 15 miles west of the park entrance.
Travel Contacts

Ontario General tourism info: (800) 668-2746; ontariotravel.net 
Thunder Bay (major airport city)
>>Motel: Travelodge Airlane (Close to the airport, grocery stores, and Canadian Tire); (807) 473-1600
>>Transportation: Budget Rental Car (best prices our scout found); (807) 473-5040
>>Supplies: Canadian Tire (Fuel, kneepads, bug repellant, misc camping supplies, fishing licenses, tackle.);1221 Arthur Street West; (807) 475-4235
>>Groceries: Safeway; 1015 Dawson Rd;(800) 723-3929 ‎
Marathon (Pukaskwa National Park gateway)
>>Supplies: Canadian Tire (fuel, bug repellant, miscellaneous camping supplies, fishing licenses, tackle), 3 Peninsula Rd (in the mall); (807) 229-2900
>>Groceries: D H Foods Ltd, 3 Peninsula Rd (in the mall); (807) 229-0641 ‎
>>Restaurant: Rumours Coffee House; 3 Peninsula Rd (in the mall, around back) (807) 229-8350