White Mountain NF: Mt. Adams and Mt. Madison Loop
Ascend two White Mountain peaks on this 8.5-mile sneak route to the Appalachian Trail's best view in the state.
Heading out the door? Read this article on the new Outside+ app available now on iOS devices for members! Download the app.
The Appalachain Trail through the Presidentials is no-joke busy in the summer. Ditto the Appalachia parking lot, where this hike begins. But when the peak-bagger ant parade takes the Valley Way Trail to the top of Mt. Adams, take the Air Line Trail to avoid the crowds.
After crossing NH 2, fork right onto the Air Line Trail and begin a steady ascent through dense forest. Pass trail junctions for the Beechwood Trail (mile .6), and Scar Trail (mile .9), heading due south on the Air Line. Gain Durand Ridge at mile 2.2 and ascend into the alpine zone with the first glimpse of views that await you higher up. Continue straight at 2.9 miles, as the ridge drops sharply to your right. Cross the AT at mile 3.4 and haul yourself over fridge-size boulders to reach the Mt. Adams' 5,774-foot summit at mile 3.9.
Hike an airy mile to summit 5,367-foot Mt. Madison on the Madison Hut cut-off. Snap a few pictures of this White Mountain tableaux which includes Mt. Adams, Mt. Washington, and Wildcat Ski Area. Descend on the Watson Path for 1.5 miles, then connect with the throng post-summit peak baggers for the final two miles of Valley Way Trail back to the trailhead.
-Mapped by Benjamin Tupper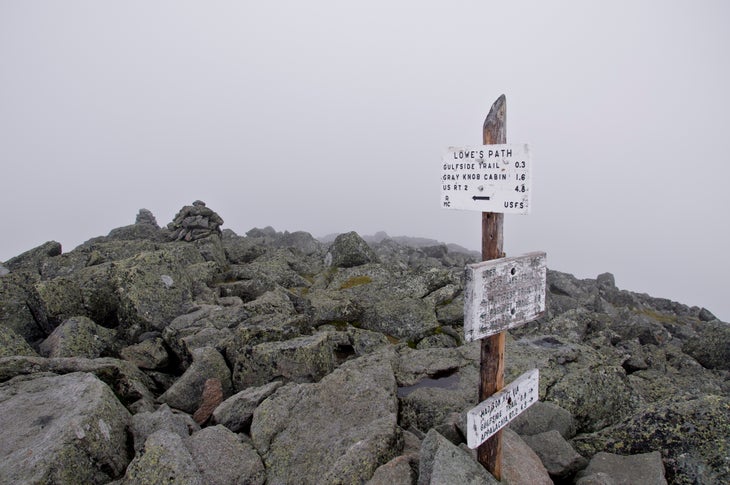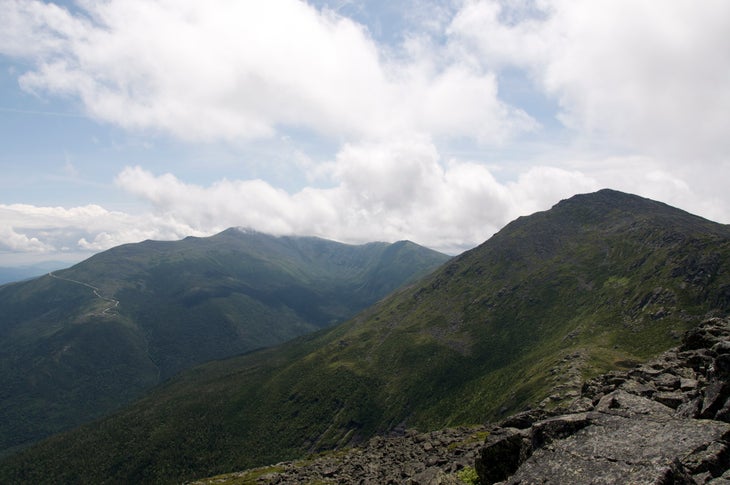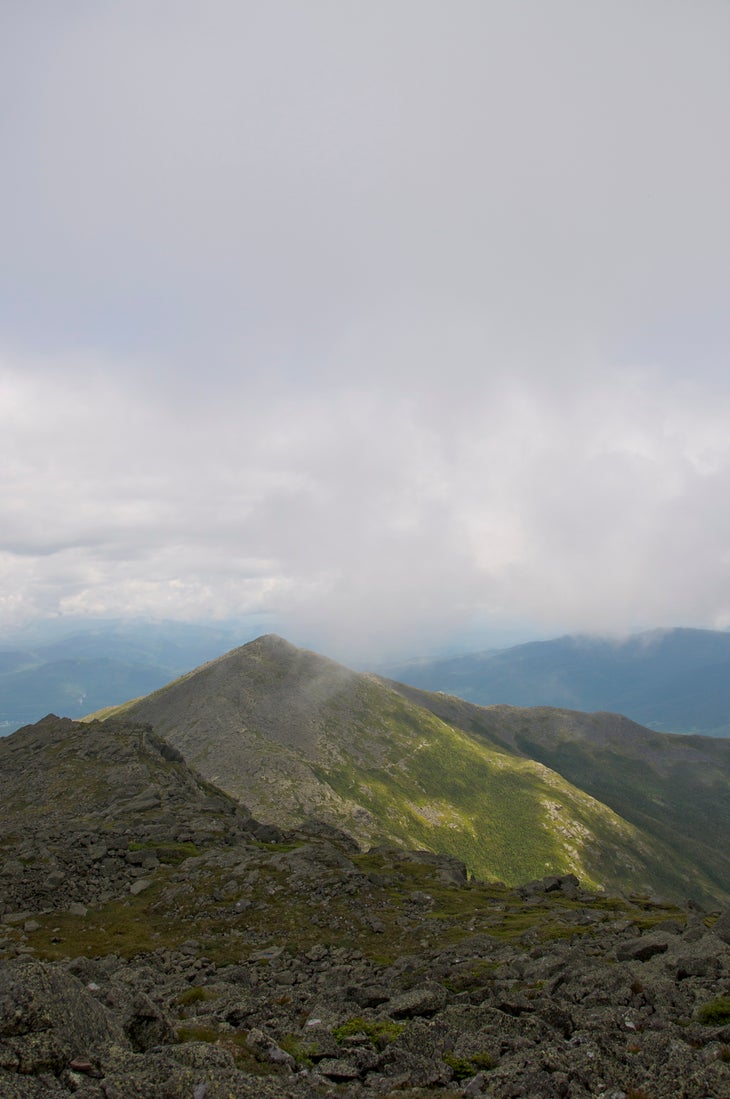 Trail Facts
Waypoints
MAD001
Location: 44.37147, -71.289391
Parking pull-out and trailhead
MAD002
Location: 44.368626, -71.289946
Stay straight (south) at the junction with The Link Trail.
MAD003
Location: 44.363687, -71.291146
Keep straight (south) at the junction with the Beechwood Way Trail
MAD004
Location: 44.358497, -71.291822
Straight (again) at the intersection with the Scar Trail.
MAD005
Location: 44.341715, -71.2896
Gain Durand Ridge. Keep heading south.
MAD006
Location: 44.326369, -71.287623
Cross the AT, and scramble the last .5 mile, and 1,000 vertical feet to top out on Mt. Adams.
MAD007
Location: 44.320473, -71.29162
The 5,774-foot summit of Mt. Adams, second highest point in New Hampshire.
MAD008
Location: 44.326269, -71.287669
Bear right on the Madison Hut cut-off for a one-mile hike to the summit of Mt. Adams.
MAD009
Location: 44.328208, -71.283004
Stay right.
MAD010
Location: 44.328772, -71.27683
The 5,367-foot summit of Mt. Madison, with views out to Mt. Washington, Mt. Adams, and the Wildcat Ski Area.
MAD011
Location: 44.329821, -71.275729
Turn left onto the Watson Path Trail to descend.
MAD012
Location: 44.343768, -71.283721
Merge onto the Valley Way Trail and hike 2 miles back to the parking lot at Appalachia.
Foggy View from Mt. Adams
Location: 44.320901, -71.29097
Mt. Madison Summit
Location: 44.328289, -71.276121
View of Adams and Mt. Washington from Mt. Madison
Location: 44.329517, -71.277752
Mt. Adams
Location: 44.325588, -71.288652