White Mountain National Forest: Franconia Ridge
Bag three peaks above 4,000 feet on this classic 8.2-mile Franconia Ridge Loop in the White Mountains.
Heading out the door? Read this article on the new Outside+ app available now on iOS devices for members! Download the app.
The classic 8.2-mile Franconia Ridge Loop features scenery Densmore calls "more like the Alps than the Appalachians." Hit it midweek for max solitude. From the Lafayette Place trailhead, take the Old Bridle Path .2 mile to the Falling Waters Trail. Negotiate slick rocks up past two smaller cascades to 80-foot Cloudland Falls, then gain 2,100 feet in 1.6 miles to 4,760-foot Little Haystack Mountain.
Turn north onto the Franconia Ridge Trail for 1.5 miles of alpine ridgeline with views of wooded peaks stretching to the horizon. Crest Mt. Lincoln en route to 5,249-foot Mt. Lafayette, where the remains of a hut provide shelter. Turn west down the Greenleaf Trail for a mile scree-field descent to the AMC's Greenleaf Hut (with water and bathrooms, but reservations required). From here, follow the Old Bridle Trail down the steep spine of Agony Ridge 2.8 miles to close the loop.
Gear Up: Eastern Mountain Sports, 1498 White Mountain Highway, Unit C30, North Conway, NH; (603)356-5433; ems.com
Contact: White Mountain National Forest Offices, (603) 536-6100; www.fs.fed.us/r9
Reservations: For reservations at the Greenleaf Hut, visit www.outdoors.org
-Mapped by Lisa Densmore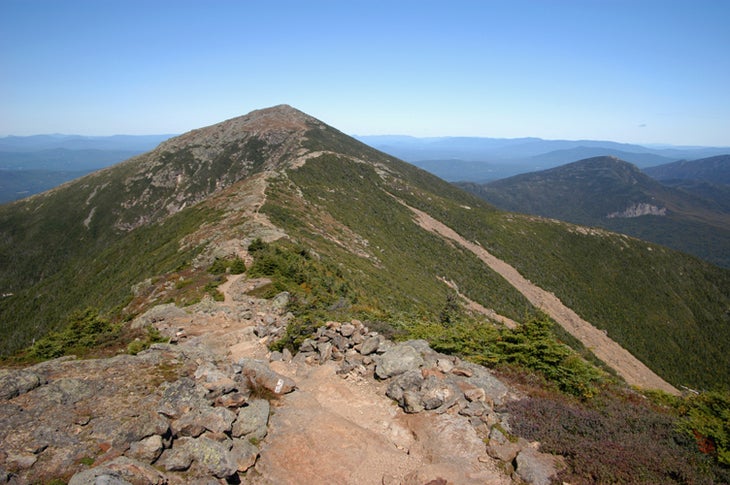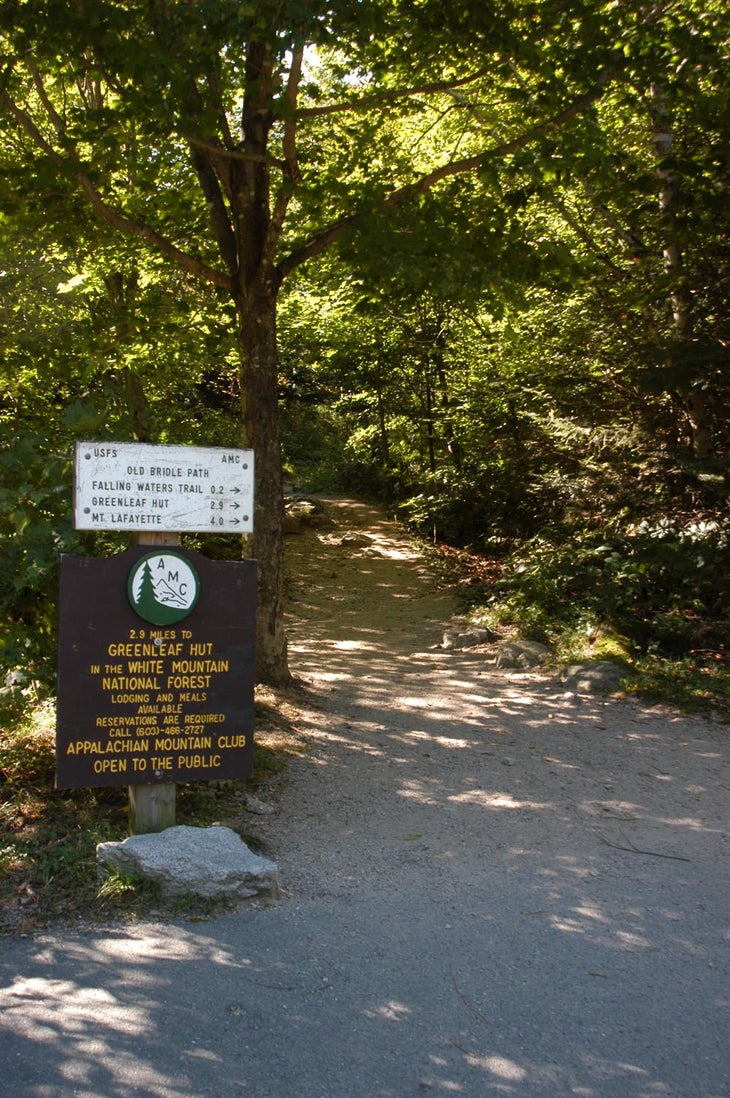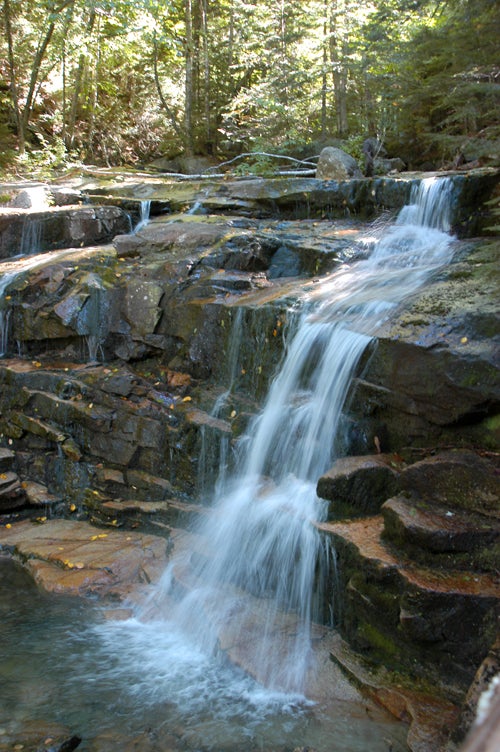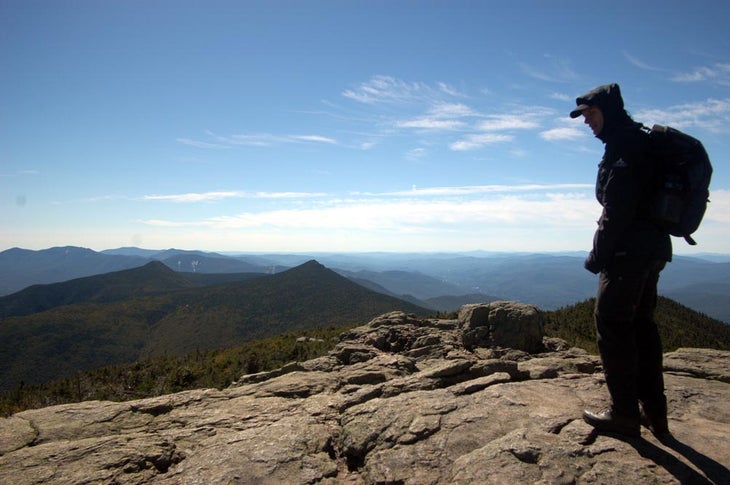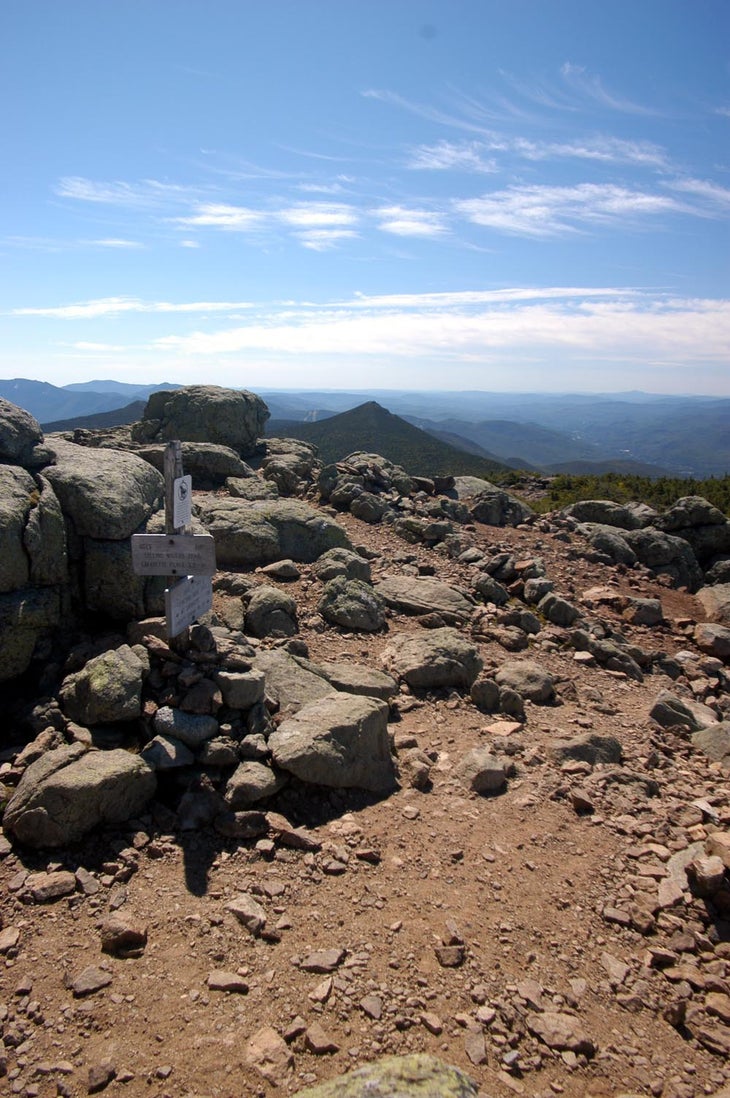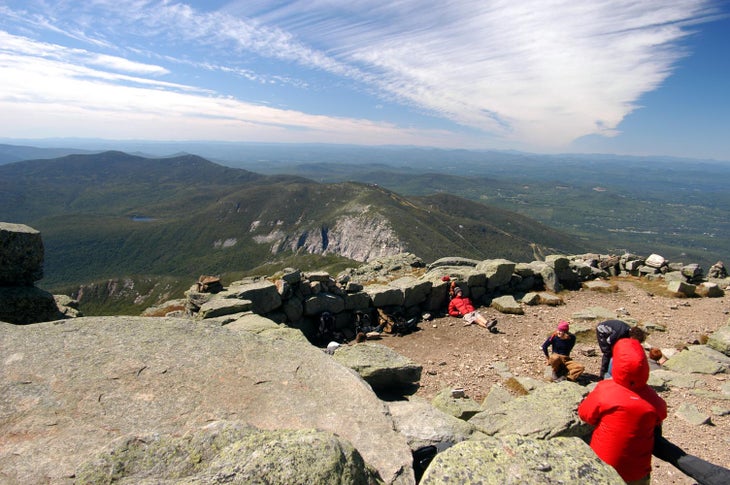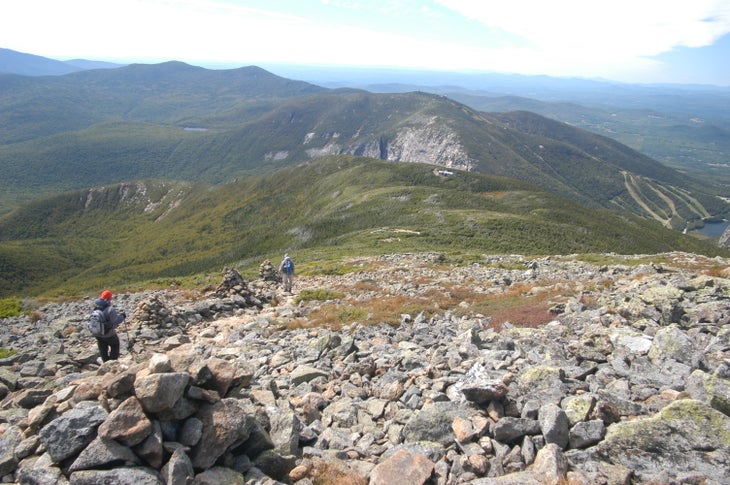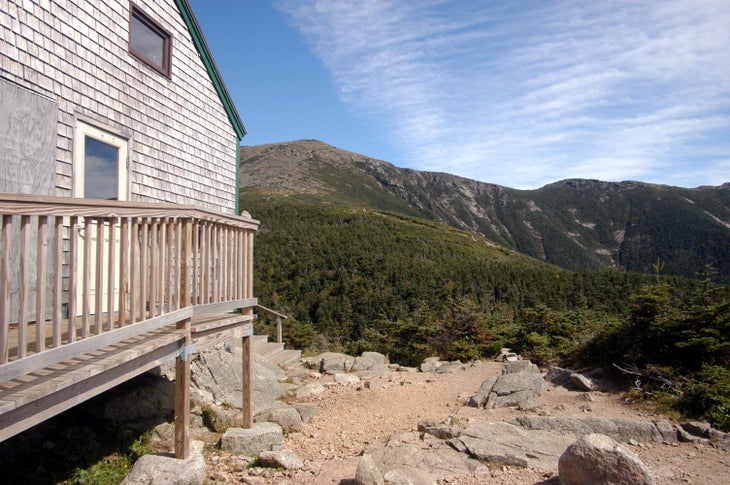 Trail Facts
Waypoints
FNC001
Location: 44.141797, -71.68107
Begin hiking southeast through hardwood forest on the Fallen Waters/Old Bridle Path Trail. (These two trails will share a treadway for the next .2 mile.)
FNC002
Location: 44.13974, -71.679621
Bear right to continue on the Falling Waters Trail. Just ahead the trail crosses Walker Brook on a plank bridge and begins climbing at a steeper grade.
FNC003
Location: 44.136238, -71.67532
Cross Dry Brook after .5 mile and continue uphill, hiking parallel to the stream.
FNC004
Location: 44.138502, -71.664784
Pass Cloudland Falls, an 80-foot cascade. At the top of the falls, Dry Brook splits and the trail follows the north branch. Continue one mile on a steep climb over rough terrain.
FNC005
Location: 44.140234, -71.650858
A short spur trail to the right leads to Shining Rock Overlook, which boasts views of Kinsman Mountain and Mount Moosilauke. From here, it's another 450 feet of climbing to the first ridgeline overlook (and your first summit of the day) atop Little Haystack Mountain.
FNC006
Location: 44.140504, -71.645826
Reach the summit of Little Haystack Mountain. At 4,760 feet, enjoy ridgetop views of neighboring White Mountain peaks before turning north (left) to join the Franconia Ridge Trail as it traces its namesake spine en route to Mount Lincoln. The climbing continues ahead, but at a much easier grade. Vistas abound on this ridge walk: look west to Vermont's Green Mountains and east across the Pemigewasset Wilderness.
FNC007
Location: 44.148795, -71.644625
Crest Mount Lincoln (5,089 ft.) after climbing a knife-edge ridge. Trek north for another mile of exposed ridgeline to the trip's highpoint, Mount Lafayette.
FNC008
Location: 44.160716, -71.644544
Take in the last of the ridgetop views at Mount Lafayette's 5,260-foot summit. (Bonus: this also makes for a great lunch spot.) From here, turn west (left) down the Greenleaf Trail to begin the descent through a scree field. The first stretch is marked by cairns and aided by occasional stone steps. To the west, Cannon Mountain serves as a grand backdrop until the trail re-enters the trees.
FNC009
Location: 44.160311, -71.660374
Just past Eagle Lake, the trail reaches the Appalachian Mountain Club's Greenleaf Hut (reservations required). From the clearing, look back east for a broad view of Franconia Ridge. On the west side of the hut, the Old Bridle Trail departs left down the spine of aptly named "Agony Ridge." The forest mix of evergreen and birch becomes more dense on the descent, but there are intermittent views down Walker Ravine. Continue descending for 2.5 miles back to Waypoint 2, and then turn right to backtrack to the trailhead.
Franconia Ridge
Location: 44.149981, -71.644388
Franconia Ridge Trailhead
Location: 44.141866, -71.681124
Walker Brook Crossing
Location: 44.139618, -71.679563
Cloudland Falls
Location: 44.138504, -71.664591
Shining Rock
Location: 44.139472, -71.651416
Look west to the Kinsman peaks and Mount Moosilauke.
Approaching Little Haystack
Location: 44.140411, -71.646309
Mount Lafayette
Location: 44.160719, -71.644421
Descending the Ridge
Location: 44.161234, -71.648154
The scree field descent from Mount Lafayette is marked by cairns and aided by occasional stone steps.
Franconia Ridge from Greenleaf Hut
Location: 44.160311, -71.66027