White Mountain National Forest: Eisenhower, Pierce, and Jackson (submitted #1)
One way hike to summit three 4,000 foot peaks along the Southern Presidentials
Heading out the door? Read this article on the new Outside+ app available now on iOS devices for members! Download the app.
Start the day, or spend the night before, at the AMC's Highland Center (http://www.outdoors.org/lodging/lodges/highland/index.cfm). Either way be sure to grab some breakfast (all you can eat buffet) before you head out for the day. Good food at a great price.
You can also browse the AMC's small library and pick up any maps or supplies that you might need out on the trail. Be sure to use the last flush toilet that you will see for a the rest of the day. While there are bathrooms and coin-operated showers at the Crawford Depot they are not always open.
Do not leave your car in the parking area at the Highland Center – it is reserved for guests. Instead leave the parking lot and take a right onto Route 302 and drive east about 250 yards.The Depot is in your right and you can park there. There is also space across the street.
Since this is where you will finish your hike you will have to throw all of your gear into another car and make the short drive to the Edmunds Path trailhead.Take a left out of the Depot parking area and head west on Route 302 for about 500 yards.Take a right onto Mt. Clinton Road (closed in winter check here for conditions www.fs.fed.us/r9/forests/white_mountain/conditions/roads_status.php). There is additional parking as soon as you turn onto Mt. Clinton Road.The trailhead parking area is about two-and-a-half miles north and will be on your right. There is limited parking and there is a day use fee of $3.00 per vehicle.
From the trailhead follow Edmands Path (limited views along the way) for about three miles and then the Mt. Eisenhower Loop (above treeline – open and exposed) to the open summit of Eisenhower. This area is open and exposed and can be treacherous in bad weather. You need to stay on the trail here so you don't damage the fragile alpine plants.
From the summit of Eisenhower follow Mt. Eisenhower Loop south to join Crawford Path (above treeline – open and exposed) on your way to the open summit of Pierce before following Webster Cliff Trail down to the AMC's Mizpah Hut (a place to refill your water bottles and use the bathroom – overnight lodging is also available).
When you leave the hut follow Webster Cliff Trail to the open summit of Jackson. From there follow the Jackson Branch of the Webster Jackson Trail before it merges with the Webster Branch. Then follow the Webster-Jackson Trail back to your car at the Crawford Depot.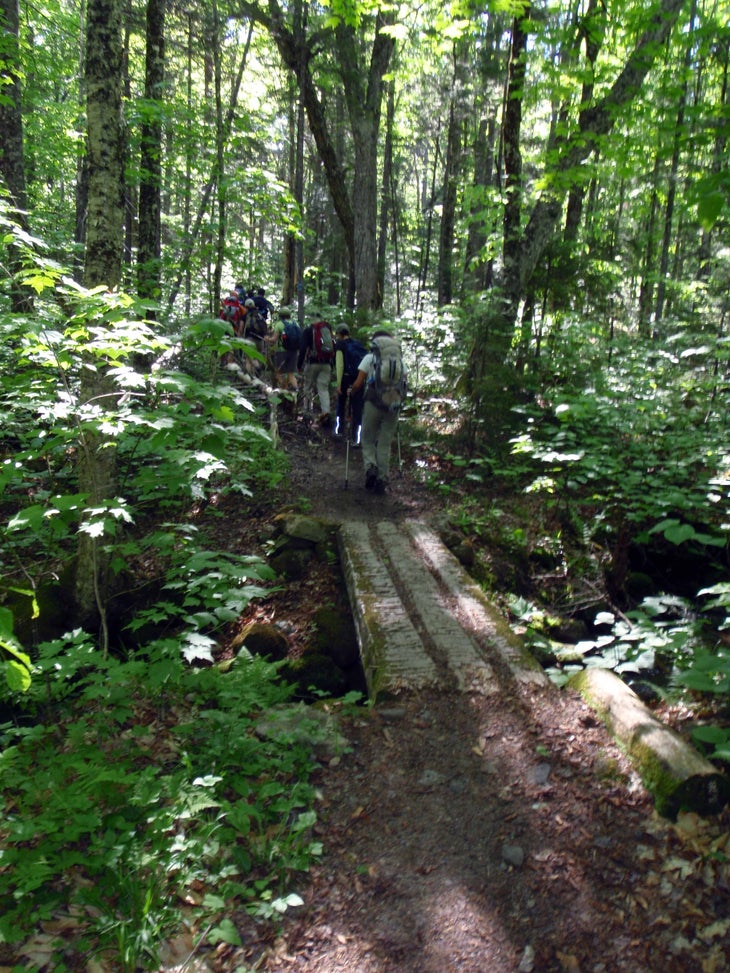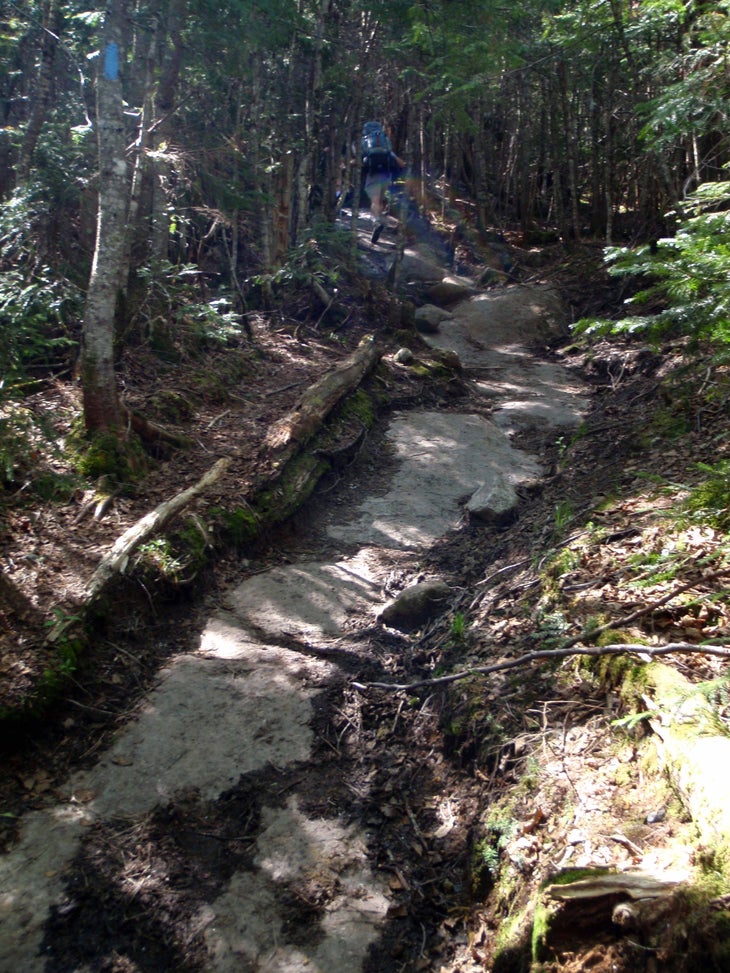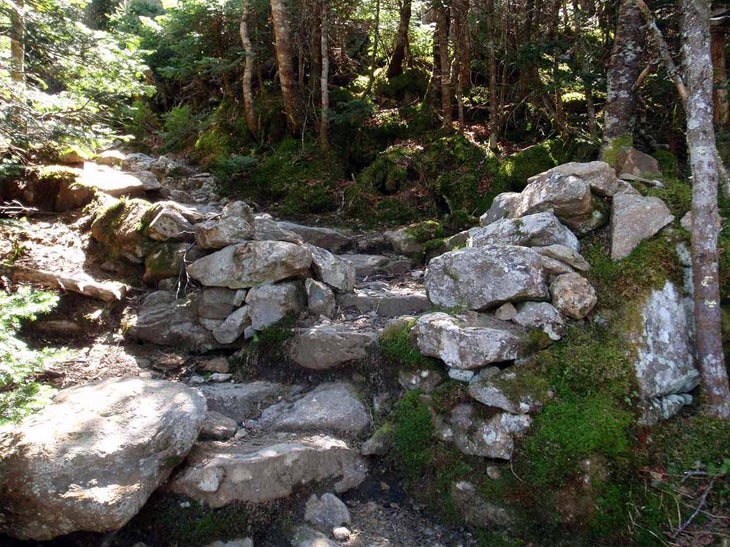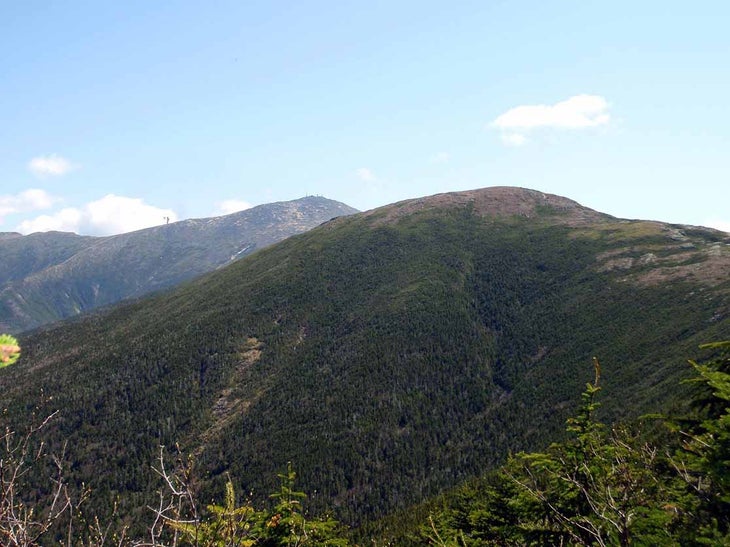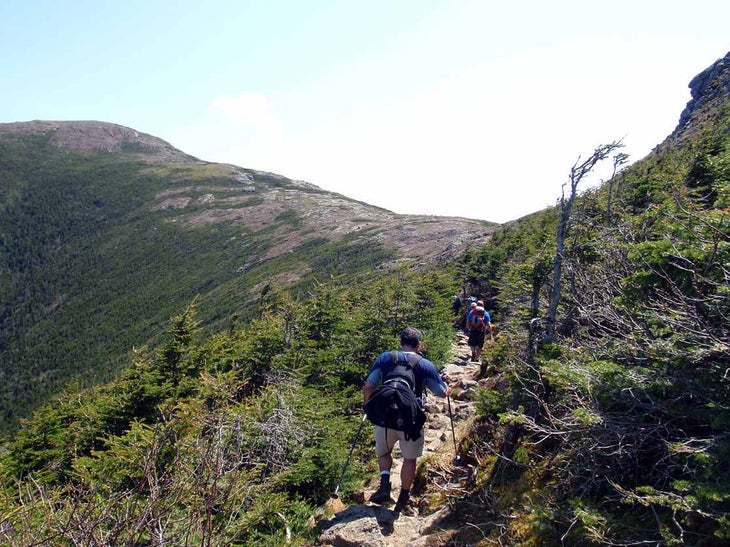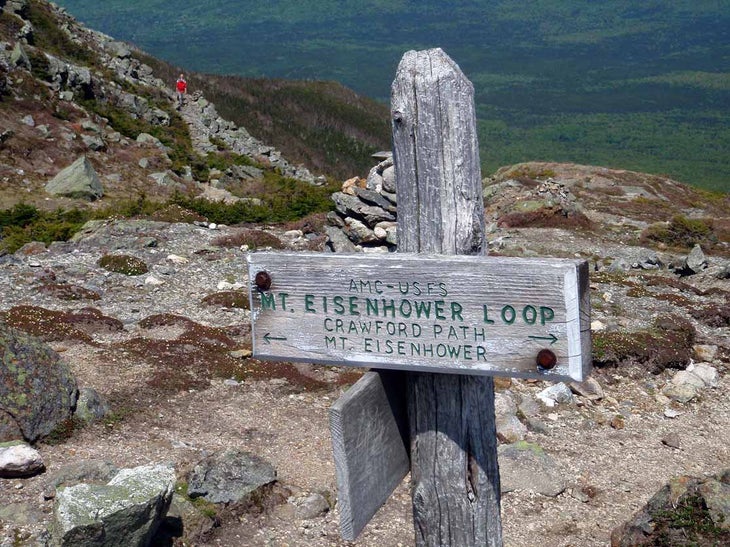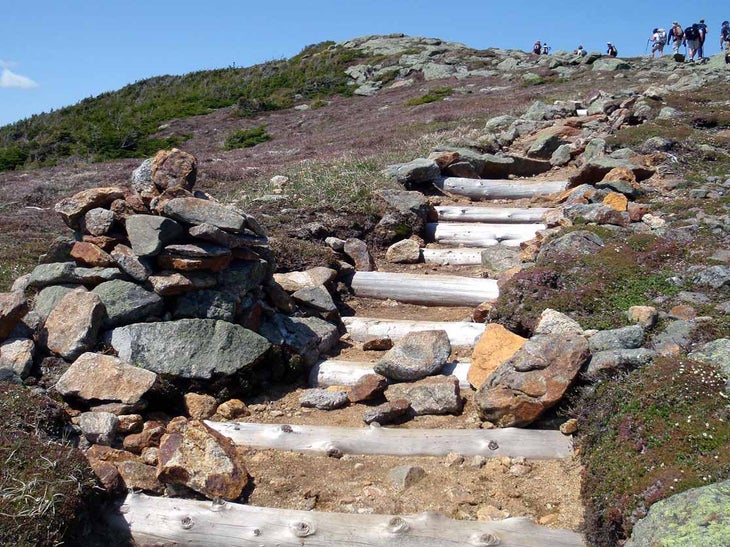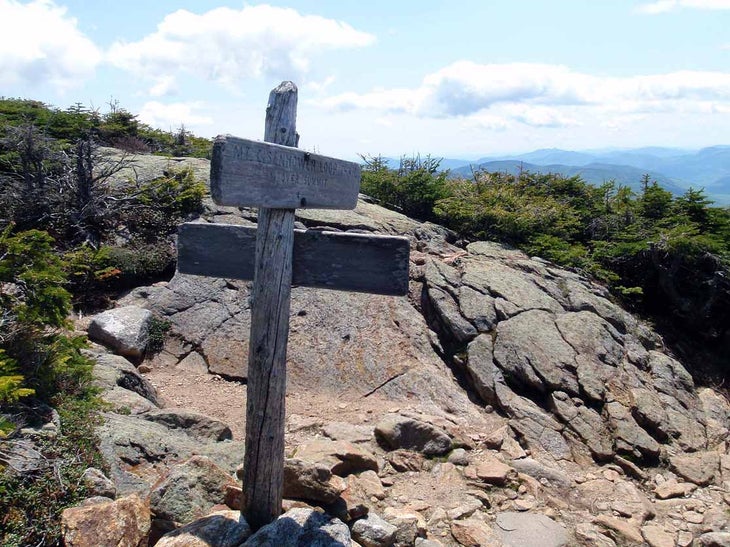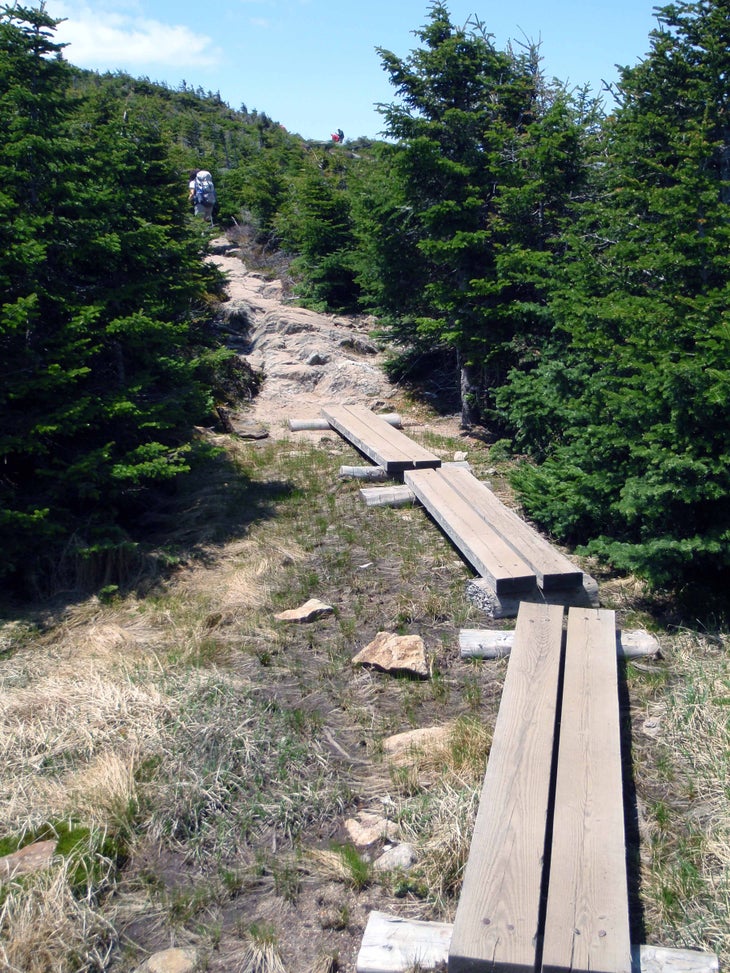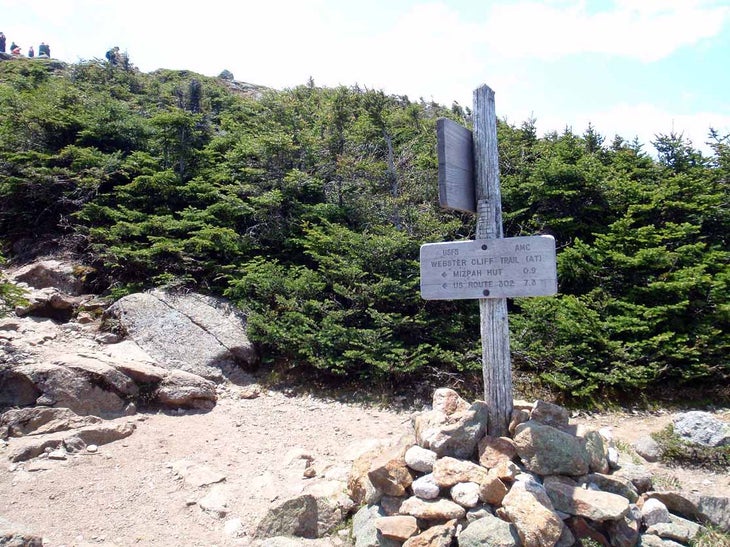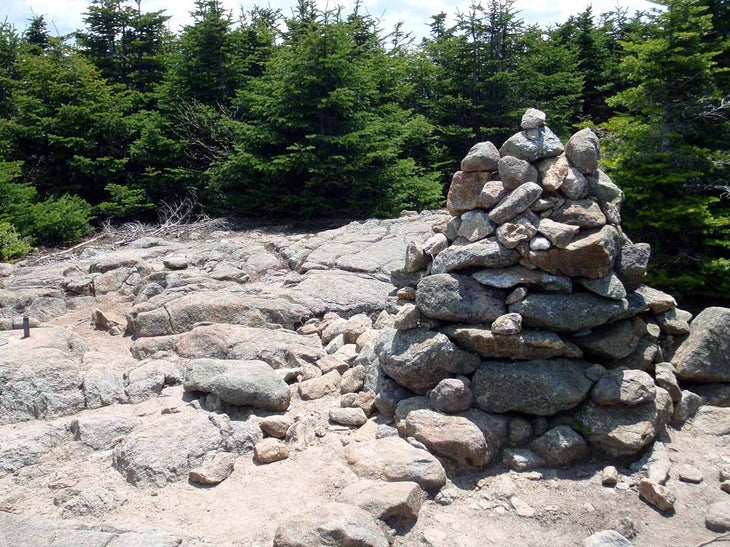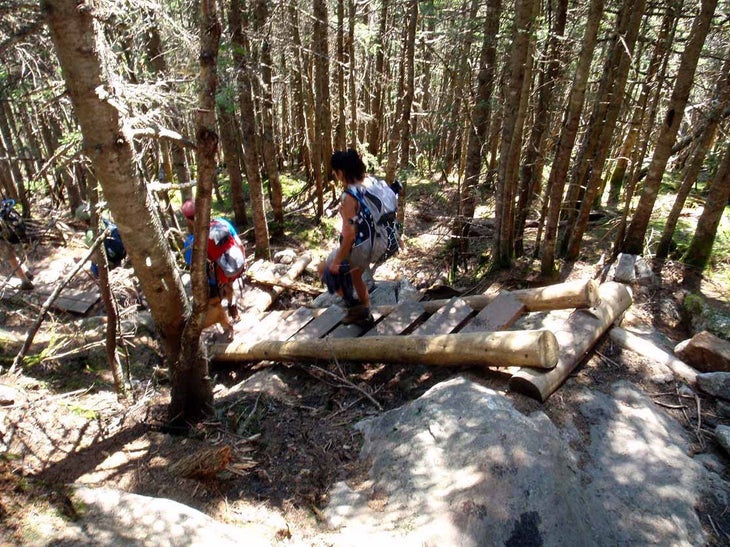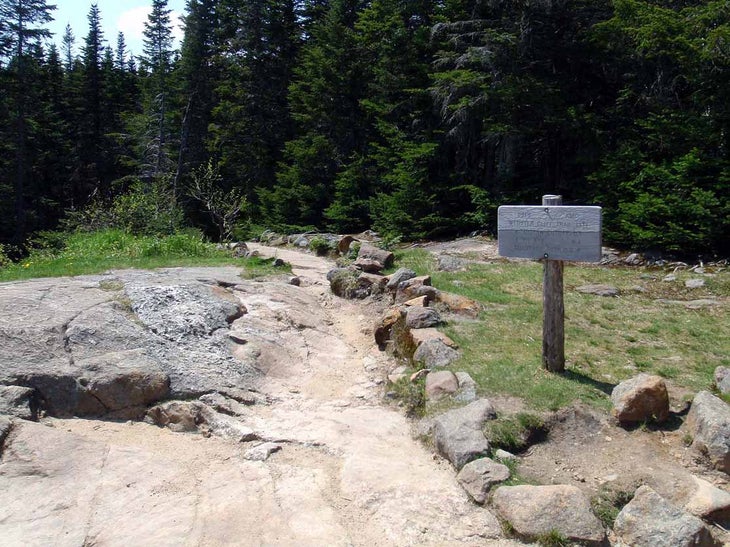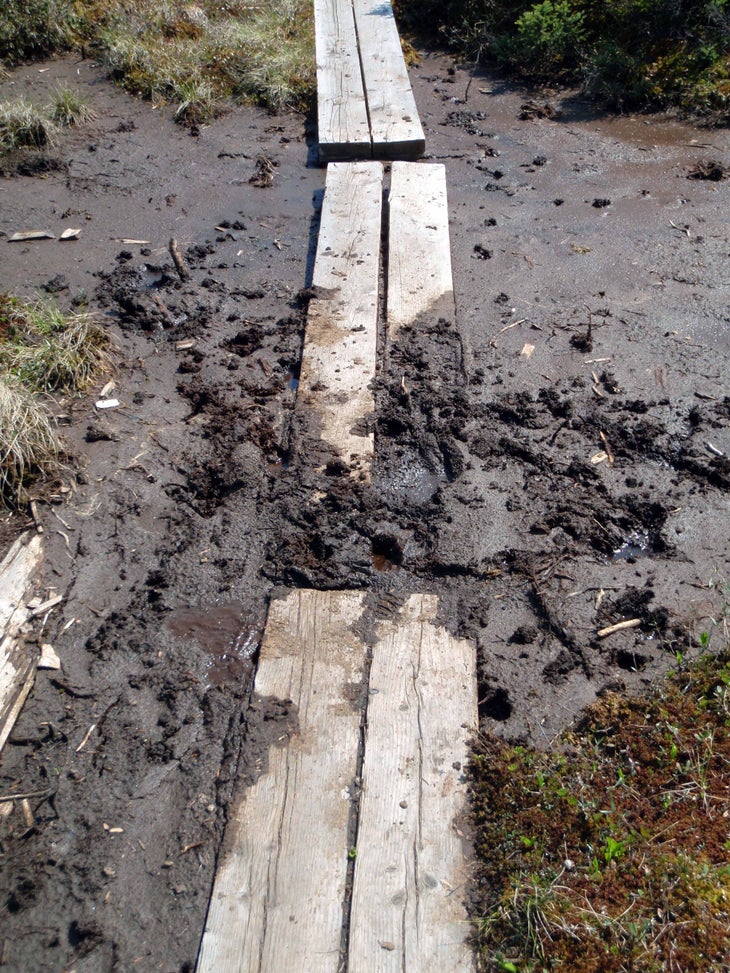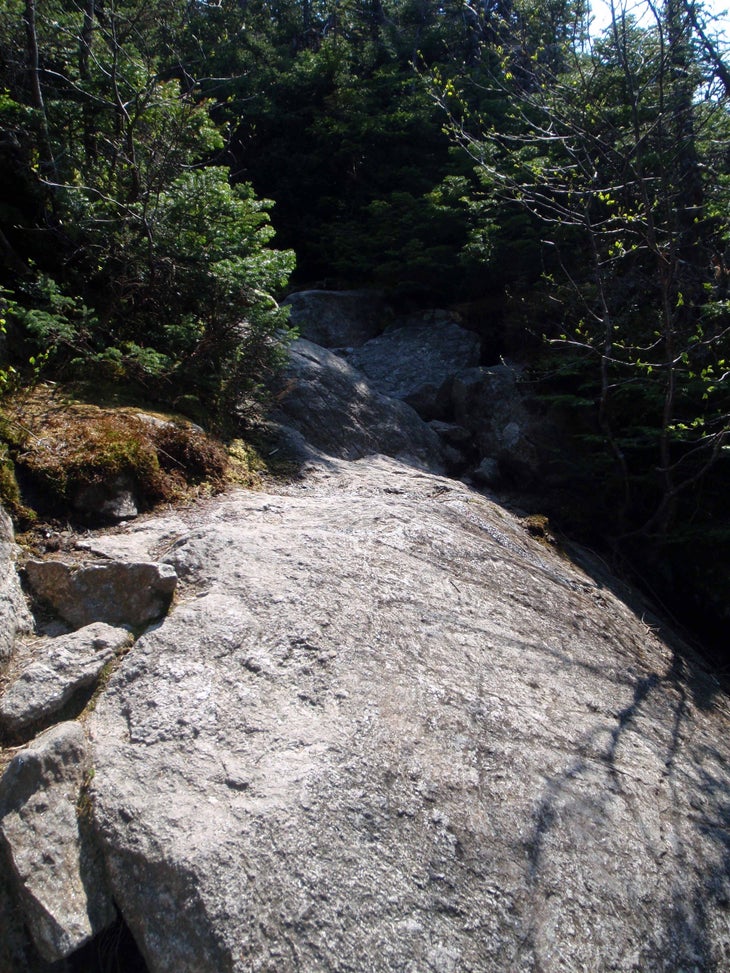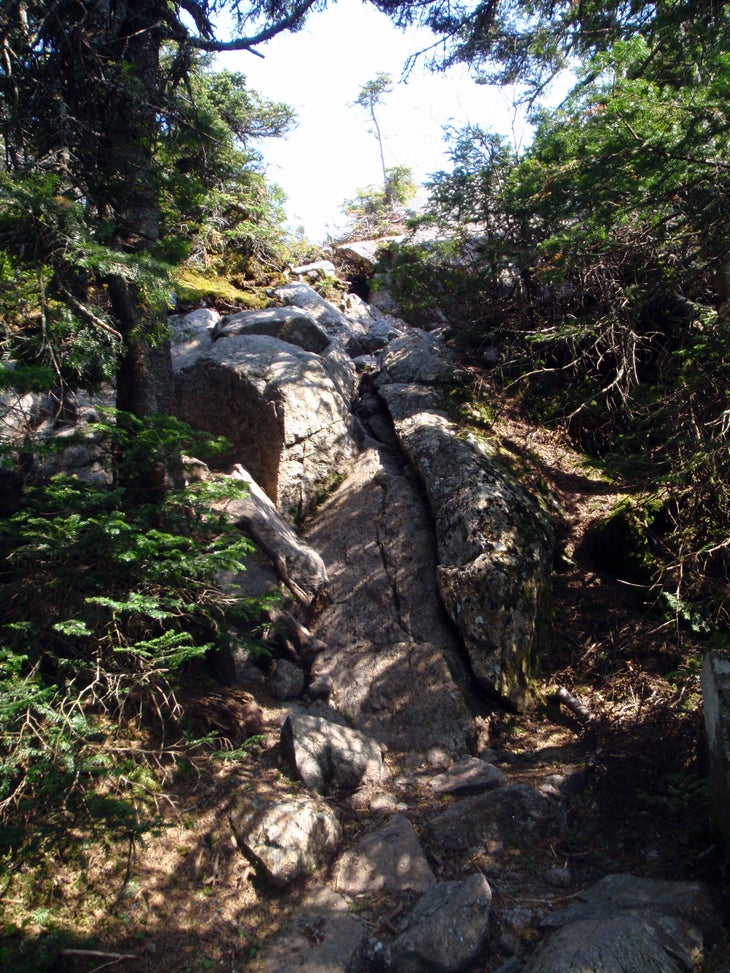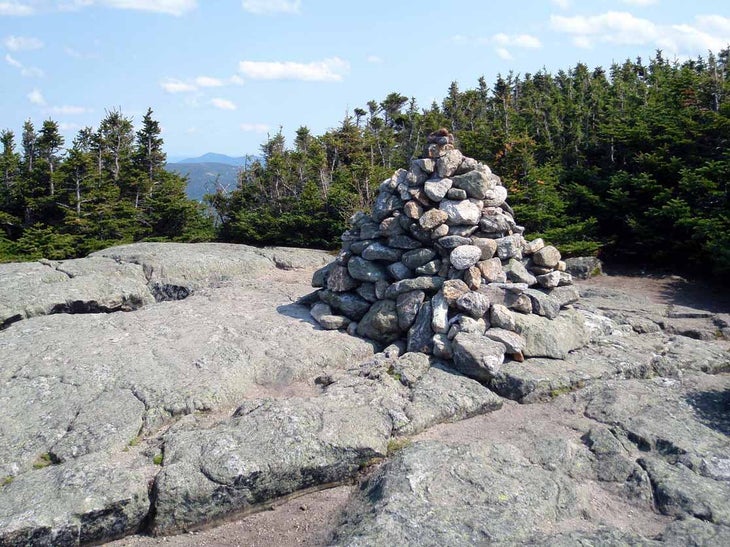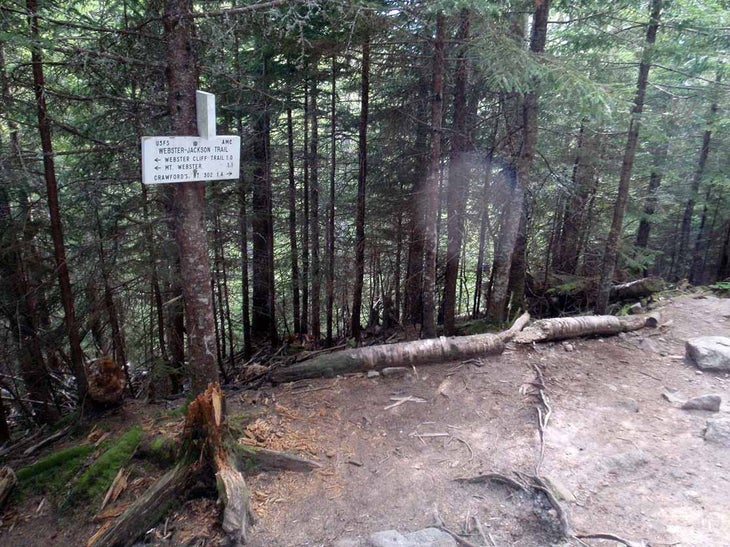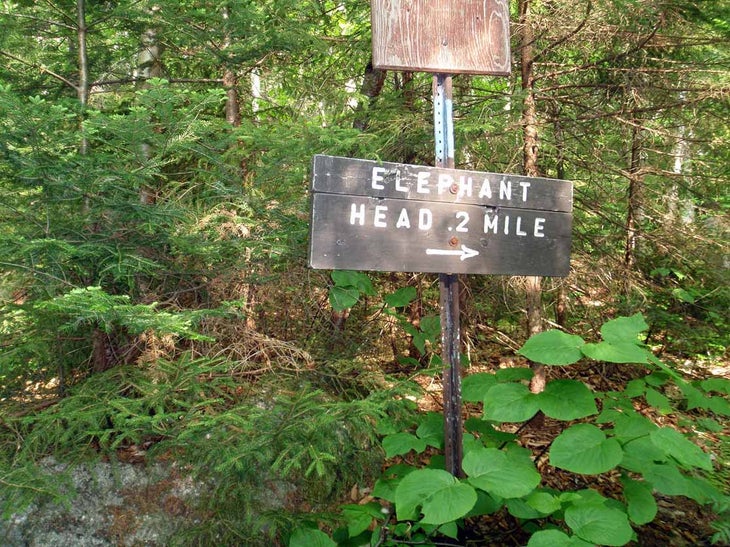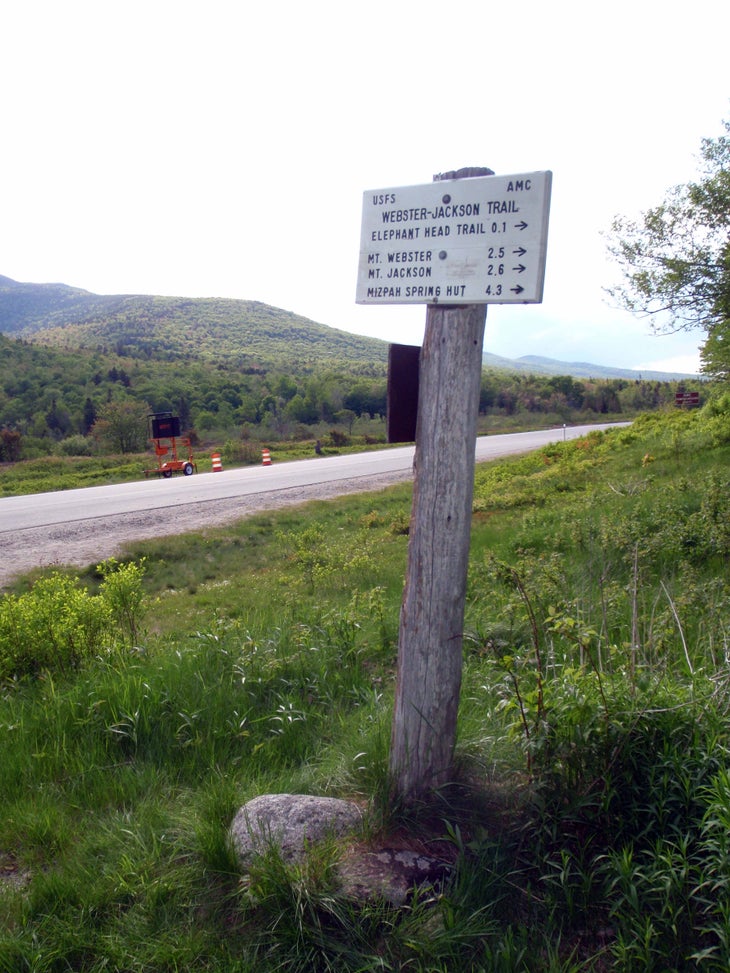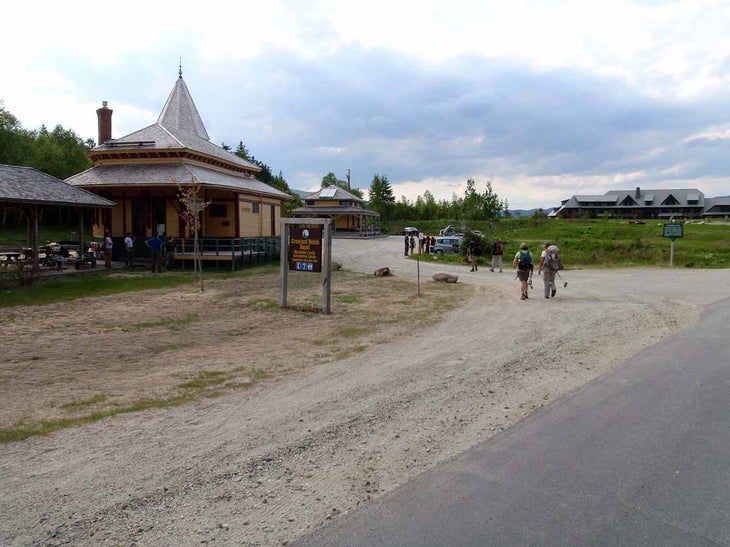 Trail Facts
Waypoints
000
Location: 44.249073, -71.391134
Edmands Path Trailhead Parking Area on the east side of Mt. Clinton Road.
001
Location: 44.249306, -71.389115
First of three stream crossings. All three have bridges to cross them.
002
Location: 44.245003, -71.366532
The trail is easy to follow but is very eroded in spots.
003
Location: 44.24162, -71.356672
Pass through a small stone gate that leads to some stone stairs.
004
Location: 44.243327, -71.351589
Looking north form the trail – Franklin in the forground and Washington in the background. Black smoke from the Cog Railway can be seen along the ridge leading to Washington.
005
Location: 44.242825, -71.347801
The trail opens up just before the junction. Looking north east from Edmunds Path as you apporach Mt. Eisenhower Loop. To the left is Franklin and to the right is Eisenhower.
006
Location: 44.242501, -71.345022
Trail junction. Crawford Path (AT) goes north (left) and souht (right). To reach the summit of Eisenhower need to take a sharp right and follow the Mt. Eisenhower Loop to the top.
007
Location: 44.241039, -71.348413
Looking to the top of Eisenhower along the Mt. Eisenhower Loop.
008
Location: 44.240657, -71.350322
Summit of Eisenhower.
009
Location: 44.23738, -71.350838
Here the Eisenhower Loop Trail rejoins the Crawford Path (AT).
011
Location: 44.227962, -71.363914
One of several boardwalks that have been put in place to protect the area while keeping your boots dry and clean.
012
Location: 44.227808, -71.364669
Here the Crawford Path goes to the right and leads back to the AMC's Highland Center. This is a good route to use if the weather changes or if you just want to shorten the hike. The Webster Cliff Trail goes to the left and leads to the summit of Pierce.
013
Location: 44.226845, -71.365734
The summit of Pierce. Watch your food since the local birds aren't afraid of you and will try to steal things right out of your hands.
014
Location: 44.220417, -71.369798
A well constructed set of stairs to help you as you head down to the AMC's Mizpah Hut.
015
Location: 44.219397, -71.369826
The AMC's Mispah Hut – a great place to refill your water bottles, grab some fresh-cooked goodies from the hut grew, or just spread out and relax. You can make overnight reservations for the hut or the nearby campsite. From the Hut you take the Webster Cliff Trail to continue on to Jackson.
016
Location: 44.208014, -71.376204
06-JUN-09 2:56:58PM
017
Location: 44.204763, -71.37588
Not a technical climb, but it could be slippery when wet.
018
Location: 44.204176, -71.37575
A slightly more steep scramble but still not too technical.
019
Location: 44.203333, -71.375345
The summit of Jackson. The Webster Cliff Trail (AT) continues south to Webster while the Webster Jackson Trail (Jackson Branch) leaves the peak and heads west towards the AMC'S Highland Center.
021
Location: 44.205554, -71.39243
Here the Webster Jackson Trail (Webster Branch) enters from left and the two branches merge into one. Continue straight.
024
Location: 44.216013, -71.406394
Here a spur trail leave the trail to the left and leads to Elephant Head 0.2 miles away.
025
Location: 44.21527, -71.407624
Route 302 – almost home. Take a right and head towards the Crawford Depot, you should be able to see it as soon as you get to the road.
026
Location: 44.218139, -71.411476
Back at the cars.
001.JPG
Location: 44.249441, -71.388989
002.JPG
Location: 44.245015, -71.366512
003.JPG
Location: 44.241648, -71.35663
004.JPG
Location: 44.243339, -71.351545
005.JPG
Location: 44.242832, -71.347768
006.JPG
Location: 44.242532, -71.344979
007.JPG
Location: 44.241049, -71.34838
009.JPG
Location: 44.23739, -71.350783
011.JPG
Location: 44.227973, -71.363872
012.JPG
Location: 44.227827, -71.364634
013.JPG
Location: 44.226873, -71.365707
014.JPG
Location: 44.220438, -71.369752
015.JPG
Location: 44.219423, -71.369795
016.JPG
Location: 44.208027, -71.376178
Another boardwalk, but this one isn't as dry as some of the others.
017.JPG
Location: 44.204797, -71.375867
018.JPG
Location: 44.204205, -71.375738
019.JPG
Location: 44.203343, -71.375299
021.JPG
Location: 44.205581, -71.3924
024.JPG
Location: 44.216025, -71.406348
025.JPG
Location: 44.215302, -71.407582
026.JPG
Location: 44.21817, -71.411455