White Cloud Loop
This overlooked locals-only jewel across the Salmon River Valley from the more-famous Sawtooth Mountains delivers solitude and adventure on a 32-mile partly off-trail loop.
Heading out the door? Read this article on the new Outside+ app available now on iOS devices for members! Download the app.
White Cloud Loop
Named for the snow-white rock of several peaks, the range was part of a failed national-park proposal 40 years ago. The result instead was the creation of the Sawtooth National Recreation Area—an outcome that, ironically, helped preserve the obscurity of the White Clouds. The upshot is that you can have mountains that evoke Yellowstone's Gallatin Range or Absarokas, with elk, mountain goats, bighorn sheep, black bears, and even gray wolves—almost to yourself. Our choice route: a 32.5-mile, partly off-trail (hiking, no scrambling) loop from Fourth of July Creek trailhead on the west side of the range. Follow Trails 109 and 219 for 2.1 miles to the saddle between Blackman and Patterson Peaks, then head off-trail over 10,872-foot Patterson Peak—with an amazing 360 of the White Clouds. Descend into Four Lakes Basin and camp at the northern tip of Quiet Lake or the outlet of Noisy Lake. Day two, ascend off-trail past Shallow Lake, cross Windy Devil Ridge, and drop into the valley of the trout-rich Boulder Chain Lakes, ringed by craggy, white peaks. Find good camping at Hatchet or Baker Lake. Day three, hoof southwest via Trails 47 and 110 to Chamberlain Basin, a lake-dotted cirque below the 2,500-foot-tall south face of Castle Peak, the range's highpoint at 11,815 feet. Pack a bear canister—bruins here raid hangs.
En route to Chamberlain Basin on day three, make the 1.5-mile round-trip, off-trail side trip to visit secluded Castle Lake. It sits at 9,419 feet in a small cirque bounded by the sheer cliffs of Merriam and Castle Peaks.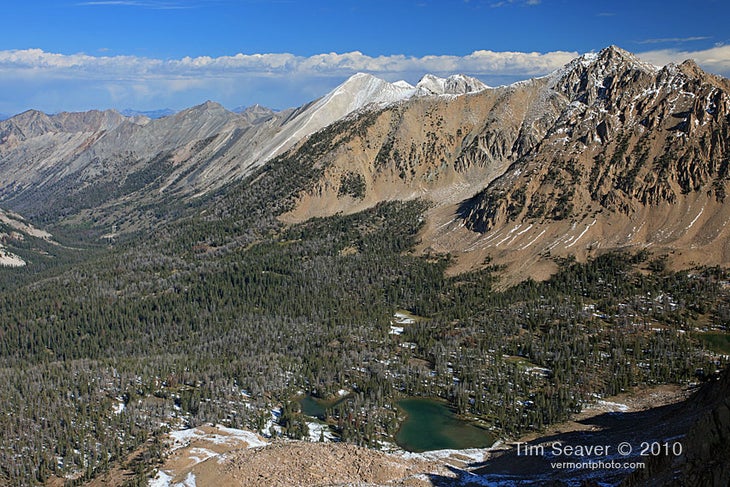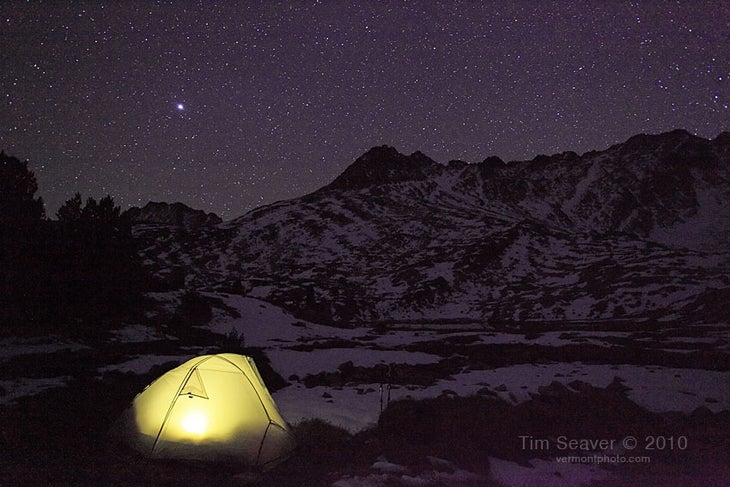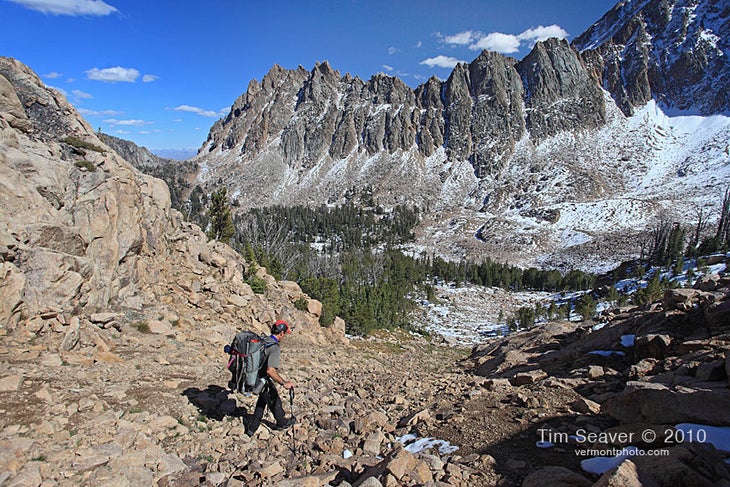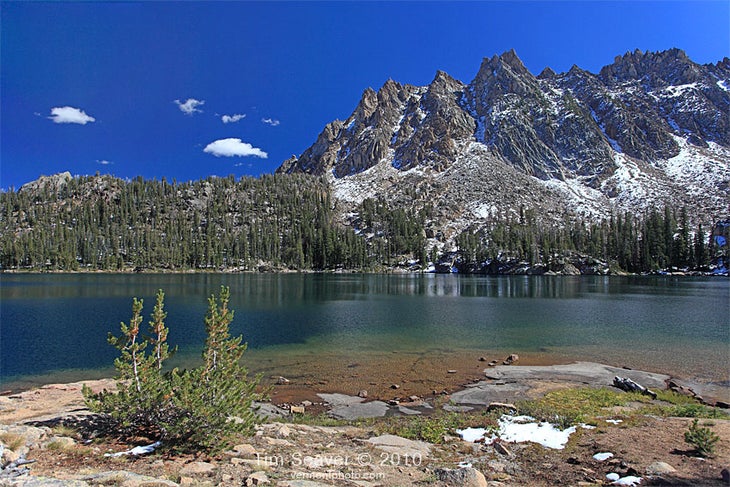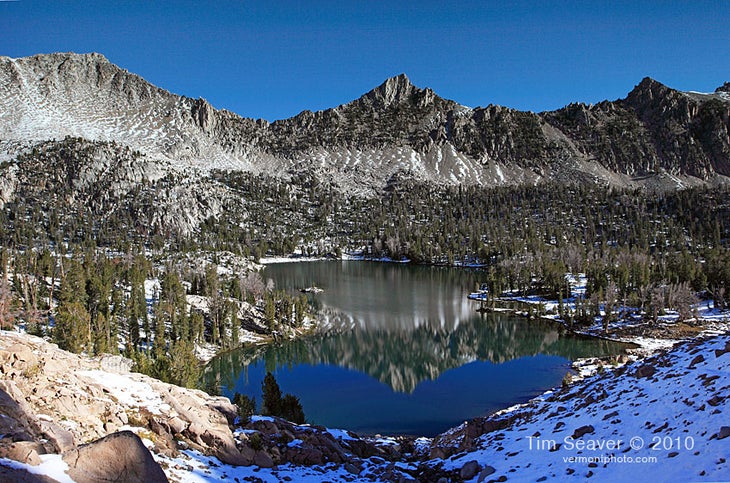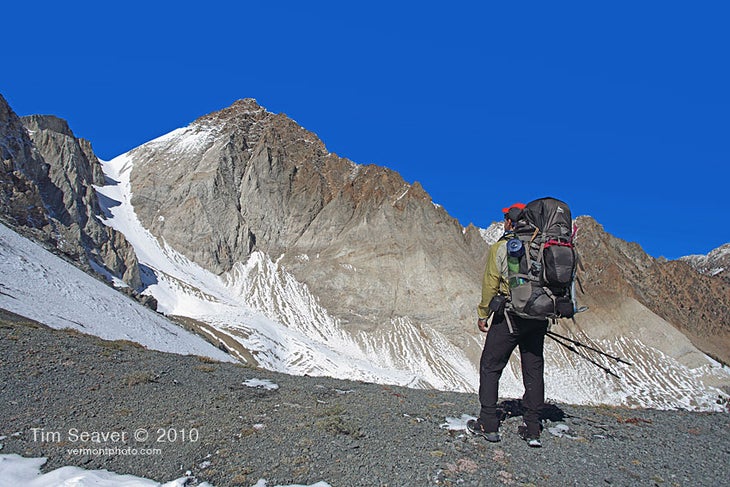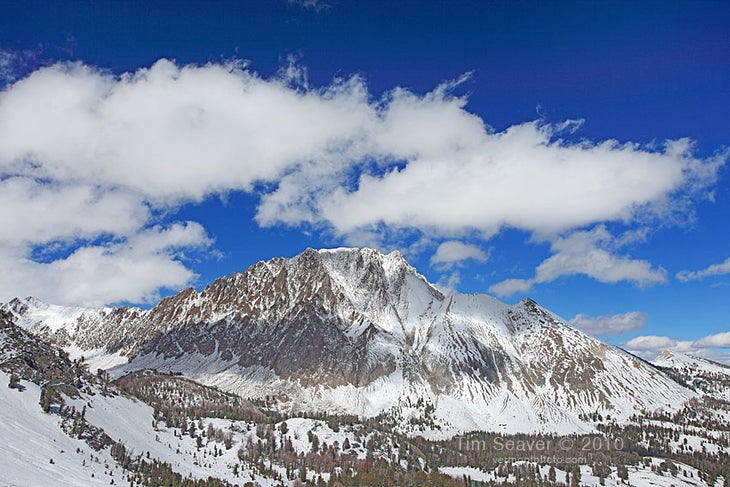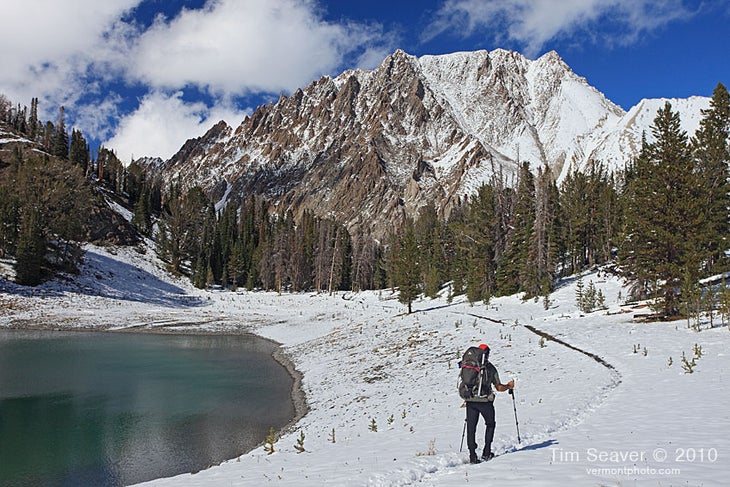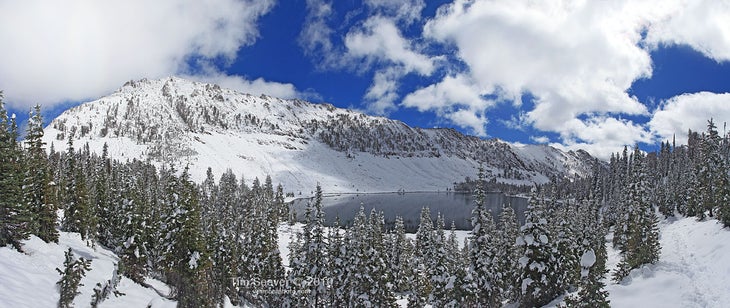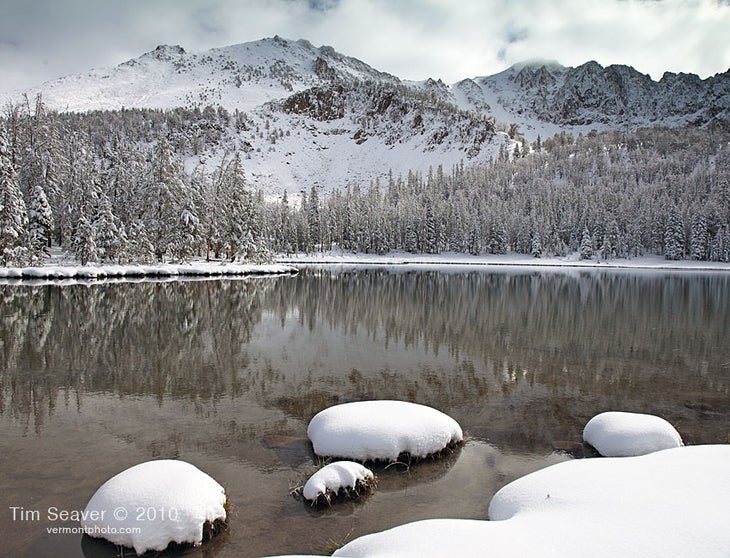 Trail Facts
Waypoints
Fourth of July Trailhead
Location: 44.046564, -114.657631
Junction with Trail to Born Lakes
Location: 44.045563, -114.634277
Leave Trail for Ridge
Location: 44.049009, -114.630089
Ants Basin from Patterson Peak
Location: 44.048544, -114.618621
Gain Ridge Here
Location: 44.051019, -114.625754
Head for the ridge, just below a clump of trees.
True Summit of Patterson Peak
Location: 44.048421, -114.618562
From here, head down the jagged Northeast ridge.
Northeast Ridge Of Patterson Peak
Location: 44.049982, -114.615578
Leave the ridge here, heading Southeast using the broad scree gullies leading to Four Lakes Basin.
Base of Gully
Location: 44.048733, -114.614031
Bear left (NE) here to thread between Rock and Emerald Lake.
High Camp at Rock Lake
Location: 44.050317, -114.609665
One of the many small lakes that have a good population of fish.
Thread The Saddle
Location: 44.051478, -114.606693
At the North end of Emerald Lake, head West and a bit south through a saddle leading into a steep U-shaped gully.
Descent to Quiet Lake
Location: 44.0512, -114.605706
The cross country descent to Quiet Lake features this steep and loose gully for starters – find the top of this gully by heading west into a shallow notch after passing Emerald Lake.
U-Shaped Gully
Location: 44.05016, -114.601969
Follow the Drainage
Location: 44.051028, -114.595236
Gain the West side of the inlet into Quiet Lake to pick up a faint scratch trail.
Stone Jetty at Quiet Lake
Location: 44.054071, -114.595312
One of the more serene spots on the loop, this small stone jetty at Quiet Lake.
North End of Quiet Lake
Location: 44.057295, -114.593678
Faint trail ends. From here you can either cross a loose hillside of talus and negotiate some easy scrambling by following this route, or you can stay closer to the drainage coming from to Scree Lake.
Scree Lake Inlet
Location: 44.062149, -114.596822
Cross the inlet to gain the Northeast bank of Shallow Lake
Shallow Lake
Location: 44.063832, -114.598417
From the Northeast corner of Shallow Lake, snake up the shallow open gully to the north.
Tiny Pond
Location: 44.067355, -114.599552
Picking up the trail once again, you bear Northeast and contour towards the top of Windy Devil Pass.
Top of Windy Devil Pass
Location: 44.070155, -114.596002
Switchbacks from here to just above Scoop Lake.
Bottom of Switchbacks
Location: 44.072025, -114.597295
Hummock Lake From Scoop Lake Outlet
Location: 44.074128, -114.593217
This view greets you as you make the steep drop from the outlet of Scoop Lake towards Hummock Lake.
Camp at Hummock Lake
Location: 44.077203, -114.590933
Sliderock Outlet
Location: 44.070214, -114.572654
Talus
Location: 44.069045, -114.571242
Frog Lake Juct.
Location: 44.074065, -114.557579
East Fork Salmon River Trail Junction
Location: 44.063343, -114.54564
Baker and Castle Lake Trail Jct.
Location: 44.055805, -114.556876
Another Small Bridge
Location: 44.054163, -114.557757
Bridged Stream
Location: 44.049264, -114.561065
A Fine Meadow
Location: 44.04498, -114.56786
Wickup Trail Junction
Location: 44.043596, -114.566037
Castle Divide Viewpoint
Location: 44.036008, -114.571685
This viewpoint is just slightly off the trail, a small gray hump at Castle Divide. This is one of the best places to see elk.
Castle Peak
Location: 44.013188, -114.600964
Crest
Location: 44.032463, -114.571537
Switchbacks
Location: 44.028031, -114.575462
Junction Little Boulder Creek
Location: 44.026266, -114.583073
Chamberlain Basin and Castle Peak
Location: 44.027226, -114.589763
Heading into Chamberlain Basin after a September snowstorm, with Castle Peak gleaming under a perfect sky.
Upper Lake Jct.
Location: 44.026828, -114.590235
Camp at Upper Chamberlain Basin
Location: 44.029425, -114.594732
Stock Jct.
Location: 44.030134, -114.601984
Upper Chamberlain Lake
Location: 44.031767, -114.602041
Faint Old Jct.
Location: 44.018251, -114.601125
Germania Junction
Location: 44.000498, -114.610802
Amazing View!
Location: 44.000548, -114.610711
At this junction, it's well worth taking a few steps out into the opening that beckons for a great view of the Boulder Mountains to the South.
Germania Creek Jct.
Location: 44.022657, -114.618146
Washington Lake Panorama
Location: 44.032313, -114.624352
Washington Pass
Location: 44.03586, -114.626218
Small Pond
Location: 44.036802, -114.627485
View of Fourth of July Peak
Location: 44.037617, -114.627899
Fourth Of July Lake
Location: 44.043583, -114.633413
10872 ft. Patterson Peak looms above Fourth of July Lake