Where Solitude Rules – Wilderness Hideaways
Lose yourself in a private paradise the crowds have overlooked.
Heading out the door? Read this article on the new Outside+ app available now on iOS devices for members! Download the app.
Fairy Head, Cutler Coast (Tim Seaver)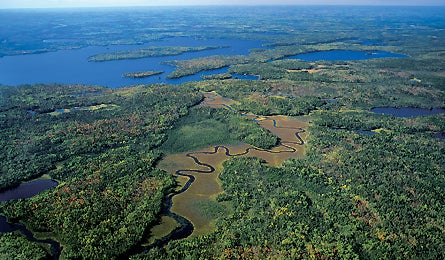 The Boundary Waters (Airphotona – Jim Wark)
Sespe Wilderness, California | Cutler Coast, Maine | Nootka Trail, British Columbia | Gore Range, Colorado | Border Route Trail, Minnesota
Sespe Wilderness, California

Escape suburbia in this surprise-a-mile wilderness.
Fifty miles northwest of downtown Los Angeles, the Sespe Wilderness harbors a 219,700-acre refuge of unusual attractions: natural hot springs, a condor sanctuary, multihued sandstone formations stretching from chaparral hillsides to pine-covered mountains, and centuries-old Chumash Native American rock art. (The latter are concealed in trailside caves, but Forest Service officials don't advertise the precise locations in order to protect the paintings.)
The ideal 27-mile loop begins at Mutau Flat trailhead. Hike through the pines along the Johnson Ridge Trail, and then down to a palm-shaded campsite in Hot Springs Canyon, eight miles from the road (and well past the dayhiker crowds). Continue to Sespe Creek, the last undammed river in SoCal, and follow it downstream to Alder Creek. A faint, unmaintained trail climbs past an old miners' cabin at McDonald Camp, then over a saddle at nearly 6,000 feet, to reach the Little Mutau campsite. Descend five miles along Little Mutau Creek to finish the loop.
Days 4

Map Tom Harrison Sespe Wilderness Trail Map ($9; tomharrisonmaps.com)

Permit Adventure Pass ($30 annual)

Info (805) 968-6640; fs.fed.us/r5/lospadres
Sespe Wilderness, California | Cutler Coast, Maine | Nootka Trail, British Columbia | Gore Range, Colorado | Border Route Trail, Minnesota
Cutler Coast, Maine

See the seashore the way the Abenaki saw it.
You can thank Acadia National Park for the privacy you'll find here. Few hikers make the two-hour drive past Acadia to reach Cutler, leaving the reserve–and nearly five miles of undeveloped coastline–blissfully isolated. You could do this 9.8-mile, moderately hilly loop as a dayhike, but three primitive, first-come, first-serve campsites at Fairy Head, midway around, make this an ideal overnight. (A trailhead register indicates if sites are occupied; pack water.)
You'll want the extra time to explore Cutler's cobbled beaches and tide pools, some of which are only accessible via short log ladders that descend from spruce-topped cliffs. Tailor your hike to maximize views: If it's foggy when you start, follow the Inland Trail past peat bogs and blueberry barrens. With luck, the fog will lift for your hike back along the Coastal Trail (if it's clear on day one, start on the Coastal Trail). Beginning in August, look for minke, finback, humpback, and right whales in the Bay of Fundy. Go in late summer for fewer bugs, more berries.
Days 2

Map USGS topo Cutler (usgs.gov)

Permits None Info maine.gov/doc/parks
Sespe Wilderness, California | Cutler Coast, Maine | Nootka Trail, British Columbia | Gore Range, Colorado | Border Route Trail, Minnesota
Nootka Trail, British Columbia

Walk the wild west side of the Canadian coast.
This 21-mile coastal trek is no longer a total secret–indeed, there's even a guidebook–but it still gets remarkably few visitors, thanks to difficult access and frequent harsh weather. The challenges: You'll have to plan each day to avoid getting stranded by tides; you'll clamber over slippery boulders and through punishing devil's club; rogue waves threaten; and river crossings can be dangerous after storms. (Camp on the far side of creeks in case they rise overnight.)
The rewards: Nootka Island's wild scenery, a moody shipwreck at Tongue Point, isolated coves where waterfalls plunge into tide pools, ancient village sites, and thrilling glimpses of black bears and gray whales. For an end-to-end hike from north to south, charter a floatplane in Gold River and fly to Louie Bay Lagoon ($164 CDN per person for a party of four; airnootka.com), then trek southeast to the native village of Yuquot and catch the Uchuck III ferry back to your starting point ($40 CDN; mvuchuck.com).
Days 5

GuidebookHiking the West Coast of Vancouver Island, by Tim Leadem ($17, Greystone Books)

Permits The Mowachaht/Muchalaht First Nation charges a $40 CDN user fee at Yuquot.

Infoi-needtoknow.com/nootka
Sespe Wilderness, California | Cutler Coast, Maine | Nootka Trail, British Columbia | Gore Range, Colorado | Border Route Trail, Minnesota
Gore Range, Colorado

Trek to a high valley where the peaks have no names.
With long approaches and not a single summit on Colorado's 100 highest list, the Gore Range is a blank spot on the map for list-keepers and dayhikers. Which makes it ground zero for solitude seekers. Spiky peaks as high as 13,230 feet ring Upper Slate Lake, but only one summit, Guyselman Mountain, is named on USGS topos; the rest carry alphabetical nomenclature bestowed by the Colorado Mountain Club in the 1930s. Start at Brush Creek trailhead and hike 10 miles on the Slate Creek and Gore Range Trails to reach the lake, which is surrounded by Peaks J through T.
Plant basecamp among the trees near the northeast end of the lake, at around 10,850 feet, and scope the routes you'll tackle over the next couple of days. Peak Q, the dominant summit at the head of the valley, is a challenging Class 4 scramble up the northeast face and east ridge, with snow lingering well into July. Peak L features a knife-edge passage on the southwest ridge. Several summits offer more modest hikes. A traverse of the whole cirque would challenge Himalayan mountaineers. Return the way you came.
Days 4-5

Maps USGS topos Squaw Creek, Willow Lakes, and Vail East

Permits None

Info (970) 468-5400; fs.fed.us/r2/whiteriver/rangerdistricts/dillon
Sespe Wilderness, California | Cutler Coast, Maine | Nootka Trail, British Columbia | Gore Range, Colorado | Border Route Trail, Minnesota
Border Route Trail, Minnesota

Beach the canoe on this remote trek through the wildlife-rich Boundary Waters.
The trick to finding solitude in Boundary Waters Canoe Area Wilderness? Hike where others paddle. More than 225 miles of trails crisscross this preserve, including nearly two-thirds of the 65-mile Border Route Trail, which hugs ridgelines and cliffs with views across the forest and lakes. Thick emerald moss seems to carpet every surface, and blowdowns create challenging barriers that increase the deep-wilderness feel (and further reduce crowds). Most nights you'll camp by a lake, where sunrise often glows like fire through the morning mists, and spotting moose, otter, or mink is a given.
At night, listen to water lapping the rocky beaches, timber wolves howling, loons crying, and wind sighing through tall pines. The western half of the Border Route roughly parallels the Gunflint Trail roadway, with the central wilderness entry point (No. 82, near Clearwater Lake), offering weekend loops via the Daniels Lake, Caribou Lake, and South Lake Trails. For maximum solitude, follow the eastern half of the Border Route 36 miles past Gogedic, Pine, and Pike Lakes and along the Pigeon River.
Days 5-7

MapThe Border Route Trail: A Trail Guide and Map ($19, borderroutetrail.org)

Permits Entry permits required for BWCAW ($16 per person, $12 to reserve; recreation.gov)

Infofs.fed.us/r9/forests/superior/bwcaw