Where Solitude Rules – Lonely Summits
You won't find bottlenecks on these untrammeled peaks.
Heading out the door? Read this article on the new Outside+ app available now on iOS devices for members! Download the app.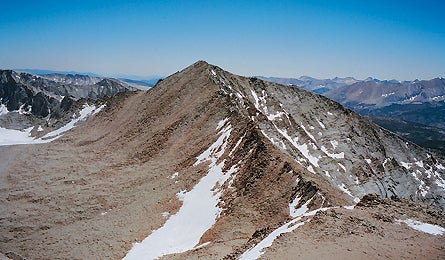 Mt. Barnard (Tom Till)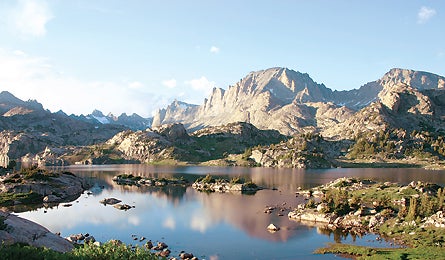 Island Lake, Gannett Peak (Paul Allegretti)
Mt. Barnard, California | Diamond Peak, Oregon | Gannett Peak, Wyoming | Henry Mountains, Utah | Baldface-Royce Range, New Hampshire
Lonely Summits

Mt. Barnard, California Here's alpine proof that biggest isn't always best.
This southern Sierra peak was initially designated an official Fourteener, but the USGS later downgraded it to 13,990. That, plus a long-haul approach, pushed it way off the radar screen of most climbers. Start at the Shepherd Pass trailhead and hike 11 miles to the pass.
Descend to the west and follow the John Muir Trail south for 4.7 miles, then hike cross-country along the north side of Wallace Creek for four miles to a campsite near Wallace Lake–24 miles from the car. From here, it's an easy half-day hike up scree slopes on the southwest ridge to Barnard, a peak so isolated that, until recently, you could sign a summit register that contained signatures from Norman Clyde and other 1930s Sierra Clubbers (it has since disappeared).



Days 4-5

Maps USGS topos Mt. Williamson, Mt. Whitney, Mt. Brewer, and Mt. Kaweah

Permits Required (free)

Infofs.fed.us/r5/inyo
Mt. Barnard, California | Diamond Peak, Oregon | Gannett Peak, Wyoming | Henry Mountains, Utah | Baldface-Royce Range, New Hampshire
Diamond Peak, Oregon

Take the wilderness route to a Cascade volcano.
Anywhere else, Diamond Peak would be an epicenter for summit-hungry hikers. Not here. The 8,744-foot beauty, in central Oregon, is overshadowed by the Three Sisters and Mt. Thielsen–to say nothing of bigger volcanoes like Mt. Hood and Mt. Shasta–making it a remarkably easy place to escape the crowds. Dayhikers can climb the nontechnical peak from the west, but backpackers will find quiet trails and peaceful lakeside campsites along the 27-mile loop that begins at Odell Lake, just east of Willamette Pass.
Head south along Trapper Creek, then west on the Crater Butte Trail to a camp near Marie Lake. From there, take the Pacific Crest Trail just north to the foot of the peak, drop your pack, and follow cairns and climbers' paths up the 2,000-foot south spur's pink and gray volcanic scree. You won't find glaciers, but snow lingers well into July and the final ridge can be a frozen knife-edge (easily avoided on scree to one side). From the top, white-capped peaks to the north and south float like distant sails above a green sea. Return to the PCT and continue north to a short side trail that leads to campsites near Divide Lake. From here, experienced scramblers can bag 7,100-foot Mt. Yoran. Tip: Plan a late-season visit to avoid the area's notorious mosquitoes.
Days 3-4

Maps USGS topos Willamette, Diamond Peak, and Emigrant Butte

Permits Free permit available at trailheads; Northwest Forest Pass for parking

Infofs.fed.us/r6/willamette
Mt. Barnard, California | Diamond Peak, Oregon | Gannett Peak, Wyoming | Henry Mountains, Utah | Baldface-Royce Range, New Hampshire
Gannett Peak, Wyoming

This spectacular and remote summit serves up a complete wilderness adventure.
State high points in the West are usually crowd magnets (witness Whitney, Hood, Elbert, and company), but Wyoming's isolated Gannett Peak suffers no such problem. Make 13,804-foot Gannett the midpoint of a 40-mile, east-west traverse of the Wind River Range, and you'll experience breathtaking solitude and scenery. Start at Trail Lake Ranch, on the east side of the range, and hike over 10,895-foot Burro Flat and up braided Dinwoody Creek to a camp near Wilson Meadows.
The glacier system around Gannett is the largest in the U.S. Rocky Mountains, so ice axe and crampon skills are mandatory, but there is minimal crevasse danger–many parties don't even bother to lug a rope. (Mosquitoes are typically the bigger risk.) Go before late July for easy step-kicking and snow-filled crevasses. You'll climb a snow couloir to gain the ridge between the Gooseneck and Dinwoody Glaciers, and then follow the narrow crest to the top. Retrace your steps to the car or, even better, cross Dinwoody Pass and trek 18 miles down lake-filled Titcomb Basin to the Elkhart Park trailhead on the west side of the Winds.
Days 5-6

GuidebookWind River Mountains, by Joe Kelsey ($25, Globe Pequot Press)

Permits None

Info (307) 455-2466; fs.fed.us/r2/shoshone
Mt. Barnard, California | Diamond Peak, Oregon | Gannett Peak, Wyoming | Henry Mountains, Utah | Baldface-Royce Range, New Hampshire
Henry Mountains, Utah

Explore a wild range in the heart of canyon country.
Bison in the Utah desert? Yep, you'll find one of the largest free-roaming herds in North America grazing the Henry Mountains, which rise as much as 7,000 feet above the scrubby desert south of Hanksville. Though the Henrys are in plain view from Canyonlands, Lake Powell, and Capitol Reef, isolation and rough roads (4WD is recommended) radically limit visitor numbers. The 11,522-foot north summit of Mt. Ellen, high point of the range, is only about 2.7 miles north of the dirt road at Bull Creek Pass. (Find the access road to the 10,485-foot pass 21 miles south of Hanksville on UT 95.)
Best plan: Pack water and camp on the broad ridge below Mt. Ellen's summit to watch the sun set over Waterpocket Fold and the wilds of Grand Staircase-Escalante National Monument; to the east, alpenglow will linger on the La Sals near Moab and the distant San Juans in Colorado. The next day, explore 11,371-foot Mt. Pennell, which has spectacular diorite formations that draw rock climbers, or 10,722-foot Mt. Hillers, whose flanks are decorated with towering sandstone fins.
Days 1-3

Map Henry Mountains Recreation Map ($7, cnha.org)

Permits None

Info (435) 542-3461; blm.gov/ut
Mt. Barnard, California | Diamond Peak, Oregon | Gannett Peak, Wyoming | Henry Mountains, Utah | Baldface-Royce Range, New Hampshire
Baldface-Royce Range, New Hampshire

Lose yourself in this steep and rocky micro-edition of the Presidential Range.

Sprawling along the Maine – New Hampshire border on the far east of the White Mountains, the Baldface-Royce Range rises to little more than half the height of the nearby Presidentials. So most hikers flock to the more famous peaks, leaving the lower range's rugged topography and open ridges to those in the know. Do this multiday route in the north and you'll be all alone among the untrammeled summits. Start at Basin Pond and hike north on the Royce Trail, along the Mad River, to East and West Royce Mountains, which barely top 3,000 feet but tower half a mile above the Cold River.
Admire panoramic views from East Royce's open ledges, spanning Mt. Washington to Maine's Caribou-Speckled Mountain Wilderness, then head west (still on the Royce Trail) into New Hampshire. Double back along the Basin Rim Trail to reach West Royce, logging seven miles for the day (stay at Blue Brook Shelter or camp nearby). In the morning, continue across Mt. Meader to Eagle Crag and begin four miles of ledge-hopping across North and South Baldface, with views from the Carter Range and the Presidentials to the shining lakes of western Maine. Break up the knee-pounding, 3,000-foot descent with a night at Baldface Shelter. End the tour with a bracing swim in icy Emerald Pool, about a mile from the road.
Days 2-3

Maps USGS topos Wild River and Chatham

Permits National Forest Use Pass ($3/day, $5/week)

Info (603) 466-2713; fs.fed.us/r9/forests/white_mountain