Where Can I Backpack Mountains in the Midwest?
Don't be fooled: The Heartland has plenty of steeps to get your heart pumping.
Photo: Photo by Mike Kline (notkalvin) via Getty Images
Heading out the door? Read this article on the new Outside+ app available now on iOS devices for members! Download the app.
In our new travel column, assistant editor Emma Veidt answers your hiking questions with the help of a rotating cast of experts.
I'm a midwesterner who loves to hike the steeps. Where can I backpack mountains in the heartland? — Midwest Mountaineer
Dear Mountaineer,
We know that most people from the coast think the central U.S. is all cornfields and strip malls. But don't sell this region short: Just because you live in the flatlands doesn't mean your big plans to hike mountains will fall flat. There are plenty of places in the midwest where you can backpack peaks. Here are three of our favorites.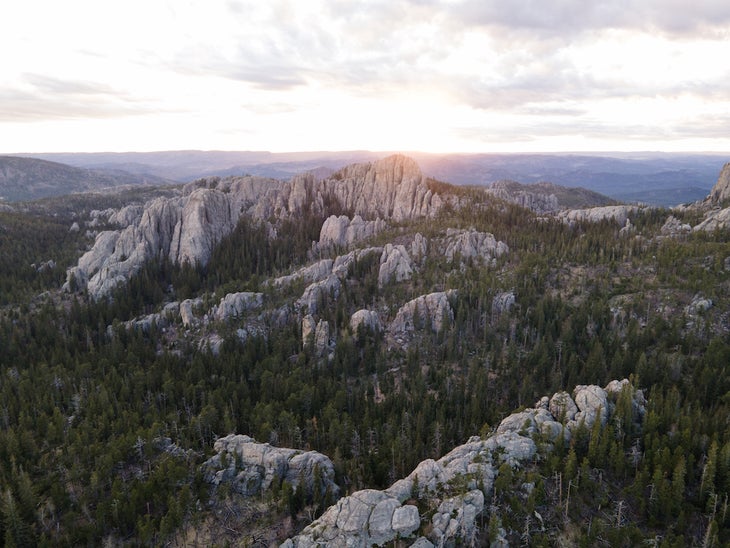 Black Hills, South Dakota
The highest peaks in the midwest lie within the Black Hills. In the "Island in the Plains," you can explore 1.2 million acres of deep canyons, rocky peaks, rushing streams, and deep blue lakes. 
The name "Black Hills" comes from the Lakota "Paha Sapa," which translates to "hills that are black." This isn't because of ash or char; the pines that cover these hills are so lush that they appear jet from a distance. This area attracts millions of visitors each year to hike through the diverse heritage and ecosystem, and its peaks are one of the region's biggest charms.
There are eight peaks above 7,000 feet in the Black Hills; some peakbaggers take on the "Eight Over Seven" challenge by completing them all in one day. In 2018, Rapid City's Erick Sykora cycled roughly 100 miles and run-hiked about 15 miles to bag each peak and complete the quest within 15 hours. 
If you're looking for a multi-day adventure instead, these Black Hills trails have just what you need.
Deerfield Trail
Also known as Trail #40 in the area, this 18-mile-long, beginner-friendly path connects Deerfield Lake with Rapid Creek and Pactola Reservoir and also includes plenty of manmade and natural scenic stops, such as cabins, mines, bridges, tunnels, and railroad grades. Don't be fooled by the meditative, peaceful pine and ponderosa forests: This trail has some steep sections reaching a 30 percent grade and elevations reaching 6,200 feet, so you'll feel your quads burning by the end. No permits required.
Centennial Trail
Looking for something a little longer? Tackle a week-long thru-hike on the Centennial Trail: a 111-mile-long path that officially opened as a part of South Dakota's centennial celebrations in 1989. This hike goes from Bear Butte State Park to Wind Cave National Park, and around 30 miles of it pass through the Black Hills region. There are seven Black Hills trailheads to the Centennial Trail: Brush Creek, Calumet, Dakota Point, Deer Creek, Rapid Creek, Samelius, and Spring Creek. No matter where you start, you can expect to find miles and miles of open prairie grasslands, pine-covered mountains, and towering granite spires. This is no flat thru-hike, either: Constant rolling hills give you about 24,500 feet of elevation gain throughout the week. No permit required.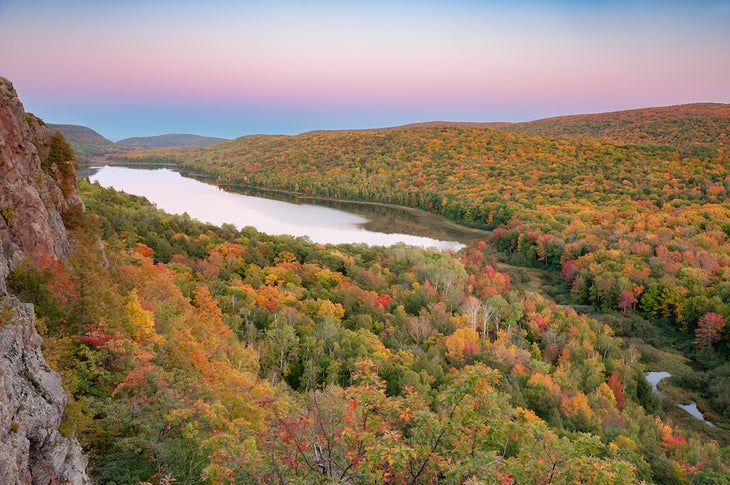 Porcupine Mountains, Michigan
At 2 billion years old, the Porkies are some of the oldest mountains in the world, and some of the most scenic: Within the first few miles of the hike you'll encounter the iconic Lake of the Clouds overlook and then head into the woods for some solitude. Hike past the reddish-brown sandstone and volcanic rock that parallels the Lake Superior shoreline and through one of the best old-growth hardwood forests in the country. 
Numerically speaking, this 21.2-mile out-and-back on the Wilderness Loop trail with 1,463 feet of elevation gain might not compare to Colorado's 14ers, but give it a chance. You'll get views of sugar maple, American basswood, eastern hemlock, and yellow birch-covered mountains jutting out from Lake Superior.  
Be sure to snag a $20/night backcountry camping permit before you hit the trailhead (available from 6 months to 72 hours before your trip for a group of up to six hikers), and practice safe food storage to avoid any unwanted encounters with black bears.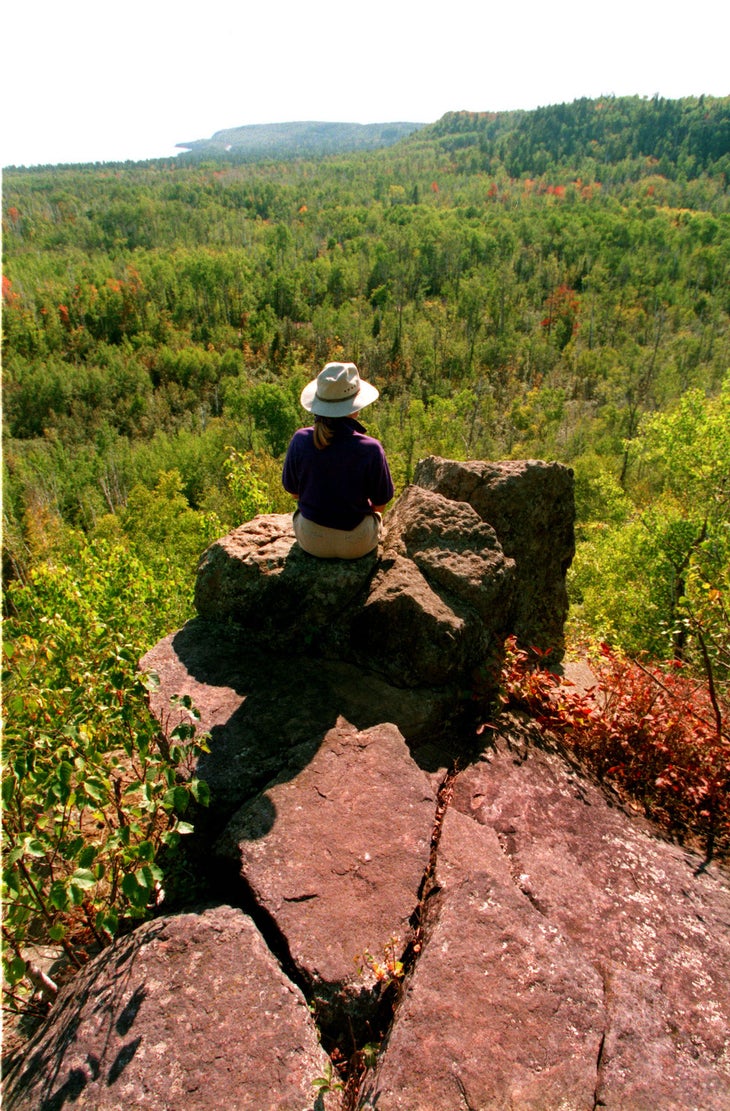 Superior Hiking Trail, Minnesota
The Superior Hiking Trail—Minnesota's 310-mile rugged ridgeline thru-hike above Lake Superior's north shore—is famous for its boreal forests, rushing waterfalls, and proximity to the world's largest freshwater lake. Go in the fall, and you'll get a chance to camp under aurora borealis skies. 
However, section-hike north for 22.6 miles from the Beaver Bay to Lake County Road 6 trailheads, and you'll find some of the steepest grades in the entire SHT. This section features about 5,000 feet of elevation gain. Steep ascents and descents come with rewarding views of majestic pine and maple forests, Bean and Bear lakes, and the High Falls of the Baptism River, which, at 100 feet, are the highest falls entirely in Minnesota. No permit required.