Backpacking Through a Cave in Vietnam
Forget higher—go deeper. The greatest adventure in Asia is a real-life Lost World hidden inside Son Doong, the planet's largest cave.
Heading out the door? Read this article on the new Outside+ app available now on iOS devices for members! Download the app.
People usually don't believe me when I tell them the best place I've ever camped is underground. They would if they could see it: Vietnam's Son Doong is the biggest cave in the world, and unlike the pitch-black ratholes of your claustrophobic nightmares, it's more like a canyon with a ceiling. Its walls glitter with minerals and tower higher than 40-story skyscrapers in places, and a 747 could fly through its largest chambers. In scale and experience, it's a whole subterranean world.
Overhead, stadium-size skylights called dolines admit enough light to sustain jungle trees growing 100 feet tall. Monkeys, birds, and flying foxes flit from the treetops. A fast-flowing river leads to travertine lagoons and soft-sand beaches perfect for pitching tents.
The way to Son Doong (literally, "mountain river cave") begins at a trailhead in Phong Nah-Ke Bang National Park, in the central part of the country where karst mountains carpeted in rainforest roll like waves at the border with Laos. We hike along and across the giant teal rivers that sculpt amphitheaters out of limestone on the way to our first campsite in Hang En, the park's third-largest cave. From there, 2 miles of muddy hiking deliver us to Son Doong.
A local hunter named Ho Khanh discovered—but never entered—the cavern in the 1990s and kept it mostly to himself. It wasn't until 2009 that British researchers Deb and Howard Limbert, investigating rumors of one cave larger than all the others, convinced Ho Khanh to show them the way. The Limberts worked with locals to form a guide service to take backpackers inside.
When I arrive, I can see why Ho Khanh never thought to enter. Son Doong's entrance is a menacing cleft that blows the ferns and vegetation as it exhales damp air.
We spend four days inside, scrambling through chambers that have never seen sunlight, hiking past funhouse water formations and stalagmites the size of office buildings. We clip into guide wires and cross a teetering bridge over Rao Thuong, the river at the heart of the cave system.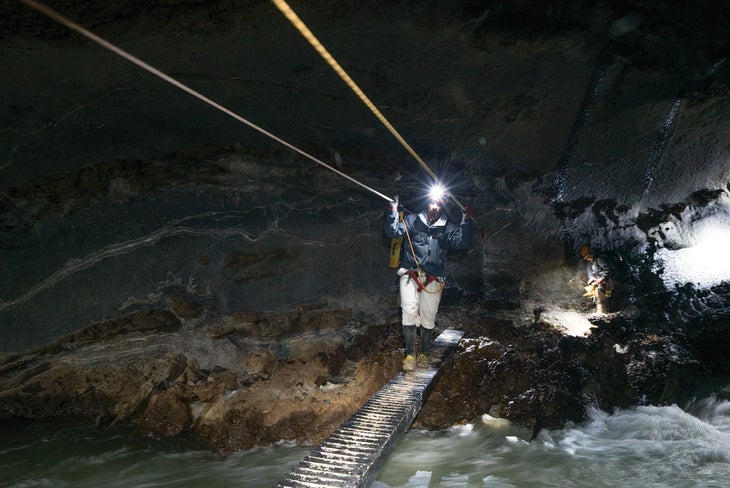 Our porters in sandals jog past the sections we scramble, beating us by hours to set up camp in sand beside the river. By the time we arrive, the tents are positioned at the perfect angle to watch a skylight sunset. Eerie shades of purple mute the cave walls and pocket forests while we change out of wet layers. About the time I'm dry, the pork is sizzling and the lead guide Bambu slams a local Huda beer into my hand.
Cynics say there's nothing new under the sun. But as Son Doong proves, there's still plenty to be discovered where the sun can't reach. 
Trip Planner
Getting There From Hanoi, a 12-hour sleeper bus or train gets you to Phong Nha. Season February to August (rivers become impassible afterward) Guide Six-day tours of Son Doong are extremely limited; book a year or more in advance. Oxalis is the only outfitter allowed in the cavern. Full-service trips cost $3,000. Total cost $4,000 (includes flight from Los Angeles, ground transportation, and lodging)