Weekend Forecast June 1-3
What Seattle hikers need to know this weekend.
Heading out the door? Read this article on the new Outside+ app available now on iOS devices for members! Download the app.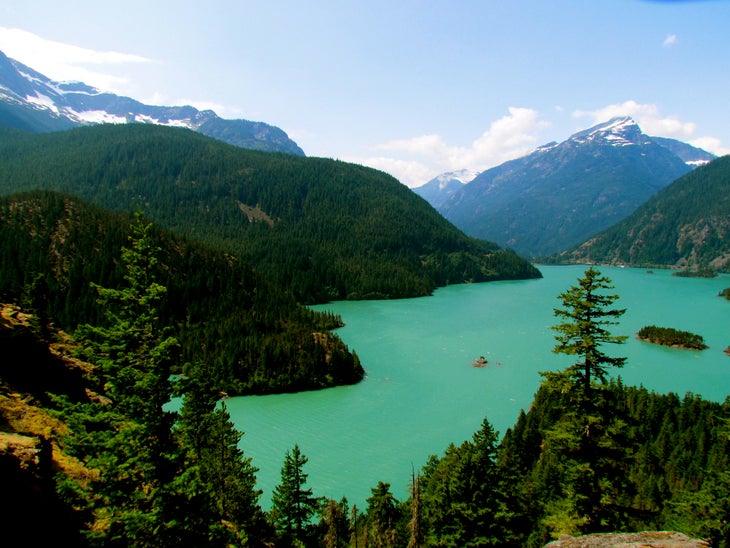 Hey there Seattle hikers!
The weather this weekend look like it might be bringing in a few "weak upper troughs" to the greater Seattle area (if you're like me and you read the forecast discussion on NOAA you'll know what this means), so plan accordingly.
This is also the time of year where the snow is melting out, and punching through an "ankle biter" is a very real possibility. Use caution and don't put your trust in snow bridges, especially in the afternoon after a full day of warm sun. I never hike without my hiking poles, and they can be really helpful for testing the stability of snow before you put your full weight on it. Remember: Just because there are footprints across the snow doesn't mean it is safe to walk there. 
A few fun picks for you this weekend:
1. Super Low-Key Option: Get out into the mountains without breaking a sweat. Did you know that Seattle City Light runs boat tours on Diablo Lake? No, this isn't a hike, but I'm sharing it because it's a little-known secret of the North Cascades. For under $50 you can have a boat tour on the turquoise waters of Diablo Lake, plus lunch. Preview the views here. 
2. While you're in the North Cascades… make it a full day by adding in a hike up to Thunder Knob, a 3.6-mile round-trip hike with about 635 feet of gain and some jaw-dropping views of the North Cascades.
3. But I want all the GAINZ: Ok, ok, so you want a bit more elevation gain, but not necessarily a summit? I would highly recommend a trip to Heliotrope Ridge. This 5-mile round trip hike leads to an incredible view of the Coleman Glacier. For an added challenge, ascend the Hogsback Ridge (you can stay on the snow, or climb onto the ridge proper, which is melted out and has a steep gravel trail) to the basecamp for the Coleman-Deming route on Mt. Baker. This is a perfect place to stop for lunch (don't venture past this camp without proper glacier travel gear and expertise!). As of a few days ago, this spot was accessible without snowshoes (traction recommended for the snow). Need a refresher on proper snow travel techniques? Here's a quick primer on the plunge step.