Seattle Weekend Forecast: June 15-17
What Seattle hikers need to know this weekend.
Heading out the door? Read this article on the new Outside+ app available now on iOS devices for members! Download the app.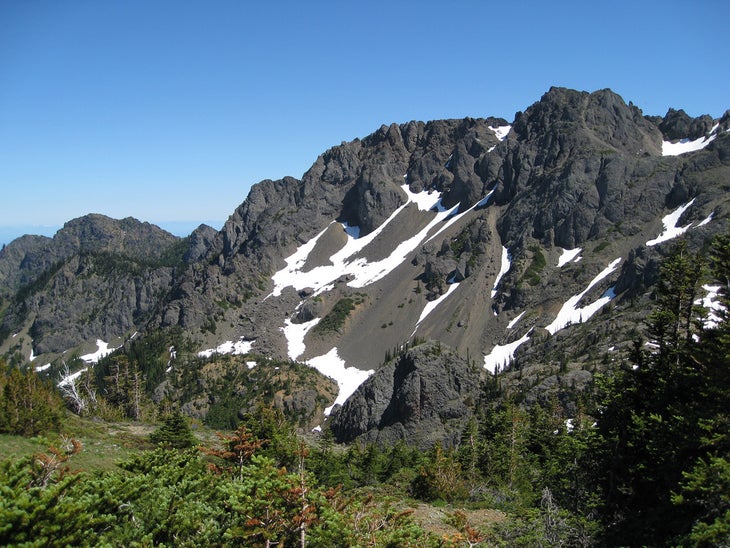 Hey Seattle hikers,
Happy Father's Day Weekend to all of you dads out there! This is the perfect weekend to get out for a hike–with your dad, away from your kids (dads need alone time too), or anywhere in between. I have some pretty comical memories of camping for the first time with my dad: He rented a tent at the Navy base and picked a local state park for our first-ever camping trip. We set up the tent, and quickly realized that the Navy base had forgotten to include the rainfly. What ensued next was a thunderstorm that crushed a 100-year record for inches of rainfall and number of lightning strikes. When we woke up in the morning, my dad was floating on his sleeping pad.
And yet, here I am, still hiking and camping like it's my job (oh wait, it basically is). I look back on those memories so fondly–my dad trying so hard to cook steaks in the pouring rain to make sure that all of us had a great time.
For all the hiking dads in the Seattle area, I leave you with my favorite quote about fathers:
"When I was a boy of fourteen, my father was so ignorant I could hardly stand to have the old man around. But when I got to be twenty-one, I was astonished at how much he had learned in seven years."–Mark Twain.

Without further ado, here are a few of my favorite hikes for you to check out this weekend:
1. Rampart Ridge, Mount Rainier National Park This hike is about a 5-mile loop that starts at Longmire near the Paradise side of Mt. Rainier. I just completed this hike, and it is completely snow-free. The grade of the trail is gentle, and it's possible to make a loop through a beautiful forest, or venture off onto any number of options for further exploration (Van Trump Park, Comet Falls, Indian Henrys, etc…). 
2. Navaho Peak This is one of my favorite hikes in the Teanaway Mountain. It is just over 13 miles round-trip, but it is worth every step. Hike to Navaho Pass, with incredible views of the Stuart Range, and then head up a steep climber's trail to ascend to the summit of Navaho Peak.
3. Marmot Pass and Buckhorn Mountain, Olympic National Forest It's about 12 miles round-trip to Marmot Pass, but I've heard a rumor that the wildflowers are starting to poke out. When you get to the pass, it's worth the extra 2 miles round-trip to scramble up to the summit of Buckhorn–a steep climb, but a fun, rocky summit with fantastic views.