West Virginia: Thomas and Davis
Heading out the door? Read this article on the new Outside+ app available now on iOS devices for members! Download the app.

It was a taste of the West: Winding from Washington, D.C. through the oscillating hills to reach Thomas was the equivalent of driving to Copper Mountain from downtown Denver for a day of skiing. Quick and easy, the trip was only 2.5 hours from Dulles International Airport. My host at Cooper House Bed & Breakfast even referred to the area as the locals' mountain escape: a reprieve from the bustling pace and lower elevation heat of nearby cities.
Davis, WV
I knew I should be reaching Thomas and Davis, any minute. My cell phone's Google Maps app wasn't working (nor did I have reception for calls or texts), but I'd written down the route directions including the miles of each leg and the estimated drive time. It felt like the good old days—you know, before cell phones existed!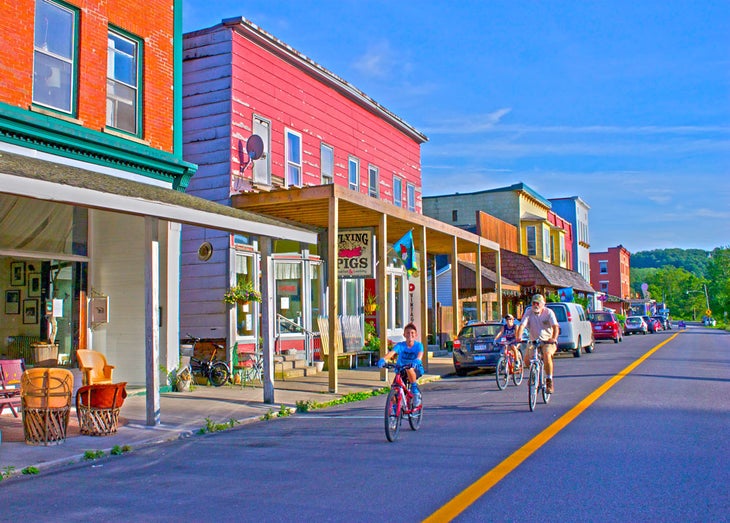 At the T-bone of US-48 and WV-32, Davis was to the left and Thomas was to the right, and the two towns were only 5 minutes apart. Tiny enough, you couldn't see one development from the other. I drove into Davis first, and was blown away by how many restaurant options there were in relation to the town's size, about 650 people. I had my choice ofStumptown Ales—the local brewery—home-style meals at theSawmill, American Italian atSirianni's Pizza Café, andMuttley's Downtown steakhouse. Plus, a health food store—Highland Food & Farm Market—which was not open, but if I'd arrived earlier in the day, it would have been great to pick up some fresh food for my backpacking trip.
(Mountain bikers: I also noticed a local two-wheel hub,Blackwater Bikes.)
Where to Eat
When I returned to Davis for dinner—after checking into my B&B in Thomas—I choseHellbender Burritos, which I highly recommend. The service was excellent, the craft beer selection was top notch, and the food was delicious and filling: an ideal trifecta the night before a multi-day backcountry trip.
Raised in the Southwest, I'd imagined burritos with a Hispanic flair and flavors reminiscent of home. Instead, the burrito recipes were nonconventional and unique like the Hoodoo Voodo—a New Orleans-inspired wrap with olive tapenade, shredded carrots, lettuce, tomatoes, feta cheese and garlic mayonnaise—and the Tree Hugger, a loaded roll of veggies including broccoli, mushrooms, peppers and black olives. I ordered one of the most popular items: The Admiral, with chicken, bacon, black beans, peppers and onions, cheddar jack cheese, guacamole and additional Medium Tomato salsa. It did not disappoint.
Thomas, WV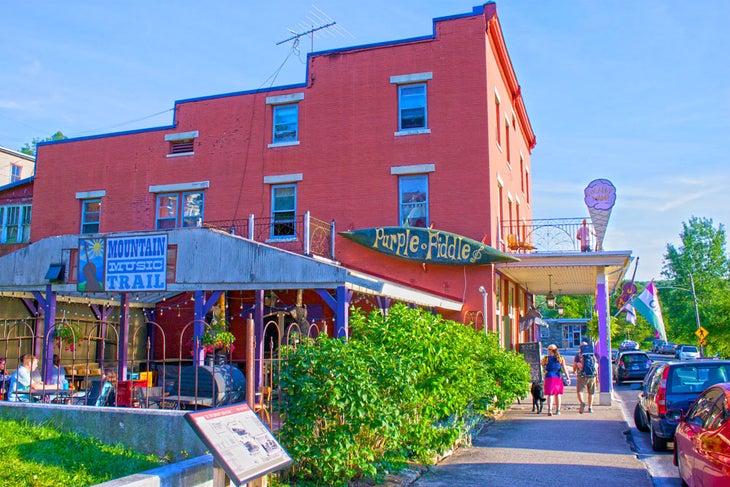 Similar in size, Thomas is home to nearly 570 residents. Albeit tiny, the town's vibe is full of energy with attractive storefronts including art galleries, boutiques, eateries and a stellar music venue.
As I entered town, WV-32 divided into a one-way street shaped like a keyhole. The road first ascends and buildings on the upper portion peer over the lower half of the divided street. Then the road loops back around where the majority of the businesses are located. Both segments soak up views of a bright green hillside to the west, the North Fork Blackwater River, and theBlackwater Canyon Trail, which runs 10.5 miles to Hendricks.
Where to Stay
I was lucky to have booked an overnight at theCooper House Bed & Cocktail. Joy, the host and owner, is friendly, helpful and offers a wealth of information about the area. Her house is located on main street in a perfect location: next to thePurple Fiddle, where I could hear wonderful live music (Matt Hutchison and the Big Gin) all evening from my bedroom window.
In mint condition, the house dates back to 1890 and is well decorated with bright pastel colors. Amazingly, Joy is only the home's third owner, ever! She remodeled a section next to the kitchen, where there used to be a back porch, to create another large area for seating—and cocktails. Rather than serving breakfast, the B&B pours delights.
Though I didn't have a chance to go, Joy recommended that I visitBlackwater Falls State Park to check out the waterfalls and hikes.
The following morning, I grabbed a quick-and-simple breakfast atFlying Pigs Café. The service was salty, the food was straightforward, and the pay was cash only (an ATM is just down the street.) The café opens at 8 a.m., just likeTip Top Coffee, so I opted into a semi-late start at the trailhead in light of enjoying breakfast.
The drive to Bear Rocks Trailhead (GPS: 39.063647, -79.303254) was only an hour.
NEW: a Grocery store is opening on main street, next door to the B&B! I saw the construction crew putting the final touches on a teal-tone sink. Look for open doors in August 2016.