The North Fork Mountain Trail
Walking the West Virginia skyline
Heading out the door? Read this article on the new Outside+ app available now on iOS devices for members! Download the app.
Tucked up in the hills behind Seneca Rocks is North Fork Mountain. Like a lot of peaks in the region, it's long, stringy top stretches for miles north and south. On its western flank, ragged cliffs trace the mountain's silhouette from just below the summit along nearly its entire length. For those down below, it's just another of the Allegheny's serpentine ridgelines, but from the top it's a winding, miles-long outcropping with never-ending views of the West Virginia countryside and a destination that could be considered a crown jewel to the Mountain State backpacker.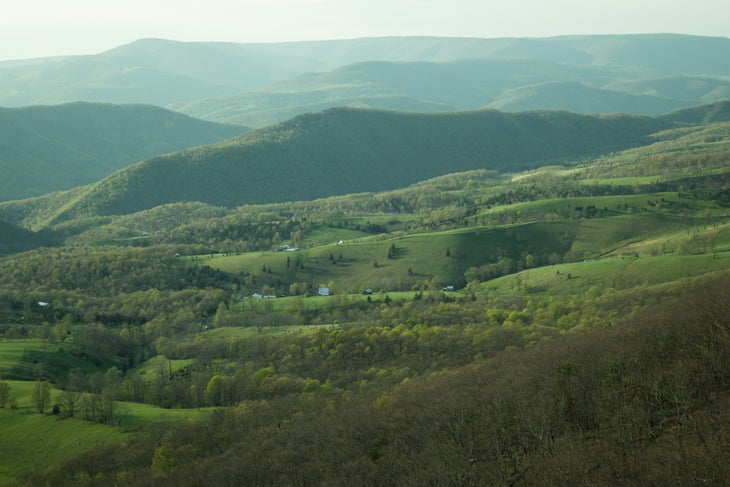 The North Fork Mountain Trail runs for nearly 25 miles from US 33 in Judy Gap to Smoke Hole Road off Route 28, traversing the top of North Fork Mountain for its entirety. The hike is known for its relentless views—From almost any point along its length, you need only head a few steps to the west before you're standing atop cliffs with panoramic views of the Germany Valley and beyond.
Backpack the North Fork Mountain Trail
The southern trailhead is right on the ridgeline, making a slow descent from south to north the most common route for a thru hike. Right from the beginning, the wide trail undulates over small knobs with cliff bands appearing on the left. Views from here span from Spruce Knob to Seneca Rocks.
The cliffline is the crest of a great breaking wave, overhanging on places above vertical rocks 20 to 40 feet tall before gradually descending to the valley below.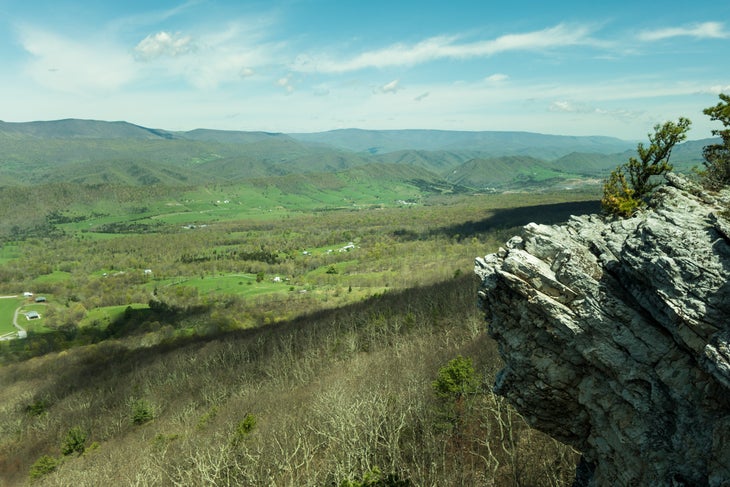 Breaking the trek into two days will put you at a campsite beyond High Knob. Be sure to set up within a short walk of the cliff edge. I spent the evening sitting on the rocks, watching the sun set in front of me while ravens zipped up and down on the cliff's updrafts. As the mountain drops toward the valley floor directly in front of me, it's dotted by farmland green enough to look like the coast of Ireland and I can hear dogs and cows from my perch miles above as I fall asleep.
Day two features more of the same but it's impossible to tire of the distant views and scenery in the quaint villages you'll pass from high above. It's not until the final mile of the hike that the trail eventually drifts east and off the fading ridgeline, descending steeply to Smoke Hole Road, but you'll probably be wishing you never had to leave the hike's endless views. 
–
Learn more about wild, wonderful West Virginia here
–