Weminuche High Route
Try a stunning new hike in the Colorado Rockies' top spot for big backpacking adventures.
Heading out the door? Read this article on the new Outside+ app available now on iOS devices for members! Download the app.
This 50.5-mile hike runs south-to-north across Endlich Mesa, Silver Mesa, the Needle Mountains, the Grenadier Range, the Highland Mary Plateau, and Arrastra and Spencer Basins before plunging straight into downtown Silverton. Along the way, you'll encounter spectacular plateaus of rolling tundra, ripsaw ridges, cliff-ringed lakes, and lush midsummer wildflowers, but it's not a route for the lazy or unacclimatized. For most of its length, you'll wander up and down through a succession of steep passes, with long stretches above 12,000 feet. Budget at least seven days; peakbagging and side hikes beg for more time. About half of the route requires off-trail routefinding. We recommend downloading the author's track log and waypoints for map-plotting or GPS use. Despite often steep terrain, there's no exposed scrambling that requires ropes—unless you go in spring, when an ice axe and/or crampons would also be useful for steep snow.
Maps: Trails Illustrated 140 Weminuche Wilderness, and USGS topos Columbine Pass, Storm King Peak, Howardsville, and Silverton
–Mapped by Steve Howe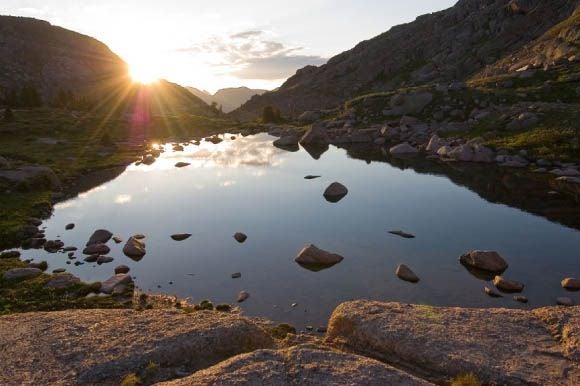 Trail Facts
Waypoints
WEM001
Location: 37.4772605895996, -107.631538391113
Endlich Mesa Trailhead Kiosk
WEM002
Location: 37.4909553527832, -107.610694885254
Weminuche Wilderness Boundary
WEM003
Location: 37.5189819335938, -107.602226257324
Pass begins descent to Lower Park
WEM004
Location: 37.5260276794434, -107.598281860352
Trail junction; stay left
WEM005
Location: 37.5348701477051, -107.608558654785
Trail junction; turn right/NE
WEM006
Location: 37.539737701416, -107.600387573242
Lake
WEM007
Location: 37.5449333190918, -107.592422485352
Trail junction; stay left
WEM008
Location: 37.5521697998047, -107.59268951416
Good watering site. Follow developing trail N. as it curves West up onto Silver Mesa
WEM009
Location: 37.5710792541504, -107.605400085449
Pittsburgh Mine. Beware of dangerous vertical shafts.
WEM010
Location: 37.5801544189453, -107.597633361816
Trimble Pass: Excellent views northward to main Needles group
WEM011
Location: 37.5971031188965, -107.59928894043
Columbine Lake
WEM012
Location: 37.6018257141113, -107.591941833496
Unnamed pass to Hazel Lake. Descent trail East is exposed; use caution.
WEM013
Location: 37.6047592163086, -107.588371276855
Hazel Lake; scenic campsite
WEM014
Location: 37.5918846130371, -107.593269348145
We rejoined Johnson Creek Trail. More efficient route is to descend directly from Columbine Lake.
WEM015
Location: 37.5889129638672, -107.534629821777
Ford Johnson Creek. Could be tough in spring.
WEM016
Location: 37.5842819213867, -107.531150817871
Pack bridge across Vallecito Creek
WEM017
Location: 37.6298332214356, -107.538513183594
Turn Left at small cairn. Follow sketchy trails NW across meadows.
WEM018
Location: 37.6311454772949, -107.53938293457
Ford Vallecito Creek. 100 feet across. Knee deep or deeper. Probably impossible in high run-off.
WEM019
Location: 37.6336059570312, -107.540245056152
Huge avalanche debris pile. Clamber over logs as needed for 1/4- to 1/2 -mile.
WEM020
Location: 37.6358451843262, -107.55249786377
Rejoin solid trail
WEM021
Location: 37.6335639953613, -107.56494140625
Jaw-dropping views enroute to Sunlight Lake
WEM022
Location: 37.6341552734375, -107.581108093262
Sunlight Lake
WEM023
Location: 37.6386947631836, -107.578788757324
Turn North off-trail. Climb steep tundra gullies to ridgeline pass.
WEM024
Location: 37.6461639404297, -107.578636169434
Unnamed pass into broad tundra basin
WEM025
Location: 37.6509170532227, -107.579551696777
Unnamed pass; may need ice axe for descent down snowfields to north
WEM026
Location: 37.6603927612305, -107.573539733887
Best route actually climbs straight north from tarn, crosses pass, and drops to basin South of Peak Seven.
WEM027
Location: 37.6624336242676, -107.567398071289
Sketchy scrambles across steep slab band. Best route is further west
WEM028
Location: 37.6655654907227, -107.568710327148
Unnamed pass
WEM029
Location: 37.6701240539551, -107.57006072998
Unnamed pass
WEM030
Location: 37.6713981628418, -107.570236206055
Critical descent gully from pass between Peaks Seven and Eight
WEM031
Location: 37.6731796264648, -107.561828613281
Unnamed Pass. Begin boulderfield descent toward, but not down to, Lake Silex.
WEM032
Location: 37.6930809020996, -107.569671630859
Pass begins descent to Elk Creek Valley
WEM033
Location: 37.7129669189453, -107.566337585449
Strike user trail. Avoid logpile tangles visible below. Persevere until striking Elk Creek.
WEM034
Location: 37.7173271179199, -107.563484191895
More user trail leads to Colorado Trail
WEM035
Location: 37.726619720459, -107.576721191406
Small bridge across side creek. Begin looking for game trails climbing north.
WEM036
Location: 37.7408180236816, -107.579498291016
Hidden hunter's camp on small bench above and east of gully
WEM037
Location: 37.7447547912598, -107.577560424805
Strike user trail; turn ENE
WEM038
Location: 37.746166229248, -107.575538635254
Strike maintained trail; continue north
WEM039
Location: 37.7490730285644, -107.576522827148
Verde Lake: Good watering point
WEM040
Location: 37.7667541503906, -107.582481384277
Leave major track. Follow faint user trail around corner and across sidehill. Soon becomes XC travel. Follow natural "trench" traversing sidehill to NW.
WEM041
Location: 37.7702140808106, -107.593933105469
Unnamed pass reached after skittery, steep talus climb thru conglomerate cliff bands.
WEM042
Location: 37.7779083251953, -107.607849121094
Game trail
WEM043
Location: 37.7808303833008, -107.608276367188
Very high unnamed pass. Look for airy mountain goat trail traversing west across face of Point 13,409.
WEM044
Location: 37.7941856384277, -107.613861083984
Another spectacular pass
WEM045
Location: 37.7975997924805, -107.625175476074
Last pass. May involve rotten cliff scramble up and around mine tunnel entrance that blocks easy pass crossing. Watch those handholds.
WEM046
Location: 37.8053741455078, -107.627510070801
Faint trail avoids cliffband descending Blair Gulch
WEM047
Location: 37.8075370788574, -107.627876281738
Very loose, unpleasant talus descent down to valley floor
WEM048
Location: 37.8113098144531, -107.633102416992
Summer cabin under construction. Follow access roads down to road network.Turn left at first major crossroad.
WEM049
Location: 37.8077621459961, -107.642433166504
Actual road intersection. Note: Roads on this maps in this area are inaccurately shown.
WEM050
Location: 37.8115615844727, -107.663032531738
End of route
Sunlight Lake
Location: 37.6344261169434, -107.580657958984
Dawn does a doubletake on Sunlight Lake. © Steve Howe