Weekends: Ice Falls, Oregon
Venture to this impressive cascade surrounded by jagged granite peaks.
Heading out the door? Read this article on the new Outside+ app available now on iOS devices for members! Download the app.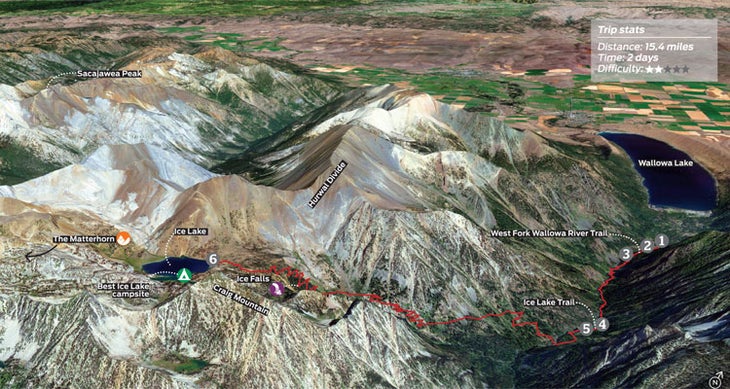 I could hear the waterfall before I could see it. There wasn't even a sign to indicate its whereabouts. Midway along the Pacific Northwest pilgrimage to Ice Lake, an alpine pool surrounded by jagged granite peaks, I veered off-trail. Hidden behind the Wallowas—and Ice Lake's widespread reputation—I stumbled upon what might be the state's most-impressive cascade: a 500-footer that crashes into a wildflower-rimmed basin between green canyon walls. In a few hours, I would see the sun set over the Matterhorn from a lakeside site at the end of the trail. But that wouldn't be the highlight of this trip. BY ADAM SAWYER
Turn-by-turn
From the Wallowa Lake trailhead
(1) Head 100 feet southeast to a fork. Veer southwest (hiker's right) onto the West Fork Wallowa River Trail and continue .3 mile to a T-junction.
(2) Turn south (hiker's left) and continue 2.6 miles to the West Fork Wallowa River Trail/Ice Lake Trail junction at 2.9 miles.
(3) Take the right-hand option to Ice Lake and descend 100 yards to a bridged crossing over the west fork of the Wallowa River.
(4) Cross and continue 4.8 miles to Ice Lake at 7.7 miles. (Pass Beauty Falls near mile 5.2 and the best entrance to Ice Falls near mile 6.4. See below.)
(5) Retrace your steps to the trailhead.
Campsite
Ice Lake (7.7 miles)
This hot spot can be crowded on weekends, so aim for one of the established, first-come, first-serve spaces hidden on the east shore's peninsula for the best view of the Matterhorn. At the main trail's terminus, pick up the faint footpath following the shore .2 mile clockwise to the alcove.
Find the falls
At mile 5.8 on the main path, you'll encounter a set of 13 switchbacks; leave the trail hiker's left (south) at the joint between the fifth and sixth switchback after climbing about .6 mile. There will likely be a faint footpath, but, if not, follow your ears: After about 50 feet, you'll emerge from thick pine woods at the basin's northern bank. Note: Stick to hard soil when traveling off-trail to protect the vegetation.
Bag a peak
Summit the 9,836-foot Matterhorn via a non-technical, 1.5-mile scramble over easy-to-negotiate limestone scree from Ice Lake's northwest shore. A faint trail climbs about 2,000 feet to a panorama of the Wallowa Range and Eagle Cap Wilderness.
DO ITTrailhead 45.267470, -117.212161*; 7 miles south of Joseph off Wallowa Lake Hwy. Gear up The Sports Corral in Joseph; bit.ly/sportscorralfbSeason Mid-summer through mid-fall. Late August is best for flowers; bugs taper off in September and October, but weather can be dicey. Ice Falls flows year-round. Permits None Custom-centered mapbit.ly/BPmapIceFalls ($15) Contact (542) 426-5509; fs.usda.gov/wallowa-whitmanTrip datawww.trimbleoutdoors.com/ViewTrip/2714865
*Plug these lat/long coordinates into Google Maps for turn-by-turn driving directions.
Trail Facts