Walking the Talk
First John Francis stopped riding in cars. Then he stopped talking. More than three decades, two continent-spanning hikes, and countless trail miles later, he's still following his remarkable path of protest–only now he's not alone.
Heading out the door? Read this article on the new Outside+ app available now on iOS devices for members! Download the app.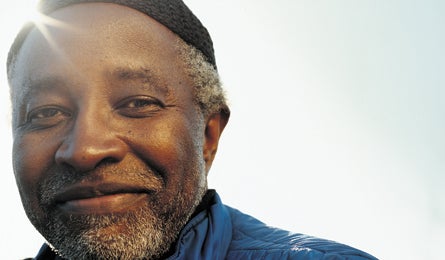 John Francis hasn't ridden in a car for three decades.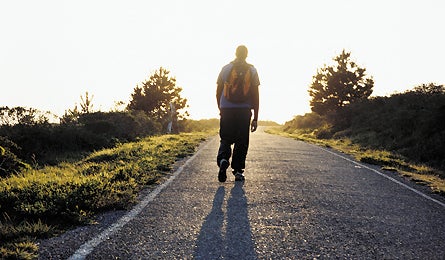 Francis walks up Mt. Vision, near his home in Point Reyes Station, Calif.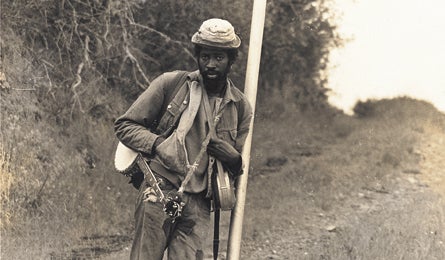 Francis near Marshall, Calif., in 1975.
Francis with his wife, Martha Smith, and sons Sam and Luke.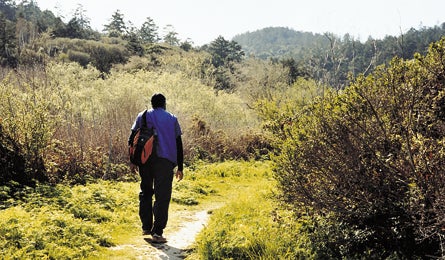 Francis lives near Point Reyes National Seashore.
It was one of those divine, cloudless April afternoons on which the sun shines bright and warm, finally, and the jonquils are blooming and the whole world seems heavenly. It was, really, an excellent time to be thinking about John Francis, a towering and elegant man who has spent the last 37 years taking long, peaceful walks about the globe, for Francis is–like, say, Johnny Appleseed or Peter Pan–a character who seems to float above all clouds and darkness. The man exists, but he's also shrouded in mythology. And now his friend, a Maryland homemaker named Pamela Ray, was articulating the Francis legend.
"John," Ray mused as she sat on the porch of a café in Gettysburg, Pennsylvania. "John is, well, a magical person. He's very complex yet very basic." Ray and her husband, Alan, and I were there to watch Francis, who's 62, embark on a 10-day, 160-mile hike westward, mostly over busy US 30, to promote "peace and earth stewardship." Ray continued: "He has such a devoted following. Everywhere he goes he draws people toward him. And he talks to animals, you know. My cats, who hate everybody–they like John. I've never seen them respond to anyone the way they do to John."
What was Ray talking about? It was all a little ineffable, and her musings stirred an uneasiness in my stomach. As a journalist, I am in league with George Orwell, who once wrote, "Saints should always be judged guilty until they are proved innocent." I am leery of cheap mysticism.
Yet the facts cannot be ignored: Francis has lived a large and unconventional and, yes, inspirational life. He's walked across the United States and then the length of South America, refused to ride in motorized vehicles for more than two decades, and maintained a strict vow of silence for most of that time. He inspires admirers like Ray everywhere he goes. And he has Hollywood interested in telling his story. A feature-length Francis biopic–Planetwalker–is slated to hit multiplexes nationwide next year. The production company, Shady Acres, which last year delivered Evan Almighty, is close to signing Will Smith to play Francis. Expect a strange and lovely tale, a classic underdog-hero-sticks-to-offbeat-ways-and-proves-the-importance-of-values-over-money parable. Think The Pursuit of Happyness II: Our Hero Hits the Trail.
When the final credits roll, it's likely that many viewers will feel inspired to walk home from the multiplex–or begin wending the trails through their local woodlands and parks. Francis is now creating a social-networking website, planetlines.org, designed to get mainstream Americans excited about walking. Users will be able to post maps, GPS data, and narratives to tell about their respective journeys. "The idea," Francis says, "is to put people back in the environment–to get them away from their cars and their air conditioners. And they don't have to go to the Grand Canyon. I want them to explore the places where they live."
But what if moviegoers walk no further than the parking lot? Will that matter to the man behind the myth? Will it mar the legend of John Francis?
It began with a disaster. In 1971, as a hippie living near Point Reyes Station, California, Francis drove down the Pacific coastline and beheld a slick horror: Two Standard Oil tankers had collided and spilled nearly a million gallons of crude into San Francisco Bay. "And if you don't like the news," Francis heard a radio announcer say as he looked on, horrorstruck, "Go out and make some of your own."
Soon, Francis vowed to stop riding in cars, buses, taxis, and planes. Then, for 22 years, he didn't–literally–not once. He moved about solely on foot or (occasionally) on a bicycle. Indeed, when a car clipped him on the streets of Washington, D.C., seriously injuring his shoulder, he refused an ambulance ride and walked to the hospital.
Francis hiked across the U.S.–from California to New Jersey–taking 18 years to do it and earning his bachelor's degree, master's, and PhD in land resources along the way. He crossed the Paysaten Wilderness, in Washington's Cascade mountain range, on foot, and braved the Arco Desert in Idaho in triple-digit heat. Four separate times, he walked 500 miles from his home in Point Reyes with a 75-pound pack, along the Sacramento River and north past Mt. Shasta to the Kalmiopsis Wilderness in Oregon. There, he spent three summers and two winters amid the evergreens.
In 1990, in the wake of the Exxon Valdez oil spill, Francis settled in Washington, D.C., to work for the Coast Guard measuring the financial damage to natural resources caused by oil spills. But a desk job was not his fate. He left Washington after a year, and in 1992 he sailed to Venezuela and eventually hiked 4,000 miles across South America. In Bolivia, he almost died of malaria, languishing, alone and feverish, for two days in the bush before a U.S. narcotics surveillance crew rescued him. In Brazil, the Waimiri Indians escorted him through the Amazon.
For most of his journey–for 17 straight years–Francis never spoke a word. Even when he taught environmental studies at the University of Montana, he pantomimed and communicated through a thespian's array of facial gestures, forcing his students to guess: "Is he cutting a tree? Is he talking about selective forestry?"
The 6'2″ Francis carried a banjo and won strangers over with sprightly tunes. Once, when a bigot held a .44 revolver to Francis's head and called him a nigger, Francis simply smiled and the man let him walk away. Other times, cops let no-pedestrians laws slide as Francis hiked on the freeway.
By the time I met him, Francis seemed, almost, an avatar of all things good. Here was a gentle giant with no shadow of racial resentment and a message of peace. Here was a genial ex-hippie who could endear himself to Republicans, and an activist who most certainly had done more walking than talking. Scores of newspapers feted him. When The New York Daily News profiled him, the piece was a paean entitled "Been Down the Side of Twelve Misty Mountains" and the photos depicted Francis throwing his head back and strumming his banjo. He looked blissed-out, as Indian swamis often do in promotional photos. He looked Messianic.
You don't need to be a cynical journalist to find trouble with the Francis mystique. A friend of mine, once a student at the University of Wisconsin with Francis, shrugged when I asked if he and Francis were friends. "Not really," he said, vaguely dismissive. "It's not much fun hanging out with a guy who can talk but decides he doesn't want to." There was something hugely self-indulgent about Francis asking everyone around him to be patient, to play along. Ostensibly, he was being humble, not staining the air with his speech, but his asceticism was so public that it made him a spectacle. Francis's autobiography, Planetwalker, delivers a medley of fans giving loud shout-outs. "More people wave than I would have thought," he writes, describing his ceremonious exit from Madison after a two-year stay. "Some sign 'I love you,' applaud, and encourage me from their cars."
Then there's the way Francis currently gets around. In recent years, he's abandoned both his boycott of motor vehicles and his vow of silence. The man who once contented himself by pitching his tent alongside the hissing freeway has been staying in hotels and flying 100,000 miles a year. He's now an eco-éminence grise who travels the world as a sort of green motivational speaker. He advises the Sierra Club on how to lure minorities. He serves as a U.N. Goodwill Ambassador, and recently he lectured at the Global Travel and Tourism Summit in Portugal, arguing that hotels can only be sustainable if they are humane to their workers.
Between trips, Francis runs a small nonprofit, Planetwalk, based in Point Reyes Station, California, where he lives with his wife and two sons–Luke, a toddler, and seven-year-old Sam, who can already knock off 10 trail miles in a day and name nearly every tree in Point Reyes National Seashore. He publishes a small newsletter and is developing a K-12 Planetlines curriculum.
Francis is busy, and his lifestyle befits a man who's met success in the world. He flies business class these days, and when he recently visited Beverly Hills he was treated like royalty. "The room tab at the hotel is open," Francis recalls Shady Acres jefe Tom Shadyac telling him. "You can get a massage, you can get detailing done on your car–anything you want."
But if Francis is now indulging himself a bit, he isn't just resting on his laurels. In July, he'll travel to the Yukon to canoe 250 miles down the Porcupine River with the Yukon Intertribal Watershed Council, which aims to promote Indian solidarity and river health. This summer, he'll do some overnight hikes in the coastal wilderness of Point Reyes with Sam. Meanwhile, Francis is walking west across the country, in stages, making a multiyear trip that might rankle purists: He has a website (planetwalk.org) and a publicist, and he taps volunteers to transport his baggage.
The Pennsylvania hike was part of his westward trek, and Francis arrived for it in a small private plane, a Piper Arrow piloted by his friend, David Rhodes, a young Washington lawyer. When he lumbered out onto the wing, wearing a long-sleeve T-shirt and huge baggy cargo shorts, he was quietly laughing. "Bill," he said to me, warmly extending his hand to greet me. "Bill! Bill!"
In time, we sat down on a bench, and Francis's tone was calm and pedagogical. "Walking all those years," he told me, "that was a journey. And when you go into the wilderness, you come out changed. You come back with something to give." In Francis's case, the years of silent walking crystallized the truths that now form the core of his mission. "We have to start treating each other with dignity, with respect," he said. "We need to work together on our environment. We need to stop dumping toxins where people live. We have to get along because the environment is not just about trees and rivers–it's about people."
This is the message that Francis delivers when he speaks before groups. I couldn't quite fathom why Francis had to go on a journey to arrive at such timeworn epiphanies about human kindness. Couldn't he have just read the text on a box of Celestial Seasonings tea? Nevertheless, Carl Pope, the executive director of the Sierra Club, sees him as invaluable. "He's got a story to tell," Pope says, "and, well, a lot of people have John's quiet passion, but they're not as cheerful about it. John can inspire people, and he can put things very simply."
In Gettysburg, Francis was trying to engender a new alliance between greens and mainstream Americans. Rotarians and Lions Club members, he'd told me, would shuttle his suitcases between towns and help set him up at hotels. They'd done this before, when Francis walked 150 miles across Pennsylvania in 2006, and so I kept looking around for old men in white sneakers and windbreakers.
They were nowhere in evidence, though. The only supporters on hand were Rhodes, Ray, and her husband. And as they all sidled off toward dinner at the Best Western, the evening bore a distinctly middle-class vibe. Francis ordered a Caesar salad and talked about the Toyota Prius that Shady Acres gave him, gratis, last year as a presigning bonus. "Every time I hop in and drive," he said, "I have hope. I know somebody in Hollywood believes in me."
The next morning, April 22, Francis stood on the green in Gettysburg, fiddling with a microphone as he delivered a podcast. "Happy Earth Day, everyone!" he intoned. Then he began walking east, past touristy shops, then right onto US 30. He was slow. He stopped and snapped photos. He played the banjo and told Rhodes, walking beside him, "Even if the drivers can't hear it, the banjo communicates."
We walked through the Gettysburg Battlefield, site of the bloodiest confrontation during the American Civil War, and soon we were outside of town, alone on a bland, grassy no-man's land. There was broken glass at our feet, crushed soda cans, and discarded tires. The distances seemed vast, and the cars, whooshing by at 60 miles per hour, seemed hostile. Still, Francis encouraged us to wave at the cars. "You watch," he said hopefully. "People will wave back."
They did, but still I felt awkward out there. Francis was so coolly cheerful that I felt guilty about the annoyance that seized me every time a car cut too close. I wanted to locate some fallibility–some dark side–in Francis as well.
In Planetwalker, Francis writes that early on in his silent years he was plagued by "a cacophony of thoughts, conversations and arguments" persisting "inside my mind, begging to become words." There was some tension between him and his father. The elder John Francis was an émigré from Antigua, and a man who toed the straight and narrow in his pursuit of the American dream. He worked for more than four decades as a telephone line repairman in Philadelphia, and slowly he banked enough cash to buy a second home, a cabin on the Jersey shore. He sent his teen son to Catholic school and bought him an MG sports car. When John enrolled in a college premed program, his dad happily called him "Dr. Francis."
But then, as a freshman, Francis dropped out. He began traipsing around downtown Philly with no shoes on his feet. Then he ventured out to Point Reyes, a burgeoning hippie haven, to visit some friends. He scored a gig as a booking agent for rock bands and stayed on. Soon, he stopped driving. Still, discontent rumbled through him. His mind remained fixed, he writes, "on past conversations and arguments that drive me to near distraction."
On his twenty-seventh birthday, Francis resolved to be silent for a few hours. When the quiet afforded him sanctuary from the quarrels ricocheting around in his mind, he just let his vow of silence linger on, and on. He saw his silence as a gift to others, granting them "permission to speak fully their idea or position without fear of rebuttal." His dad was incensed, though. "How are you going to get anywhere," he implored, "if you don't even drive or talk?"
Francis, of course, did not respond, and as he dwelled deep in his quietude he reflected on what it meant to be black in America. Once, in high school, his guidance counselor advised Francis, an honor roll student, to look into working as a garbage man. In college, a dean suggested he stay away from a dance, reasoning, "There won't be any colored girls there."
"The message in consumer culture," Francis told me, is, 'If you really want to be happy, you have to be white.' As a black man, you end up compromising yourself, pretending to be something you're not." Francis decided that previously he'd been a shallow, ungrounded person: "I told a lot of lies. Like to impress a girl, I'd say I was just about to get a million-dollar settlement. At some point, you have to ask yourself, 'Who am I?' And that's what I did when I stopped talking and riding in cars. I became myself."
But was Francis's transformation so simple? The guy had meditative instincts early on: Even in high school, he'd contemplated becoming a Trappist monk. I read Francis's silent, walking pilgrimage not as a protest, but as a retreat into a deeper, more spiritual realm. Francis still lives in that realm. He's not a details guy. He doesn't fight for specific patches of wilderness. He doesn't pay attention to the nuances of Congressional bills. And when he flies business class, to stretch out his legs, I doubt he loses sleep over the effect on his carbon footprint. He's guided instead by a cosmic principle: He aims, always, to do what seems right.
When we strolled into the hamlet of McKnightstown, we came across five young Latino men gathered on a small lawn. They regarded us through squinted eyes, arms crossed, but Francis strode up onto the lawn while playing the banjo. Then, in melodious Spanish, he pronounced, "Hoy es el Dia de la Tierra." Today is Earth Day.
The men said nothing. Francis played again. He rolled his head back, reveling in the twangy splendor of a song he'd written, "El Caminante," and when he finished, one of the men smiled faintly beneath the bill of his cap. "Una canción muy buena," he said. A very good song.
About seven miles outside of Gettysburg, US 30 pitches steeply upward, climbing straight into the South Mountains. I chewed on the prospect of walking there, amid the litter by the roadside. Then I hitched a ride back into Gettysburg, leaving Francis and Rhodes to complete the day's 20 miles.
Rhodes, 38, is thin, with a boyish mien given the slightest hint of gravity by his trim, white-flecked beard. He had never walked 20 miles before, and he was wearing light, sneakerlike trail shoes–a mistake that he would regret hours later when his ravaged feet thrummed and burned like hot coals. Even so, Rhodes thrilled over how walking the highway exposed him to both the beauty and wreckage of a world he'd overlooked before, when driving. "We saw a dead owl," Rhodes told me, "and a small sparrow, and a cell phone shattered to pieces. We saw orchards–apple, and pear, and peach."
Rhodes and Francis walked together for two days and 38 miles, and when they stopped to rest, I joined them sometimes, bringing water and food. Once, when we lay on the green lawn of a convenience store munching peanuts, Rhodes delighted that there was wildlife even here, by the highway. "We can just leave the shells for the squirrels," he said, pleased with the neatness of this ecological scheme.
"No," Francis said in even tones. "Don't do that." He went on to argue for tidiness, but really there was no need. His authority was clear. He is a dignified older man, so handsome and poised and wise that people around him can feel small. Rhodes gathered the shells. And often I, too, found myself outclassed by Francis. Like, for instance, when I asked him about his controversial decision, back in 1993, to resume driving because he felt "imprisoned" living outside of cars.
"I'd welcome anyone to show me how pure they can be," Francis said. "Honestly. When people write and say, 'Go back to silence and walking,' I want to say, 'Okay, and I think you should join me.' But they won't. There's not many people out there who will truly commit as I did."
Francis wasn't cocky or arrogant, but he was never fazed, either. One morning, I drove him east over US 30, to drop off his bags in Breezewood. Getting there, we previewed that day's walk: 25 miles, over the mountains. "This isn't a bad mountain," Francis remarked as we ground up one incline. "I don't know what it's called, but it's not a bad mountain."
Later, on his blog, he would write, "There were five summits. Trucks grumbled up and down the steep grades. The cars screamed by. I toiled. Sweat poured off me, but the breeze dried the salty moisture on my face and kept me cool. At the foot of each mountain someone always stopped to ask if I wanted a ride. I thanked each person who wanted to help me in this way, but I knew that I needed to walk each step. The walking was something like a prayer."
I had to respect his tenacity. What I didn't grasp was why he had to walk on such a god-awful highway. One morning on US 30, driving less than a mile through Chambersburg, I passed Popeye's, KFC, Meineke Mufflers, Elite Tattoos, Burger King, and McDonald's. There was no shoulder and no sidewalk, and when the road cut under a freeway overpass, Francis had to walk in the lane with the cars.
Still, when I met him at a Waffle House for breakfast he seemed refreshed. "It's good for the planet to walk a road like that," he said. "The reason why there's a road right there is because it's the most direct way through the mountains. A long time ago, animals probably walked it–deer, bears, whatever. Then Native Americans walked it. Think of all these people walking the track throughout history–it's the way. It's the most direct route. And yet now we've gotten to the point where you almost can't do it on foot. That's a problem, I think–the planet wants us to be on it and feel it. Maybe we need to say, 'Hey, we need to reclaim this road. Someone needs to walk on it.'"
Okay, I said, but what do you get out of walking a highway? What's in it for you?
"I guess I get to be that person," he said.
I expected Francis to comport himself like some excessively pious sage, but he did not. We drank beers every night, and whenever I met him he hailed me in silly, lilting tones: "Hey, sailor!" When we drove by a topless bar deep in the hills called Artistry in Motion, he was not above seeing the humor. "I like it," he chuckled. "And look at that–they've even got those little cabins for rent out behind the bar. Nii-iice!"
The man had savoir faire. He had street. One evening at the Best Western in Chambersburg, two heavyset young African Americans–Johnny and Tommy Jackson, who are brothers–approached Francis in the lobby, ecstatic after learning of his coast-to-coast hike. "That's some walking," exclaimed Tommy. "That's amazing!"
Francis just sat there, slumped low in a couch by the desk, meeting Tommy's enthrallment with hip, paternal support. "Yeah," he said, "walking puts you in a good state of mind." He was not John Francis, PhD, now. Rather, he was channeling a different self–the Johnny Francis who grew up in working class Philly. A moment before, in fact, Francis had introduced himself as Johnny. It wasn't lying. It was, rather, the work of a human relations maestro.
Tommy went on, growing confessional. "I only weigh 250 now," he said. "I lost, like, 20 pounds last year, court walking–on tennis courts, you know. Walking, man, you get in the zone–you can do some serious thinking. I used to do a lot of things," he continued, "drink, smoke, drugs. I just asked God to take all that out of my life, and He did."
The Jacksons work as traveling laborers, installing lighting systems. And now they were stranded because Johnny had inadvertently put gasoline in the tank of their diesel van.
"Wait here," Francis told Tommy. "I have something for you." Limping a bit, his legs sore and stiff, he hobbled back to his room, where he had a single copy of his book in his suitcase; he'd brought it in hopes that he'd meet a stranger whose story moved him. Now, he came back with the book. Signing it, he told Jackson, "The bottom line–what it's all about–is that we need to be good to each other."
I met with Francis just one more time–at his home in Point Reyes Station, a one-time ranching community that has, in recent years, become such a bastion of Left Coast crunchiness that even the local feed barn has a yoga studio.
By now, the splendor of our rendezvous with the Jacksons had faded for me like a sugar high. Indeed, I'd called Tommy and learned that he'd yet to do much reading. As far as I could discern, Francis's Pennsylvania walk had accomplished nothing concrete. It had warmed people's hearts, but were there legions out there who'd felt moved, after Francis flew home, to actually lace up their boots and take to the road? I couldn't find them.
And now Francis was ensconced in a difficult familial challenge. On the day I reached Point Reyes, his wife, Martha Smith, a social worker who is 42, was temporarily returning to work after a three-month maternity leave. She had never been away from her infant son, Luke, and now she was leaving Francis alone with the boy and a little chilled breast milk. She was a nervous wreck. "And if he starts crying," she instructed, "what you do is you bounce him on your knee like this"–she bounced him–"and sing, 'Luke, Duke, Duke of Earl.'"
Francis looked over at me, hombre a hombre, his eyes rolled skyward, as if to acknowledge that, yes, this was a cloying and embarrassing moment. Then he turned to his wife. "As soon as you go out that door," he said in soothing tones, "the wet nurse is coming in through the other." Smith laughed, comforted, and then left for work.
The next day, Francis and I slipped out for lunch at an organic restaurant, The Station House. We talked about the Travel and Tourism Summit he'd just been to in Portugal. "I had a very interesting conversation with this guy from Marriott Hotels," he told me. "They're really beginning to think about the environment."
I asked Francis for details on Marriott's record. His answer was hazy, so then I kind of jumped on him. Didn't he know that some major corporations pretend that they're eco-friendly just to placate the public? Did he really believe that a placid and genial person could effect change in the world?
Sitting there over his free-range bacon cheeseburger, Francis began, very patiently, to enunciate the tenets of Gandhism. But he did not get very far, for now there was an interruption–a sparrow fluttering madly, disoriented, over a table occupied by a few bewildered, elderly diners.
Francis rose. He took a couple of giant steps toward the small bird and swept his napkin up into the air, to gently guide the scared little thing out the window. And suddenly I was witnessing a splendid tableau: Here was Francis's massive brown hand, here the white napkin, and here the black sparrow sputtering, stalled, and then, a second later, spiriting away, free, into the blue sky outside.
The tension on the faces of the elderly diners lifted. A soft laughter rippled through the restaurant, and it seemed as though, simply by being there, Francis had brought to the room a new sweetness and harmony.
Would that sweetness last in any quantifiable way? Would it halt global warming? It would not. But it was there and it was magical, and I knew that it would inspire people in ways that words could never quite capture.
So when Francis returned, grinning with infinite warmth, I asked no more questions. I simply sat there, amazed, and delighted to be in his presence.
Bill Donahue lives in Portland, Oregon. He's still a George Orwell fan, but he plans to do a lot more walking.