Wai'anapanapa State Park, HI: Shoreline Trail
This coastside trail in Wai'anapanapa State Park packs so many photo-worthy views into its two miles that it can easily occupy half a day. Bonus: Take a post-hike dip in a freshwater cave.
Heading out the door? Read this article on the new Outside+ app available now on iOS devices for members! Download the app.
Three miles from Hana, on the west side of Maui, Wai'anapanapa State Park is a coastal playground; a rugged volcanic shoreline, blowholes shooting fountains of seawater into the sky, arches of lava rock stretching into the waves, caves and lava tubes for exploring, or just the novelty of kicking back on a pristine Hawaiian black sand beach.
For the coast trail, start along a paved walkway offering views over the Pa'iloa black sand beach. A short walkway branches off the trail descending to the beach and the opening of a lava tube. Pass an old cemetery and the camping area, and where the pavement ends head left off trail to the rocky outcropping of lava for a closeup view – but not too close! – of a large blowhole and a long lava arch. You may be tempted to just park it here and watch the ocean put on its show, but there's more to see.
Back on trail, follow the path as it contours along the coast, keeping left at all junctions, past dense groves of hala (not pineapple) trees, giving more views of the ragged volcanic coastline, with more arches, blowholes, and collapsed lava tubes. Cross a narrow rocky bridge over a collapsed tube and notice the surf churning below. Descend a large rock step and continue along around the remains of an ancient heiau (temple) and through an overgrown grassy area to a spot with numerous rock wall remains from an old village with more hala and nice views. The trail continues all the way to Hana, but gets sketchy from here on – and all the best views are behind you – so this spot makes a good turnaround point.
For the freshwater caves loop, head north from the parking area to a large sign telling the legend of Princess Popoalaea and the freshwater caves. Less than half way along the quarter-mile loop brings you to the first – and only swimmable – cave. Bring an underwater light to explore the two chambers beyond the opening. The second pool on the loop is pretty murky and not inviting. Finish up where you began, and spend some time on the small, yet utterly gorgeous black sand beach.
Warning: Do not approach blowholes, and use extreme caution on the lava benches nearest the ocean, as many of these areas are unstable. Be aware of high surf conditions.
-Mapped by Eli Boschetto, Bosco Mountain Photo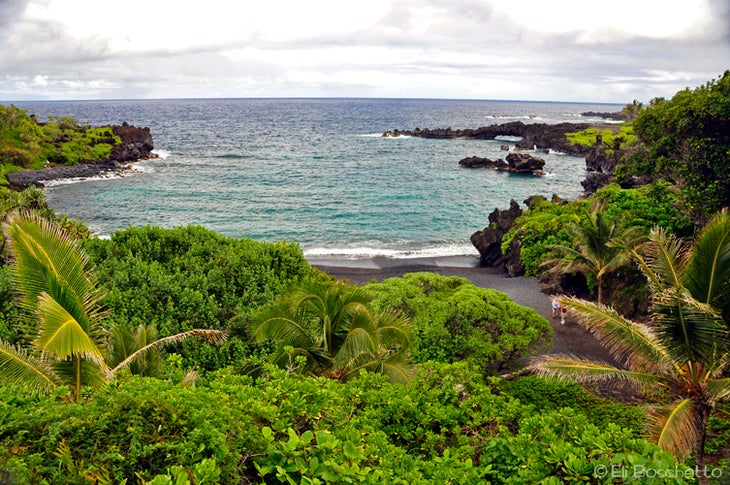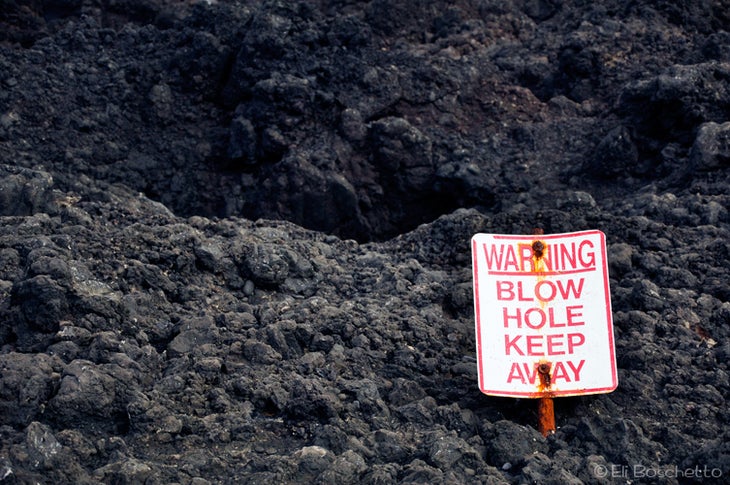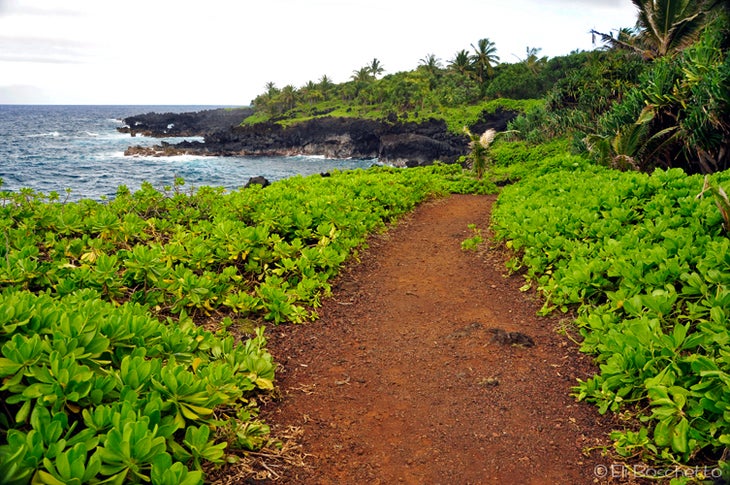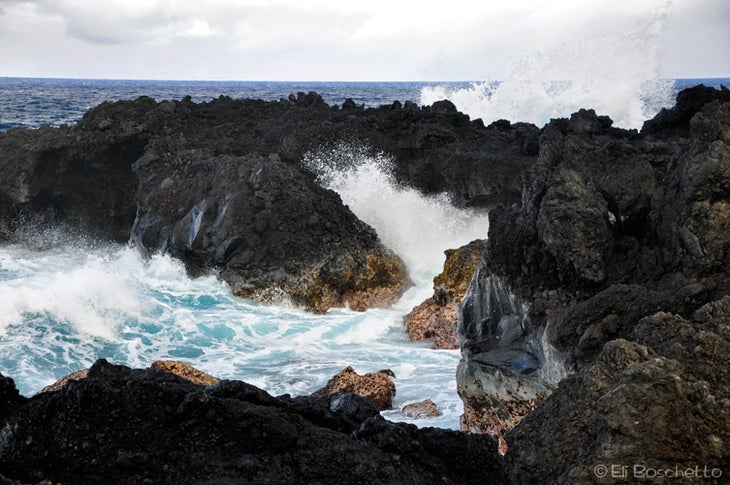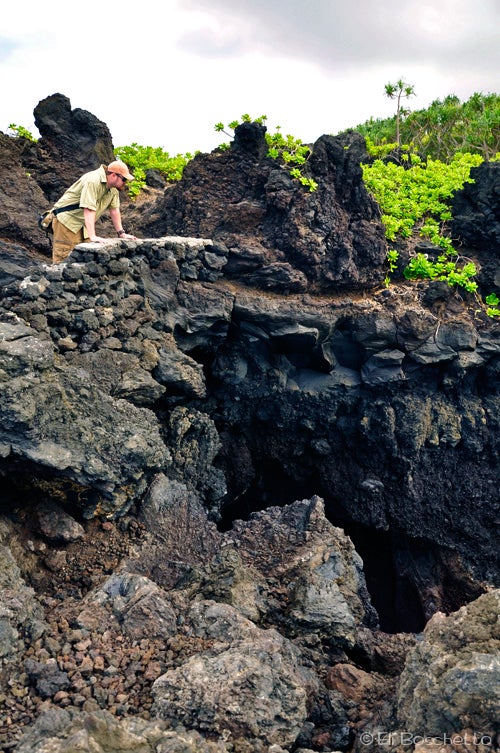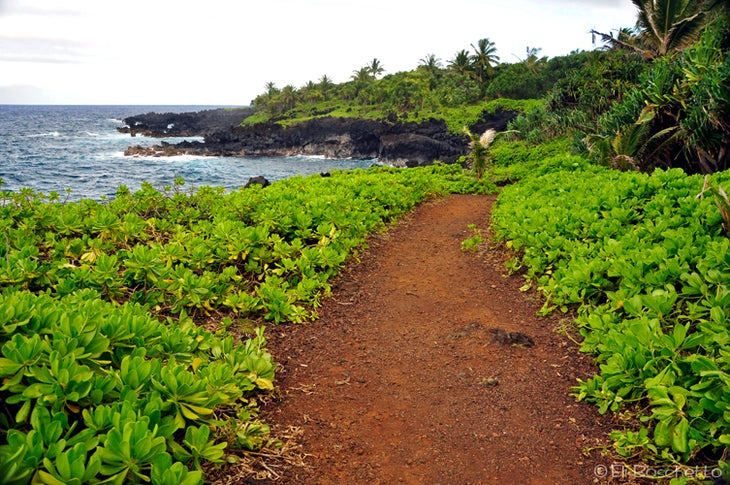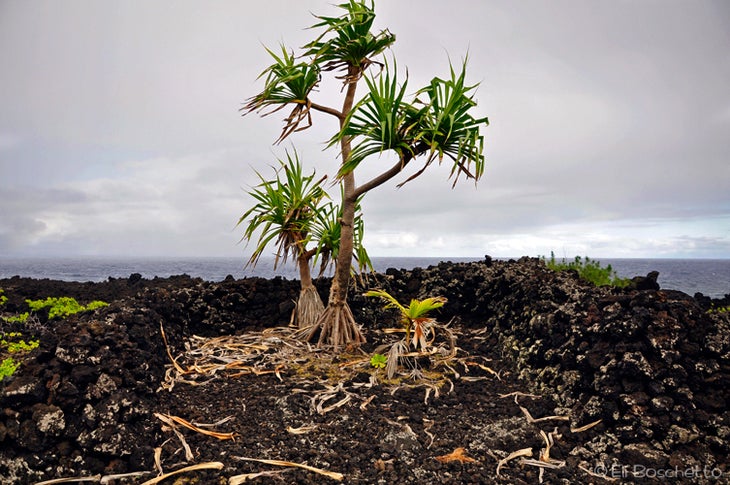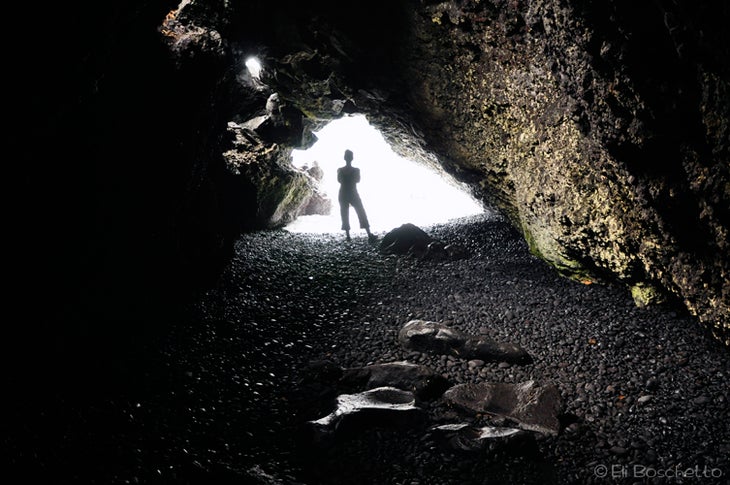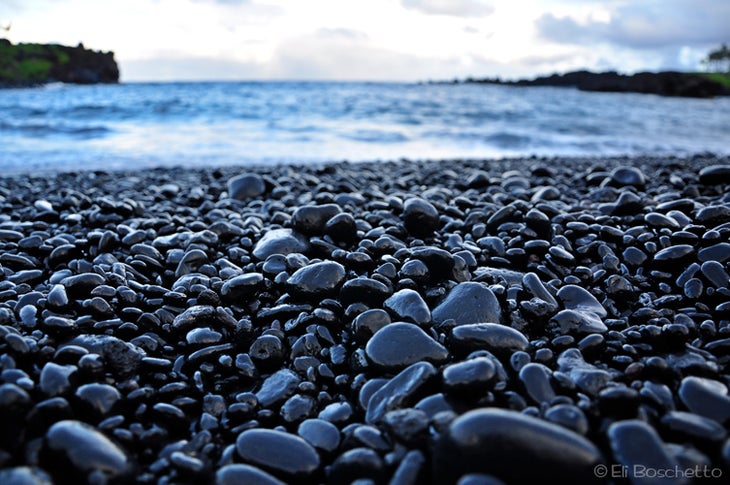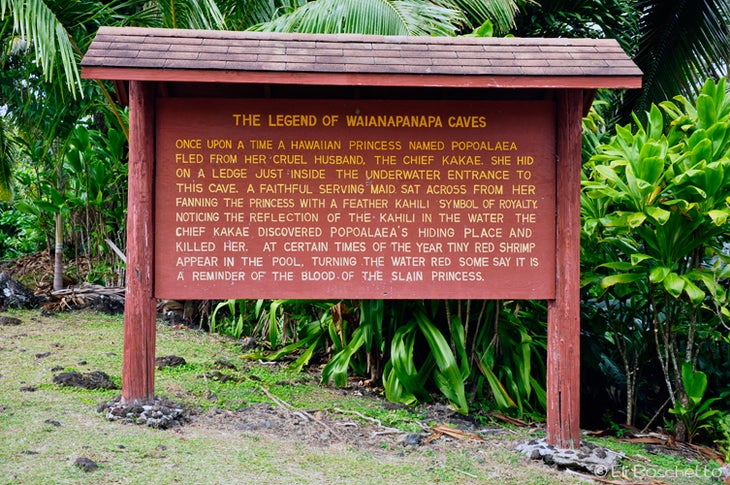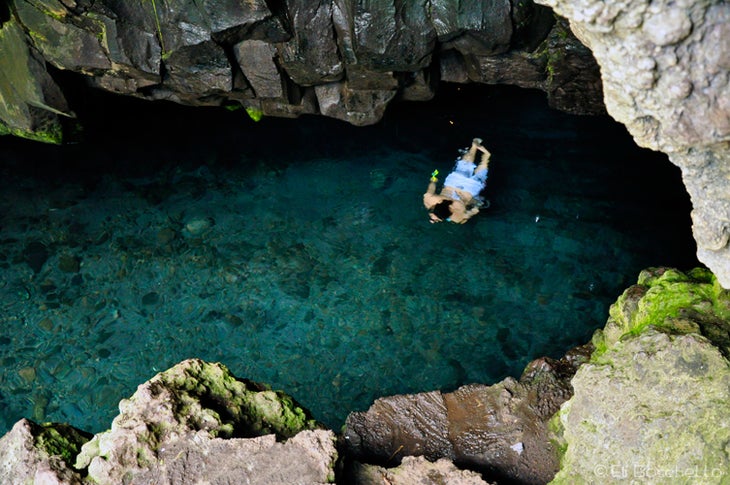 Trail Facts
Waypoints
WAI001
Location: 20.788645, -156.004077
Start the coastline trail with a big view over Pa'iloa black sand beach and lava arch.
WAI002
Location: 20.788198, -156.003503
Fork left to lave tube and Pa'iloa black sand beach.
WAI003
Location: 20.787249, -156.002303
End of paved path; head left for lava arch and blowhole.
WAI004
Location: 20.787648, -156.00153
Views of lava arch and blowhole. Caution: The rugged coast of Wai'anapanapa is pocked with collapsed lava tubes, creating numerous blowholes.
WAI005
Location: 20.785559, -155.999817
Fork left at junction.
WAI006
Location: 20.785539, -155.998829
Pass more lava arches.
WAI007
Location: 20.785228, -155.998577
Fork left at junction.
WAI008
Location: 20.784909, -155.997105
Blowhole.
WAI009
Location: 20.784563, -155.997019
Fork left at junction.
WAI010
Location: 20.784145, -155.996722
Cross rock bridge over collapsed lava tube. Peer down into the surf churning in a collapsed lava tube.
WAI011
Location: 20.78263, -155.995294
Pass the Heiau remains (stay on trail).
WAI012
Location: 20.781312, -155.993333
Ancient village ruins; stay on trail.
WAI013
Location: 20.780725, -155.992962
End of good trail. A lone hala tree grows amid the ruins of an ancient coastal village. Follow the same route back to the trailhead.
WAI014
Location: 20.788477, -156.003669
Lava tube.
WAI015
Location: 20.788806, -156.003595
Black sand beach.
WAI016
Location: 20.788972, -156.004644
Learn the mythic story of Wai'anapanapa's freshwater caves at this sign near the trailhead.
WAI017
Location: 20.789533, -156.004634
Freshwater caves: Bring a water flashlight and take a dip in one of Wai'anapanapa's freshwater caves, formed by collapsed lava tubes.
Wai'anapanapa
Location: 20.788656, -156.004022
Watch Your Step
Location: 20.78765, -156.001447
Coast Trail
Location: 20.786559, -156.001015
Wander the Wai'anapanapa coast trail for views of lava arches, blowholes, and lush hala groves.
Rugged Coast
Location: 20.785456, -155.998676
The rocky coast in Wai'anapanapa was created by the most recent volcanic activity on the eastern side of Maui.
Lava Bridge
Location: 20.784145, -155.996686
Coast Trail
Location: 20.783856, -155.996633
The rugged, surf-battered coast of Wai'anapanapa.
Hala
Location: 20.780732, -155.99291
A lone hala tree grows amid the ruins of an ancient coastal village.
Light at the end…
Location: 20.78848, -156.003579
Explore a short lava tube that opens to the pounding surf of the Wai'anapanapa coast.
Pa'iloa Beach
Location: 20.788819, -156.003518
The upper portion of Wai'anapanapa's black sand beach is covered with surf-tumbled lava rock pebbles.
Cave Legend
Location: 20.788969, -156.004601
Learn the mythic story of Wai'anapanapa's freshwater caves at this sign near the trailhead.
Cave Dive
Location: 20.789538, -156.004572