Cross the "Virginia Triple Crown" Off Your Hiking Bucket List
The saying goes, "Virginia is for Lovers," but it could just as easily be "Virginia is for outdoor lovers."
Heading out the door? Read this article on the new Outside+ app available now on iOS devices for members! Download the app.
Virginia is a state that attracts folks who love camping, fishing, mountain biking, canoeing, golfing, and countless more activities that make use of the state's abundant natural bounties. But it may be especially intriguing to hikers looking for their next great adventure.
The Blue Ridge Mountain range burrows across the state, providing endless trails and breathtaking viewpoints that backpackers, photographers, and casual hikers can equally enjoy. One of the most remarkable routes is Virginia's Triple Crown, a once-in-a-lifetime hiking experience that consists of three climbs along the Appalachian Trail: Dragon's Tooth, McAfee Knob, and Tinker Cliffs. This area, which begins in the foothills near Roanoke and Salem, is a must for anyone looking for extraordinary natural beauty in the lush heart of the continental United States' oldest colony.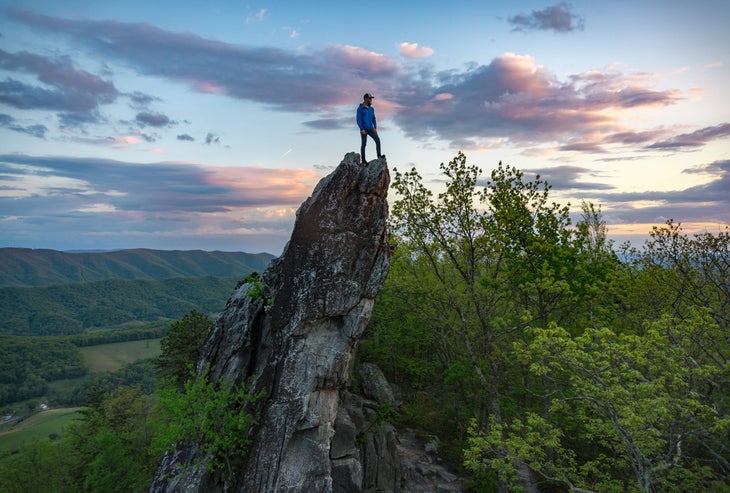 You can hike each one individually or take the 32-mile backpacking loop (completed over multiple days) that covers all three peaks. The route starts at Dragon's Tooth parking lot and connects to McAfee Knob and Tinker Cliffs via the Andy Lane and North Mountain Trails, ultimately looping back to where you began your journey.
Here's a guide to all three mountains, so you can choose your own adventure.
Dragon's Tooth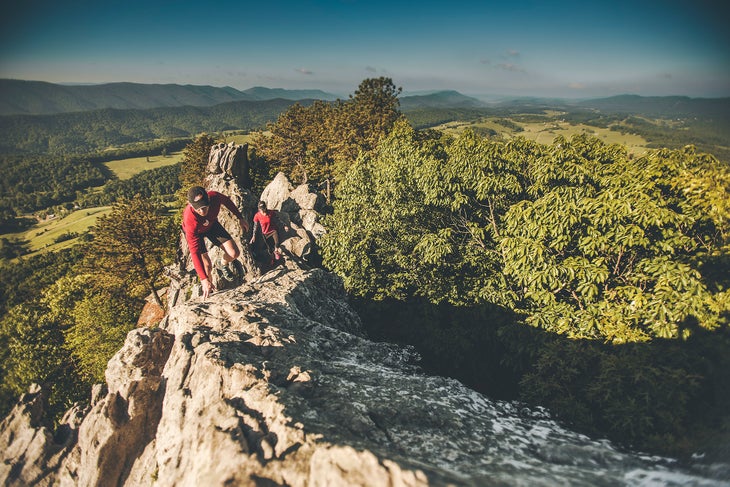 The first of the three legs in the hallowed Triple Crown hike, Dragon's Tooth offers an excellent introduction to the region's terrain. It's a 4.6-mile round trip to the top and back to the Dragon's Tooth Parking Lot on Route 311, with the first 1.5 miles of well-marked trail wandering along bubbling streams and thick forest. The remaining 0.8 miles to the summit kicks things up a notch. This ascent includes bouldering and a portion with iron bars to climb, but at the end you'll be rewarded with a panoramic view of the Blue Ridge Mountains.
After the hike, consider stopping into the Catawba Valley Farmers Market in nearby Catawba, just a few miles from the trailhead. It's open Thursdays from 3:30-7:00pm, mid-May to mid-October, and boasts fresh local offerings like fruit, vegetables, and meat, which you can pick up for the next leg of the Triple Crown. If your stomach is still rumbling after these fresh market eats, pay a visit to Fortunato, the area's only Italian kitchen and pizzeria. Or, you can always pop by Elmwood Park—a popular outdoor event venue in the heart of downtown Roanoke—to catch some live music.
McAfee Knob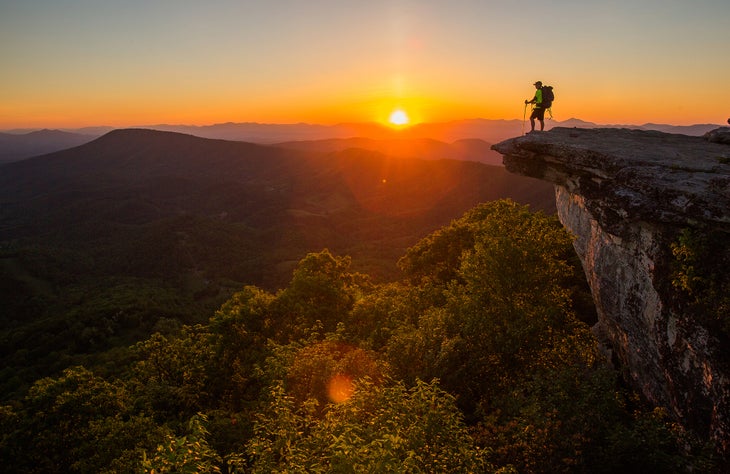 The trailhead for McAfee Knob is just four miles from Dragon's Tooth on Route 311 and leads hikers to one of the most iconic and well-photographed points along the Appalachian Trail. The 4.4-mile trail winds up Catawba Mountain to an elevation of 3,197 feet, making it a rewarding but challenging 8.8-mile round trip. The knob itself, with its recognizable rock lip jutting out into the air, boasts expansive views of the Catawba Valley and the mountains that surround it. This broad rock slab is a popular spot to break for a picnic, so feel free to spend some time at the summit and enjoy the view.
You'll have worked up a sweat on McAfee's ascent, so why not cool down with a craft brew at Salem's Parkway Brewing Company? The brewery is known to host live music and on-site food trucks, too, which round it out as a perfect post-hike destination. If you're still not cooled down, perhaps a visit to Splash Valley Water Park in historic Roanoke might do the trick.
Tinker Cliffs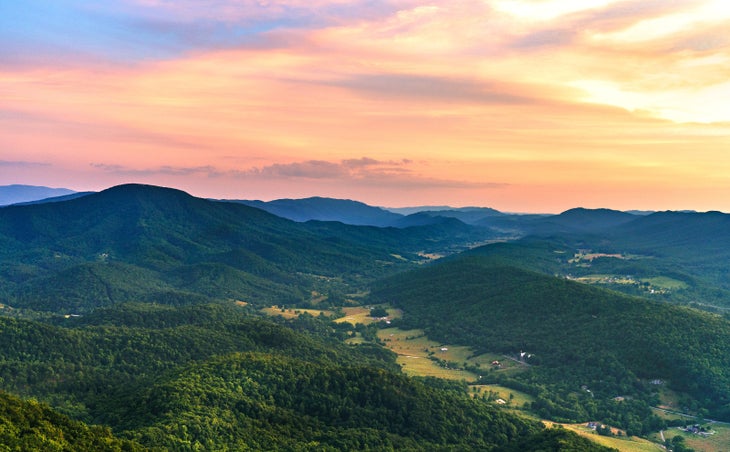 Of the three hikes in the Triple Crown, Tinker Cliffs is often considered an overlooked gem. The hike is accessed via the Andy Layne Trail, which begins off of Catawba Road/Route 779. It's a 7.7-mile round-trip with a 2000-foot elevation, so be sure to get a good night's sleep before this taking on this hike. The cliffs themselves stand at 3000 feet and give you an unparalleled view of the sprawling Blue Ridge Mountains, including Catawba Mountain and McAfee Knob. Be sure to take a close look at these natural beauties as you go—they're composed of limestone that dates back over 250 million years.
After descending from Tinker Cliffs, swing by O'Brien Meats, a staple in downtown Salem that's been operating for over 40 years. The butcher shop offers celebrated choice cuts of meat if you're looking to cook on your own, but you can also dine in. Specialty sandwiches, house-made bacon burgers, and top-notch Counter Culture Coffee top the list of must-tries.
The Triple Crown showcases the things that make Virginia a beloved destination: awe-inspiring mountains, stunning views, tree-carpeted valleys, and eclectic, welcoming local offerings. There's plenty to love in Virginia.