Virginia Beach, VA: First Landing State Park
Brimming with beach and bay views, this Virginia Beach 9.9-miler tours cypress swamps, coastal forest (shrouded in Spanish moss), and idyllic marshlands.
Heading out the door? Read this article on the new Outside+ app available now on iOS devices for members! Download the app.
Touring five of the nine trails in First Landing State Park, this 10-mile loop also hits a wide variety of coastal ecosystems making for a fantastic four-season dayhike. Pick up the Cape Henry Trail, heading east through a flat coastal forest. The hike treks in and out of stretches like this one, and is often shrouded in heavy tunnels of Spanish moss (just try and take a bad photo of this stuff). After 3.5 miles, the trail hits the shore and runs briefly along the boardwalk while passing First Landing State Park Pond and intermittent sandy beaches (all of which afford stunning views of Broad Bay). At the end of Cape Henry, the hike turns onto First Landing (after jogging 0.9-mile east on the road), and continues back into the moss-covered forest as it treks west past a series of trailside beaches, wetland clearings, and marsh lakes en route to the trailhead. -Mapped by Ivan Levin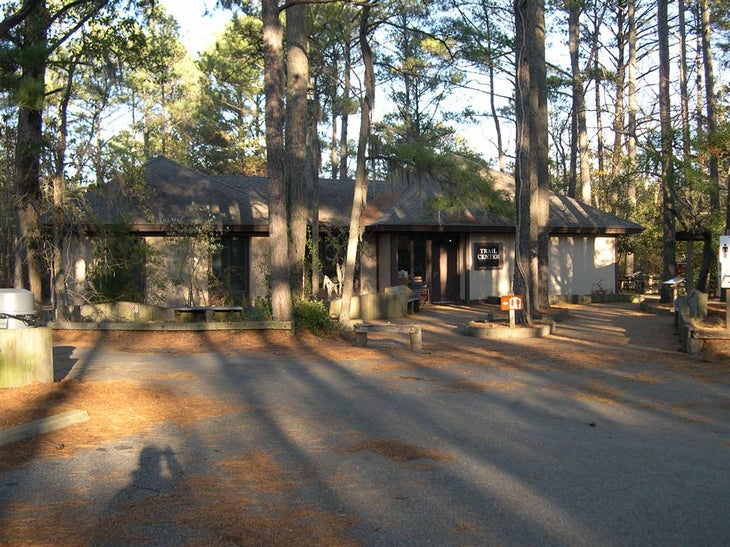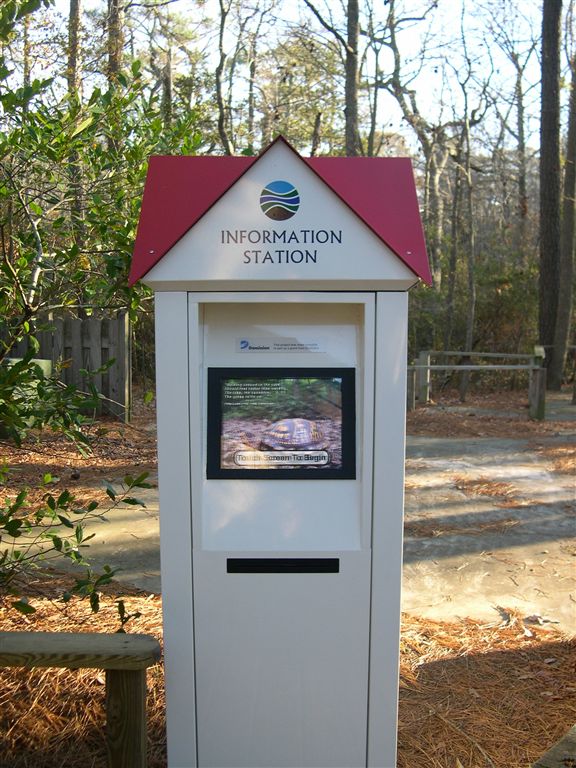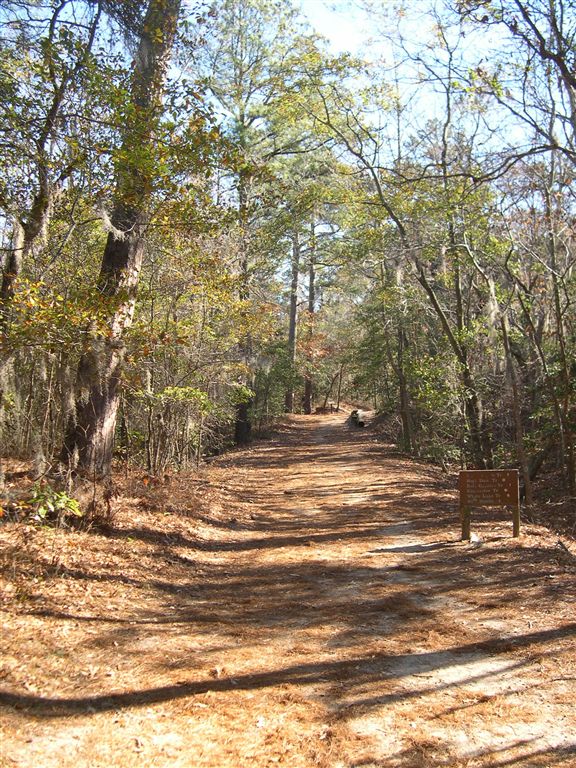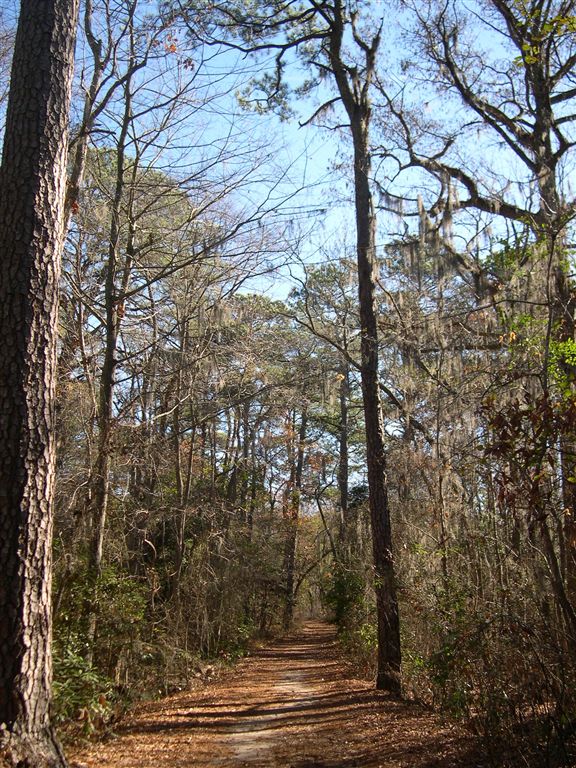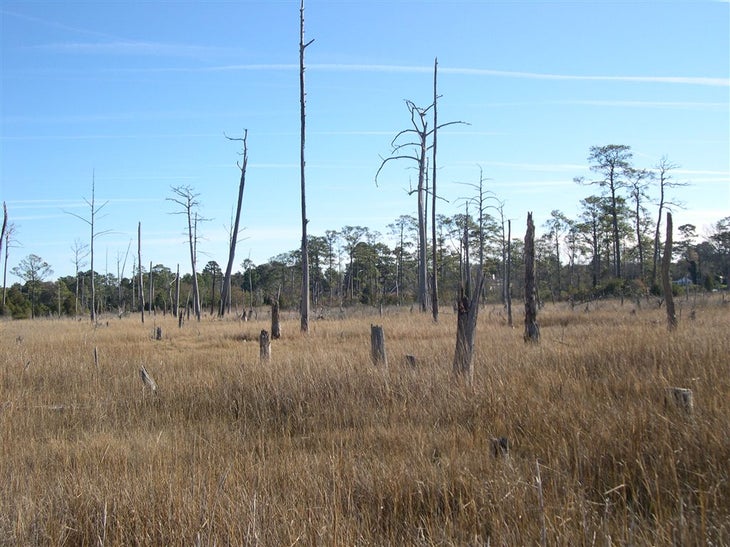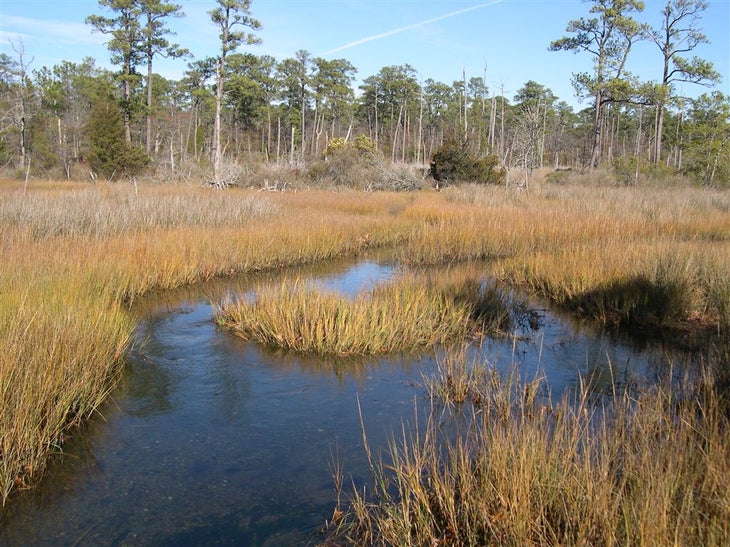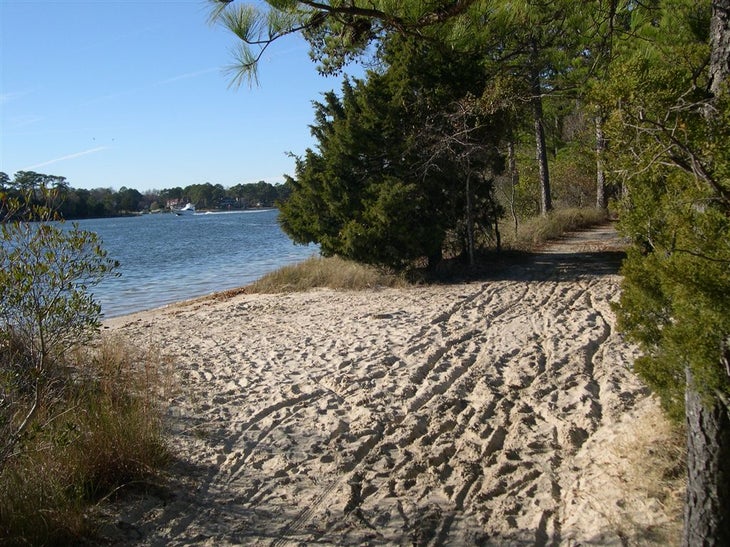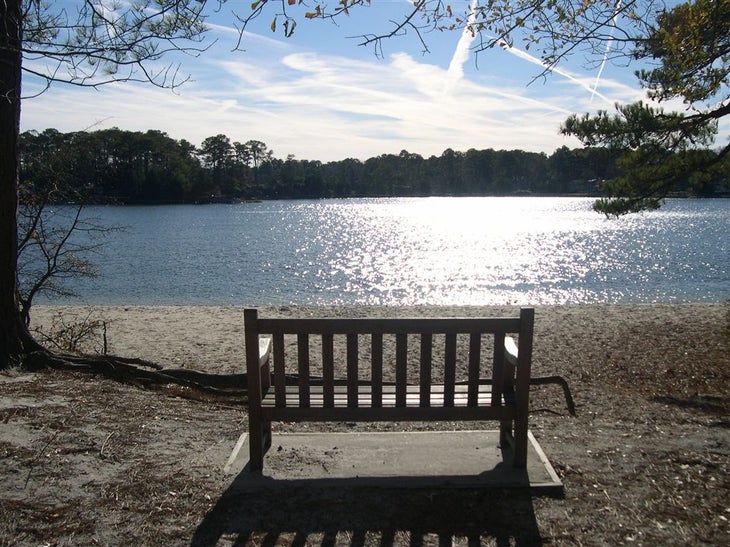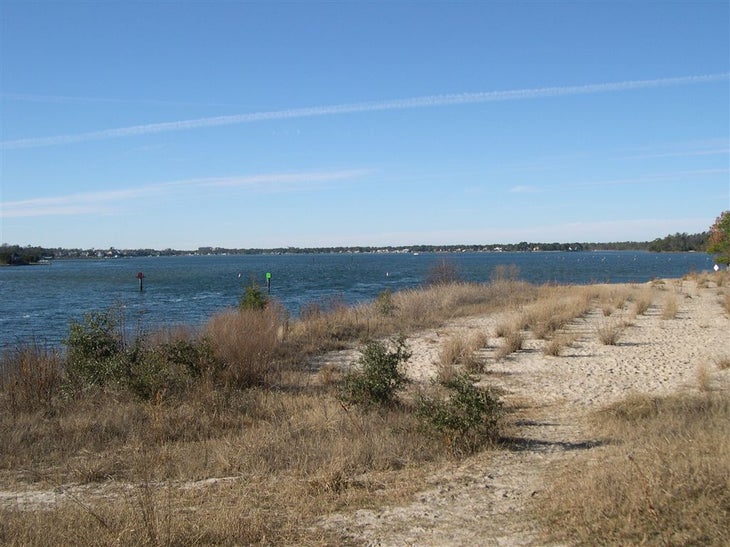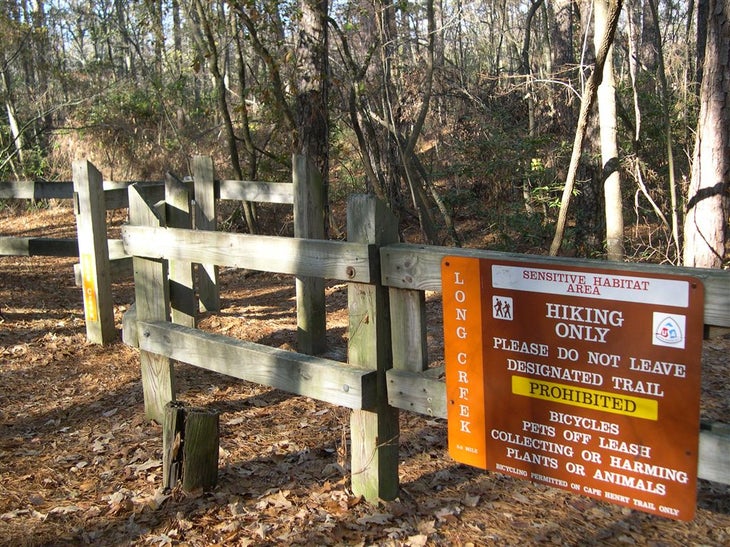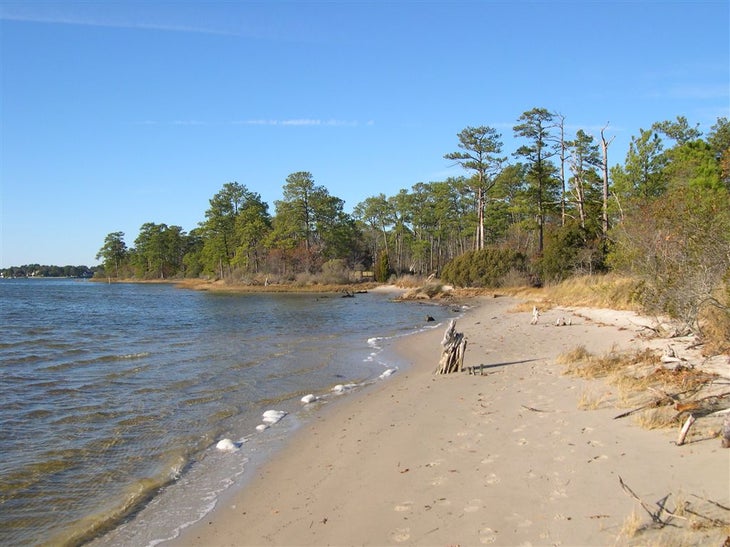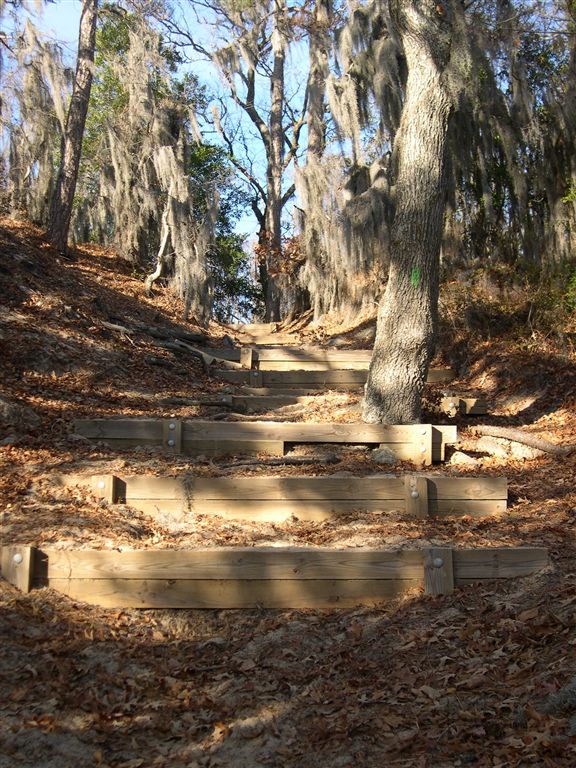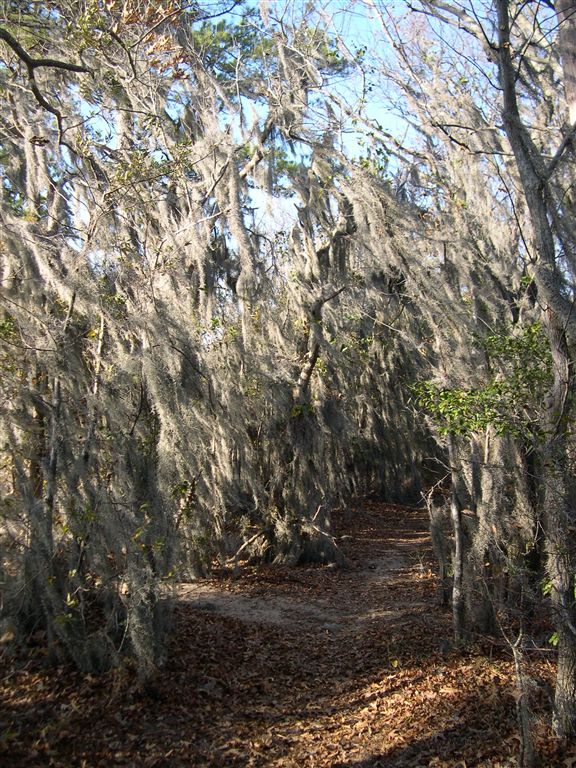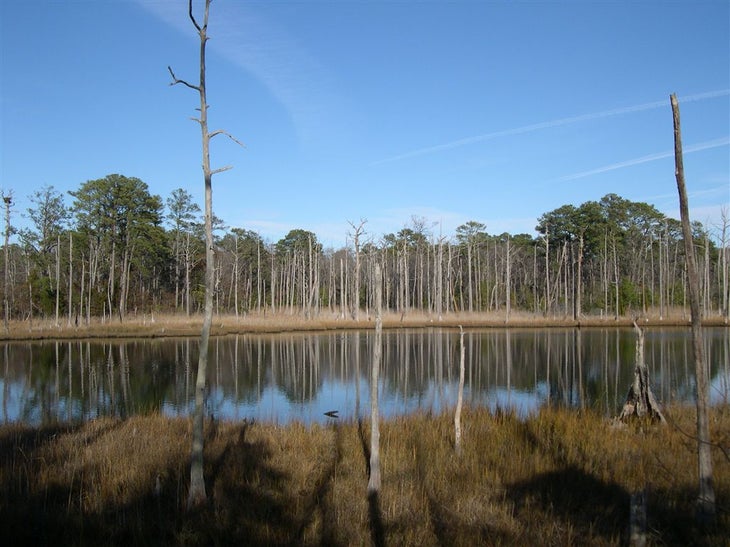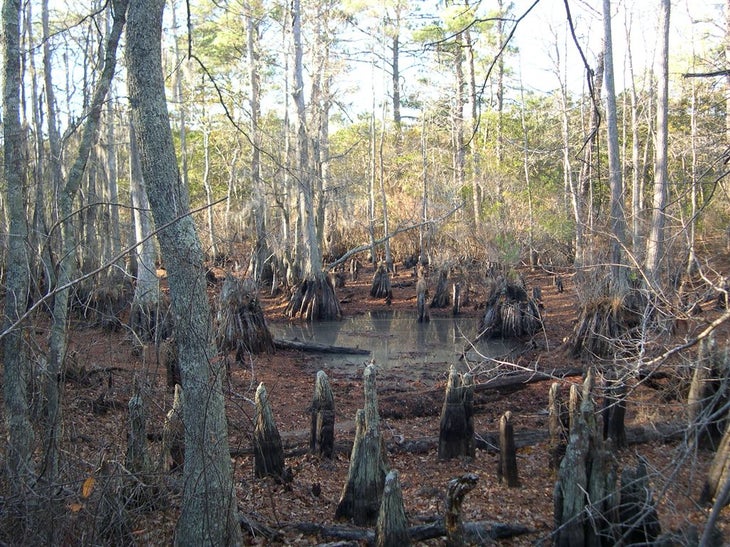 Trail Facts
Waypoints
FLP001
Location: 36.9158554, -76.041008
At the First Landing State Park Trail Center parking lot, start hiking north on the side trail on the left side of the road.
FLP002
Location: 36.9155731, -76.0418549
Turn left @ T-junction onto the Cape Henry Trail, a multi-use trail used by hikers, runners, and cyclists.
FLP003
Location: 36.9098892, -76.0251694
To the left, a small spur trail heads up a hill to a wildlife overlook.
FLP004
Location: 36.9085159, -76.021492
Continue straight @ 3-way junction on the Cape Henry Trail. Here, the King Fisher Trail shoots off to the right, offering an opportunity to shorten this loop.
FLP005
Location: 36.9009666, -76.0064087
Continue straight on the Cape Henry Trail. Here, the White Hill Trail shoots off to the right, offering another opportunity to shorten the loop.
FLP006
Location: 36.8899269, -75.9921188
Cross 64th Street, passing the park contact station (phone booth styled ranger station). Continue along the wooden boardwalk as the trail traverses several sandy stretches.
FLP007
Location: 36.8868942, -76.0000229
The trail passes a scenic viewpoint with a bench right by the pond: this is a great spot for birdwatching.
FLP008
Location: 36.8878555, -76.0051727
Enter a clearing, continuing straight on the boardwalk. This is a great spot to soak in views of the wildlife and the watershed. As you continue to hike, take note of the tide change at spots like this.
FLP009
Location: 36.8868713, -76.0080338
Continue on trail, crossing over a small stream on a bridge. Just ahead, the trail passes a small beach on the right through a Spanish moss-covered forest.
FLP010
Location: 36.8908234, -76.0176773
The end of the Cape Henry Trail is marked by a parking lot, boat ramp, and amazing views of Broad Bay. Head southeast out of the park, walking along 64th Street for 0.9 mile to the Long Creek Trail junction (on the left).
FLP011
Location: 36.8888741, -76.0012512
Turn left off of 64th Street onto the orange-blazed Long Creek Trail.
FLP012
Location: 36.8927841, -76.0097809
Turn left @ Y-junction onto the green-blazed Osprey Trail.
FLP013
Location: 36.8967476, -76.0212708
The trail crosses a series of wooden bridges and passes idyllic beaches and superb views of Broad Bay.
FLP014
Location: 36.9007263, -76.0266953
Climb a series of large steps through a Spanish moss forest. Ahead, the trail steepens as it climbs uphill and then descends back down.
FLP015
Location: 36.906147, -76.028862
Go right @ Y- junction onto the Long Creek Trail. There is a wildlife viewing station here. Continue on the Long Creek Trail.
FLP016
Location: 36.9110451, -76.043045
Bear right @ Y-junction onto the yellow-blazed Fox Run Trail.
FLP017
Location: 36.9141617, -76.044548
Turn right and head down the stairs, then make an immediate left @ T-junction onto the red-blazed Bald Cypress Trail.
FLP018
Location: 36.9153137, -76.0414124
Turn left onto the Cape Henry Trail, and then make a quick right to head back towards the Trail Center parking lot.
Trail Center
Location: 36.9167404, -76.0412521
Information Kiosk
Location: 36.9159279, -76.0399475
Cape Henry Trail
Location: 36.9141312, -76.0392914
Mossy Forest
Location: 36.8971558, -76.0015869
Marsh View
Location: 36.8870354, -76.0050964
Marsh Wetlands
Location: 36.8867912, -76.0070572
Beach Viewpoint
Location: 36.8873097, -76.0097265
Broad Bay View
Location: 36.8892365, -76.0159531
Beach View
Location: 36.8909137, -76.0177088
Long Creek Trail
Location: 36.8889229, -76.0011005
Scenic Beach
Location: 36.8979721, -76.022728
Trail Steps
Location: 36.9007293, -76.0264635
Spanish Moss Tunnel
Location: 36.9016418, -76.0275421
White Hill Lake
Location: 36.9033032, -76.0279655
Stump Cemetary
Location: 36.9146194, -76.0428009