Vancouver, WA: Siouxon Creek Trail #130
This 8-mile out-and-back makes for an excellent early-season romp up a narrow river canyon, boasting three gorgeous waterfalls, an ample serving of primitive campsites, and options for longer loops and side trips.
Heading out the door? Read this article on the new Outside+ app available now on iOS devices for members! Download the app.
Start at the trailhead at the end of FR 5701. Descend to a T-junction and turn right (east), descending upstream toward Siouxon Creek (turning left heads downstream and connects to longer Huffman and Siouxon Peak trails). The trail stays above and alongside Siouxon Creek through shady Douglas fir and red cedar forest. Look for primitive backcountry campsites along the way, most with fire rings and log benches.
About a mile up, look for the Horseshoe Ridge trail, breaking off to the right (this 6.9 mile spur climbs to the 3,200′ viewless crest of Horseshoe Ridge before descending to meet up with the Siouxon Creek trail farther up). In another half mile, you deviate slightly south of Siouxon Creek to cross Horseshoe Creek Falls on a sturdy wooden bridge; 60 yards past the falls, look for a spur that descends to a couple of campsites below the falls. Another quarter mile brings you to Siouxon Creek Falls, a 40′ plunge down a narrow S-shaped cleft. Several campsites and a small, primitive shelter can be found opposite the falls; a short side trail above the falls allows for water access.
Continue up the canyon for two miles to a wide stream cascading across the trail. Use caution on the slick rocks during the early season high runoff. Just beyond the crossing, fork left over another wooden bridge, this time over a deep gorge cut through the rock. Now along Chinook Creek, pass a couple more campsites, and arrive at 50′ Chinook Creek Falls. A ford is required to connect to the other side of the trail to continue on to Huffman and Siouxon Peaks, so this makes an ideal lunch and turnaround spot below the misty falls. 
Mapped by Eli Boschetto Bosco Mountain Photo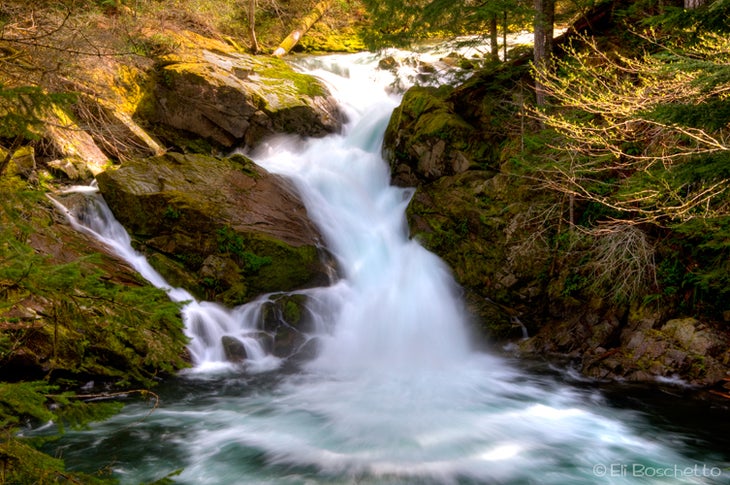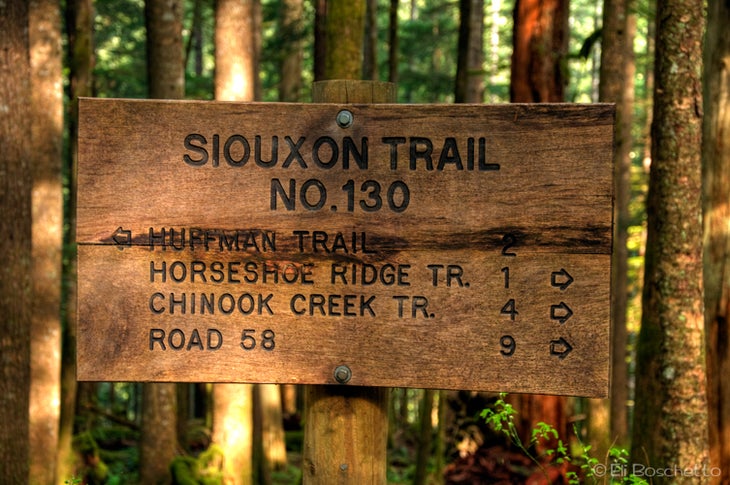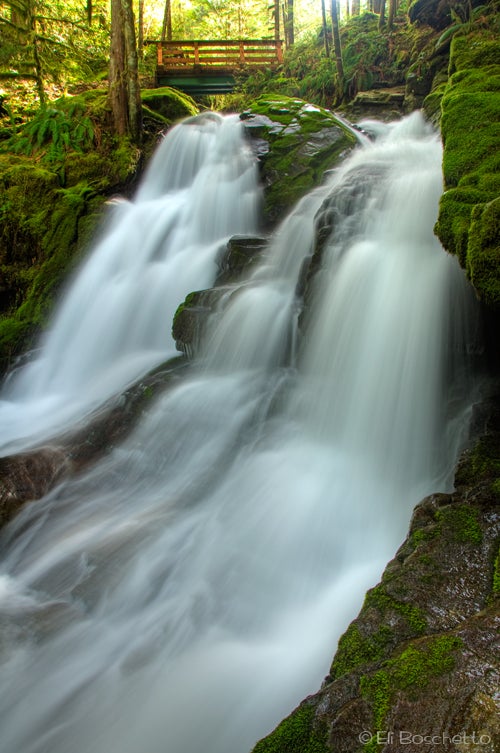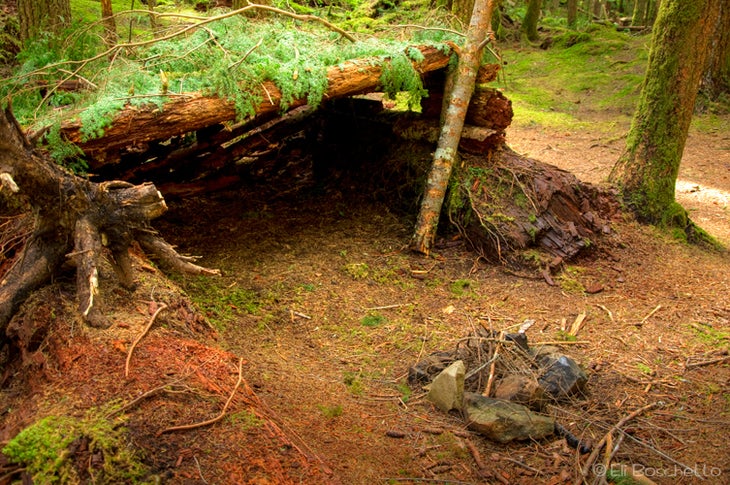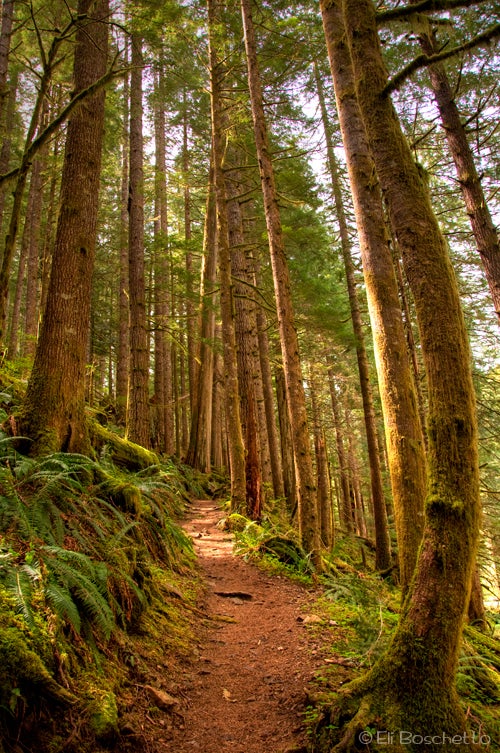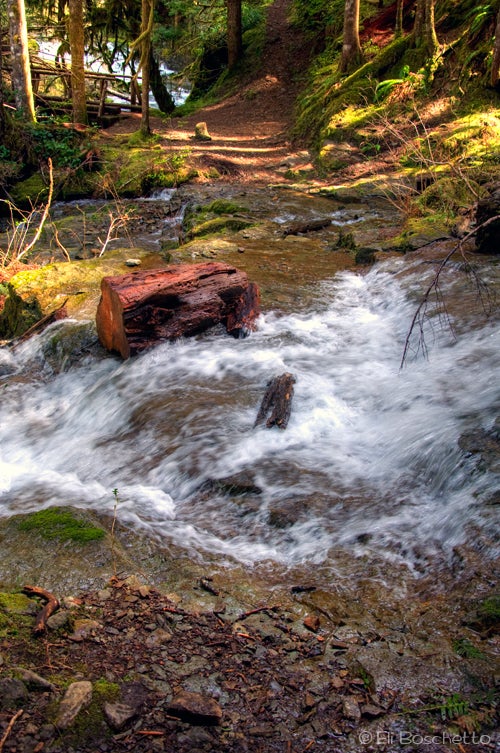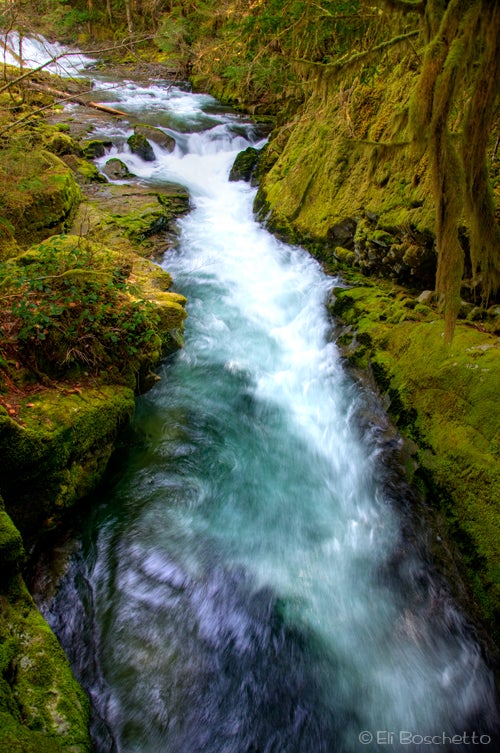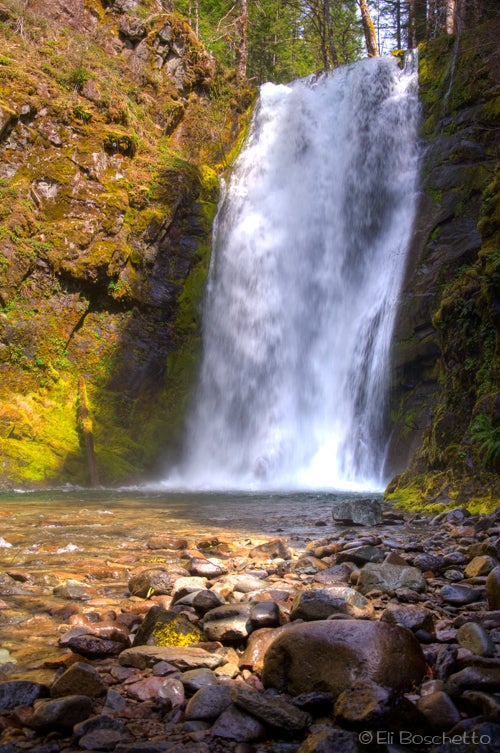 Trail Facts
Waypoints
SIO001
Location: 45.946597, -122.177747
Siouxon Creek trailhead at parking at end of FR 5701.
SIO002
Location: 45.946734, -122.178329
Turn right at T-junction and begin descent to river canyon.
SIO003
Location: 45.948084, -122.174985
Creek crossing on raised log bridge.
SIO004
Location: 45.948426, -122.174429
Nice campsite on river side of trail.
SIO005
Location: 45.94876, -122.173809
Campsite on river side of trail.
SIO006
Location: 45.952184, -122.161916
Horseshoe Ridge trail junction on right; continue straight along river.
SIO007
Location: 45.955446, -122.155282
Light spur trail descends to water.
SIO008
Location: 45.955813, -122.15382
Horseshoe Creek Falls bridge crossing.
SIO009
Location: 45.957318, -122.15386
Spur trail descends to nice campsites along Horseshoe Creek below falls.
SIO010
Location: 45.959779, -122.152509
Siouxon Creek Falls. Bench offers nice views of falls; campsites and primitive shelter on hill side of trail.
SIO011
Location: 45.960637, -122.132456
Campsite on river side of trail
SIO012
Location: 45.961156, -122.130314
Wildcat Creek trail junction on left (no bridge; requires ford); continue straight along river.
SIO013
Location: 45.960942, -122.129218
Upper junction with Horseshoe Ridge trail; fork left along river.
SIO014
Location: 45.959772, -122.11691
Bridgeless stream crossing; easier crossing 20′ upstream.
SIO015
Location: 45.959925, -122.116811
Fork left at junction, crossing bridge over narrow gorge.
SIO016
Location: 45.960264, -122.116824
Camp site on river side of trail.
SIO017
Location: 45.960476, -122.116549
Camp site on hill side of trail.
SIO018
Location: 45.96233, -122.11543
Log crossing below Chinook Creek Falls; connects to Wildcat Creek and Siouxon Peak trails.
SIO019
Location: 45.962755, -122.115129
End of trail at Chinook Creek Falls.
Siouxon Falls
Location: 45.959683, -122.151961
The 40′ Siouxon Creek Falls plunges down through an S-shaped cleft in the canyon.
Siouxon Trailhead
Location: 45.946972, -122.178226
Descend from road's end to a T-junction and turn right, heading upstream.
Horseshoe Creek
Location: 45.955506, -122.15445
Cross between the Horseshoe Creek Falls on a sturdy wooden bridge. Look for a spur shortly after to campsites below the falls.
Take Shelter
Location: 45.959205, -122.152433
Find campsites and a primitive shelter opposite the Siouxon Falls viewpoint. A short trail above the falls allows water access.
Siouxon Trail
Location: 45.960637, -122.135739
Hike the Siouxon Creek trail under shady fir and cedar forest.
Water Hazard
Location: 45.959742, -122.116299
This wide stream crossing can be tricky in early season; use caution on the slippery rocks.
Siouxon Gorge
Location: 45.960578, -122.115784
Cross a wooden bridge over this section of Siouxon Creek.
Chinook Falls
Location: 45.963054, -122.114496
50′ Chinook Creek Falls make a good lunch and turnaround point. The trail continues up to Siouxon Peak, but requires a wide ford below the falls.