Vancouver, WA: Larch Mountain
Leave the crowds behind on this secluded 5.2-mile forest hike to the top of Washington's Larch Mountain, with views of Silver Star, the Columbia Gorge and Mt. Hood.
Heading out the door? Read this article on the new Outside+ app available now on iOS devices for members! Download the app.
Instead of following the train of hikers heading north up the side of Silver Star Mountain, turn south instead for the lesser-traveled route up neighboring Larch Mountain. There are no larches, but there are plenty of wildflowers, beargrass meadows, a pretty wooded creek, and opportunities for views of several of the surrounding peaks—including Silver Star.
Where the Tarbell Trail crosses FR1200, head south on an old forest road, choosing the rightmost option that heads uphill. The first half of the trail follows this old road. Its steep and rocky in places, but serviceable. There are no views along the lower section, but the sound of gurgling Grouse Creek can be heard in the canyon below, and the trail is lined with numerous berries and wildflowers, bleeding heart most profusely. Past an area where a clearcut slope can be seen nearby, the trail narrows and begins to contour around the northern flank of Larch Mountain.
Proceed through a wooded glen with a bridge over Grouse Creek. The trail then turns north onto an open slopeside with wide views taking in Silver Star, Dole Valley, and Mount St. Helens. This is the best view on the trail. Continue on as the trail turns southward again, thinning and becoming more rocky, then passes through a small beargrass meadow. At an unsigned junction 0.25 mile from the summit, a faint jeep track leads to a wide open meadow surrounded by trees. Complete the climb at Larch Mountain's 3,496′ summit with views extending over Portland and Vancouver.
-Mapped by Eli Boschetto, BoscoMountainPhoto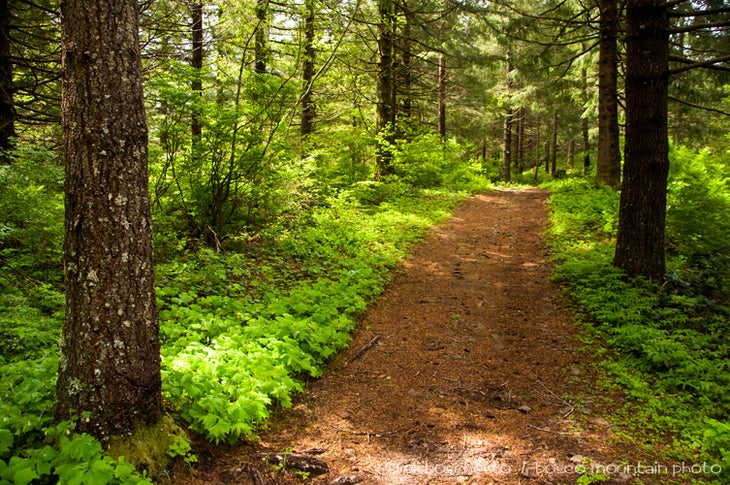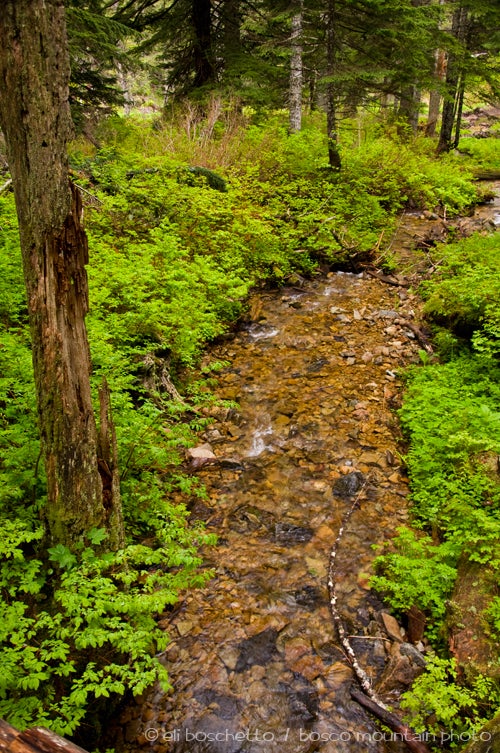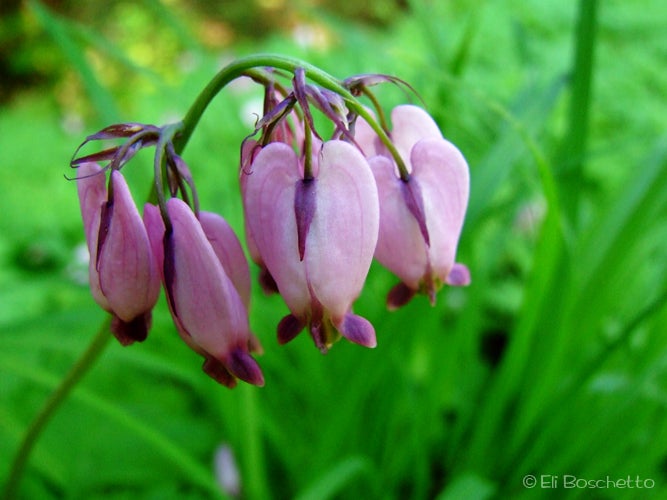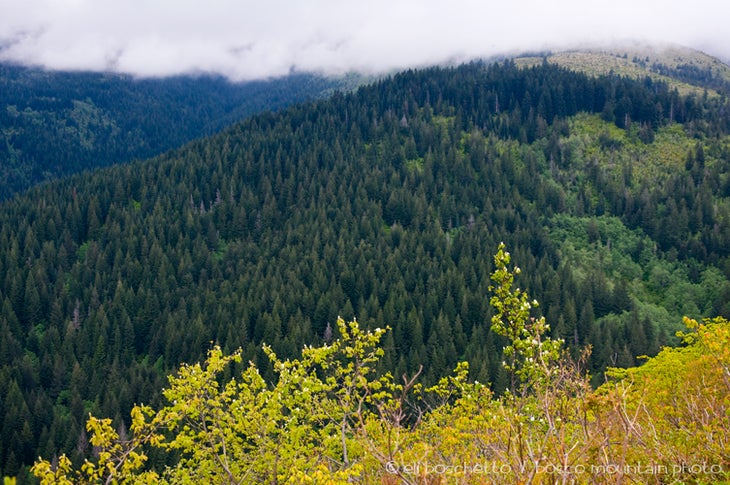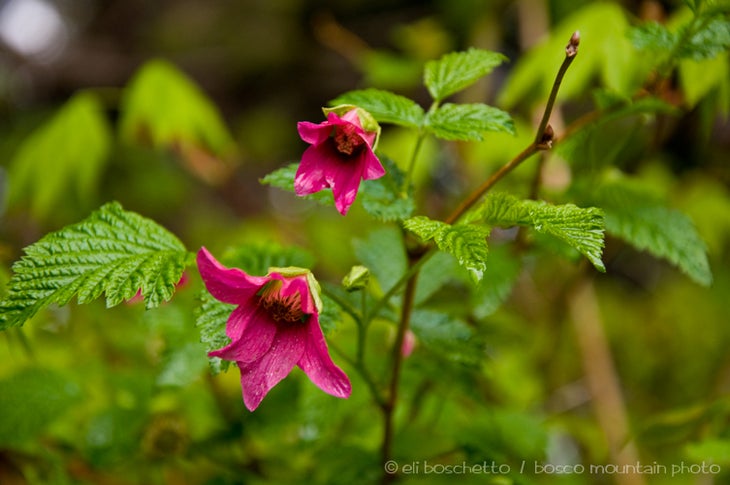 Trail Facts
Waypoints
LAR001
Location: 45.721752, -122.269274
Larch Mountain trailhead; take the rightmost trail, heading uphill to the southwest.
LAR002
Location: 45.717878, -122.272818
Trail junction; continue straight.
LAR003
Location: 45.715556, -122.280874
Trail skirts a wide clearcut slope.
LAR004
Location: 45.715776, -122.281576
Trail junction; continue straight.
LAR005
Location: 45.715656, -122.282927
Trail fork; veer right, westward.
LAR006
Location: 45.71568, -122.284085
Cross a small drainage culvert.
LAR007
Location: 45.716368, -122.284527
Cross Grouse Creek on a wooden bridge.
LAR008
Location: 45.71693, -122.284462
Cross another drainage culvert.
LAR009
Location: 45.719357, -122.279323
Wide viewpoint of Silver Star Mountain and Mount St. Helens.
LAR010
Location: 45.719929, -122.291034
Trail junction; continue straight.
LAR011
Location: 45.719367, -122.292701
Trail junction; continue straight.
LAR012
Location: 45.718915, -122.293603
Short side trail right leads to a wide, tree lined meadow.
LAR013
Location: 45.717012, -122.296093
Larch Mountain summit; return by same route.
Larch Mtn. Trail
Location: 45.721072, -122.270279
Spring Rain
Location: 45.716518, -122.275257
Grouse Creek
Location: 45.716308, -122.284312
Bleeding Heart
Location: 45.717447, -122.281866
In the Clouds
Location: 45.719454, -122.278948
Spring Color
Location: 45.719904, -122.283068