Vancouver, WA: Coyote Wall
Spring brings an abundance of wildflowers to the Northwest, and one of the best displays is on this moderate 8.2 mile loop in the eastern Columbia Gorge.
Heading out the door? Read this article on the new Outside+ app available now on iOS devices for members! Download the app.
Start with a gradual uphill romp through stands of oak and ponderosa pine, sprinkled with small meadows, lots of little wildflowers – buttercup, candyflower and cluster lily – as you traverse the base of the colorful, lichen-stained basalt Coyote Wall. As you gain elevation, start looking for new and different flowers – fairyslipper, blue buttons and Oregon grape – until you find yourself on top of the wall in big open meadows, carpeted with balsamroot and lupine, and eye-popping views of the Columbia River and Mt. Hood.
From the green gate near the parking area, hike up the closed road to an abandoned cattle chute and turn left (your only left turn) onto the loop trail. In an area showing recent small burns, pass a small side trail on the right (unless you want a shorter loop with a steep climb), until you reach a major T-junction, then bear right. The trail fades a bit, then turns into an old forest lane. Pass an old gate, then at Courney Rd, turn right and head up the hill. At the westernmost point, you will be treated to a spectacular view of the Columbia Gorge and Mt. Hood. Continue up the road as it turns east, bear right on Atwood Dr, and avoid the spur that descends to the right. The road soon turns back into trail through pine forest; some of this area is private property, so stick to the trail. Go straight through a junction, and soon emerge onto the top of Coyote Wall with stupendous views and meadows filled with wildflowers. 
From this point, the trail splits into many tracks down through the meadows, or along the edge of the wall, and is referred to as "the labyrinth." Keep to the right, unless you have a too-close-to-the-edge-of-cliffs phobia, and you can go down through the meadows and meet the trail farther down. Pass an opening in a wooden fence, and continue downslope. When you come to the second fence opening, keep to the right (another trail heads down along a creek to the left), and descend though rocky meadows with stunning views of the Gorge and Coyote Wall. When you reach the road at the bottom, turn right for the 0.25 mi. runout back to your parking area.
Notes: This trail is also popular with mountain bikers, and though hikers have the right-of-way, be cautious and courteous. Also, there are ticks and poison oak in this area; take the appropriate precautions. Rattlesnakes are sometimes seen in the warmer months—be aware!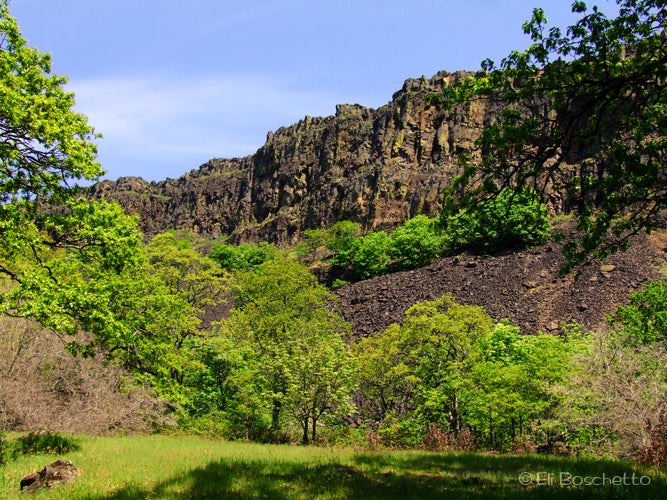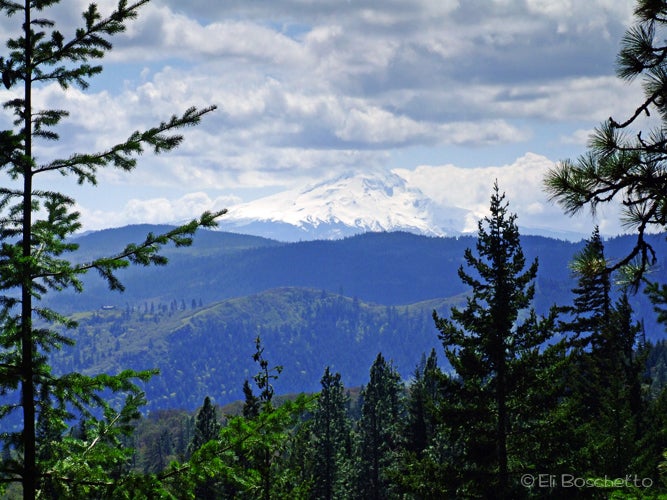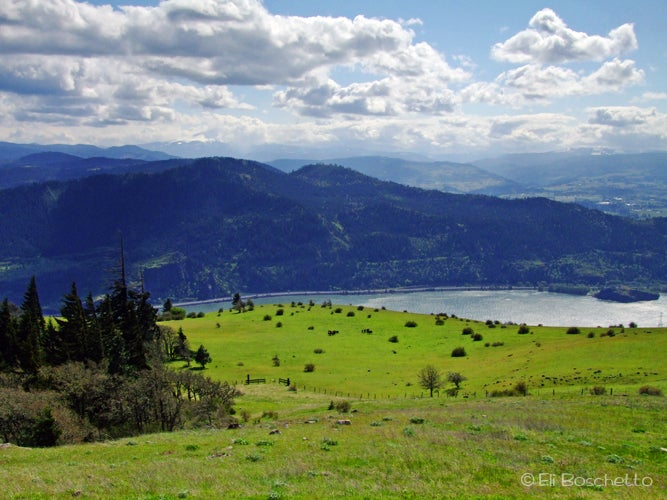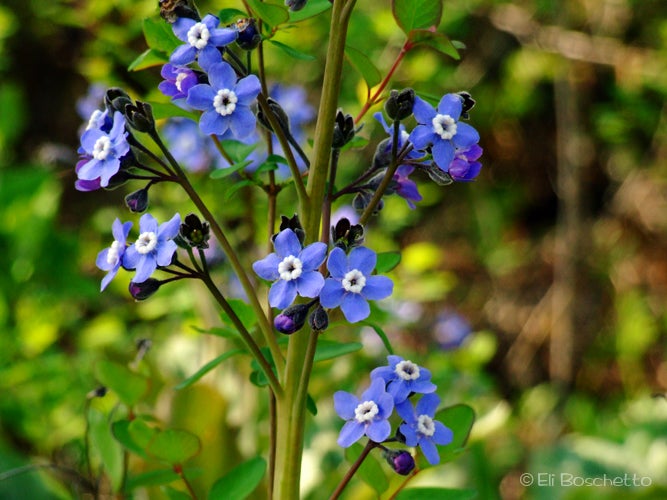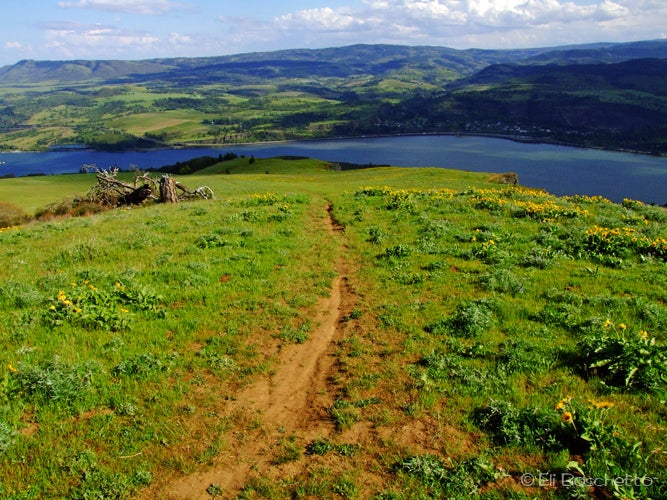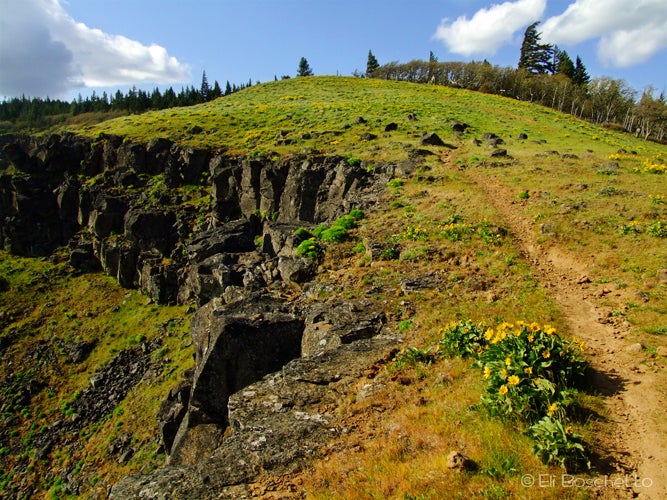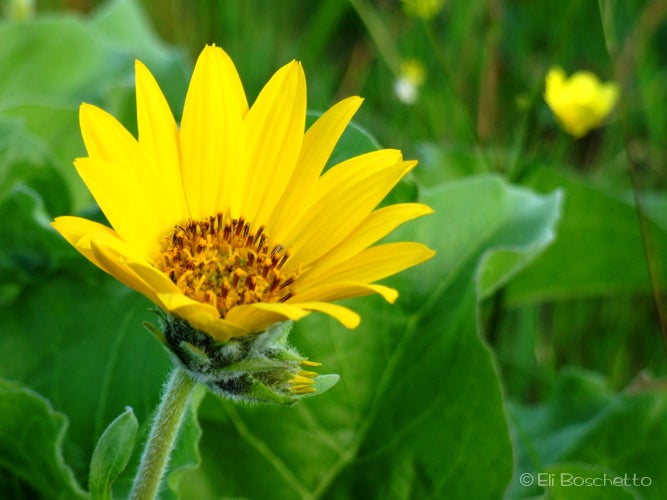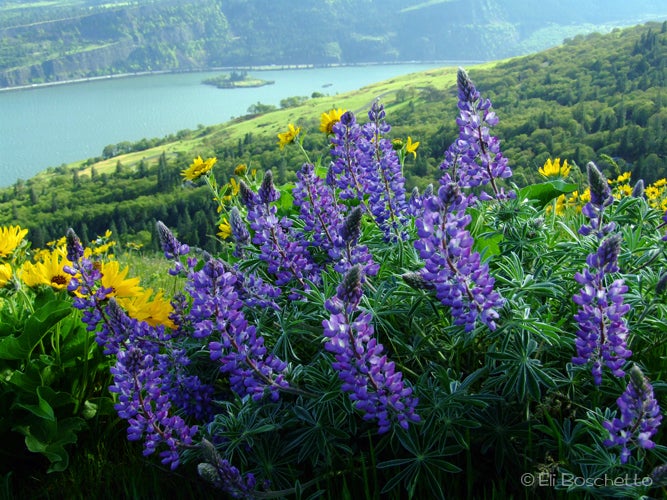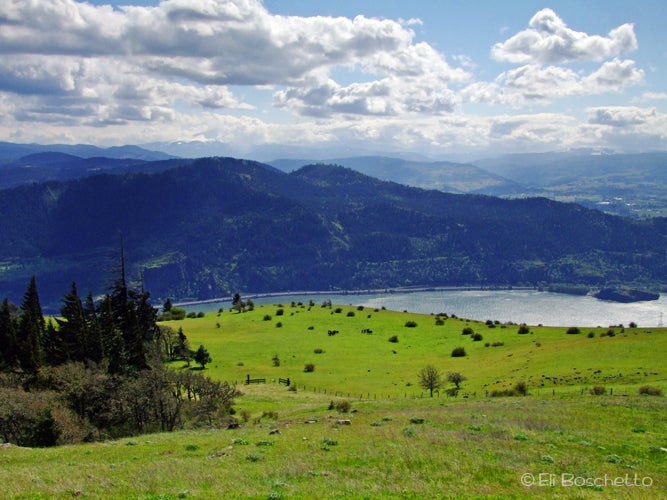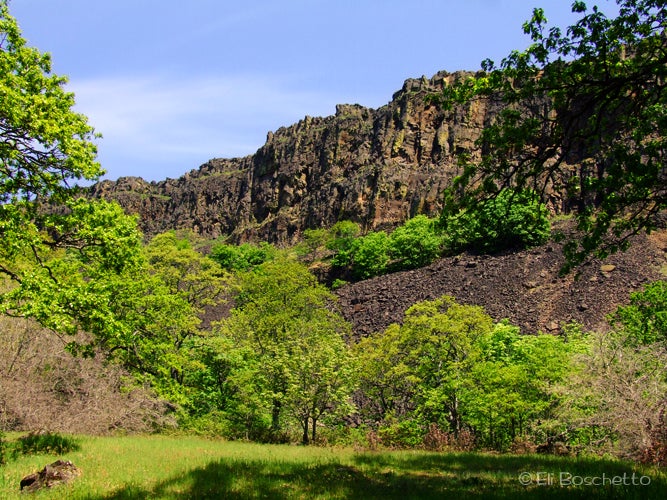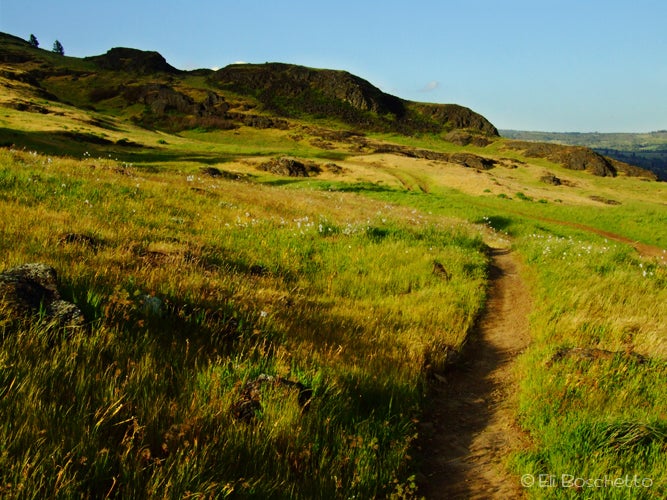 Trail Facts
Waypoints
COY001
Location: 45.700027, -121.4032109
Trail starts at green gate.
COY002
Location: 45.7004923, -121.4022517
Just past the abandoned cattle chute, make your only left turn (N) to start the loop trail.
COY003
Location: 45.7161044, -121.4175852
A faint trail breaks off to the right for a steep climb to the top; go straight.
COY004
Location: 45.7165852, -121.4224541
Trail comes to a T-junction; turn right (W).
COY005
Location: 45.7173717, -121.4257264
Another junction; another right turn (NW).
COY006
Location: 45.7183775, -121.4322484
Old gate; go around.
COY007
Location: 45.7181926, -121.4327763
Trail ends at Courtney Rd; turn right (N) and head uphill.
COY008
Location: 45.7183164, -121.4390708
Westernmost point of Courtney Rd. with big views of Columbia Gorge and Mt. Hood.
COY009
Location: 45.720678, -121.4359566
Road forks; bear right (NE) on Atwood Rd.
COY010
Location: 45.7210796, -121.431874
Another fork in the road; bear right (E).
COY011
Location: 45.7211987, -121.4313948
Wooden bench with a nice view.
COY012
Location: 45.7210871, -121.4299858
Go straight through this junction. Look for blue buttons and fairyslipper.
COY013
Location: 45.718419, -121.4169023
Continue straight through this junction. Right turn is steep, faint trail to lower section of loop.
COY014
Location: 45.7172808, -121.4104232
Another junction; another right turn (SE).
COY015
Location: 45.7147873, -121.409719
Top of Coyote Wall. Enjoy the views, meadows and flowers.
COY016
Location: 45.7141431, -121.4091396
Enter "the labyrinth." Go straight to hike through meadows, or jog right (S) to skirt the edge of the wall.
COY017
Location: 45.7120904, -121.4059639
Trail junctions; keep right (SE).
COY018
Location: 45.7103922, -121.4040197
Pass through an opening in a cattle control fence.
COY019
Location: 45.709454, -121.4024911
More trail junctions; keep right (S).
COY020
Location: 45.7056382, -121.3998108
Trail junction at another cattle control fence. Turn right (SW) to continue along Coyote Wall. Optional routes descend through meadows and a small creek canyon to the east.
COY021
Location: 45.6996567, -121.3966823
Junction; turn right (S).
COY022
Location: 45.7001092, -121.3935014
Junction; descend right (S) to road.
COY023
Location: 45.6989408, -121.3938199
End of trail at closed road. Walk road back to parking area.
Chute
Location: 45.7005448, -121.4020693
Abandoned cattle chute at the start of the Coyote Wall loop trail. © Eli Boschetto
Coyote Wall
Location: 45.7032047, -121.4023483
Hike along the base of a 200′ wall of crumbling columnar basalt. © Eli Boschetto
Coyote Trail
Location: 45.7038266, -121.4031959
Pass through small meadows dotted with pretty wildflowers. © Eli Boschetto
Mt. Hood
Location: 45.7184804, -121.4272499
Spot Mt. Hood through windows in the trail. © Eli Boschetto
Gorge View
Location: 45.7182706, -121.4389873
Big view of Columbia River Gorge, Hood River and Mt. Hood (in the clouds), from westernmost point of loop. © Eli Boschetto
Blue Buttons
Location: 45.7210721, -121.427958
Spot these little beauties along the trail near the top of Coyote Wall. © Eli Boschetto
Top of the Wall
Location: 45.7145701, -121.4095688
View east of Columbia River Gorge from the top of Coyote Wall; "the labyrinth" below. © Eli Boschetto
The Edge
Location: 45.7129819, -121.4089036
Descending along the edge of Coyote Wall. © Eli Boschetto
Balsamroot
Location: 45.7120979, -121.4067793
Spring brings carpets of this sunflower-like beauty to the meadows on top of Coyote Wall. © Eli Boschetto
Lupine
Location: 45.7107644, -121.4046121
This pretty purple flower abounds during spring on top of Coyote Wall. © Eli Boschetto
Gorge View
Location: 45.7078575, -121.401844
Big view of the Columbia River Gorge eastward from the top of Coyote Wall, amid meadows of balsamroot and lupine. © Eli Boschetto
Coyote Wall
Location: 45.7021632, -121.3999128
View the length of the colorful 200′ columnar basalt Coyote Wall. © Eli Boschetto
Rocky Meadows
Location: 45.700245, -121.3973165
Descend through meadows dotted with volcanic rock outcrops. © Eli Boschetto