Vancouver, WA: Bird Mountain Loop
This 10-mile loop in the heart of Washington's Indian Heaven Wilderness is overflowing with wildflower meadows, summer huckleberries, and sparkling lakes. Do it as a dayhike, or backpack it with several side trip options.
Heading out the door? Read this article on the new Outside+ app available now on iOS devices for members! Download the app.
The Indian Heaven Wilderness is a wonderland of lakes, meadows and volcanic features nestled between Mount St. Helens and Mt. Adams, west of Trout Lake. Early summer brings hoards of mosquitoes, so is discouraged, but later summer brings a bounty of wildflowers and huckleberries, ripe for the viewing and snacking; or hike it even later for an explosion of autumn color. From this 10-mile loop, a variety of side trails to numerous other lakes are available, making for an ideal dayhike or multi-day backpack.
Start the Bird Mountain loop at the trailhead parking area in the Cultus Creek Campground, heading southwest on Trail #33. The trail immediately starts a healthy 1,200′ climb in the first 1.5 miles; beyond this, the trail undulates gently from one lake basin to another, making for pleasantly easy hiking. At the Deep Lake junction, take the short side trail to the lakeshore, spying Mt. Adams peeking above the treeline and deep, blue water. Several campsites are available around the lake.
Back on the main trail, pass Cultus Lake, then a junction with the Lemei Trail #34. This is a side-trip option to Lemei Rock and Lake Wapiki. Bear southwest, still on Trail #33 to another junction. For a shorter 7-mile loop, turn right on Trail #33 to pass Clear Lake and meet up with the PCT; otherwise, head south on Trail #179. The trail now passes through numerous meadows, brimming with flowers and huckleberries, passes Lemei Lake, then makes a gentle descent to Junction Lake and connection to the PCT. Several campsites and more huckleberries can be found around the lake. To continue the loop, turn northward on the PCT.
Now on forested PCT, start a gentle upward route past several more lakes and several more side trails, offering enticing routes to explore even more lakes and meadows. Continue on the PCT for 3.5 miles, crossing several creeks, and a particularly jagged rockfall slope of large lava boulders, to a 4-way junction. Here, divert eastward on Trail #108, climbing a short rise to a viewpoint offering a panorama of Mt. Rainier, Mt. Adams and the Goat Rocks. Then its 1.5 miles downhill, back to your starting point.
Mapped by Eli Boschetto Bosco Mountain Photo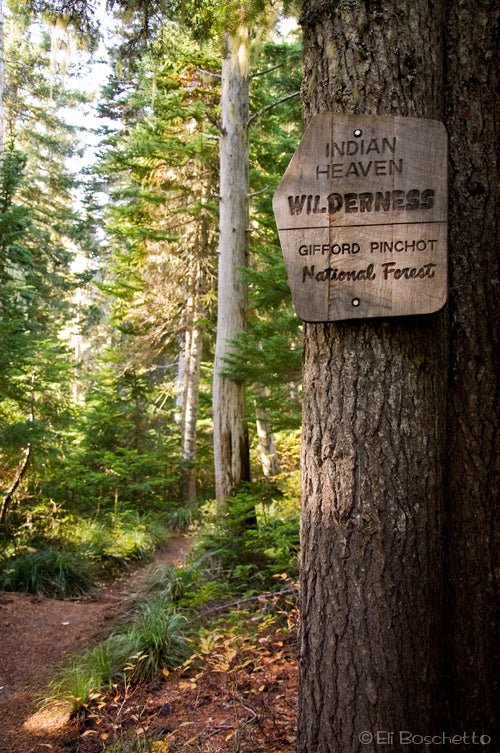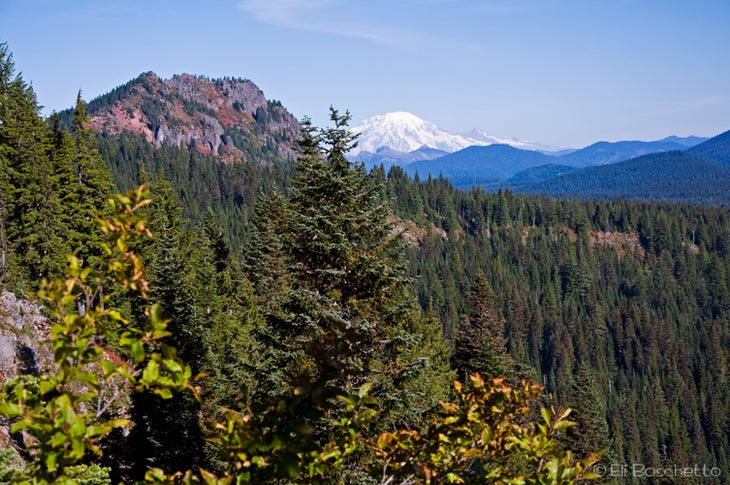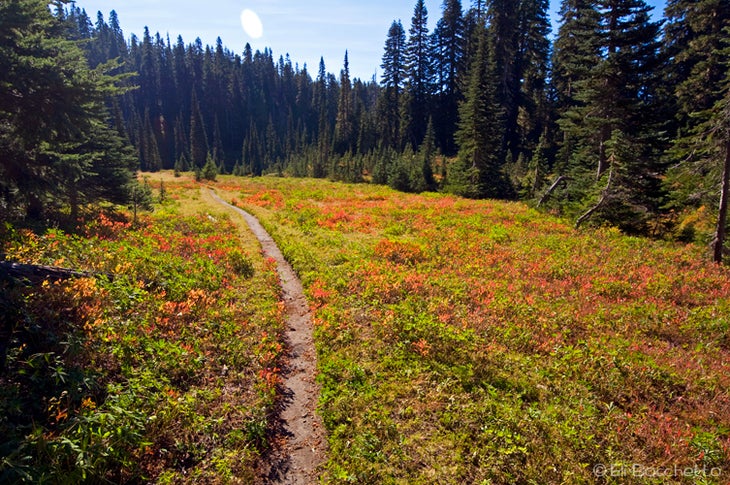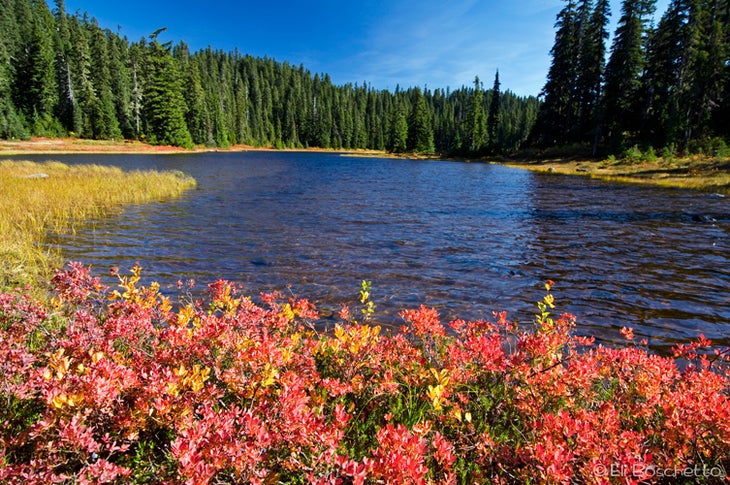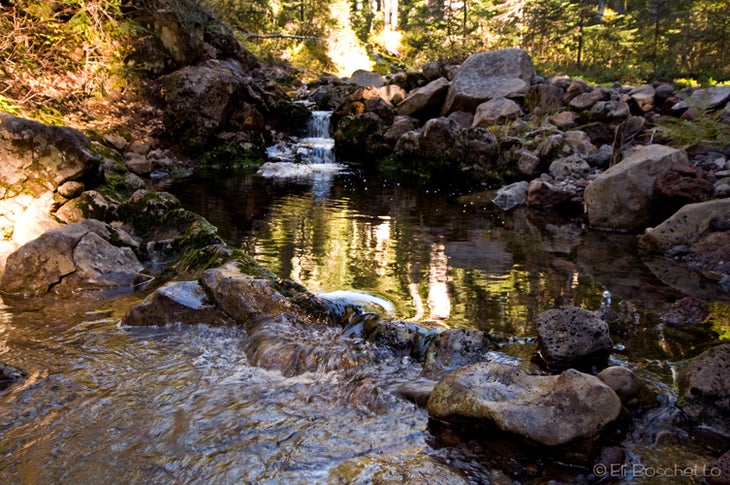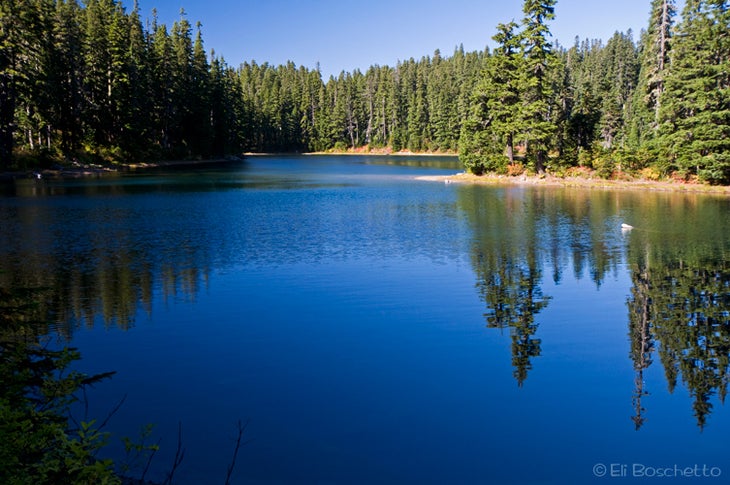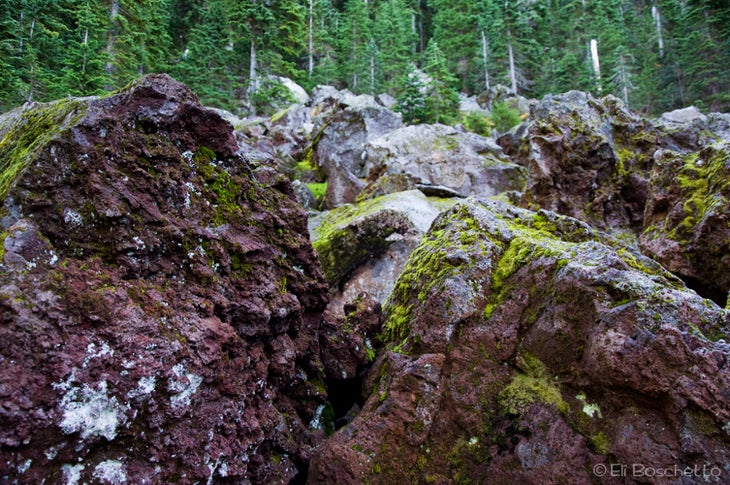 Trail Facts
Waypoints
BRD001
Location: 46.046636, -121.756459
Start the Bird Mountain Loop at the Cultus Creek Campground trailhead parking area; use Trail #33 SW.
BRD002
Location: 46.040941, -121.767365
Open switchback with wide panorama of Mt. Adams, Goat Rocks and Mt. Rainier.
BRD003
Location: 46.030711, -121.774156
Trail spur through open meadow with a few campsites near trees.
BRD004
Location: 46.030443, -121.774054
Trail junction; turn left (E) for side Trail #33A to Deep Lake.
BRD005
Location: 46.031381, -121.771399
Deep Lake; find a light trail that circles lake and a few campsites near the lakeshore.
BRD006
Location: 46.030189, -121.774132
Cultus Lake
BRD007
Location: 46.028003, -121.774052
Trail junction; turn right (W), continuing on Trail #33. Side trip option to take Trail #34 east 2.8 miles past Lemei Rock to Lake Wapiki.
BRD008
Location: 46.025221, -121.779032
Trail junction; for shorter loop, continue right (W) on Trail #33 to PCT junction; for longer loop, turn left (E) on Trail #179.
BRD009
Location: 46.02339, -121.776473
Proceed through a large meadow, sprinkled with late summer huckleberries.
BRD010
Location: 46.017654, -121.775364
Lemei Lake.
BRD011
Location: 46.009724, -121.780268
Creek crossing.
BRD012
Location: 46.005346, -121.786992
Junction Lake; small campsites available around lakeshore; gather summer huckleberries.
BRD013
Location: 46.005603, -121.787685
Very nice campsite north of trail.
BRD014
Location: 46.005429, -121.788584
PCT junction; turn right (N).
BRD015
Location: 46.009805, -121.787917
Creek crossing.
BRD016
Location: 46.014586, -121.787594
Creek crossing.
BRD017
Location: 46.015672, -121.788527
View of Acker Lake below.
BRD018
Location: 46.01808, -121.787513
Trail junction; continue straight (N) on PCT. Side trip option to take Trail #176 west 0.5 mile to Bear and Elk Lakes.
BRD019
Location: 46.023072, -121.786108
Trail junction; continue straight (N) on PCT. Short descent to Deer Lake and campsites on south lakeshore.
BRD020
Location: 46.025353, -121.786228
Trail junction; end of Trail #33 and aforementioned short loop. Continue straight (N) on PCT.
BRD021
Location: 46.035766, -121.786457
Pass a rockfall slope; look and listen for pika
BRD022
Location: 46.037955, -121.786155
Trail fork; continue right (NE) on PCT. Side trip option to fork left 3.3 miles to Placid and Chenamus Lakes.
BRD023
Location: 46.04389, -121.780347
Unnamed lake below.
BRD024
Location: 46.043863, -121.778875
Pass through large lava boulder slope.
BRD025
Location: 46.046733, -121.777751
Trail junction; turn right (NE) on Trail #108.
BRD026
Location: 46.047859, -121.775712
Short spur trail to rock outcrop and viewpoint of Mts. Adams and Rainier.
BRD027
Location: 46.048256, -121.756317
At a small stock fence, turn right (S) on a light side trail to return to Cultus Creek Campground.
BRD028
Location: 46.047913, -121.756423
Turn right (S) on campground road to return to trailhead parking area.
Indian Heaven
Location: 46.046697, -121.757011
Enter the Indian Heaven Wilderness to hike the loop trail around Bird Mountain.
Rainier View
Location: 46.040948, -121.76729
At the top of an open switchback, view a wide panorama of Bird Mountain, Mt. Rainier, Mt. Adams and the Goat Rocks.
Deep Lake
Location: 46.031147, -121.771023
The deep blue water of Deep Lake, backed by Mt. Adams.
Indian Meadow
Location: 46.02264, -121.776388
One of many wide meadows on the east side of Bird Mountain. Summer brings an abundance of wildflowers and huckleberries; autumn brings an explosion of color.
Junction Lake
Location: 46.005115, -121.78879
Autumn brings bright red huckleberry bushes to the shores of Junction Lake.
Cascades
Location: 46.014742, -121.787739
A handful of small creeks cross the trail along the PCT, on the west side of Bird Mountain.
Bear Lake
Location: 46.018319, -121.788125
The still, reflective water of Bear Lake.
Big Rocks
Location: 46.044285, -121.778319
The PCT cuts across a slope of jagged lava boulders.