Tulsa: Robber's Cave State Park
This 10-mile loop explores Jesse James's old hideout then links gurgling streams and quiet ponds in the rugged folds of the San Bois Mountains.
Heading out the door? Read this article on the new Outside+ app available now on iOS devices for members! Download the app.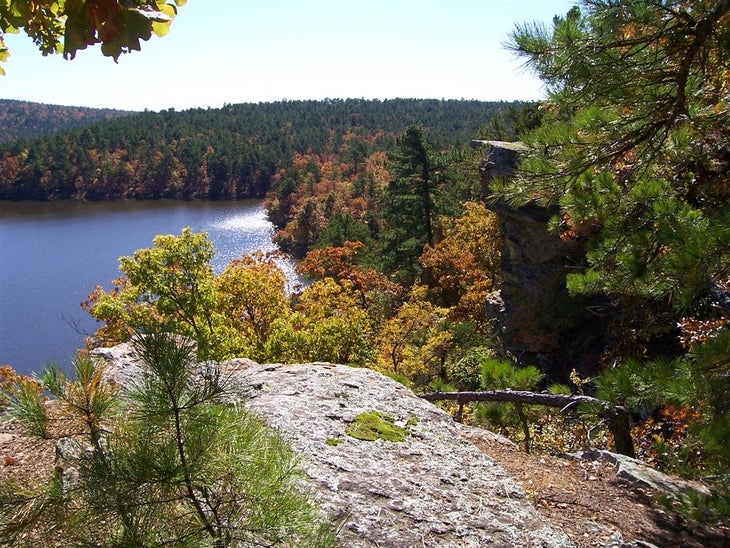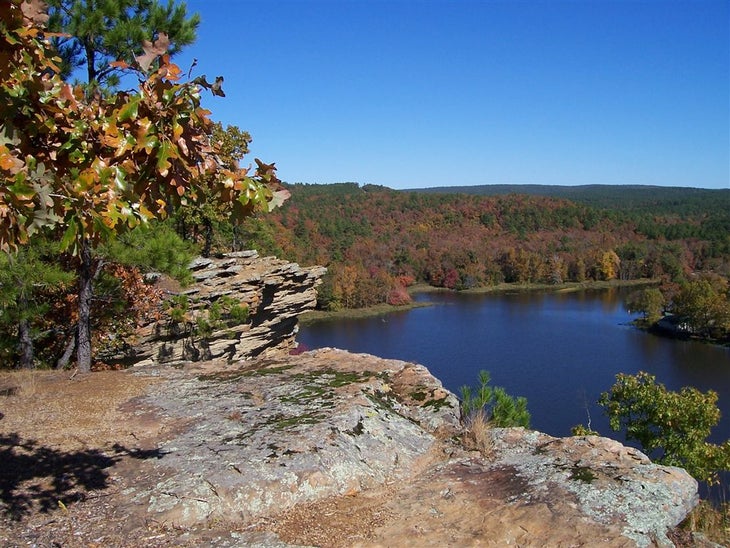 Trail Facts
Waypoints
RBC001
Location: 35.005568, -95.337766
Head N up yellow-marked trail to a cave near a sandstone outcrop
RBC002
Location: 35.006245, -95.339111
Enter Robbers Cave, where Jesse James hid from the law (look for secret entrance inside). Return to lot; head SW on Rough Canyon Traill
RBC003
Location: 35.004215, -95.340103
Fourche Maline Creek; head NW up steady slope. In .4 mi., go straight over 2 gravel road crossings
RBC004
Location: 35.006866, -95.350723
Bear L @ Mountain Trail; in 800 ft., take blind R around oak and descend rockslide to forge creek safely
RBC005
Location: 35.006473, -95.352057
L @ Y; woodpecker drums resonate from the branches above
RBC006
Location: 35.007862, -95.362694
Cross stream on flat stones; head SW under short-needle evergreens
RBC007
Location: 35.006119, -95.364639
Straight @ Ash Creek Rd., and skirt the NW edge of Lake Wayne Wallace among wispy meadow grasses
RBC008
Location: 35.002476, -95.365318
Bear L @ Y; hug shore, then climb 280 ft.; pass primitive campsite
RBC009
Location: 34.995773, -95.362572
Go straight; cross creekbeds
RBC010
Location: 34.98011, -95.364807
Scenic overlook over Lake Carlton; return to WPT 5 and turn L @ Y onto Cattail Pond Trail
RBC011
Location: 35.013611, -95.349907
Stay R; cattails on L shelter waterfowl in murky pond
RBC012
Location: 35.010727, -95.345551
Turn L to Lost Lake via Rough Canyon Trail; frog chorus leads to unnamed pond in .2 mi.
RBC013
Location: 35.008301, -95.3349
Cross gravel road; follow railed concrete path .3 mi. to parking lot
Scenic Overlook
Location: 34.980446, -95.365822
Lake Carlton ©Carl Kinney
View over Lake Carlton
Location: 34.982124, -95.365891
©Carl Kinney