Tulsa, OK: Winding Stair Mountain Loop
One of Oklahoma's best weekend trips, this 21.7-mile loop circles Winding Stair Mountain for an up-close view of the Ouachita National Forest's most scenic stretch.
Heading out the door? Read this article on the new Outside+ app available now on iOS devices for members! Download the app.
This counterclockwise loop combines three trails, the Boardstand, Old Military Road and the Ouachita, to form one of Oklahoma's best 2-night trips. Seven different trailheads provide plenty of customization options and easy-access water cache spots during hot, dry summer months.
Beginning in Holson Valley, the first several miles of this loop roll westward through several forested ravines and then turn uphill toward Talimena State Park, cresting Winding Stair Mountain's western flank at mile 6.4. Stop to read the historical marker at the end of Old Military Road and dip downhill before slowly climbing again along the ridge's southern slope toward the route's high point near Panorama Vista at mile 11.5—there are several developed backcountry sites to stop on day 1.
The second half of the loop begins with spectacular views of the Chancellor Mountains as the trail dips downhill to Bohannon Creek and rises to Deadman's Gap where it again crests the mountain's ridgeline and turns sharply downhill. Rejoin the Indian Nation Trail just before mile 16. The last several miles of trail roll over small hills in the forested Holson Valley heading west to loop end and the 0.7-mile spur to the trailhead.
-Mapped by Charlie Williams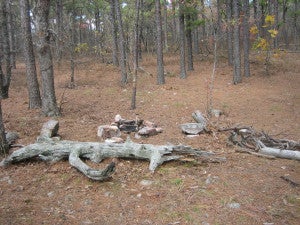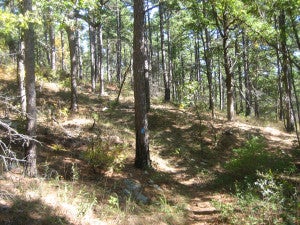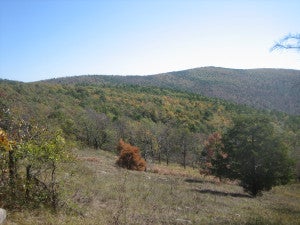 Trail Facts
Waypoints
BOM001
Location: 34.820513, -94.886432
Start at the Holson Trailhead, a gravel lot with plenty of parking, but no other services. It's an easy, 0.7-mile warm up to the beginning of the loop.
BOM002
Location: 34.818786, -94.897139
If water is flowing in the creeks, you'll pass a little waterfall a few hundred yards before this junction. Bear right at the Y to head up the valley on Old Military Road Trail.
BOM003
Location: 34.816028, -94.905155
Pass a campsite; there's a fairly reliable year-round water source a short distance southeast of here.
BOM004
Location: 34.819765, -94.922121
The trail crosses a forest road and continues rolling through the valley for another half mile before turning uphill to climb Winding Stair Mountain.
BOM005
Location: 34.8129577, -94.9358654
Cross a dirt forest road just past mile 4. Ahead, climb out of the valley, crossing the road two more times in the next 1.1 miles.
BOM006
Location: 34.801639, -94.94391
Bear right to continue on the Boardstand Trail. The Indian Nation Trail splits to the left.
BOM007
Location: 34.79608, -94.94426
A historical marker at the Old Military Road vista recounts the US Army's building efforts here in the 1830s. Use caution crossing Talimena Drive and switchback down a short, steep hillside.
BOM008
Location: 34.788963, -94.945011
Bear left at this junction onto the blue-blazed Ouachita Trail. The right-hand spur leads 0.7 mile to a trailhead at Talimena State Park.
BOM009
Location: 34.794999, -94.923732
Continue straight on the Ouachita Trail, bypassing the Indian Nation Trail. The trail here is just below and a few hundred feet away from Talimena Drive (a good spot to cache water if you plan to camp on the Ouachita Trail east of here).
BOM010
Location: 34.792709, -94.908859
This campsite, at the upper reaches of Frazier Creek, may not have water until after a few good fall rains. Spacious enough for 1 tent (you could squeeze in more), this site has abundant rock furniture and a big fire ring.
BOM011
Location: 34.7773633, -94.9052668
There isn't any water at this campsite overlooking Buffalo Wallow Mountain, but the Panorama Vista site has space for several tents. Cache water at nearby Panorama Vista on Talimena Drive.
BOM012
Location: 34.776507, -94.902541
This junction with the Potato Hills spur trail at mile 11.5 marks the route's high point. Continue straight @ 3-way junction, following the Ouachita's blue blazes. In 0.75 mile you'll cross a forest road.
BOM013
Location: 34.766268, -94.8791
Continue straight along the Ouachita Trail, bypassing the Bohannon Trail. Follow the contour of the hillside toward a campsite near Bohannon Creek up ahead.
BOM014
Location: 34.767753, -94.878697
This single tent campsite has year-round water in a rock basin a hundred feet downstream.
BOM015
Location: 34.772096, -94.871857
Cross Talimena Drive again at Deadman Gap at mile 14.4. There is a vista point on the road a few hundred feet west of here that may serve as an alternative trailhead.
BOM016
Location: 34.772737, -94.864179
Turn left @ 3-way and head north along the white-blazed Boardstand Trail. The blue-blazed Ouachita Trail continues into Arkansas.
BOM017
Location: 34.782917, -94.857021
Turn left at this junction where the Boardstand Trail joins the Indian Nation Trail. From here until the loop-end the trail is marked with both white and yellow blazes.
BOM018
Location: 34.784364, -94.856769
Though there is usually water in Redbank Creek, a pond near the trail is also a reliable water source for this campsite at mile 15.9.
BOM019
Location: 34.789885, -94.884095
Stay straight on the trail across FR 6010 (aka Deadman Road), following the Boardstand Trail. The trail is so named because the Holson Valley, like the rest of the Ouachitas, was originally populated with short leaf pine trees. Easy access in the broad valley made it ideal for harvesting lumber. While the second growth forest is an oak pine mix, the short leafs are coming back.
BOM020
Location: 34.7916734, -94.8868561
This small campsite is often dry, but you can cache water at FR 6010, just 0.25 mile away. Ahead, the trail reconnects with Waypoint 2; turn right to return to the trailhead.
Panorama Vista Camp
Location: 34.7772928, -94.9048376
The fire pit and rock and log furnishings at Panorama Vista Camp. © Charlie Williams
Boardstand
Location: 34.8118302, -94.8956537
Second growth forests along the Boardstand Trail. © Charlie Williams
Views
Location: 34.7658711, -94.8806763
Southern views of the mountains from the trail before Deadman Gap. © Charlie Williams