Tucson, AZ: Marshall Gulch to Aspen Trail Loop
A high-altitude intro to the Santa Catalina Mountains, this trail literally sparkles as it circles Marshall Peak for an easy, 3.3-mile loop through the Pusch Wilderness Area.
Heading out the door? Read this article on the new Outside+ app available now on iOS devices for members! Download the app.
This route follows the popular Marshall Gulch Trail #33 to the Aspen Trail #93, creating an easy, 3.4-mile counterclockwise loop among the high-altitude peaks of the Coronado National Forest's Santa Catalina Mountains. Follow Marshall Gulch trail signs to begin a quick ascent into the ponderosa-shaded forest. Crossing a small creek several times, the trail climbs eastward gradually and turns away from the creek before approaching a saddle 1.2 miles from the trailhead. Several trails merge here: Follow Aspen Trail #93 uphill and to the south for a 0.8-mile climb to Marshall Peak's false summit. A 2003 fire incinerated the most distant section of this loop and the damage is obvious. New growth of alder, aspen, pine and shrubby species continues, but the fire-scar dominates the scenery as the trail approaches it's high point, more than 8,150 feet above sea level. Descending west and north toward the trailhead through the upper reaches of the Sabino Canyon, the trail reflects a glittering layer of mica and quartz dust that gives the day a magical feel. Parking at the trailhead requires a Catalina Mountain Pass, available in per-day or annual increments. -Mapped by Chris Wencker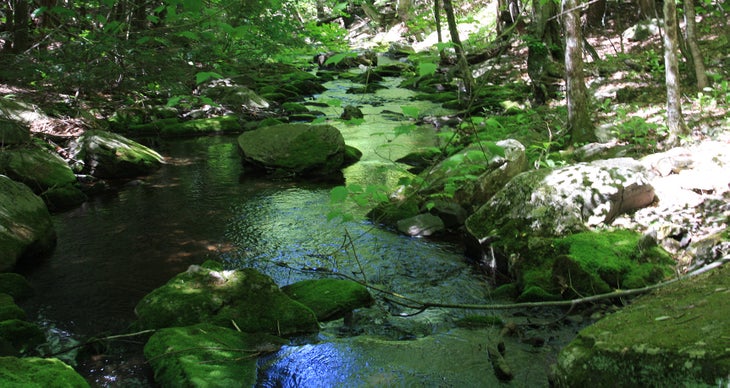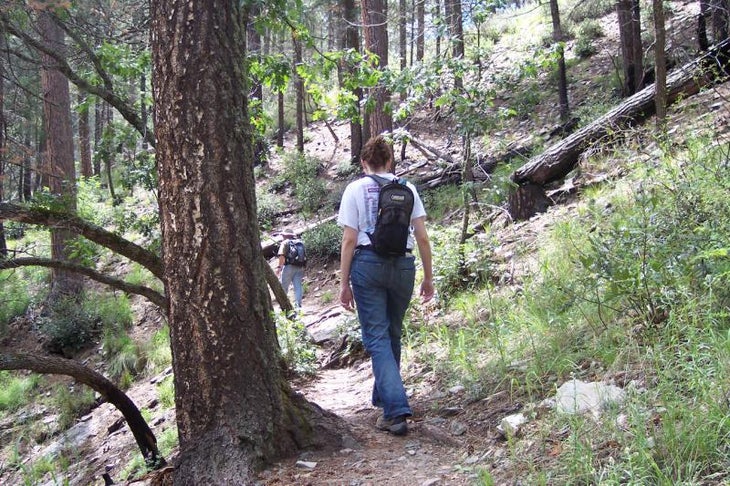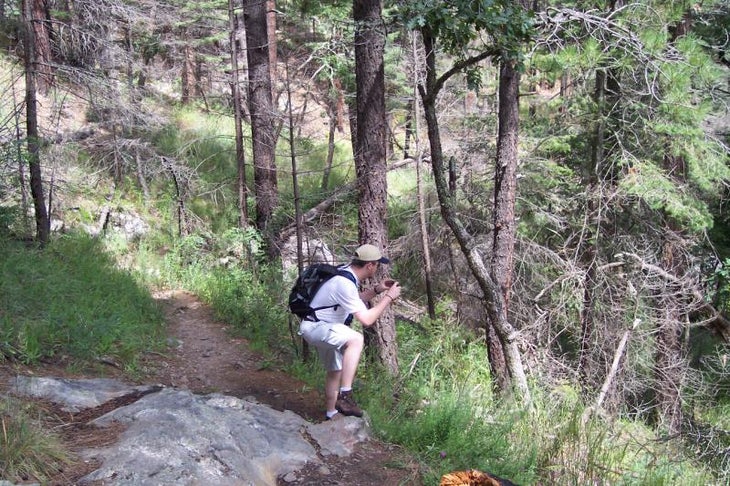 Trail Facts
Waypoints
MGA001
Location: 32.4280726, -110.7559027
The trail begins near the restrooms at the Marshall Gulch Picnic area.
MGA002
Location: 32.4276623, -110.7576799
After a quick uphill, the trail crosses the wilderness area boundary. The climb through Marshall Gulch eases as it follows a seasonal creek.
MGA003
Location: 32.4270828, -110.7611346
The trail crosses a seasonal creek several times as it heads north and west.
MGA004
Location: 32.430663, -110.7733273
Several trails converge at the Marshall Saddle. Stop to admire views of Lemmon Rock before following Aspen Trail #93 uphill through fire-scarred pine and aspen.
MGA005
Location: 32.4271009, -110.7738161
The 2003 Aspen Fire scarred this distant section of the trail. Fallen trees, blackened trunks, and new growth of several high-altitude species are visible along the trail.
MGA006
Location: 32.4242115, -110.7700962
The trail stays relatively flat as it winds below Marshall Peak.
MGA007
Location: 32.4224031, -110.7644996
The trail's high point, a false summit of Marshall Peak sits at 8,150 feet (100 feet below the real thing). From here it's all downhill to the trailhead.
MGA008
Location: 32.4252897, -110.7556415
The last half mile of the trail crosses out of the wilderness area, but it sparkles with mica and quartz dust shed from the walls of the upper reaches of Sabino Canyon.
Creek
Location: 32.4272095, -110.7614994
A pool along the seasonal creek. ©Chris Wencker
Easy Trail
Location: 32.4310854, -110.7696104
The easy trail climbs gradually toward Marshall Saddle. ©Chris Wencker
Photo Ops
Location: 32.4283687, -110.7739019
Be sure to stop for photos along the trail. ©Chris Wencker