Tuck/Robin Lakes
A classic out and back hike that encompasses all that is wild and original in the Alpine Lakes Wilderness. Difficult trails, an abundance of beautiful alpine lakes surrounded by massive granite outcroppings, jagged peaks, and an attendant herd of Mountain Goats. What's not to love?
Heading out the door? Read this article on the new Outside+ app available now on iOS devices for members! Download the app.
Take this 6.25 mile out and back, and you will be tested once the trail heads uphill. It starts out easily enough, starting at the trail head for Deception Pass, trail #1376. You will follow the Deception Pass trail for about 1.5 miles along easy flat trail to Hyas Lake, a large lake surrounded by old growth forest and clear views to towering Cathedral Rock, which dominates the skyline on the western shores. There are plenty of campsites here along the lake, and it's popular with anglers and families alike, for its close proximity to the trailhead. Shortly beyond the end of the lake, the trail starts to climb uphill at the 3.3 mile mark, to your trail junction that turns right towards Tuck and Robin Lakes, at 4.06 miles. This is trail #1376.1, and the moderate uphill that you have enjoyed from the end of the lake, is now over, as this trail climbs steeply uphill over very rough terrain; boulders, loose rock, and tree roots all conspiring to make the way more difficult. You reach Tuck Lake at 5.15 miles, a pretty alpine lake surrounded by sloping granite walls on one side, and large rounded bare granite slabs on the other to create a viewing platform across the valley you just climbed out of to glacier covered Mt. Daniel, a snow covered granite mass next to the iconic Cathedral Rock. Large ribbon like waterfalls stream down the bare rock below the massive snowfields of Mt. Daniel, that help to feed the Cle Elum River far below. Tucked behind Mt. Daniel, you can see Mt. Hinman, and it's glacier, a white ridge that runs out of sight behind the nearer peaks. It's an incredible view, which will only get better as you get higher. The trail becomes harder to follow now, so be sure to keep Tuck Lake in sight by your left shoulder, otherwise, it's easy to accidently go around Tuck's Pot, a small offshoot of the lake, that will have you scrambling more than necessary. After you leave Tuck Lake, the trail ascends steeply up a ridgeline for the next .3 miles,
the way is marked with cairns, and it's more of a scramble than a trail. At times, you will have to grab and hold on to trees, roots, and granite ledges to help you advance. It's a rough, difficult ascent, but one that will pay off in the end. After reaching the end of the ridgeline, the next ½ mile to Robin Lakes will be over bald granite, following cairns all the way to the top of the ridge that surrounds the lakes below. This last mile will take almost an hour, but once reaching the crest, and looking down into the Robin Lakes basin, your breath will be taken away once more, this time from the awe inspiring lakes below. Carved into the solid rock here, are two beautiful alpine lakes, the lower being the most scenic. The lakes are surrounded by sloping walls of solid rock, with a dividing ridge separating the two. This ridge runs uphill towards Granite Mountain, and has small pockets of trees and flat ground that provide excellent tent sites. The lower lake is enchanting, for it winds around rounded bald granite, with small pockets of alpine trees and meadows, creating small islands of fancy in its crystal blue waters. Fish jump, water chuckles over rock at the outlet, and the only thing that seems to be missing is sprites and elves populating the shores here. As your gaze turns to look at the cleft in the solid rock that becomes the lower lake's outlet, the view becomes majestic once more, looking more like a back drop painting than a possibility. Massive Cathedral Rock dominates the background, and all the jagged and pointed peaks in the distant provide stark contrast to the rounded and sculpted granite of the lakes region. From the dividing ridge that separates the upper, and larger of the two lakes from the lower lake, you can even see distant Mt. Rainier.
Mountain Goats frequent the area, and will come close in to camp, so keep your camera within reach.
There are several good campsites available, and are scattered around the upper and lower lakes, which is good, as it is a popular destination during the summer months. Getting here early is key to grabbing the best spots.
If you are adventurous, there are several options here for dayhikes or peakbagging. We chose to bag nearby Granite Mt. and Trico Peak, a relatively easy option if you choose not to spend the day angling. From the dividing ridge between the two lakes, go straight up the ridge to the top, and veer left NE across a saddle that looks down into the upper Robin Lake, at .5 miles. Then, go straight up to the next peak in front of you, another .1 miles. Now, you can see to the SE the peak of Granite Mt. Follow the ridge that leads from this peak to Granite Mt, a total of only .8 miles from your start at the bottom of the ridge near camp. The views are spectacular, including views north to Glacier Peak, and Mt. Baker, and you can see to all points of the compass. Head back the direction you came, along the ridge, to the next peak over, and then continue north; following the ridgeline that surrounds the upper lake. Once you've reached about the halfway mark on the lake, you should be able to look below you to the NE and see a set of lakes called Klonaqua, ringed in trees far below. This should be at the 1.45 mile mark. Continue along the ridgeline as it circles around upper Robin Lake, and look for a faint trail that will lead you to a climber's trail that follows the ridgeline up to Trico Mt. By 2.5 miles, you will see too many lakes to keep track of, including the Granite Mt. Potholes, Lake Phoebe, and Leland Lake, to name a few. Take a lunch break at the top of Trico Mt, before returning to camp, a total trip of around 4 miles.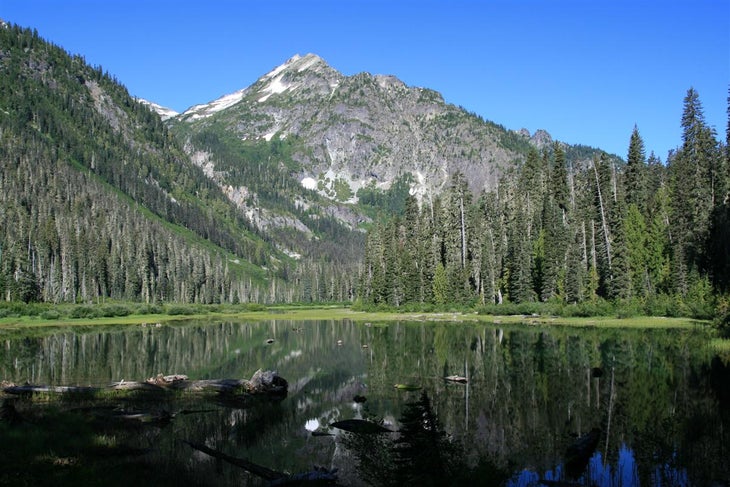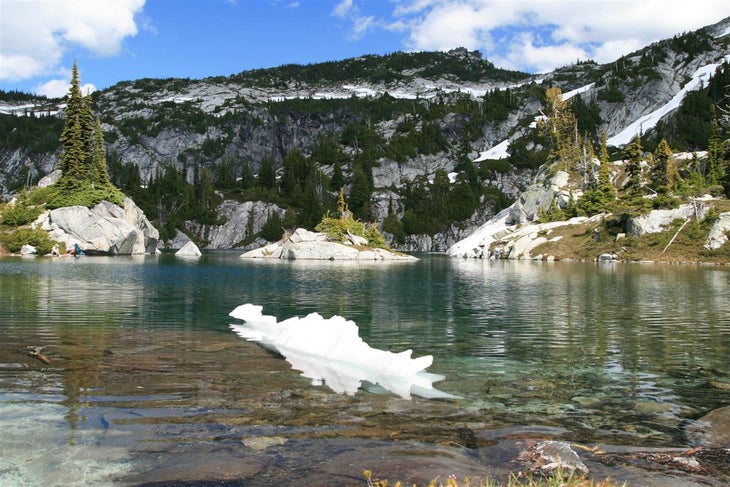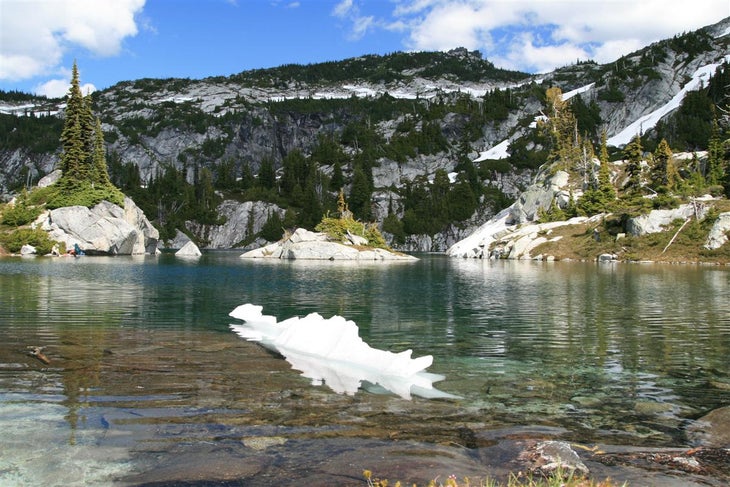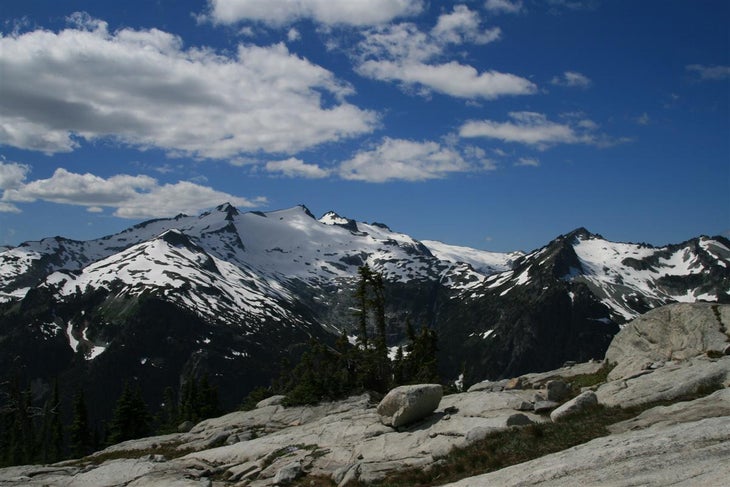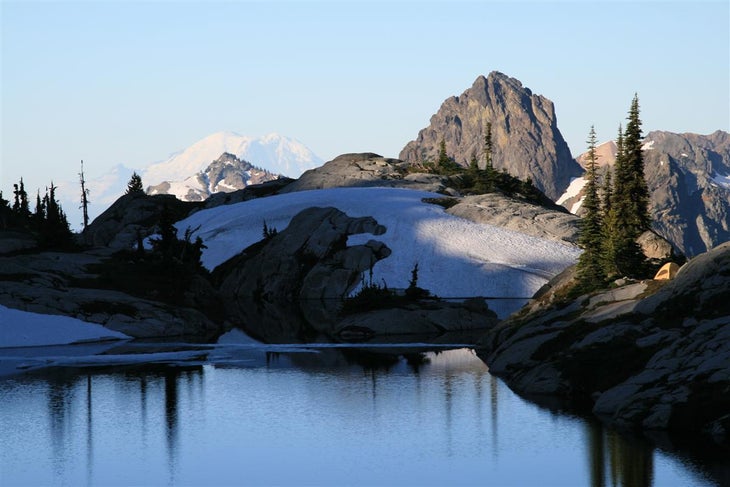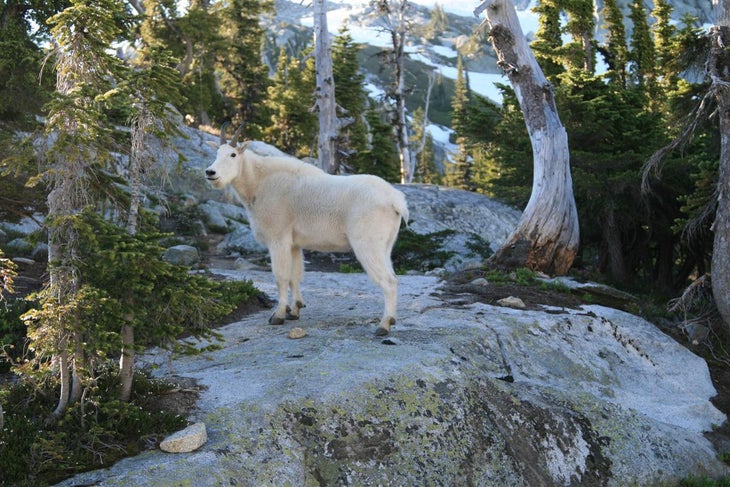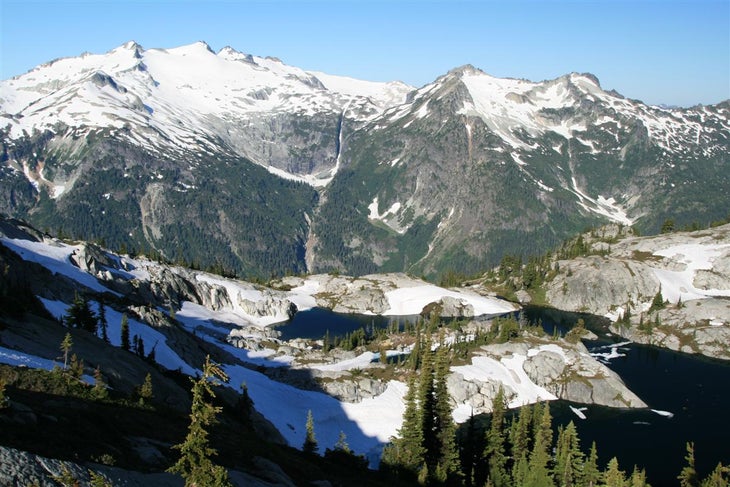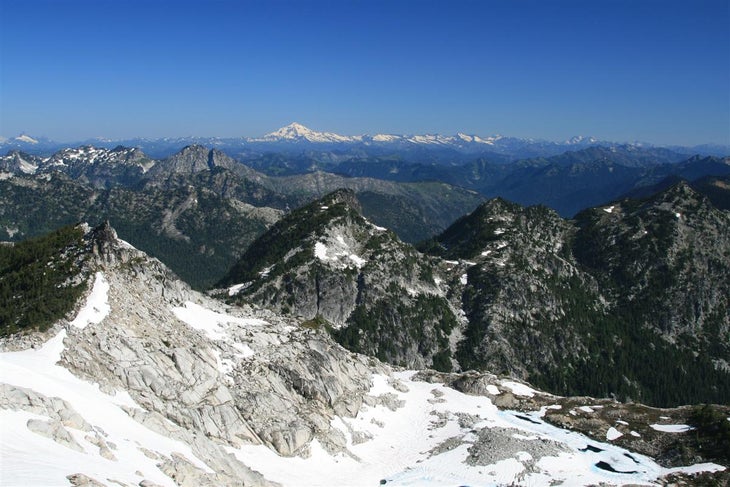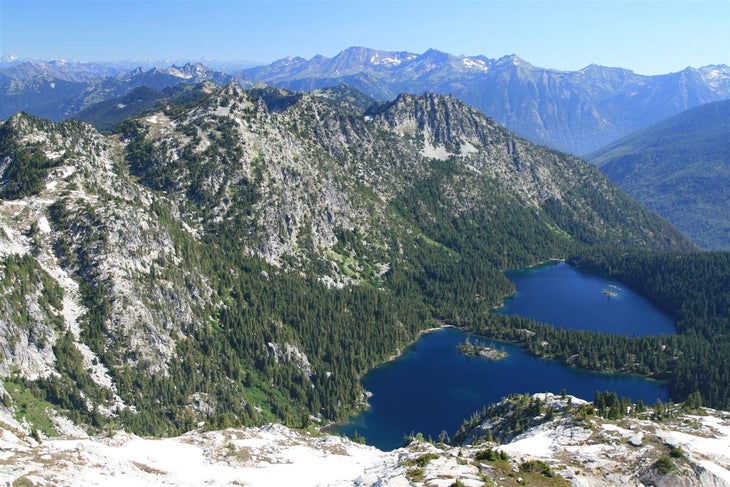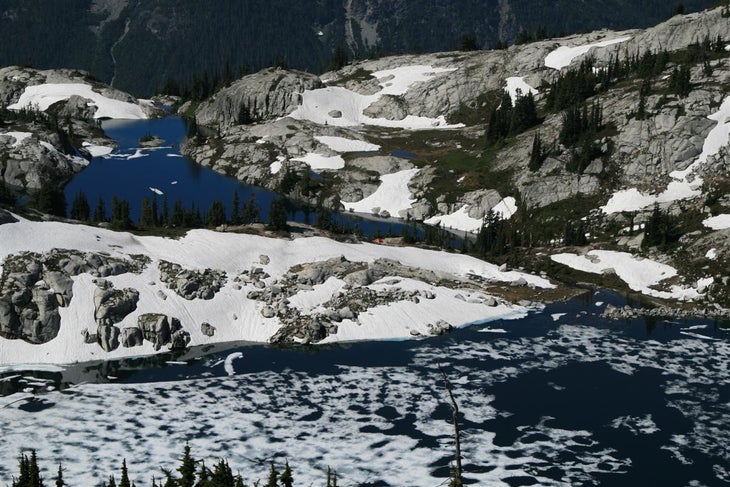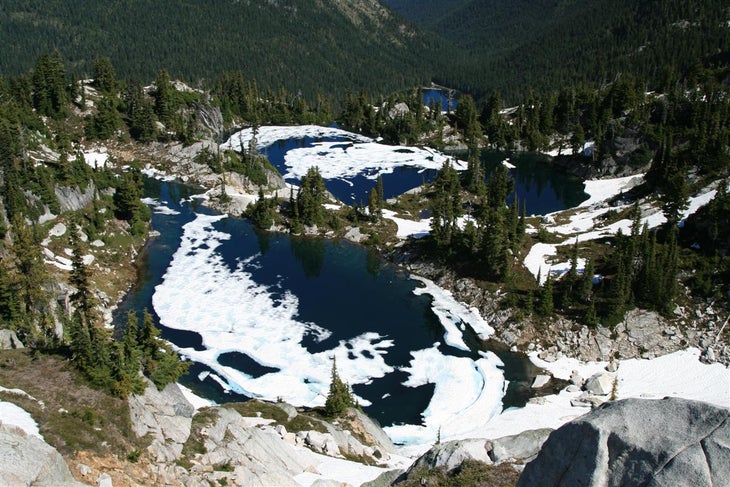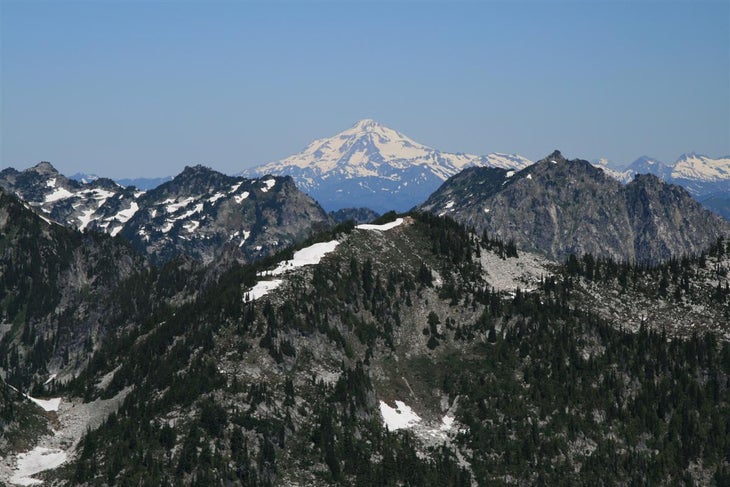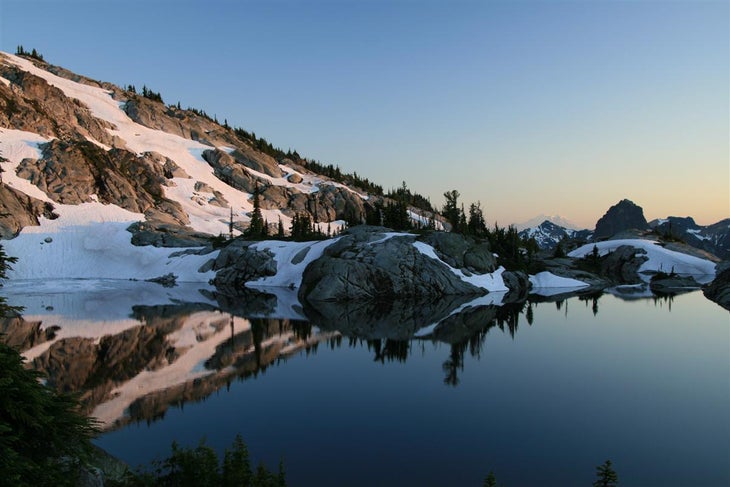 Trail Facts
Waypoints
Hyas Lake
Location: 47.565176, -121.1168
Camp1
Location: 47.585246, -121.102193
A perfect spot, for views across both lakes and distant mt. views.
Trail Jct. #1376A
Location: 47.588086, -121.136313
19-AUG-11 10:38:33AM
Logcross
Location: 47.58773, -121.119447
Cross the outlet here on log jam.
Camp2
Location: 47.590057, -121.10394
Another nice campsite, with water
Camp3
Location: 47.586457, -121.102929
Another nice campsite, with trees to provide shelter.
Camp4
Location: 47.583966, -121.103797
Another great spot, on a shelf above the lower lake
Granite Mt.
Location: 47.580801, -121.090408
20-AUG-11 9:53:10AM
Trico Mt.
Location: 47.597228, -121.113557
Peak of Trico Mt.
Hyas Lake
Location: 47.571488, -121.122079
Robin Lakes
Location: 47.583445, -121.104741
Looking back across the pretty lower lake, ice still floating in mid August.
Robin Lakes
Location: 47.585094, -121.101909
Billowy clouds float over the lakes, casting intriguing reflections.
Mt. Daniels
Location: 47.586773, -121.103368
Snow and glacier covered Mt. Daniel, rising up above the lakes.
Cathedral Rock and Mt. Rainier
Location: 47.585008, -121.10208
Impressive views of these two iconic rocks, loom large over Robin Lakes in the evening.
Mountain Goat in Camp
Location: 47.585587, -121.101694
There was a large herd that showed up throughout the day, the male posed for this dramatic photo.
Ridgeline views of the lakes
Location: 47.583068, -121.098518
Looking down over Robin Lakes from ridgeline.
Granite Mt. Views
Location: 47.58081, -121.090622
Awesome 360 degree views await those who journey to the top of Granite Mt.
Klonaqua Lakes
Location: 47.587034, -121.092639
Birds eye view of the lakes below on our ridgeline hike.
Upper Robin Lake
Location: 47.587613, -121.095171
Still 50% ice covered, it was melting out fast in the hot August sun.
Granite Mt. Potholes
Location: 47.591694, -121.107702
Just another example of the many bodies of water displayed here.
Trico Mt. Views
Location: 47.597193, -121.11371
Summit views from the top of Trico Mountain.
Alpine Glow on Robin Lakes
Location: 47.584921, -121.10148
Late evening sun setting on Robin Lakes.