Taste the Flavor of the Season on the Cranberry Loop
Circle an upland swamp rich with views, solitude, and wild edibles.
Heading out the door? Read this article on the new Outside+ app available now on iOS devices for members! Download the app.
At most Thanksgiving tables, cranberries are something that comes out of a can. But that goodness has to start somewhere, and if you're in the know, you can find these tart treats growing wild, floating on the surface of a bog in a bobbing crimson carpet. One prime destination for scoring a little seasonal flavor is the aptly-named Cranberry Loop in West Virginia's Monongahela National Forest, where a footpath winds through hardwood groves and over sandstone knobs. Spend your holiday in this slice of southern Appalachia and you won't regret it. —The Editors
Hike It: Cranberry Loop
Hike among fern-lined forests and view highland bogs on a 15.7-mile loop along one of this area's least-traveled paths. From the Cranberry Mountain Nature Center, head south on the blue-blazed Pocahontas Trail into a grove of maple, beech, black cherry, and birch trees, which change into fall's yellows, oranges, and purples. Reach the Blue Knob Trail junction at mile 2.5, and turn right. Red spruce line the path, and a 50-foot spur near the top delivers you to the 4,383-foot summit, complete with a view of blue mountain ridges to the southeast. Return to the spur junction and continue northwest to join the Kennison Mountain Trail. Cross WV 39/55 at mile 3.7, then turn north onto the South Fork Trail .5 mile later. Hike past 10-foot-tall, moss-covered sandstone outcroppings, then cross a series of wooden footbridges over a few creeks.
After crossing FR 102, head northeast on the Cowpasture Trail, which passes through rhododendron tunnels to open fields with waist-high grasses and goldenrod. A wooden viewing platform at mile 6.9 offers an open glimpse of the wide, green expanse of the Cranberry Glades Botanical Area, an acidic highlands bog like those more commonly found in Canada. Kennison Mountain (4,445 feet) stands to the west. Pick a few handfuls of cranberries, and camp in one of the flat, grassy areas on the left. Next day, hike 5.2 miles to a wayward piece of blacktop and a set of placards marking the former site of Mill Point Federal Prison. Hit FR 102 again, and road-walk .1 mile north to the Cranberry Glade boardwalk. Retrace your steps on the Cowpasture Trail to the intersection with the Charles Creek Trail and continue south on the grassy, meadow-side path. Pass a thick spruce forest on your right—Mill Creek prisoners may have planted it in the 1940s. Turn right on SR 150 and continue to the nature center.
Get there From Charleston, WV, follow I-79 north for 57 miles to US 19 S. Go 21 miles and take WV 55 for 13 miles to the nature center parking lot. Permit none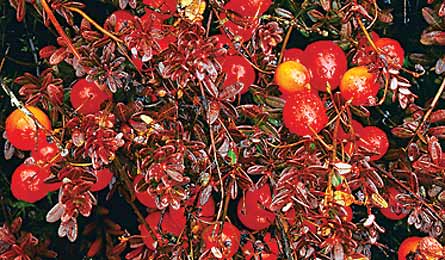 Seasonal Flavors
The Cranberry Glades Botanical Area comprises five small peat bogs created during the last glacial period, about 10,000 years ago. These damp areas contain acidic soil that supports plants typically only seen at higher latitudes in Canada. Ground-creeping cranberry vines (bright red and ripe in the fall) grow in the sphagnum moss which covers most of the glades. Identify these wild edibles by their fingernail-size oval leaves, but wait until after the first frost (typically mid- to late-October) for the sweetest berries. Respect LNT rules when foraging: Pick a few berries here and there, but avoid denuding an entire vine; you'll help minimize the impact and leave the area looking pristine.
Locals Know
Ruins of the old Mill Point Federal Prison, a work camp that was built without walls, fences, or boundaries, sit along the Cowpasture Trail, about one mile before the boardwalk. The prison opened in the early 1930s and housed more than 6,000 inmates in its heyday. Prison officials thought the remote location was enough to prevent escapes—and they were right for the most part. But in one juxtaposition of criminal behavior and gentlemanly integrity, a group of inmates assigned to drive the garbage truck to nearby Richwood promised a guard they would return. They kept their word and parked the truck at the prison—then made a break for it. The prison closed in 1959 and only a small strip of pavement and a few informational placards remain.
Holiday Menu
A hike this delicious deserves food to match. Start with these two custom-designed dishes.
Cranberry Salmon
Two 6-ounce salmon pouches
¾ cup couscous
2 green bell peppers, diced
¼ cup cranberries (harvested or store-bought dried)
1 tablespoon olive oil
Boil water and add couscous, oil, cranberries, and diced green pepper. Cover, remove from heat, and let sit for five minutes, then stir. Pan fry salmon filets until warm, then place on top of couscous. Serves two.
Glades Oats with Pecans
1 cup instant oatmeal
1 teaspoon brown sugar
1 teaspoon pecans, crushed
½ teaspoon cinnamon
¼ cup cranberries (harvested or store-bought dried)
Stir oatmeal, brown sugar, pecans, cinnamon, and cranberries into one cup boiling water. Let stand until water is absorbed. Serves two.

First published October 2011; last updated November 2021