The Changing Mountain
The following is adapted from Northwest editor Michael Lanzas new book, Before Theyre Gone: A Familys Year-Long Quest to Explore Americas Most Endangered National Parks ($24.95, beacon.org, TheBigOutside.com).
Heading out the door? Read this article on the new Outside+ app available now on iOS devices for members! Download the app.
Photos by Michael Lanza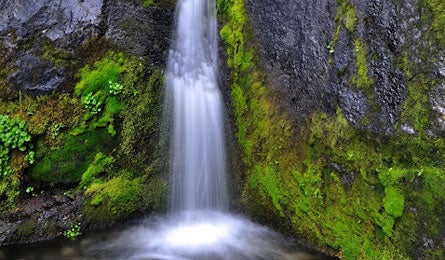 A waterfall on the Wonderland Trail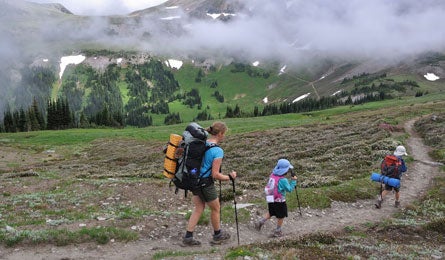 A mist hangs low on the Wonderland Trail in Berkeley Park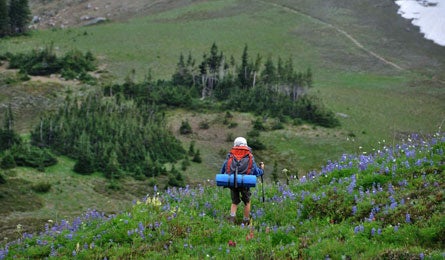 Nate descends the Wonderland Trail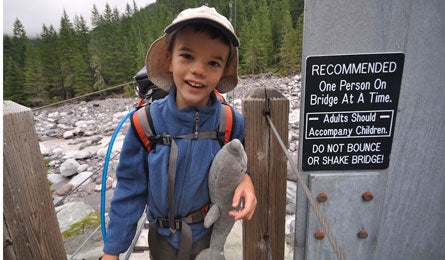 Nate on Carbon River Bridge in Mount Rainier National Park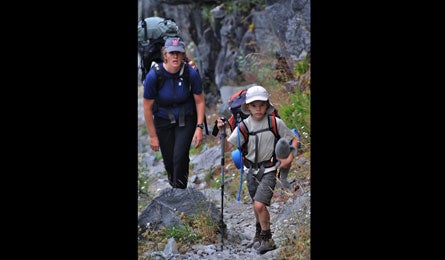 Nate and Penny hike through the Carbon River Valley
Mt. Rainier is a hulking mass of ice and rock rising 14,410 feet into the sky. But recent weather patterns are carving it away, not gradually but in violent fits and starts. Our Northwest Editor takes his kids to see the peak he loves before its unrecognizable.
"There's absolutely no one out here," I thought. It was October 2003 and I was taking a solo, three-day hike around Mt. Rainier National Park's Northern Loop. Even in the wilderness of many national parks, seeing absolutely no one for days—conjuring a sense of this country's wild edge before western settlement—is a rare gift. But for two clear, crisp autumn days I had the jaw-unhinging views of Mount Rainier and its meadows all to myself. Then the rain came.
Throughout my second night, wind and water lashed at my shivering tent. In the morning, I set out in a downpour punctuated by wind-borne sheets of water that hit me as if hurled from a barrel. I crossed a slick log bridge over a creek so bloated that its white teeth gnashed at the ten-inch-wide platform beneath my boots. Had I gotten there an hour later, the bridge might have been gone.
I hurried the miles to my car, anxious to be dry—not knowing that this would become the second of three storms within just eleven years to cause 100-year or bigger floods in the Pacific Northwest. Or that the third tempest of that triad, in November 2006, would cause record flooding that would erase a huge swath of the trail I was hiking and the road I would drive out on. These were part of series of storms and floods in recent years that have redefined "normal" in this part of the country, alarming climatologists, park managers, and people living downstream of the Pacific Northwest's biggest mountain.
Now, several years after that 2003 trip, I have returned to hike that same trail with my family.
Joined by a Seattle-area friend, Larry Gies, my wife, Penny, and I have embarked with our nine-year-old son, Nate, and seven-year-old daughter, Alex, on a three-day, twenty-four-mile backpacking trip from Mowich Lake to Sunrise, across the northern flanks of The Mountain, as western Washington residents affectionately call Rainier.
On our first afternoon, we cross the sprawling alpine meadows of Spray Park at 6,000 feet above sea level, where lupine, bear grass, pink monkeyflower, and other wildflowers, just now blooming, create a mosaic of deep-blue, yellow, white, pink, and purple against a backdrop of Rainier's blinding snow and ice, rising 8,000 feet above us. Even in the first week of August, we come upon long tongues of snow left over from winter and spring, which the kids and I run up and "ski" down.
But just as I did on that drenching solo hike several years ago, we start out in sunshine but walk into rain.
By our second morning, in fact, the clouds have come to us. As we depart Cataract Camp and start hiking toward the Carbon River, fog inundates the treetops—water floating on air like ice on a pond, entrapping us below the surface.
We follow the Wonderland Trail to the Carbon River, which we must cross on a bouncy, 200-foot-long suspension bridge. A sign warns, "One person on bridge at a time" and "Do not bounce or shake bridge!" Nate eagerly strides over it first, followed by Penny. Alex and I will walk it together.
Alex stares at the bridge in silence. Then she says, in an apparent attempt to comfort one of us, "I don't think you'll fall into that river."
"You don't think so?" I ask. "Why not?"
She points toward the raging white water. "Well, you see that waterfall there? Can you imagine yourself going over it?"
"I'd rather not imagine that," I admit.
"Well, if you can't imagine it, then it probably won't happen!" she says, raising both palms upturned in the universal sign for "Duh!"
I look at the Carbon River. The swirling, gray waters resemble very liquid cement more than they do a mountain stream. That muddiness comes from "glacial flour," the fine silt from stone ground up by glaciers. Like every waterway originating in a glacier on this volcano, the Carbon hauls truckloads of The Mountain downstream every hour of every day, year after year.
Given time, most rivers slice ineluctably deeper into the land. But in rivers birthed from moving ice, riverbeds aggrade, or rise, with all the debris filling them. Occasionally, aggradation occurs suddenly in the form of a lahar, also known as a debris flow, a deadly tsunami of mud, boulders, and uprooted trees that is as much solid as liquid and can charge down valleys at up to sixty miles per hour.
In recent years, scientists have discovered that Rainier's riverbeds are aggrading six to twelve inches per decade. On The Mountain's south side, the Nisqually River's bed has risen thirty-eight feet since 1910. Longmire, home to park offices and visitor services, now sits twenty-nine feet lower than the Nisqually River bottom, protected from obliteration by a manmade levee. There's evidence that the lower Nisqually Glacier is stagnating, moving only a few inches a year rather than a normal several inches per day. Park officials fear a lake may be growing inside the ice, setting the stage for a catastrophic glacial-outburst flood, or jökulhlaup—the only type of flood that has ever overtopped the Longmire levee, in the 1950s.
There has been a growing number of debris flows off Rainier. One tributary of the Nisqually, Van Trump Creek, didn't see a debris flow in the park's first 101 years; from 2001 through 2006, four careened down it. In the park's northeast corner, the White River's bed now sits sixteen feet higher than White River Road (WA 410).
The era of climate change has made the term "100-year flood" a dark joke among managers at Mount Rainier National Park and on other Pacific Northwest public lands. Many experts, including the Union of Concerned Scientists, expect that higher average temperatures will crank up the hydrological cycle, because air holds more moisture as it warms. Park managers fear the unknown: how severe the biggest storms will get in a warmer climate.
The tempest that began on Nov. 5, 2006, turned into the most destructive storm in Mount Rainier National Park's 109-year history. Over 36 hours, nearly 18 inches of rain fell—the equivalent of fifteen feet of snow—causing flood devastation that stunned even people who had worked in the park for decades. Major sections of road were gone. Six debris flows scored Rainier's slopes. The Nisqually River almost topped Longmire's levee and wiped five acres of Sunshine Point Campground off the map.
The Wonderland Trail took hits in more than thirty locations. In 2007, parts of the trail remained closed, marking the first time since its completion in 1915 that backpackers could not hike the entire trail. Never before had a storm affected every road, every trail in the park. Repairs would cost $24 million. The park was closed to private vehicles for a record six months; even world wars and the ash fallout from the 1980 eruption of Mount St. Helens had not closed it for more than a few days.
The following summer, I saw mind-boggling devastation while backpacking here: trails kneecapped by landslides, numerous washouts, thousands of 100-foot-tall trees heaped like matchsticks, and the former site of a backcountry campsite buried by a lahar—fortunately, when no one was there. Rainier's unusual climate-change story was part of the motivation behind my decision to take my kids on wilderness adventures in 11 national parks within a year's time. We went backpacking, sea kayaking, cross-country skiing, rock climbing, and canoeing in places that are likely to be very different places by the time my children are my age.
By midafternoon, in the midst of our four-and-a-half-mile, three-thousand-foot climb from the Carbon River to our second night's camp at Mystic Lake, the rain begins. This section of trail, destroyed in November 2006, has since been repaired. But the Carbon River Road has been abandoned as a lost battle.
Today, the Carbon River still flows down two miles of its eponymous road. In the evening, we sit around in Mystic camp as rain patters on the trees. Larry, who has been climbing Washington's mountains for thirty years, tells us that the old Pacific Northwest climate regime—rainy for nine months but reliably sunny and mild from July through September—seems a thing of the past.
Gesturing toward our gloomy August sky, Larry says, "For several summers, it's been much more erratic. Rain during summer. Erratic in winters, too." It's also been hotter. In a region where highs in the seventies were long the norm, a summer 2009 heat wave baked Seattle and Portland. The July 29, 2009, high of 103° F was the hottest temperature in Seattle since recordkeeping began in 1894. We awaken on our final morning to a surprise: no sound of rain on the tent. By the time we hit the trail, sunlight slashes through a disintegrating overcast, illuminating steam clouds rising from a forest reeking of humus and opportunistic fungi.
By midafternoon, we reach a pass at the apex of a two-thousand-foot climb. Before us spreads the sort of breathtaking scene that inspired the designation, in 1899, of Mount Rainier as America's fifth national park. The Wonderland Trail meanders across a vast field sprayed with the colors of lupine, phlox, and pink mountain heather. Breaths of cool fog bob above Berkeley Park, a vibrantly green cirque below us.
What seems certain for Mount Rainier National Park's future is greater uncertainty: bigger storms and roads, trails, and bridges washed out randomly. While park managers and workers do a magnificent job of maintaining the infrastructure, the surrender of the Carbon River Road shows that we cannot win every battle against nature—not when nature grows increasingly unpredictable and violent.
As much as anything, Rainier's story illustrates how the impacts of climate change aren't always gradual. Sometimes, overnight, they can leave a place in ruins.
Michael Lanza lives in Boise, ID. Find out more at thebigoutside.com.