Your Guide to Vermont's Best Bike Rides
From rolling road rides and family-friendly singletrack to downhill bike parks, Vermont has world-class routes for cyclists of every kind
Vermont is a beloved place for outdoor exploration. If you've explored Vermont's trails on foot, you're only getting part of the experience. The state is also known for its epic biking. With singletrack for every level of mountain biker, road routes as charming as they are challenging, and a seemingly endless network of gravel options, the Green Mountain State is home to some of the best cycling in the country. And in Vermont, biking routes are all about the full experience—beautiful country-side views and stops along the way for a caffeine pick-me-up and pastry at quaint New England coffee shops or chance to cool off  in a local swimming hole. Whether you're a roadie or a downhiller, a newbie or seasoned expert, here's a look at the best places to experience Vermont on two wheels.
Kingdom Trails: Singletrack Heaven
Ask any serious mountain biker to rattle off their bucket-list riding destinations and Kingdom Trails, northern Vermont's 100-plus-mile network of premium singletrack, is bound to come up. The area is just south of Mt. Pisgah, where hikers can enjoy views of New Hampshire's White Mountains, Camel's Hump and even the mountains of neighboring Québec. Not sure where to start? Book a room at the Inn at Mountain View Farm, a 440-acre estate boasting an animal sanctuary and yoga barn. With direct access to some of Kingdom Trails' more mellow terrain, it's the perfect place for warm-up laps, new riders, and families. 
Loosen up on Harp Trail, an easy, flowy singletrack loaded with big berms, before stepping it up to Fenceline, a whimsical forested route that descends 260 vertical feet on loamy dirt. For lunch, head to the Northeast Kingdom Country Store in East Burke and order the Country Turkey, which is basically Thanksgiving dinner between two pieces of bread. Then head back out to explore a mix of trails with fun rollers, turns through the trees, and a range of terrain to your heart's content. When you're worked, grab a local Vermont ale at Mike's Tiki Bar, then tuck into a Biker Bowl at The Orange Rind.
The LAMB Ride: The Ultimate Road Loop 
Vermont's Green Mountains are laced with scenic roads that wind through valleys and over steep passes, or gaps, as they're called up here. The best way to explore them is via the state's famous LAMB (Lincoln, Appalachian, Middlebury, and Brandon Gaps) ride: a 100-mile pedal that takes you up and over multiple passes and can be downed in one big push, curtailed into multiple out-and-backs, or split up into palatable day rides. If these passes sound familiar, it's likely because of the famed Long Trail—America's oldest thru-hiking trail that travels the main ridge of the Green Mountains.
Regardless of how you break up the LAMB, the best way to start is by spending your first night in the town of Rochester at the Pumpkin Patch Bed and Breakfast, a quaint Greek Revival-style home. After tackling the first section, a mellow 12-mile climb up Brandon Gap, take a break at Branbury State Park to take in the views of Lake Dunmore. Next up: Middlebury Gap, a twisty ride under a canopy of evergreens. At the top, stop at the Ripton Country Store for a locally made Chessters ice cream sandwich before heading through rolling farmland toward the town of Warren.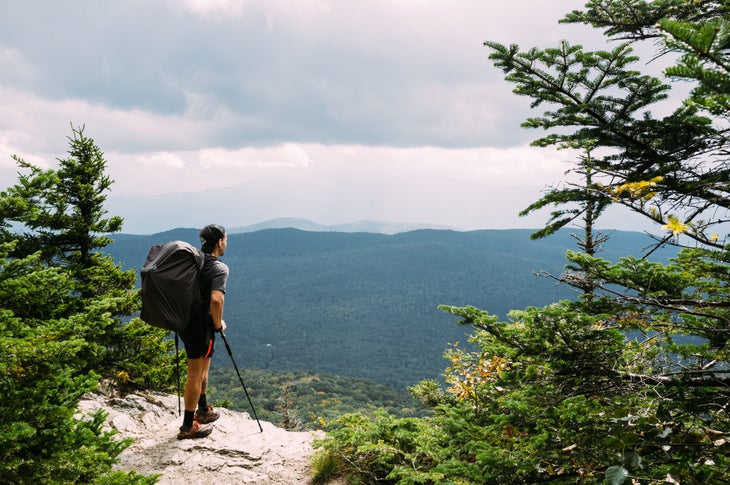 You can spend the night here at The Pitcher Inn, easily one of the most beautiful hotels in all of Vermont, before tackling the climb to Lincoln Gap, a mixed gravel and pavement ride that's home to one of the steepest miles of pavement in the U.S., and then Appalachian Gap, completing this epic loop and descending back to Rochester again.
Get help planning your cycling trip to Vermont by signing up to receive the latest news from the Green Mountain State.
Killington: The Best Gravity-Fed Playground
Killington's lift-accessed downhill mountain-biking trails, like its ski trails, are some of the state's best. That's because the resort started building trails in 1993 and, over the past five years, has spent $7.5 million expanding and improving them. If you're new to downhilling, rent a bike from the ski area and take a two-hour lesson, where you'll learn everything from proper body position on the bike to how to ride bermed turns.
If downhill is your jam, buy a lift ticket and start your day on Step It Up, a smooth, flowy trail that's the perfect warm-up run. Next try Krusty, a mile of banked turns, loamy dirt, and two-foot drops. And when you're ready to tackle the gnarliest descent, ride the gondola to the top of the mountain and drop Scarecrow to Steel Panther to Low Rider. 
Tip: Killington is Vermont's second highest peak and makes for a great day hike if some of your group is taking a day off from the saddle but still wants to checkout the summit. 
After your ride, head to a Killington institution that's located in the building that housed the resort's first ski lodge. The Lookout's simple formula—great people, delicious food, cold drinks, and a welcoming atmosphere—makes it a local favorite. Bonus: Basin Sports is right next door, so you can gear up after you fuel up.   
The Gravel Ride of Your Dreams
Fun fact: Vermont has more dirt roads (over 8,000 miles) than paved roads (just over 7,000 miles). Basically, it's a gravel rider's Shangri-la. And one of the best ways to experience the state's unpaved roads, says Kris Dennan, owner and lead guide of Vermont's GravelTours.com, is a roughly 80-mile loop in southern Vermont that can be tackled in one day or split into a multi-day ride. 
After spending the night in the town of Manchester at The Equinox Resort, a historic hotel with a spa, pool, and multiple restaurants, you'll pedal south toward East Arlington, passing under maple-tree canopies on 200-year-old roads. You'll then hit the old International Paper Road, one of the few routes in Green Mountain National Forest that allows bikes, riding past beaver ponds and, if you're lucky, a wading moose or two. 
Once in Bondville, the ride takes you through farmland pastures to the town of Peru. Refuel at the historic J.J. Hapgood Store (we recommend a chive biscuit breakfast sandwich) and, if you've got the time, spend the night at the nearby Seesaw's Lodge, a brand-new, impeccably designed property with guest rooms and cabins. In the morning, head toward Danby and Mad Tom Road. From there, it's back to Manchester and the Equinox, where you can soothe your tired, sore legs with a deep-tissue massage at the hotel spa. While you're in Manchester, keep an eye out for thru-hikers (and share some encouragement or trail magic). The Appalachian Trail joins the Long Trail here and the town is a popular spot for Appalachian Trail thru hikers to restock.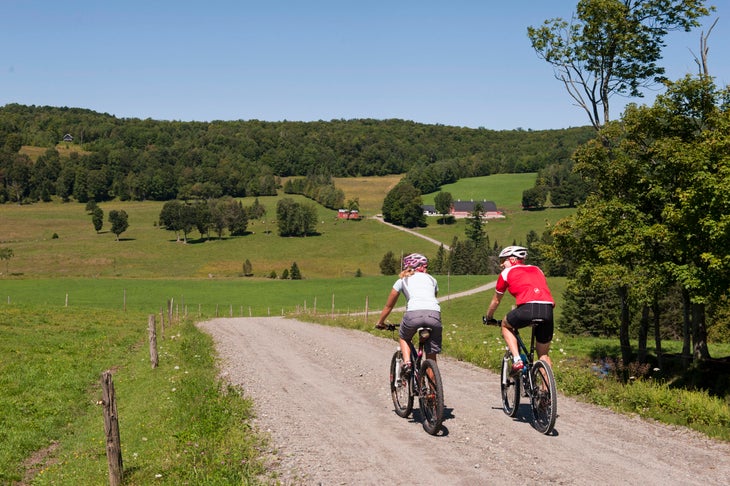 The Catamount Trails: Family-Friendly Mountain Biking 
The ideal spot for families and anyone looking for gentler routes, the Catamount Trails consist of 20 miles of singletrack and doubletrack in the town of Williston. You and your clan can stay at The Essex, which is near the trail system and has a spa where you can treat yourself to a little post-ride pampering. While you're in the area, be sure to make time to hike Mt. Mansfield, the tallest peak in Vermont. The trailhead is just under an hour from Catamount Trails by car.
The most rugged trail in the network, Coyote Turnpike, is a little steeper and has some small drops, but it's still easy enough for an intermediate rider. Plus, the views of Camel's Hump from the top of the trail, especially at sunset, are tough to beat. Kids will also love the pump tracks; the smaller of the two can be handled on a Strider bike, while the other is the perfect place for an intermediate to work on riding skills. When you're tired and hungry, head to Richmond, just ten minutes away, for tacos and unique twists on traditional maple creemees (Vermont speak for soft-serve) on the outdoor patio at Big Spruce.
---
Vermont's ever-changing landscape draws outdoor enthusiasts year-round to a place that embraces the idea that life is better when we slow down, look around, and simply take notice. Vermont can inspire, restore, and bring you to a whole new state. Sign up to receive the latest news from the Green Mountains.