Rip & Go: Kingsnake Trail, Congaree National Park, SC
Spy diverse swamp wildlife in one of the newest national parks.
Photo: Cavan Images via Getty Images
Heading out the door? Read this article on the new Outside+ app available now on iOS devices for members! Download the app.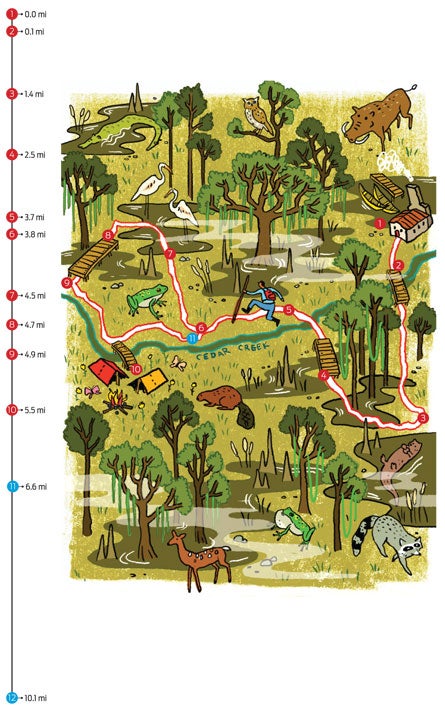 Do it Explore the country's last old-growth, lowland forest on an easy weekend in Congaree's flat, wildlife-packed terrain.
Set out on a 10.1-mile overnighter from the South Cedar Creek Canoe Launch (1), 6 miles east of the visitor center. Follow the Cedar Creek Trail across a wooden bridge (2) over ink-black water. Beneath a dense canopy, notice slimy cypress knees punctuating mirrored pools. At 1.4 miles, turn right onto the Kingsnake Trail (3). Look for white-tailed deer and wild hogs flashing through the underbrush (and bobcats, opossums, coyotes, and raccoons at night). Passing 140-foot-tall cherry-bark oak trees, cross a bridge (4) over murky waters to a large tupelo-cypress slough (think: Yoda's swamp planet in Star Wars). Trace the mud banks of Cedar Creek and turn right (5) onto the Oakridge Trail at 3.6 miles. Cross the still creek on a footbridge and take an immediate right (6) onto the yellow-blazed Weston Lake Loop Trail.
At 4.5 miles, look left through a rare break in the canopy to see .2-mile-long Weston Lake (7), where kingfishers and herons hunt 49 fish species and 19 amphibian species amid boot-swallowing mud. (No swimming: The lake is home to alligators, venomous snakes, and snapping turtles.) Turn left (8) onto a low boardwalk at 4.7 miles, and go .2 mile before turning left (9) onto the wide Sims Trail. Hike .6 mile through young sassafras and beech forest bordered by cardinal flowers, Virginia dayflowers, and blue lobelia (blooming in June). Cross a bridge over Cedar Creek and make camp on a flat, open patch (10) (fires permitted). Listen to the rowdy howls of barred owls dominating the forest's evening orchestra of buzzing katydids and barking tree frogs.
Next day, return to the trail and turn right onto the Weston Lake Loop Trail. Walk 1.1 miles along the creek and look for river otters slipping from bankside dens into the dark water. Cross a bridge at 6.6 miles (11) and turn right onto the Oakridge Trail, and then quickly turn left onto the Kingsnake Trail. Retrace your steps 3.6 miles under swaying drapes of Spanish moss to the trailhead (12).
Congaree's diverse biosphere is the result of year-round overflowing of the Wateree and Congaree rivers, which carry nutrients through the Park's floodplain.
Get there From Columbia, take SC 48 E (Bluff Rd.) for 19 miles. Turn right onto S. Cedar Creek Rd. and follow it 2 miles to the trailhead. Gear up The Backpacker Quality Gear, 1215 Wayne St., Columbia, SC; (803) 799-7571; backpackerqualitygear.com Season Year-round; June to avoid crowds and for a better chance of spotting reptiles, otters, beavers, and birds Contact (803) 776-4396; nps.gov/cong. Call ahead to ensure no current or imminent flooding. Permits A free permit is required for all camping; available at the visitor center.