Congaree: Chasing Pure Solitude in One of the East's Least-Visited National Parks
Marvel at tall trees, flooded forest, and rare birds at one of the nation's lesser-known destinations.
Heading out the door? Read this article on the new Outside+ app available now on iOS devices for members! Download the app.
It was a rainy winter morning when my dogs jumped out of the car, ready to put their sniffers to good use. We were visiting Congaree National Park, confident that a magnificent snake was waiting to be spotted nearby. My herpetologist boyfriend had guided us through dozens of swamps in wet conditions before, explaining that pit vipers are more likely to be active in the rain because it allows them to more effectively sense heat variations in their environment, and non-venomous snakes tend to join them because prey is more active in the rain. I slipped the dog leashes around my wrist, and began the hunt. 
From the visitor's center, Congaree National Park seems unassuming – a place that families might use as a picnic area during the spring and fall. But once visitors set foot on Congaree's 2.4-mile boardwalk, it becomes clear that this is not your average national park.
"The vast majority of the park is lying within an area that, on an average year, will be underwater," explains Congaree National Park Ranger Jon Manchester, who has been with the park for 8 years. 
Congaree was originally designated as a "swamp monument" in 1976. But it actually isn't a swamp, it's a floodplain. Congaree's waterways expand and contract with the seasons, often covering the ground with several inches or even feet of water. In 2003, Congress officially designated the monument a National Park, and today, the park's 26,276 acres of land and water make it a terrific destination for outdoor activities of all kinds. Out of the mainland US's national parks, it's the third-least-visited east of the Mississippi, after Dry Tortugas and Isle Royale.
While park officials mostly leave the area bare of infrastructure to keep these places natural, the boardwalk allows visitors to see the floodplain in a safe, and unobtrusive way. As for the dogs and I, we preferred looking into the swamp from above, where we were more likely to be able to see snakes from a safe distance. 
When they're not underwater, Congaree has 25 miles of hiking trails, and the park's waterways also make for a great canoe or kayaking trip for truly adventurous souls. The wet environment makes planning difficult, but it's also what makes the park such an ecological wonder.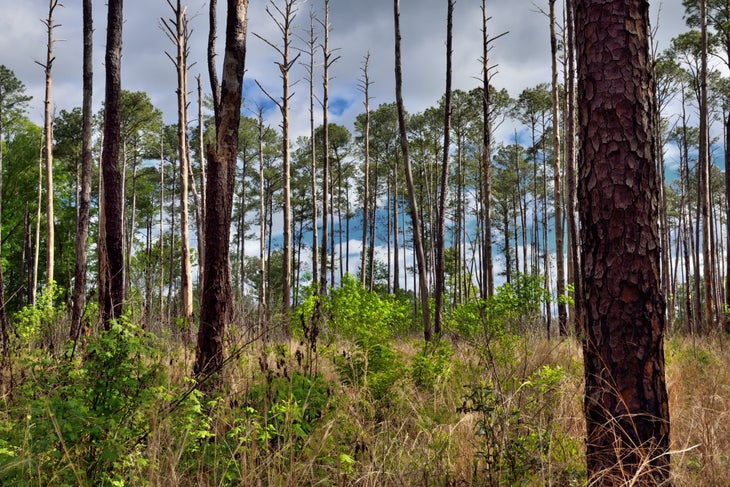 Congaree National Park's Trees
Step onto (or paddle through) Congaree, and the first thing you'll notice is just how tall the trees are. Where most deciduous trees in the United States grow to be somewhere between 50-80 feet tall, Congaree's tree canopy has an average height of 100 feet, the tallest in the eastern U.S. and  higher than many other old-growth forests. 
It isn't uncommon for Congaree visitors to spot a few snakes hanging from trees as they canoe down the river. Snakes like the black rat snake and the black racer are arboreal species, which means that they have the tendency to hang out in trees. But they can just as easily be found at the ground level. 
The park's cypress trees are one of the area's most peculiar-looking features. Cypress trees feature a network of horizontal roots ("pneumatophores") which are believed to aerate the tree's swamp-covered roots. Where the cypress trees grow, cypress knees–vertical outgrowths of the cypress roots–can also be found protruding from the surface of the water. These trees have been known to grow as tall as 120 feet, and their trunks can be as large as six feet in diameter. 
Cypresses only grow in the southeastern corner of the United States, with the exception of a few pockets of trees in places like Louisiana and Mississippi, and many of the nation's forests were heavily logged in the early 1900s to aid in railroad construction,  Congaree's cypresses, including the threatened bald cypress, are the largest remaining old growth stand in the nation.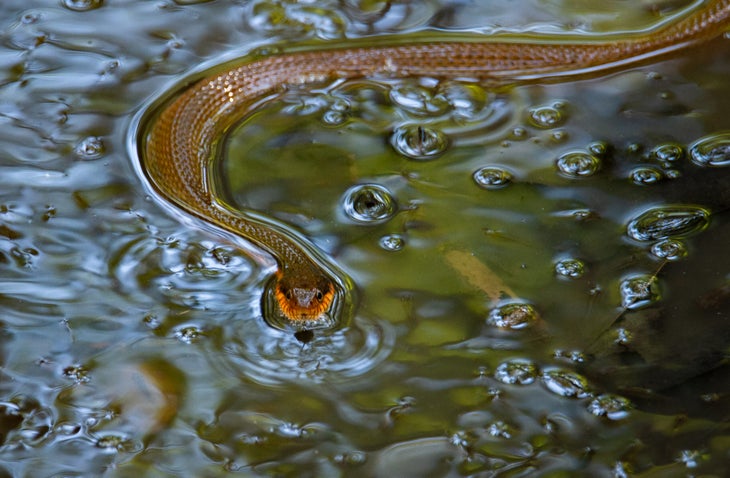 Congaree's Animals and Wildlife
Congaree is home to an incredible variety of wildlife including bobcats, deer,armadillos, turkeys, and alligators, but it's best known for the large number of bird species that have been spotted in the park. 
"We're a globally important bird area," says Ranger Jon Manchester. "The current total is somewhere around 206 species that have been seen at the park." By comparison, there are slightly more than 1,107 species of birds known to science across the U.S., meaning that nearly 20% of the country's birds have been spotted in Congaree.
As an avid birder, Manchester is excited about one species in particular. 
"One of the birds that we've seen in the park that's more elusive is the limpkin," a long-legged bird that eats snails, Manchester says. "It's more typical in Florida, and it's expanding its range."
Birds are also prey to some Congaree snakes—black rat snakes, for example, are known to eat birds, lizards, rats, and sometimes even other serpents. But snakes also play a key role in Congaree's ecosystems, helping to control pests and to keep disease at a minimum. The park is home to 21 different species, including venomous snakes like copperheads, cottonmouths and rattlers. (Worried about being bitten? Don't be: Manchester notes that only two people have been bitten by snakes during his tenure in the park, and only three in total over the entire 46-year history of the park.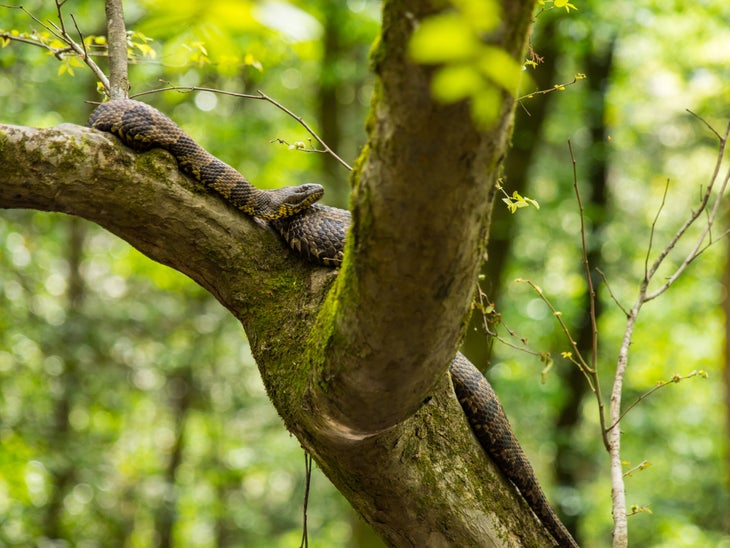 About a mile into our hike, I finally found what I was looking for: There was a black rat snake wiggling his way through the mud, clearly curious about something. I'd seen plenty of rat snakes before, and I've always appreciated them because of their sheer size, and varied appetite. Although they're often large, the black rat snake poses no threat to humans. 
The animal that the park really worries about is the hog. First introduced into South Carolina in the 1500s by explorers as a food source, today somewhere between 2 and 6 million feral pigs exist across the nation, predominantly making their homes in the south. Due to the pig's fast gestation period, it's extremely difficult to control feral pig populations, though the park works with the USDA to keep their numbers down.
"They're not specifically dangerous to people in the park," Manchester says. "The biggest threat they pose is to the ecosystem itself. They eat everything."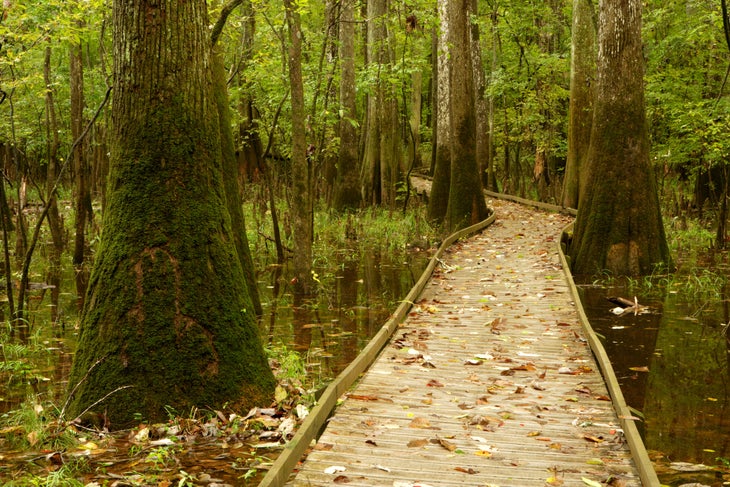 Park Activities in Congaree
Although some activities have been impacted by Covid-19, many of them are beginning to become operational again. In the spring, the park expects to resume ranger-led canoe tours. The typical tour costs $70 per person, and takes participants through some of the park's most active waterways. Visitors can expect to spend about 3 hours on the water, paddling through about 4 miles of the river, and potentially encountering alligators along the way. (Seniors and those with America the Beautiful passes can participate for $35.) 
The park plans to hold its annual Firefly Festival this May. In 2019, about 12,000 people came to catch Photuris frontalis, a local species of firefly that flashes in unison. Of the roughly 125 species of fireflies in the U.S., only a small number of them exhibit this kind of synchronicity. While it's still not understood exactly what the purpose of the behavior is, many scientists believe that the male fireflies light up in unison to attract females. It may also deter fireflies from getting too close to the wrong species, some of which are cannibalistic. Those who are interested in participating in the event can enter into the lottery system for $1. If they're selected as a participant, the remaining fee is $19.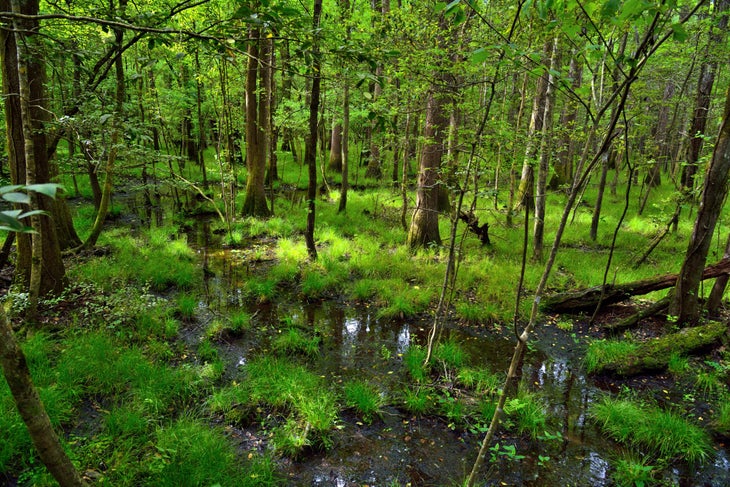 Ditch the Crowds
At a time when most National Parks are overflowing with activity, Congaree National Park's biggest selling point might be its solitude: In 2019, just under 160,000 people visited the park over the course of the year. For comparison, in the same year, 4.42 million people flocked to Yosemite National Park. The park has about 16 full-time permanent staff, and a number of seasonal staff members that come and go. When fully operational, the park may have about 19 or 20 employees. Comparatively, the Grand Canyon has about 500 staff members during the peak season. 
Although the park is still relatively unfamiliar to many hikers, it is still growing.
"This past year we broke a record for our visitation. We're still waiting on the final numbers as our stars team go through and clean the data. But it's going to be our highest visiting year ever," says Manchester. 
Although we didn't run into any exotic or venomous snakes, the dogs and I were satisfied with our rainy Congaree visit; Our eyes were finally tuning into the subtleties of the swamp after a year of practice. And the black rat snake was a testament to our success. Plus, we'd had the park almost entirely to ourselves.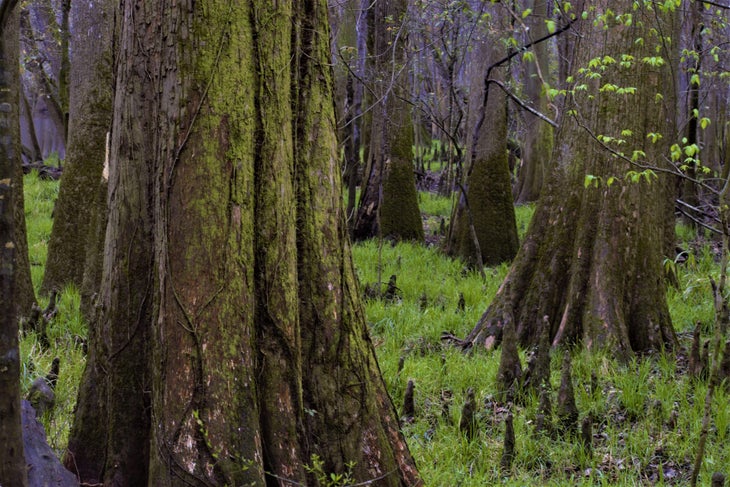 What You Need to Know to Visit
Whether you're herping, birding, or simply hiking, the park's 26,276 acres of land and water make it a terrific destination for outdoor activities of all kinds. The most popular hiking trail in Congaree is the 2-mile Boardwalk Loop Trail, which can be taken directly from the visitor's center. The Sims Trail provides another moderate hike, taking adventures 3 miles down a gravel road and into the forest. This trail can be linked with the Boardwalk Loop Trail for a longer journey. 
Those who are eager to hit the water can head to the Cedar Creek Canoe Trail, which is well-marked with navigational aids. Paddlers can travel as far as 15 miles along this route for a single or multi-day adventure. 
Park visitors can camp at the park's campgrounds year round. The Longleaf Campground is located right off of the entrance road, and it is home to both individual sites (for 1-8 people) ,and group sites (for 9-24 people). The Bluff Campground is also near the visitor center, but campers will have to hike at least a mile to get to their campsite. And these campsites can be reserved on Recreation.gov. The cost is currently $10 for individual sites, $20 for group sites, and $5 at the Bluff Campground. And those who are particularly adventurous can also take advantage of the park's dispersed camping, or kayak and canoe off of the creek. Permits for these activities are currently free, but backcountry camping requires at least a 72 hour notice to the park.