West Little Owyhee Canyon, Middle of Nowhere, OR
Toughen up to find total solitude on this 46-mile journey through a remote, untracked canyon. If you can get there, West Little Owyhee is worth the pain.
Heading out the door? Read this article on the new Outside+ app available now on iOS devices for members! Download the app.
In 2013, 658 people stood on top of Mt. Everest. The National Park Service's least-visited unit, Alaska's Aniakchak National Monument and Preserve, hosted 134 hardy souls that year. And the canyon I'm about to descend into? How many people have hiked it? "Probably fewer than 20," says my companion Chris Hansen, who's part of the exclusive group. He doesn't mean this year. He means, like, in recorded history.
Maybe nobody could find it, I think. The West Little Owyhee Canyon is a black-stone scar lined with bright green foliage between two modest, scrubby hills. You could be standing a quarter-mile away and never know it was here. And that would only be after you'd journeyed deep into Oregon's forgotten southeastern pocket, bumping down horrendous dirt "roads" a hundred miles from the nearest Starbucks. We'd made things a little easier for ourselves by catching a ride to the trailhead with Corie Harlan of the nonprofit Oregon Natural Desert Association (ONDA), who's leading a volunteer trail-mapping trip in the area. "Not just anyone comes all the way out here," Harlan told me on the Jeep ride in. "You need to have a mission."
I have one: find a spectacular trip I don't have to share with day-hikers, weekenders, or even the moderately hardcore. I don't want to see a soul beyond the group I came here with. Don't get me wrong—I'm not a misanthrope. On some trips I even enjoy sharing the trail with strangers. But I've been shut out of permits and joined the rush for campsites all over the Northwest, and all that hubbub just intensifies my occasional craving for real escape. So this time I'm looking for something wilder. More private. A little piece of the universe just for me—well, me and my chosen companions.
And this time, I'm not relying on permits or quotas or an early jump on a first-come, first-serve campsite. I'm prepared to earn my solitude. So if finding it means tackling the Owyhee's arduous approach and braving its many obstacles—icy potholes, tricky scrambling, bushwhacking, and maybe even abundant rattlesnakes—well, so be it.
It took a three-hour drive from Boise to our rendezvous point with Corie at an abandoned highway gas station, then 90 minutes of turtling over 4WD tracks, one hand on the wheel and the other on a GPS, to reach this point where the hiking route plunges from rim to river. But as I start descending, it hits me: Getting here was the easy part.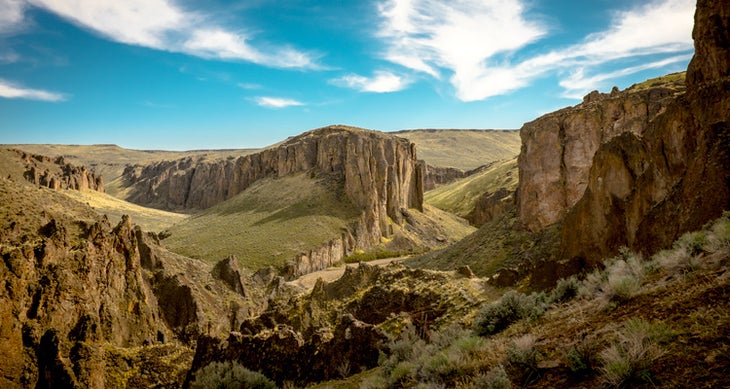 We hit our first river-crossing within 10 minutes. Luckily, the water here is only ankle deep, and the early fall day is sunny and warm. Besides Chris, a former ONDA employee who cheerfully agreed to accompany me down the canyon (he's been here before), I'm hiking with his photographer friend, Blake Everson, and my new friend Honora Englander, a Portland doctor. We start getting to know each other as the canyon walls tighten around us, 125 feet of charred-looking stone between us and the rim. This canyon is officially part of ONDA's brand-new Oregon Desert Trail, an 800-mile route across the central and southeastern parts of the state, but I wouldn't exactly call what we're traveling a "trail." There are no blazes or signs, not even a footpath worn into the canyon floor. There's nothing but river, rock, and sand for the canyon's full 60 miles.
We splash through a few more easy river crossings, and then the terrain gets serious. Willows gather in tight formations across our path, forcing us to crash through the thickets like clumsy cattle. I remind myself that these bushy barriers are part of why this canyon sees so few footsteps—most casual hikers balk at this kind of thing. I quickly develop a technique of holding my trekking poles outstretched to guard my face from the whiplashing strands, but that doesn't stop my forearms from getting scratched and bloody. Just when we've got the hang of busting through the willows, I stumble into something thorny. "Oh, right," Chris says. "I forgot about the wild roses."
But I can handle a few scratches. I'm more concerned about the "swimmers," places where the canyon steepens and narrows just as the river forms pools deep enough to swallow us. Over the first mile or two, we hit potholes that creep up to our knees, then our waists, then one that requires a brief full-body dunk. But all are a wade in the park compared to the swimmer we reach around 4 p.m. The "hole" is more like a channel, 50 feet long and already under shadow; goosebumps rise on my arms just looking at it.
Chris goes first, holding on to a makeshift sleeping-pad raft with both hands and flutter-kicking his legs to get the first two packs across the pond. Then, in an impressive demonstration of guide-style cojones, he jumps back in and does it again for the last two packs. Blake swims it. Then it's my turn.
Omigoditssocold. I splash awkwardly, swimming as fast as I can—not that fast at all, really—feeling my muscles squeezing around my lungs. I stumble onto the far beach, chilled to the core and squishing water from my socks with every step. The relief is instant: I never knew that not being somewhere could feel so good.
Not that I have much time to savor it. I'm still sopping wet in a rapidly cooling canyon. I jump up and down a few times until Honora drags herself out, then the four of us scurry to a patch just down the canyon where a sheer, charcoal-scribbled rock wall stands in full sun. Without saying a word, we all shimmy out of our packs, strip off our shirts, and plaster ourselves against it like lizards. The basalt has the friendly warmth of clothes fresh from the dryer. Turns out getting tough sometimes creates its own extra rewards.
All three days of our trip, we don't see anyone. We don't even see any sign people were ever here—hard to believe, given how the oh-wow moments are piling up. There's the perfect campsite we find on the first night—a wide, sandy riverside beach with a killer view of the stars. Or the stretch of narrows we reach on our second morning, where the canyon's wavy sides lean in to only 40 feet across. We round riverbends to discover grand rock amphitheaters and watch the canyon walls rise to 400 feet in spots.
In between admiring the scenery and helping each other downclimb sketchy boulderfields, our little band of explorers moves past the getting-to-know you pleasantries into the kind of stuff people normally reserve for the friends they first bonded with in the freshmen dorm. We talk politics and personal values, hard times and hopes, confessions of aimlessness and depression. The loneliness of the canyon forces us to rely on and trust each other, sure, but it also strips away all the social weirdness of meeting new people. It's like we're on our own planet, so we get to make our own rules.
When we finally crest the canyon rim again late on day three, there's still nothing and nobody around. As we unlace our boots, I wonder if the Oregon Desert Trail—or, let's be honest, this story—will let this cat out of the bag.
I don't know. But I bet not. The West Little Owyhee Canyon is still too remote, too intense, too well-guarded by tire-popping access roads to attract the crowds. The swimmers and the bloody forearms will still be dealbreakers for most hikers. I think this canyon will remain lonely for the few souls who will put up with all of that in search of a few days of solitude. You know who you are.
Trip Planner
Do it
The complete hike runs 46 miles from Anderson Crossing to Three Forks (the author completed a 17-mile subsection from Flag Crossing to near Five Bar).
Season
April to June (expect high water) and September to October
Trailheads
Anderson Crossing (42.130591, -117.316300; off Pole Creek Rd., about 75 miles from Burns Junction) and Three Forks (42.544694, -117.165694; drive west from Jordan Valley to mile marker 36 and follow signs 30 miles to trailhead). High-clearance mandatory; roads impassable when muddy, and pack a spare tire and boards in case you get stuck. No commercial shuttle available.
Permit
None (but contact ONDA for info on current road conditions and to report route conditions after your trip)
Key gear
Trekking poles, sturdy water shoes, quick-dry clothes