The Best Hikes in Oregon, From the Mountains to the Sea
Take a walk on the wild side in the Pacific Northwest, exploring endless dayhikes and backpacking trips across Oregon.
Photo: Photo by John Fowler on Unsplash
Heading out the door? Read this article on the new Outside+ app available now on iOS devices for members! Download the app.
Narrowing down Oregon's best hikes may be even harder than hiking them. We tried. But trust us when we say it was difficult: Oregon boasts some of the most epic scenery you'll find in the US: thundering waterfalls, wild rivers, deep gorges, volcanic remnants, and moss-covered, well, everything. 
All types of hikers will find their place in the wilderness here. Oregon's urban forests make you forget you're near a city; trails stretch the state's 363-miles of coastline; and its backcountry terrain challenges even the most rugged hikers. From multi-day treks around Mt. Hood to single-day excursions on the coast, we've rounded up Oregon's most legendary hikes (and still only scratched the surface). 
Best Dayhikes in Oregon
Let waterfalls and wilderness wash away your stress on these dayhike adventures. 
Punch Bowl Falls via Eagle Creek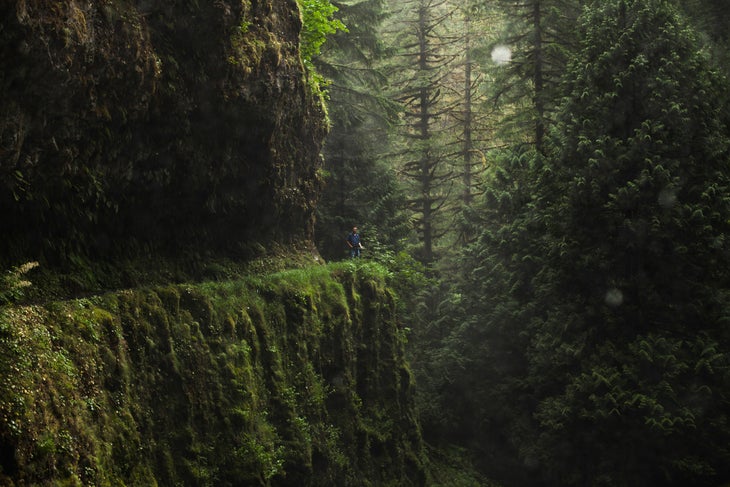 Distance to Closest City: 43 minutes east of Portland
Elevation Gain: 1,555 feet
Head to the heart of "The Gorge" for this quintessential Oregon hike just outside of Portland. A true gem of the Columbia River Gorge National Scenic Area, this trail isn't for the faint of heart: steel cables guide hikers around cliff sides and skinny trails wind around rocky edges high above Eagle Creek. You'll enjoy views of flowing emerald waters sandwiched by mossy green walls of on the entire route. End the first half of your hike with a swim at the base of Punch Bowl Falls before retracing your steps to the trailhead. On the way, hike through occasional scars from the 2017 Eagle Creek Fire, which closed the trail for repair and cleanup until the summer of 2021.
Find the route on Gaia GPS here.
Garfield Peak Trail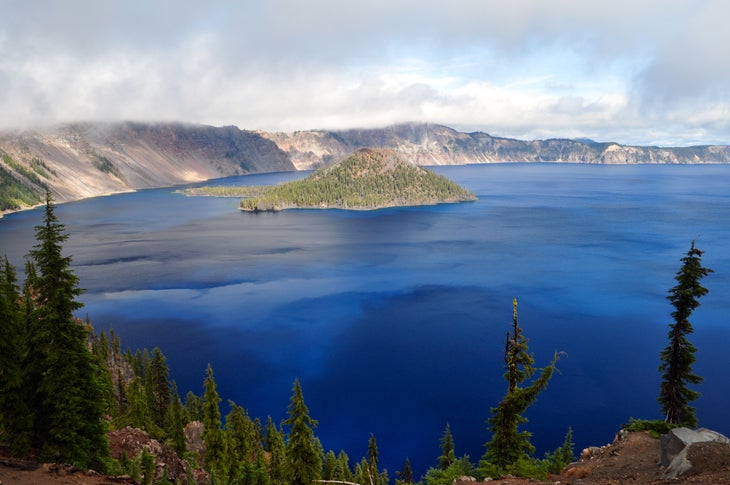 Distance to Closest City: 2 hours and 40 minutes south of Bend
No trip to Oregon is complete without an adventure in the Cascades. The result of a volcanic eruption over 7,500 years ago, Crater Lake is the deepest lake in North America at 1,943 feet, and a landmark in Oregon's Cascade Mountains. Garfield Peak Trail shows off panoramic views of the entire crater rim and offers stunning views no matter the season. On a clear day, catch views of rival peaks in the distance, including Mount Scott, Mount Bailey, and Mount Thielsen to name a few. Pro tip: Heavy snow piles up at Crater Lake in the winter, so come prepared with the proper gear.
Find the route on Gaia GPS here.
Trail of Ten Falls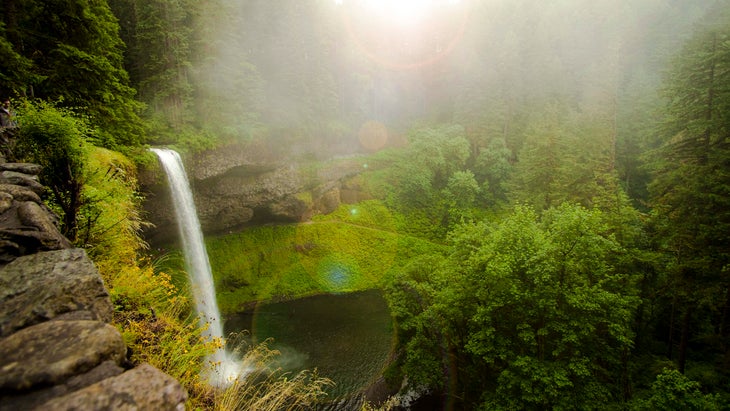 Distance to Closest City: 40 minutes east of Salem
This path has 10 vertiginous falls, all on one epic trail. Trail of Ten Falls takes you below, above, and behind some of the best waterfalls in the PNW. This popular loop trail follows the Canyon Trail and Rim Trail in Silver Falls State Park–Oregon's largest state park–just an hour south of Portland, where moss-draped branches and vibrant green foliage pop against the rocky terrain. Heads up: You'll want to pack waterproof boots and a rain jacket for this one, as the rain that feeds the falls commonly hits hikers, too.
Find the route on Gaia GPS here.
Grizzly Peak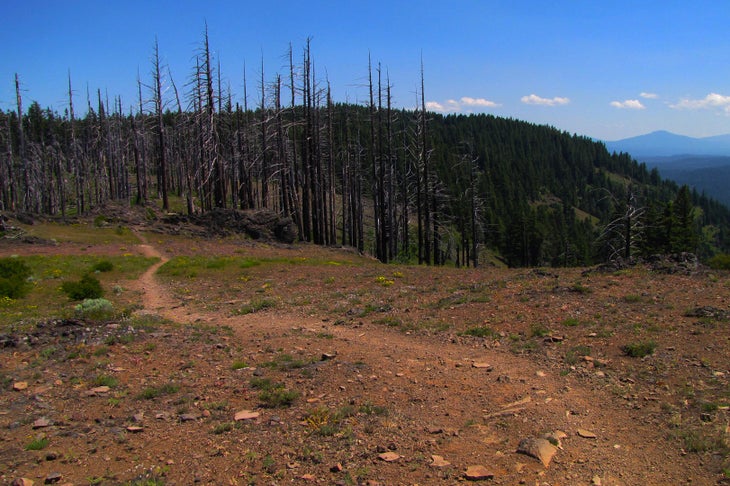 Distance to Closest City: 1 hour 30 minutes northeast of Ashland
Elevation Gain: 1,200 feet
Peep snowcapped peaks through ponderosa pines and sweeping views of Oregon's Rogue River Valley on this quiet dayhike. You'll switchback through old-growth forest and large meadows (wildflowers bloom in early June and July) to the summit. But the view you're looking for isn't at the top. Continue on to the Grizzly's southwest ridge (around mile 2) where you're rewarded with one of the best lookout points you can find in the entire state. Enjoy views of Mount Shasta and Pilot Rock to your south, Mount Ashland to your west, and the city of Ashland below. 
Find the route on Gaia GPS here.
Ramona Falls Trail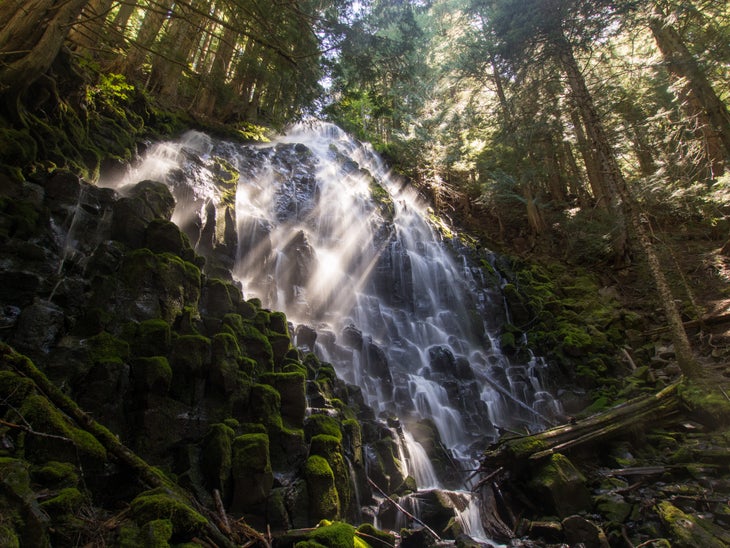 Distance to Closest City: 1 hour east of Portland
Elevation Gain: 1,142 feet
An escape into Mt. Hood National Forest never disappoints. Gradually make your ascent as you traverse Sandy River, coming to a crossing at mile 1 and reaching your highest point on the hike at mile 3. The trail offers plenty of Instagram-worthy views of Mt. Hood in the distance with a log-strewn river in the foreground. Locals recommend visiting in the fall when peak colors on the oak and maples pop (around late October into mid-November).
Find the route on Gaia GPS here.
Best Hikes for Families
Families looking for adventure don't have to look too far in Oregon. Head out to one of these easy-to-tackle trails full of natural history and natural wonders.
Lava Cast Forest Trail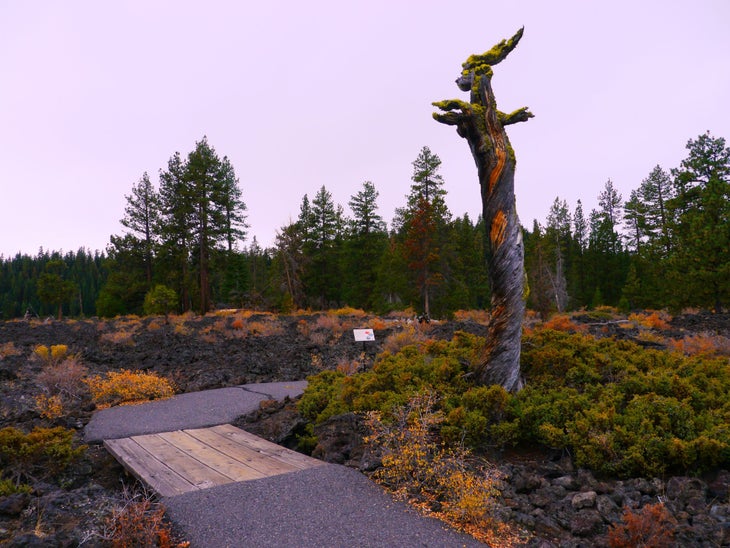 Distance to Closest City: 40 minutes south of Bend
Take the family on an adventure through the "Lava Lands" of central Oregon. Here hikers can walk through an ancient lava flow and geological time-capsule located just outside of Bend at the Newberry National Volcanic Monument. This short and ADA-accessible trail gives hikers an up-close look at casts of trees flooded over 7,000 years ago by molten lava. Interpretive signs along the one-mile path tell the story of the geological features and history unique to the park and region.
Find the route on Gaia GPS here.
Tryon Creek Nature Center Loop
Distance to Closest City: 15 minutes south of Portland
Tryon Creek Nature Center is a plant-lover's paradise and urban preserve just a stone's throw away from the heart of Portland. Hikers young and old will enjoy this trail's several bridge-crossings over Tryon Creek as well as walking among mossy maples, stands of alders, and towering cedar and Douglas firs. White trillium and sword fern dominate the understory.
Find the route on Gaia GPS here.
Best Dayhikes on the Coast
Visit isolated beaches, rocky cliffs, and beach-side waterfalls up and down the Oregon coast.
Blumenthal Falls via Oregon Coast Trail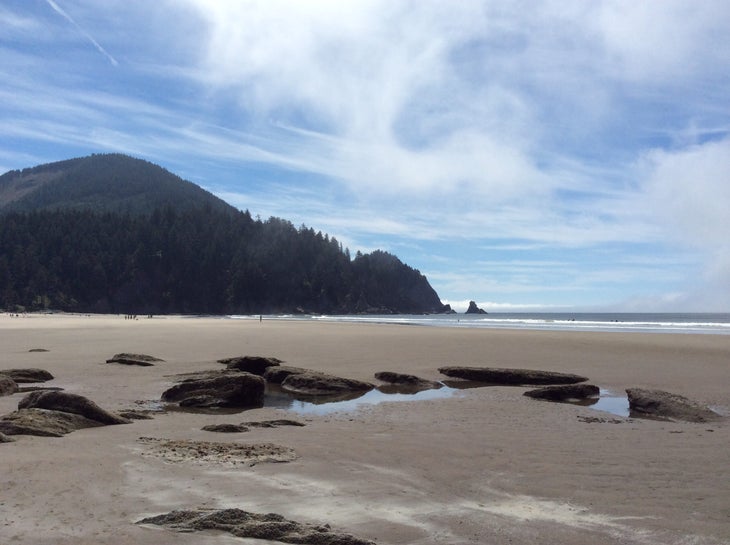 Distance to Closest City: 13 minutes south of Cannon Beach
Elevation Gain: 1,588 feet
Trail Type: Point to point
While not directly on the beach, this is a long walk worth taking. Catch views of Nehalem Bay and the Pacific Ocean from between the trees on this forest trail. Located in Oswald West State Park, the 45-foot Blumenthal Falls is one of a few waterfalls in the PNW that drops directly into the ocean (at the highest tide). But its coastal location doesn't take away from the Oregon forest vibes. Everything you expect to find in an Oregon forest, you'll find here, from fallen moss-covered logs and cascading creeks to thickets of evergreens. Pro tip: Make your visit in wet months (fall through spring) for a higher chance of good waterfall flow  and be sure to pit-stop at Cannon Beach post-hike.
Find the route on Gaia GPS here.
Face Rock Viewpoint Trail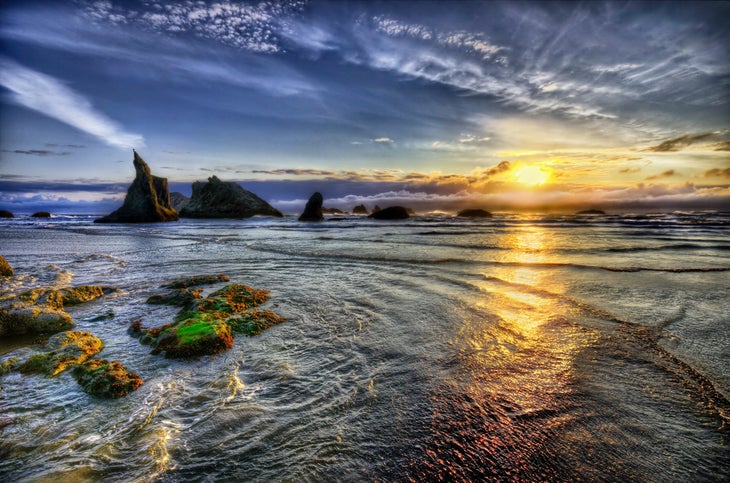 Distance to Closest City: 2 hours 45 minutes southwest of Eugene
Short, sweet, and so worth it. Face Rock State Scenic Viewpoint and Bandon Beach showcase the unique rock formations–called sea stacks–that characterize Oregon's coastal region. Don't let the lack of mileage deter you;. Even though it's a quick walk from the trailhead there's plenty to keep you busy, from exploring the tide pools to checking out Elephant Rock, the geologic aftermath of basalt flows over 15.6 million years ago. 
Find the route on Gaia GPS here.
Hug Point Trail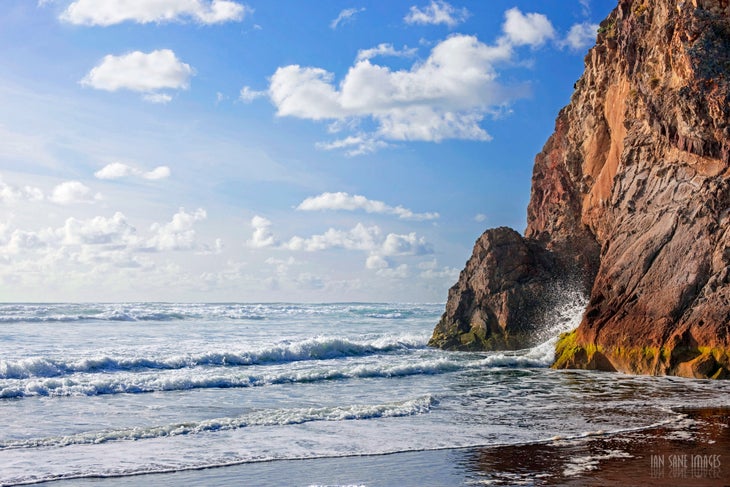 Distance to Closest City: 1 hour 30 minutes northwest of Portland
A picturesque waterfall you can splash around in on the beach? Yes, please. At this seaside paradise, water tumbles over the lip of a 15-foot fall onto mossy boulders before making its way into the ocean. Framing the falls are towering sand-colored cliffs pocked with numerous caves waiting to be explored. This location is perfect for families, dogs, and groups of friends looking to escape the city for an afternoon.
Find the route on Gaia GPS here.
Best Hikes at Mt. Hood
Mt. Hood – known by the Multnomah tribe of Chinookan people as "Wy'east" – is one of the most iconic peaks known to hikers and the second-most climbed peak in the world. Why? The dormant volcano flaunts 11 glaciers, dozens of miles of trails, over a million acres of forest land, and unreal views you can't get anywhere else. 
McNeil Point Trail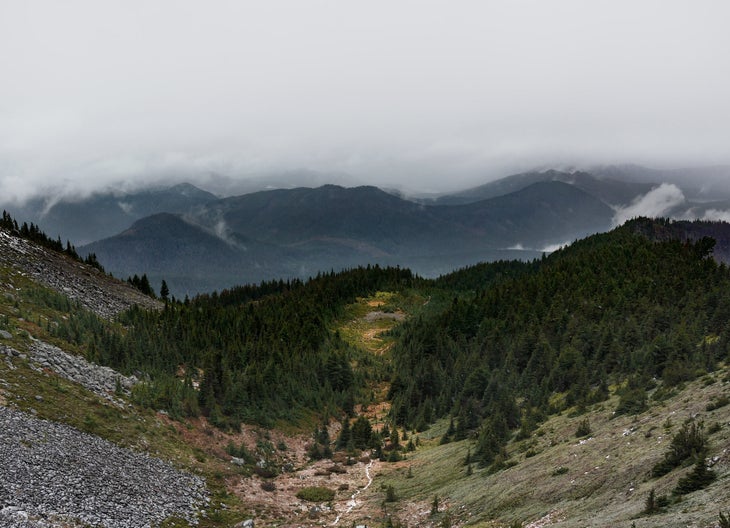 Distance to Closest City: 1 hour 40 minutes east of Portland
Elevation Gain: 2,726 feet
Trail Type: Lollipop loop
A solid challenge for any hiker, this out and back near the Hood River at the base of Mt. Hood is one for the books. As you traverse Bald Mountain, making your way to McNeil Point, you'll cross andesite boulders, wildflower-filled fields, and trickling glacial streams – runoff from Glisan Glacier. Mind your footing on this hike as the trail delivers a minor rock scramble (starting around mile 3) and a steep descent once you head back down to the trailhead. On a clear day, you can see Mt. Saint Helens, Mt. Rainier, and Mt. Adams from the old rock shelter at the McNeil Point summit. 
Find the route on Gaia GPS here.
Mirror Lake Loop Trail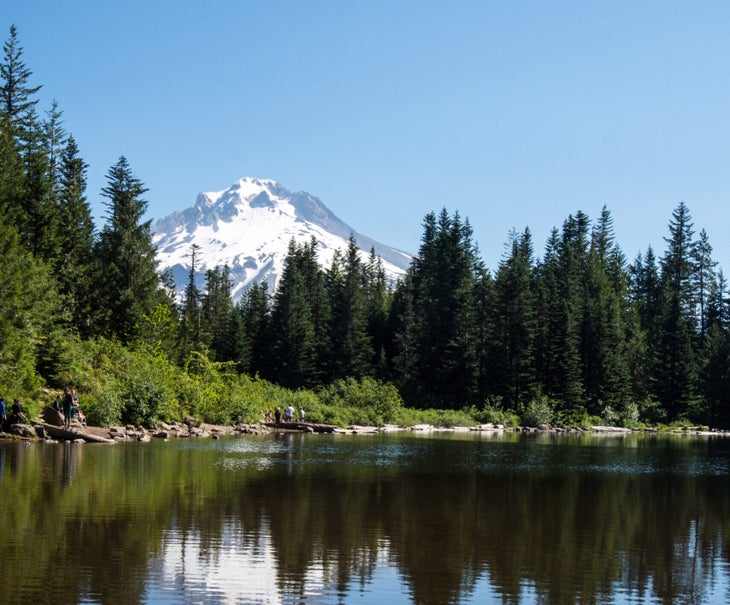 Distance to Closest City: 1 hour east of Portland
Trail Type: Lollipop loop
Even though it tends to be crowded, a trip to Mirror Lake is well worth it. The lake delivers on its name, reflecting stunning views of Mt. Hood on calm days. The single and double-track trail passes through dense sections of woods. Finally, hikers arrive at a secluded mountain lake with views of snowcapped Mt. Hood peeking over the pine trees. A few prime sites are available at Mirror Lake (campers must have a valid Recreation Pass to stay overnight).
Find the route on Gaia GPS here.
Best Backpacking Trips in Oregon
These long hikes should top your list. Spoiler: Each pack in all of the Oregon classics (raging rivers, fierce falls, and plenty of views of snow-capped peaks).
McKenzie River National Recreational Trail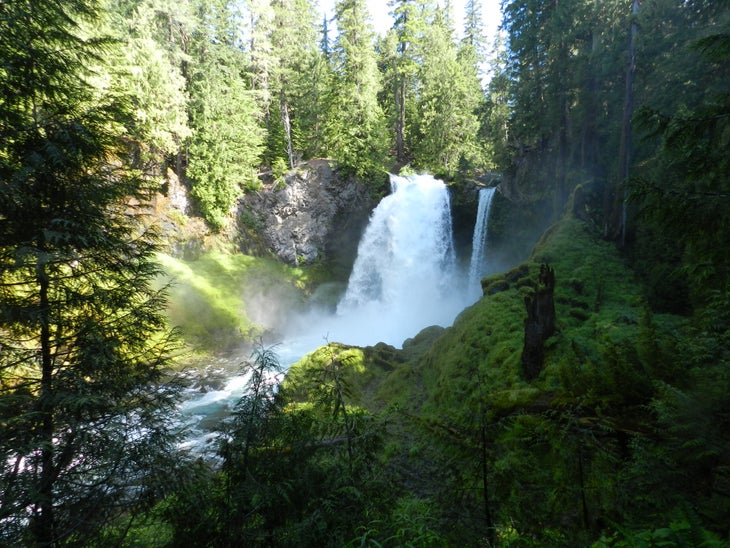 Distance to Closest City: 1 hour east of Eugene
Trail Type: Point to point
Keep an eye out for wildlife in this serene and secluded nature area. Making your way deep into the backcountry of the Willamette National Forest, you'll pass through thick stands of old-growth douglas fir, alongside the boulder-strewn McKenzie River, and up close to cascading waterfalls. It's probable you'll spot black bear, moose, elk, coyotes, and eagles along the way, too. A highlight of this trail is Clear Lake: a glassy, crystal-clear, and vibrant blue pool fed by a glacial spring. Popular campsites include Ice Cap Campground near mile 8 and Deer Creek (near hot springs) near mile 16.
Find the route on Gaia GPS here.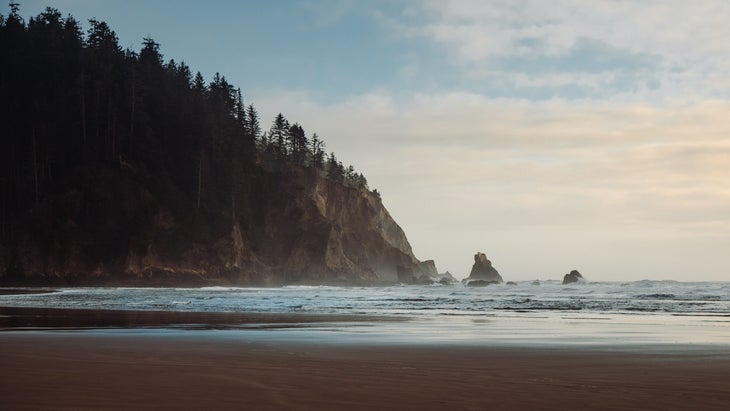 Distance to Closest City: Entire Oregon coast
Trail Type: Point to point
Searching for a trail that packs in coastline views, endless waterfalls, foliage-filled forests, and moody PNW vibes? Then add this thru-hike to your bucket list. You'll also love this trail if you love beach hiking and camping. The OCT passes through 28 coastal towns with campsite locations at state park and forest areas along the route. Restriction notice: The western snowy plovers, a threatened shorebird that nest along the coast, are under watch along the OCT from March 15 to September 15. Keep an eye out for protective barriers during this timeframe.
Check the latest section construction news, maps, and closures at the Oregon Coast Trail Foundation.
Wy'East Basin Loop (or Timberline Trail)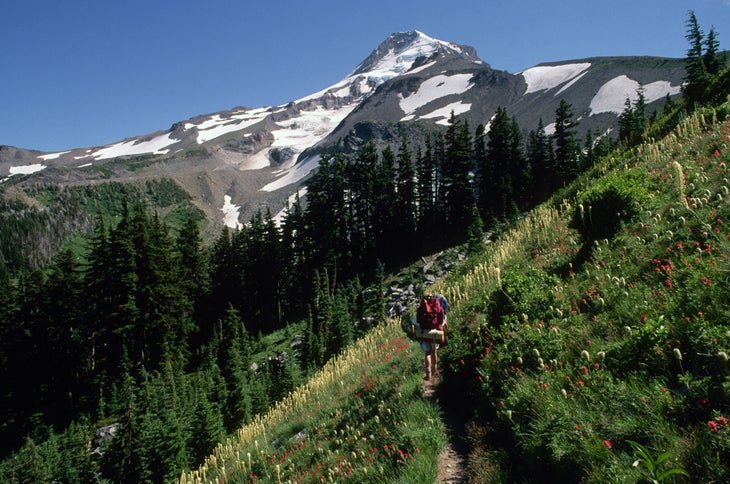 Distance to Closest City: 1 hour 35 minutes east of Portland
Elevation Gain: 11,884 feet
The Wy'East Basin Loop (also known as the Timberline Trail) takes a unique spin on Oregon's best-known mountain. Hikers on this trail make a full 360° loop around Mt. Hood, taking in incredible views of the mountain the entire way. Hiking clockwise, the most popular campsites are near Ramona Falls (mile 10), Elk Cove (mile 21), and Cloud Cap campgrounds (mile 27). Even without the steep summit, this trail challenges you with glacier passages, elevation gains, and river and creek crossings (including Sandy River, Eliot Branch, Newton Creek, and Clark Creeks).
Find the route on Gaia GPS here.
Travel Tips
Average Weather
Oregon is known for its cool and humid climate, and sees a mix of weather year-round. Summers on the coast and in the Cascades  tend to be short, dry, and warm with highs in the 80s and lows in the 60s. Winters in the same region (where most of these hikes are) are long, wet, and overcast with lows in the 30s and dropping into the teens on occasion. The Cascade Mountain Range sees lots of snowfall, so always check road and trail conditions before heading into the mountains.
What to Pack
Hikers should expect wet and muddy trails in western Oregon, and during snowmelt season even in the drier east. During Oregon's wettest seasons (October through April), it's a good idea to pack waterproof shoes, rain pants and jackets, and multiple layers for warmth. Merino wool, which is lightweight, warm, and quick-dry, makes a great base layer for every season.
Oregon Eats
Oregon is known for its desserts and delectables, especially in the foodie town of Portland.   Popular sweet spots in "The Rose City" include Voodoo Doughnuts, Salt & Straw Ice Cream, and Moonstruck Chocolates. Oregon also has no shortage of craft beer. Popular watering holes and micro-breweries include 10 Barrel Brewing (Portland), Cascade Brewing (Portland), Bend Brewing Company (Bend), Silver Moon Brewing (Bend), Public Coast Brewing Co. (Cannon Beach), and Beachcrest Brewing Company (Gleneden Beach).