Pack Big Adventures Into Short Trips On These 14 Perfect Overnights
Make the most of your precious weekend freedom. These hikes deliver epic views and fun to all types of time-crunched hikers.
Heading out the door? Read this article on the new Outside+ app available now on iOS devices for members! Download the app.
It's all well and good planning out epic trips. But those of us with 9-to-5s have to get our trail days where we can, and that means making the most of our weekends. We picked 14 trips that elevate the overnight, turning it into a postcard-perfect adventure that you can do with just two days. Pick your favorite, pack up, and get going, brave weekend warrior. —The Editors
Best for Little Kids: Sages Ravine, Appalachian Trail, CT/MA
Upgrade your kiddie pool: A string of cool, rock-rimmed swimming holes fills this mile-long gully cut by Sages Ravine Brook in Massachusetts—and access is easy enough for tykes. The 1.7-mile (one-way) hike to Sages Ravine Campsite, perched amidst the pools, combines flat stretches with moderate descents. From the AMC trailhead on Mt. Washington/East Road, hike along an abandoned road through ferns and mountain laurel (blooming in June). At the junction to AMC's Northwest Camp, veer left and hike 1 mile to the AT. Turn left (north) and head downhill to the brook, where the trail hugs the ledges above the current. Pitch a tent at the campsite (room for two or three tents; arrive early to ensure a spot), then continue downstream to explore the splashiest pools and the lower ravine's 3- and 12-foot waterfalls. Next day, retrace your steps to the Northwest Cabin Road junction and follow the AT south. Older kids can attempt the half-mile of hand-and-foot scrambling up bald bedrock to 2,316-foot Bear Mountain's blueberry-topped summit and 360-degree views encompassing five states.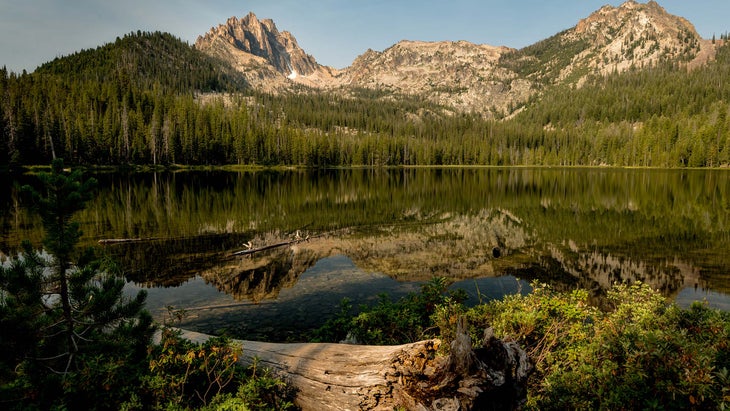 Best for Big Kids: Bench Lakes, Sawtooth Wilderness, ID
At 4 miles (one-way), this hike appeals to ambitious kids keen to bag a "real" adventure: Bench Lakes offer primo camping and postcard views of blade-like Mt. Heyburn and the surrounding 10,000- to 12,000-foot Sawtooth Mountains. Other kid-pleasing treats include the boat ride to the trailhead and a posthike swim at 1,500-acre Redfish Lake's sloping beach. To catch your ferry, simply show up at the Redfish Lake Lodge Marina and ask for a lift. The 10-minute trip drops you at Redfish Inlet trailhead (circumventing a long, dusty approach via a horse path). Follow the Redfish Creek Trail northeast for .5-mile; turn right at the signed junction. Continue on the Bench Lakes Trail, which starts off with a brisk climb, but soon moderates into a more forgiving grade and offers motivating views over Redfish Lake. Celebrate your arrival at the first Bench Lake, but press on another half-mile to the second lake for better tent sites and mesmerizing views of snaggled peaks. (There are two more Bench Lakes above; intrepid bushwhackers can explore for more views.) Next day, return to the trailhead and flag a boat shuttle (they pass at least every hour) back to the lodge to sprawl on its sun-warmed sand beach, take a dip in Redfish's turquoise water, and indulge in some soft-serve ice cream.
Best for Beginner Mountain Hikers: Blanca Peak and Ellingwood Point, Sangre de Cristos, CO
Compared to Colorado's easier-access Fourteeners, Blanca Peak's 14,345-foot summit plays hard to get with a 7.5-mile approach and 6,350 feet of elevation gain. But the effort gets you extra solitude and a twofer deal, since you can tag 14,042-foot Ellingwood on the same effort. Most hikers overnight in the Como Lake basin to time their summit bids for the morning hours (when lightning storms are less likely). From the trailhead (1.5 to 3 miles off CO 150, depending on your car), the Blanca Peak Trail follows a steep, rocky jeep road—so rough that most people walk it—about 5 miles to Como Lake. For a quieter night, continue .5 mile farther toward the Blue Lakes and pitch your tent at treeline on the broad, flat bench between Como and Blue, 2 miles from Blanca's top. Keep your eyes peeled: This is bighorn territory. Rise before sunrise to hike on-trail past Crater Lake and climb east out of the cirque, following rock cairns through the talus field. At the saddle between Blanca and Ellington, panoramas unfold in all directions: To the west, the 5,000-acre Blanca Wetlands shimmer in the early light; to the east, 14,042-foot Mt. Lindsey and its attendant Thirteeners catch dawn's alpenglow. Hike south, following Blanca's knife-edge ridge to Colorado's fourth-highest summit, then backtrack to the saddle and contour north to tag Ellingwood. Option: Stay another night to add 14,037-foot Little Bear Peak to your collection (class 4 scrambling required).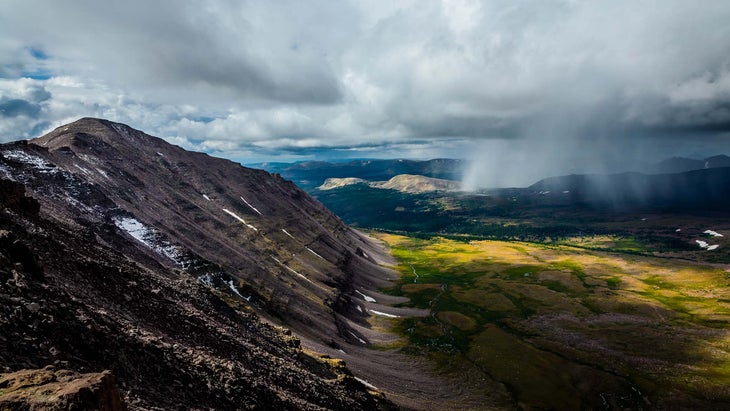 Best Peakbagging Trip: Kings Peak, High Uintas Wilderness, UT
Check off this state high point and earn serious Monday-morning bragging rights. The 13,528-foot peak requires a 5,310-vertical-foot, 14-mile runup; doing it in one night requires a 20.5-mile day. But your reward is big, too: an exhilarating, knife-edge perch overlooking a sea of shark's-tooth peaks. From Henrys Fork Campground, Forest Trail 117 takes a forgiving grade along the pine-rimmed Henrys Fork River to the meadows surrounding Dollar Lake (7.5 miles and 1,345 vertical feet from the start). Camp here (it's the last water source) and admire the rosy alpenglow on Kings' wrinkled face; next morning, rise early and continue up FT 117 as it switchbacks to 11,888-foot Gunsight Pass. Follow cairns up and over a scree-covered ridge to Anderson Pass, then scramble up the arête, balancing atop tilted, table-size rocks. From the roof of Utah, Dollar Lake looks like a mere splinter of silver, and a labyrinth of dusky ridges extends in all directions. Retrace your steps for a 20.5-mile second day (or camp another night for a mellower return).
Best for Lakeside Views: Caribou Rock Trail, Boundary Waters Canoe Area Wilderness, MN
Heart-thumping views in the land o' lakes? Only on the Caribou Rock Trail, which crests a series of high bluffs to vistas of birch forests pierced by shimmering fingers of water. Even better: Scaling those steep bluffs discourages most hikers. Begin a 12-mile out-and-back at Caribou Rock trailhead, following the ridgeline east of Moss Lake. At 1.5 miles, cedars surround the junction with the unsigned Bearskin-Duncan Portage (resist the urge to pick May-blooming purple calypso orchids for a backcountry bouquet). Turn right on the portage path, then make a quick left to continue on the Caribou Rock Trail, which tops yet another hill for views across Duncan and Rose Lakes to Canada. At 3.7 miles, turn left on the Border Route Trail to descend the 130 red pine steps of Stairway Portage, which parallels 25-foot-high Stairway Falls. Cool off in the pools beneath the cascades, then follow the Border Route Trail 1.8 miles east to the Rose Lake West campsite, where pines and birches fence off your secluded love nest—on every side except for your swoon-worthy view across Rose Lake.
Best for Hot Springs: Goodwin Lake to Granite Hot Springs, Gros Ventre Wilderness, WY
Picture this: Steam from a natural hot spring curling around you and your sweetie after a day filled with mountain vistas, alpine terrain, and a solitary campsite. Get it all on this 22-mile shuttle route. From the Goodwin Lake trailhead, 3 miles of uphill hiking through fragrant Douglas firs leads to Goodwin Lake, where most hikers turn around. Continue a mile south to gain the ridge. Option: detour a mile north on a user path to bag 13,517-foot Jackson Peak. Take the Granite Creek and Turquoise Lake Trails east to Turquoise Lake (9.5 total miles for day one); camp amid a pastiche of sapphire water and glacier-sculpted rock. Day two, reconnect with the eastbound Granite Creek Trail and hike for 12.5 miles, crossing turbulent Granite Creek (water shoes are handy in early summer) and passing below a natural arch before claiming your posthike reward: Granite Hot Springs' soothing, 100°F pools framed by raw boulders and pines.
Best for Couples: Honeymoon Lake, John Muir Wilderness, CA
This lake's granite monoliths and flower-filled meadows, like its name, are Hallmark-worthy. But unlike the scenic all-stars nearby (like Humphreys Basin, 6 miles south), Honeymoon Lake sees very little traffic—thanks to a stout, 3,036-foot climb from Pine Creek trailhead that acts as a privacy screen. The 12-mile out-and-back starts on the Pine Creek Pass Trail and climbs through Jeffrey pines to treeline, where talus slopes reward you with views over the Owens Valley and 14,242-foot White Mountain. Pass Pine Lake and Upper Pine Lake before turning right on the Italy Pass Trail for the quarter-mile hike to Honeymoon Lake, hemmed in by cliffs and fed by waterfalls on its west side. Pitch a tent on one of the shoreline's rock ledges, admire the sky-snagging peaks surrounding the steely water, and thank us in the morning.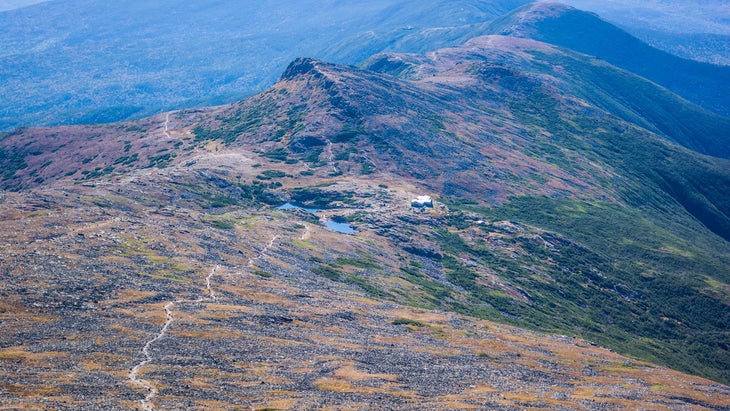 Lakes of the Clouds Hut (Photo: Dave Graham / 500px via Getty)
Best Hut Trip: Hut Traverse, White Mountains National Forest, NH
Like the Presidential Traverse, the Hut Traverse is a local ritual that challenges hikers on a high-mileage, high-altitude tour de force—except instead of tagging summits, you tag all eight huts in the AMC system. It's a tradition among hut "croo" members, who sometimes bang out all 56 miles and 16,000 feet of elevation gain in 24 hours. Pick a good weather window (long stretches are above treeline), then set out predawn with a light pack (food and shelter are available at the huts) from Nineteen Mile Brook trailhead. Traveling south front-loads the storm-raked Presidentials. Hike 3.8 miles to Carter Notch Hut, then backtrack to take the Great Gulf and Madison Gulf Trails to Madison Spring Hut (or skip Carter Notch to save 7.6 miles). Fill up water and follow the AT over 6,288-foot Mt. Washington to Lakes of the Clouds Hut, tag Mizpah Spring Hut and Highland Center, then hike the A-Z Trail to Zealand Falls Hut to end your 29-mile day with a foot-cooling soak in the nearby cascades (plus a bunk—BYO bag—and a plate of spaghetti). Day two, visit Galehead, Greenleaf, and Lonesome Lake Huts, then finish at Lonesome Lake trailhead at Lafayette Place Campground.
Best Pacific Crest Trail Section: Stevens Pass to Snoqualmie Pass, Pacific Crest Trail, WA
Thru-hikers rank the roadless 56.7-mile span of the PCT between Snoqualmie and Stevens Passes as the wildest, prettiest stretch of the entire trail. Most do it in a week, but fastpackers can earn the views in two (giant) days. From US 2, climb to meadows and ridgelines offering air-balloon views over three lakes. Nibble huckleberries (ripe in late summer) near Hope Lake, ford the streams feeding the Cle Elum River (diciest on July afternoons; check USFS reports), and scale 5,610-foot Cathedral Pass before plunging 2,000 feet to Waptus Lake. Camp near the junction with Spade Lake Trail, 28.5 miles in. Day two's views help dispel any soreness: A big climb to the Escondido Tarns and an extended ridgewalk reveal the snow-dotted Snoqualmie Crest. After more views over Alaska and Ridge Lakes, shimmy across the Kendall Catwalk before coasting down through old-growth to Snoqualmie Pass. Shorter version: At Waptus Lake, bail south to Cooper Lake.
Best Ozark Getaway: St. Louis: Berryman Trail, Mark Twain NF, MO
Like a satisfying weekend without sore muscles come Monday? This 24-mile loop feels easier than the distance suggests, thanks to well-graded switchbacks. Snake through silent hollows, peek across valley farmland, and climb airy ridges—an Ozark-quality experience without schlepping between trailheads. Starting from the Berryman Campground, hike west for .5 mile to meet the Ozark Trail, which forms the western half of your loop. Take the OT north for 10 miles, passing Beecher Spring's artesian waters (fill up) and dropping into deep valleys that glow with wildflowers in spring and early summer. Where Berryman leaves the OT, follow the latter south for a mile, taking the spur trail to Harmon Spring and your tree-ringed camp. Next day, retrace your steps to the Berryman Trail junction and hike east across a corrugated landscape of pine-topped ridges, then head south to your starting point for a 14-mile day.
Best DC Escape: White Rocks Loop, George Washington National Forest, WV
We like the Shenandoahs, but we love this: Great North Mountain sees fewer hikers and requires no permits, yet its ridges are just as blue. See them on this 10-mile circuit to a ridge-top campsite just 2.5 hours from D.C. From the trailhead off Waites Run Road, follow the gated Forest Service road .3 mile to the pink-blazed Old Mail Path. In 1 mile, turn right onto orange-blazed Racer Camp Hollow Trail and meander through thick ferns, boulder-hopping across the 6-foot-wide creek several times before reaching the Tuscarora Trail at mile 3.5. Top off your bottles (pack extra containers for camp, there's no reliable water until midday tomorrow) and turn left, following the Tuscarora Trail's blue blazes to the ridgeline. Hang a right onto White Rocks Lookout Trail and continue .3 mile to an outcropping offering grandstand views east: Emerald forests sweep down into the Shenandoah Valley and over the Blue Ridge. Camp here (mile 5) for a sunrise spectacle, then continue north on the Tuscarora Trail. Turn left to follow the Old Mail Path down Little Sluice Mountain to your car.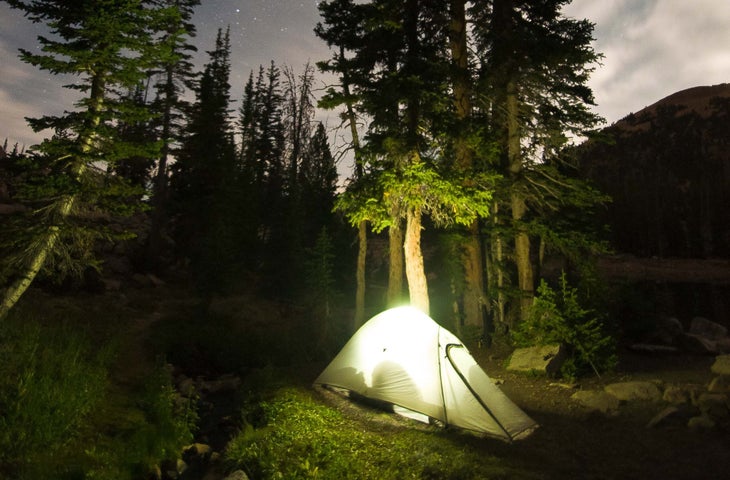 Best Mountain Escape: Ibantik Lake, Wasatch-Cache National Forest, UT
Rarely does a 3-mile hike an hour from a major city afford real solitude, but the High Uintas' thicket of lakes disperse hikers, who tend to avoid Ibantik because it requires a 700-foot climb over Notch Mountain. To claim some alone time, hike 1.1 miles north from the Crystal Lake trailhead to Wall Lake, then gradually ascend 1.6 miles, rising above treeline, to 10,600-foot Notch Pass. Panoramas encompass myriad lakes glinting below. Descend 400 feet, passing Lovenia Lake, to pitch your tent in a blocky rock cirque, amid the trees on the south or east side of Ibantik's blue water.
Best for Ocean Lovers: Peanut Island Park, West Palm Beach, FL
Sure, pleasure cruisers dock on Peanut. But the 80-acre island also affords backcountry serenity to kayakers. Campers roost well away from the moored boats, and stellar snorkeling awaits: Twice daily, the Gulf Stream courses past, clearing the reef-bottomed waters and offering primo snorkeling among manatees and jewel-hued fish. To flutter kick among them, launch from the Riviera Beach Marina ($10 overnight parking pass; 561-842-7806) and paddle a quarter-mile east to Peanut Island. Drag your boat onto the western shore and pitch a tent along an undeveloped stretch of sandy beach dedicated to primitive camping. Then gather your mask and fins and walk 15 minutes south on the paved path that circumnavigates the island to the snorkeling lagoon on Peanut's southeast corner. Find the clearest water during the hour before high tide.
Best for Anglers: Deep Creek Lake, Popo Agie Wilderness, WY
Most lakes containing the Wind Rivers' fabled, elusive golden trout are so remote, they demand a long journey—but not Deep Creek, on the Winds' east side. A 12-mile hike leads to this alpine cirque where rock monoliths soar skyward and the prized fish grow to 14 inches and beyond. To hook into gold (Wyoming fishing license required), start your hike at Sheep Bridge trailhead and head north on the Middle Fork Trail along the Popo Agie's gurgling current, then take the Pinto Park Trail west to the Deep Creek Cutoff Trail. Pitch your tent atop the tundra grasses beside lower Deep Creek Lake, within sight of 13,197-foot Wind River Peak, then head lakeside in time for the goldens' evening feeding (they eat at dawn and dusk in midsummer). Sink a scud or streamer into the depths (where goldens tend to lurk), or float a beetle on the surface (another reliable strategy). Alas, paradise must end, but the way out is just as nice: Your 13-mile return tracks south on the Ice Lakes Trail, which visits Ice, Jug, and Boot Lakes, before descending via Stough Creek Lakes Trail.
Originally published in 2014; last updated January 2022