Want To Hike In Middle-Earth? Go To Hocking Hills, Ohio
Explore mossy gorge trails, ancient sandstone caves, and morel-filled forests in this unexpected hiking paradise.
Heading out the door? Read this article on the new Outside+ app available now on iOS devices for members! Download the app.
Ohio's Hocking Hills region looks more like a backdrop from a Lord of the Rings movie than your stereotypical Midwestern landscape. This gorge-filled hiking wonderland is surrounded by rolling green hills, dense poplar-filled forest, and sandstone cliffs, and is full of all types of hiking. Opt for casual dayhikes at popular spots like Hocking Hills State Park and Conkles Hollow or gear up for a multiday backpacking trip in less-visited areas like the Wayne National Forest and the Zaleski State Forest. 
Explore quite possibly the most underrated nature spot in the Midwest on one—or all five—of these scenic routes in the Hocking Hills.
Buckeye Trail
Location: Statewide
Trail Type: Loop
Mileage: Up to 1,444, including side trails
Loop full circle around the state of Ohio on America's longest circular trail that runs straight through the Hocking Hills. Thru-hiking this trail feels like an even longer journey than it is: Along the way, it leads backpackers through a landscape of green, rolling hills reminiscent of Scotland, dense pine and hardwood forests like those in the Ozarks, and rugged terrain that looks like nothing so much as Appalachia. It also features paved sections through urban downtowns like Dayton and Cincinnati. Popular starting points include the trail's northern terminus on the edge of Lake Erie at Headlands Beach State Park, 30 miles northeast of Cleveland, or the southern terminus at Eden Park, a hilltop tract overlooking the Ohio River near downtown Cincinnati. Dayhikers or section hikers can also take their pick of 26 trail sections that make up the larger BT to explore in shorter chunks.
Rock House Trail
Location: Wayne National Forest
Trail Type: Loop
Mileage: 1 mile
This hike leads to the only true cave in the Hocking Hills—other "recess caves" formed when sandstone weathered away at different rates—and one of the largest in Ohio. Characterized by its ombre tan and brown black hand sandstone walls polka dotted with pea-size pieces of white quartz, numerous waterfalls, rocky outcroppings and ledges, and lush fern-covered valley come mid-spring, Rock House offers hikers a look into the geological and Native history of the region.
For this trail, follow a meandering path through hardwood forest down an occasional natural stone staircase before reaching the trail's namesake. Long ago, water erosion carved away once-ancient sea bed sediment that originally filled the center of Rock House. This made way for 25-foot tall ceilings and a 30-foot-wide cavern to explore. The tunnel-shaped cave, situated 150 feet above the forest floor, has seven "windows" separated by towering natural stone columns. Each opens up to a unique eye-level view of birch, poplar and hemlock canopies. Finish the loop by hiking up a shallow incline back to the trailhead.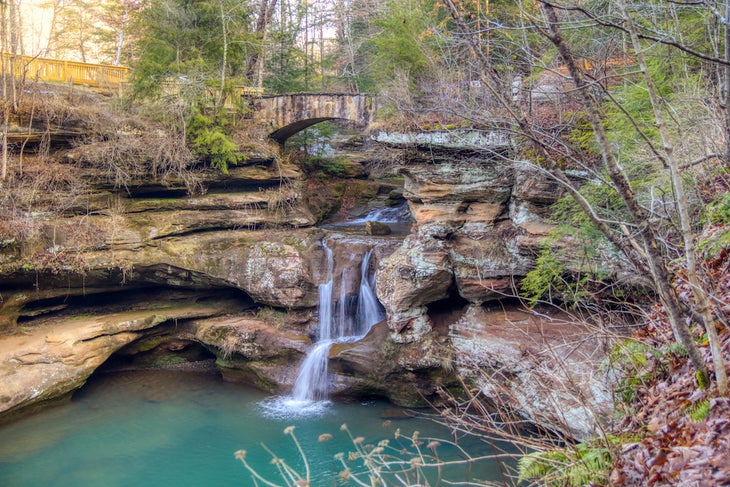 Cedar Falls Loop
Location: Hocking Hills State Park
Trail Type: Loop
Mileage: 5.5 miles
Remnants of an ancient ocean floor and glacial-carved topography are the hallmarks of this Hocking Hills trail. You'll pass some of the most-visited spots in the park—like Old Man's Cave and Cedar Falls— on the Cedar Falls Loop, but soak in solitude as you wind your way through the rugged and rocky Black Hand Sandstone gorge with waterfalls seemingly waiting around every corner.
Also known as the Grandma Gatewood Trail, this route pays homage to Emma Gatewood, the first woman to solo hike the Appalachian Trail. The Ohio native loved this popular section of the Buckeye Trail that passes through the state park. If you're looking for a longer hike, add on 5 miles (2.5 miles out and back) to Ash Cave. This massive 90-foot-tall and 700-foot-wide horseshoe-shaped cave also has a waterfall that, depending on the season, either gushes over the top lip or freezes in place. Get there by taking the Ash Cave spur trail that splits south near mile 3.5 before you reach Cedar Falls.
Vesuvius Backpacking Trail
Location: Wayne National Forest
Trail Type: Loop
Mileage: 17.2 miles
Don't sleep on the lesser-traveled Wayne National Forest, just a stone's throw from the Hocking Hills. Nestled in the Appalachian foothills in southeastern Ohio, the 244,000-acre forest is full of dayhikes and long-distance backpacking trails, including the North Country Trail and Buckeye Trail segments. But our favorite is the 17-mile Vesuvius Backpacking Trail loop trail that circles the quiet and calm Lake Vesuvius. Spring and fall make for prime hiking here. Between March and May, you can hunt for morel mushrooms, which grow in abundance across Ohio's state and national forests. In the autumn, soak in the changing foliage across the lake when the surrounding oak-hickory forest transitions to bright hues of orange and yellow by mid-October.
Zaleski South Loop Trail
Location: Zaleski State Forest
Trail Type: Loop
Mileage: 9.3 miles
Trade dayhiking crowds in Hocking Hills for solitude in Zaleski State Forest. At 27,000 acres, it's the second-largest state forest in Ohio. Here you'll have your pick of three different backpacking loop trails. We recommend the 9.3-mile Zaleski South Loop Trail for its scenic campsites, spring wildflower blooms, and history along the Hopewell-Chillicothe-Marietta Road, an ancient footpath which the trail follows part of the way.
You'll log over 1,500 feet of elevation gain as you hike up sandstone cliffs and down glacial-carved moraines. Keep a sharp eye for yellow lady's slipper orchids, one of the rarest yet flashiest blooms that grow in the secluded hollows. White-petaled bloodroot, fluorescent purple blue-eyed Mary, and wild geranium in shades of lilac and pink start to overtake the forest floor come late April. Want to extend the trip? Add on the West Loop to make it an 18-mile route, or hike all three loops to clock 29 miles round trip.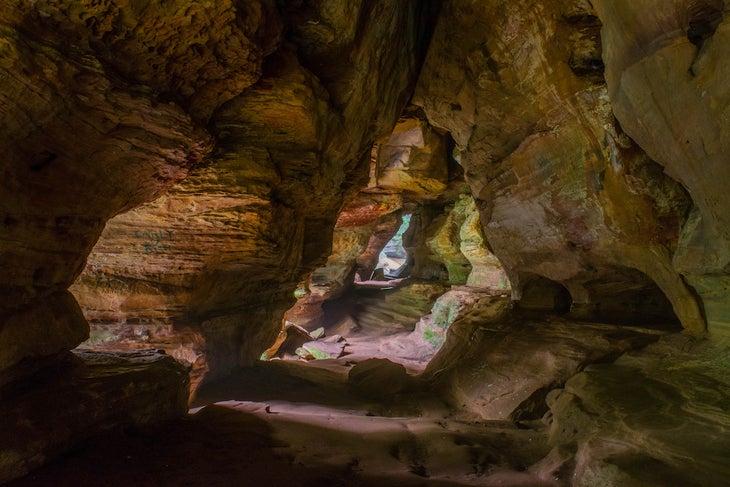 Gear for the Hocking Hills
Hocking hills is beautiful—and hikeable—year round, and hikers flock to the Hocking Hills no matter the season. Temperatures fluctuate between 30 and 60 degrees in the spring and fall and drop down to the low 20s in the winter. Expect the hottest temperatures in July, which fluctuate between the mid 80s during the day and low 60s at night. Wildflowers bloom as early as mid-March and ferns carpet the forest floor by midsummer. Pack waterproof boots and rain gear on spring hikes to fend off seasonal showers and muddy trails. Come winter, frozen waterfalls turn the gorge trails into a natural gallery of ice sculptures. You'll want crampons in winter to navigate steep and slippery gorge trails in Hocking Hills and Zaleski State Forests and in Wayne National Forest.
Permits
Campground reservations are required for Hocking Hills State Park. No permit, parking or registrations are required for the Buckeye Trail. Self-issued permits are available at Zaleski National Forest, Wayne National Forest, and Hocking Hills State Forest trailheads.