Don't Tell Me I Don't Belong on the Trail
A hiker pulls confidence from an unsolicited gear critique in the Catskills.
Photo: Cavan Images / Cavan via Getty Images
Heading out the door? Read this article on the new Outside+ app available now on iOS devices for members! Download the app.
It's hard to destroy a post-summit high, but the mansplainer judging my footwear just about did it.
I was happily sauntering down the pine-fringed trail from the top of Hunter Mountain, the second-highest peak in New York's Catskills range at 4,406 feet, when the gearshamer appeared. 
My hiking companion Maggie and I had just climbed Hunter for the first time. Despite air so cold we could see our breath and a layer of sweat that chilled us to our bones, we were giddy. Our next stop? A Hudson Valley winery to celebrate, sip, and grab a bite before heading back home to New York City.
But as we rounded a bend in the trail, one hiker stood between us and my car's seat warmers—a man so decked out in shiny new gear and gadgets he might as well have been an REI store mannequin. 
"Oh, sorry," we mumbled after realizing we'd taken up more than our half of the trail, preventing the bedazzled hiker and his group from passing. But his hands-on-the-hip stance told me the encounter wasn't over.  
The man's lips parted in a smirk. He looked at our well-worn running shoes, then stared me straight in the eye and proclaimed, "That's a good way to break a tailbone." 
Was he right? Maybe. After all, any hiker in road-running shoes could benefit from an upgrade to grippier, more durable trail footwear. But, at the time, we couldn't afford the $100-plus it would take to make the leap. And, having just bagged the second-highest Catskills summit successfully, ragged Asics and all, I could confidently say that high-end gear wasn't a requirement, no matter what this fellow hiker thought.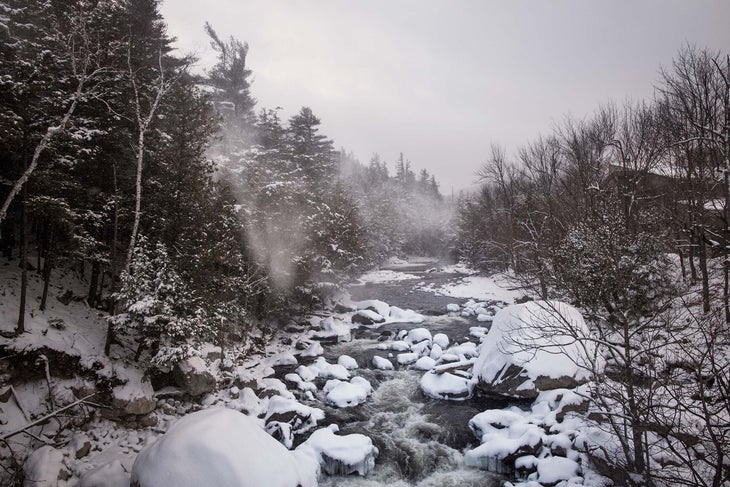 A few months ago, I wouldn't have remained so blasé. I would have questioned if I belonged on these trails at all, my hiking euphoria thoroughly smashed. But after a half-dozen hikes—all successfully ending with a new Catskills summit—I'd come to see that fitness and fun were far more important than shiny new gear.
I wasn't necessarily new to the outdoors. During my freshman year of college, I'd backpacked the Smoky Mountains with the University of Dayton's Outdoor Adventure Club. While abroad, I summited Africa's fifth-highest mountain, 14,967-foot Mt. Meru, and Ireland's tallest mountain, 3,407-foot Carrauntoohil.
But I'd always been a tag-a-long, a lemming following the well-trained leader's instructions on trail navigation, tent pitching, summit-day attire, and the like. I'd never actually led an outdoor trip of my own.
When my husband and I moved to the New York City area in 2015, the Catskills caught my eye. Their bucolic blend of undulating peaks, winding creeks, and forest-canopied trails had me hooked from my first scroll through Google Images. And I had just gotten shared access to the one thing that made getting to and from the Catskills' trailheads possible: a car. 
I convinced my friend Maggie, a college chum and fellow writer, to join me. Our first hike was a 45-minute, test-the-waters jaunt to Kaaterskill Falls, a dramatic cascade dropping down 260 feet. Between the fall colors and the pit stop at a vineyard on our drive home, we knew we were on to something. 
"We all belonged on the trail that day."
We turned our Catskills hiking excursions into a monthly tradition, with Dunkin' Donuts on the drive up, a day disconnected from the city in the great outdoors, and a stop for fresh Hudson Valley fare on the way home.
As we got stronger, so did our friendship—particularly given our nonstop trail talks about everything from the latest scoop on the Royal Family to our budding creative projects to analyzing Maggie's new Tinder connection. 
But the more well-outfitted hikers we met, the more my trail confidence dwindled. 
Given the NYC region's high cost of living—a spike from my previous life in Cincinnati—I couldn't justify investing in new gear. Neither could Maggie. 
Instead, we stuck to running shoes and college backpacks, knowing all the time that we didn't look like the hikers speeding by us. 
And with trail conversations that alternated between celebrity scandals and dating horror stories, I was convinced we didn't sound like the other hikers, either. 
Did we even belong?
This, I now know, was my imposter syndrome creeping in. It's the thought process that told me I was a fraud despite all signs pointing to the opposite. I'm all too familiar with imposter syndrome from my writing career, yet I never expected to feel this deep inadequacy with something as fun and carefree as hiking. But given that my forte had always been joining hikes, not planning them, I felt out of my element. And when there's an avenue for comparison—à la better-equipped or more serious hikers—it's hard not to feel subpar. 
Finally, though, the morning of that sunny Hunter Mountain summit day, I noticed my Catskills imposter syndrome had lifted. Our hikes had started to feel more routine, almost second nature, and my stomach wasn't in knots over whether I'd chosen the right route, remembered the correct blaze colors, or packed enough water. We'd also successfully conquered other tough trails, including several peaks on the Catskills 3,500 Club list (35 peaks above 3,500 feet).
This refreshing wave of confidence hit me as I laced up my trusty running shoes among the pines and oaks shading Hunter Mountain's trailhead, the start of the roughly 8-mile-roundtrip trek to the top. And that newfound personal acceptance couldn't have struck on a better day, because not only did we blissfully glide up those four miles of root-laden trails and sweat-inducing switchbacks, but we descended back another four miles so happy with our post-summit success—and ready for that celebratory meal—that even a dig at our footwear couldn't bring us down. 
"Ah, well … good luck!" I responded to the hands-on-hips man, ignoring his comment about my apparently injury-prone tailbone. We passed by his team of equally well-dressed hikers without another word. And as we strolled down the trail, both dreaming about the post-hike menu, a thought struck me.
Every hiker has their own trail personality. Some take it seriously, soaring up to the summit without a word, hoping to nab a new Fastest Known Time or chattering about the latest gear. Maggie and I geek out to an equal degree while stopping for a water break to debate who wore it better or analyze which Lorde album is best. (Melodrama, obviously.) We, just like this man and his gear-enthusiast friends, belonged on the trail that day—as does everyone who aspires to enjoy the great outdoors.