A True Backcountry Overnight With a Roof Over Your Head, Just Outside NYC
This 7.2-mile round-trip hike to the Dutch Doctor lean-to in Harriman State Park takes you right into the wilderness, only an hour outside NYC.
---
Join Backpacker
Create a personalized feed and bookmark your favorites.
Join Backpacker
Create a personalized feed and bookmark your favorites.
Join for free
Heading out the door? Read this article on the new Outside+ app available now on iOS devices for members! Download the app.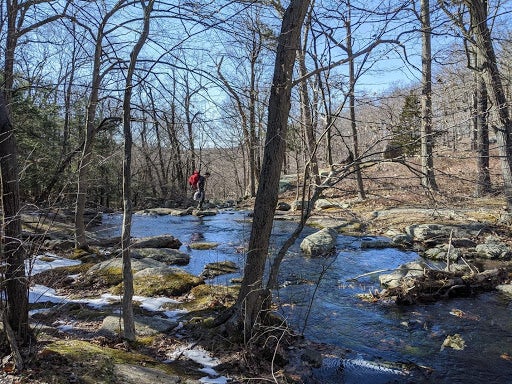 As I stared up at the stars on a clear, cool winter evening in Harriman State Park I attempted to put my limited constellation knowledge to the test. Living in New York City means seeing stars is a rarity; the city's constant hustle and bustle can make anyone feel like they're a million miles away from any sort of nature, which if you're anything like me, grows stressful. Thankfully there's 47, 527 acre Harriman, just over an hour outside the city and home to over 200 miles of trails. And as I stared up at the sky, relishing in the fact that the only background noise to my evening was the crackling of my campfire and the wind murmuring through tree branches, I felt an overwhelming sense of calm. Tomorrow, still far from the urban noise, even more wilderness exploration awaited in the creek-crossed woods.
Difficulty: 2.5/5
Overall: 3/5
Duration: 2 Days
Turn by Turn From the Ramapo Dunderberg Trailhead
From the trailhead veer to the left, following the Ramapo Dunderberg trail markers (white boxes with red dots inside). The trek starts on a fairly steep hill littered with boulders, but there are a few sets of stone steps on your way up. 

Around mile 1.1, you'll come to a two-way intersection. Head left, staying on Ramapo. Around mile 1.9, you'll have your first large river crossing. Look to the right to see a small waterfall and the body of water that feeds the river. 

At mile 2, you'll come to a four-way intersection. Head straight on the Victory Trail (indicated by blue V markers). In just under a quarter-mile, you'll see the Black Ash Swamp to your right. 

Take a sharp right onto White Bar Trail at mile 2.8 (marked by white bars).

Reach the Dutch Doctor lean-to and your camp at mile 4.2. Besides sleeping in the shelter, there are several spots in the area to set up camp. A brook a few hundred feet from the hut provides consistent water year-round. 

From the hut, bear left to stay on the White Bar trail. 

After a few hundred feet veer right onto the Tuxedo Mountain Trail, which is marked by white boxes with red bars. 

Around mile 5.5, you'll come to the Claudius Smith Den, a large rocky overcrop overlooking rolling, forested hills and the village of Tuxedo. The formation is named after

Claudius Smith

, who was a thief during the Revolutionary War and is said to have used the caves as a hideout. 

Stay straight on the Tuxedo Mountain trail, passing a four-way intersection before turning left back onto Ramapo. Follow Ramapo back to the trailhead. 
Permit: None Contact: Harriman State Park
GPX here