Explore an Otherworldly Dune Field in White Sands National Park
The world's largest gypsum dune field isn't just a wonder of the natural world—it's a great place to hike, too.
Photo: Mint Images/Mint Images RF
Heading out the door? Read this article on the new Outside+ app available now on iOS devices for members! Download the app.
To say it is quiet here would not be understating it; for miles around there is no sound but the shhhh-hsss of tiny grains of sand shifting against each other with each breath of wind. I stand at the crest of a 20-foot dune, watching the lines of the desert shift and change with every gust. Though it's drawing towards evening, I don't dare take off my sunglasses: The sand at my feet is bright white, and the sunlight reflected off the dunes is dazzling. The sand rolls seemingly endlessly out to the horizon, where a range of bare, dust-brown mountains finally breaks the edge of the desert.
No, it's not the Sahara or a sci-fi set: It's New Mexico. You don't have to fly to another continent or another planet to hike among sand dunes. In White Sands National Park, bright white sand drifts spread over 275 square miles, forming the largest gypsum dunefield on Earth. When you're out in their midst, they spread from horizon to horizon in wind-crafted ripples up to 60 feet tall.
Hiking in any dune field is a unique experience, but White Sands is a world apart. There are five established trails, but the best one—if you can snag a permit—is the Backcountry Camping Trail. A night under the stars here, where the moon reflects off the pale sand and there isn't any light pollution to be found for miles, just might spoil you for spending the night anywhere else. Pro tip: Schedule your visit to coincide with a meteor shower for some extra razzle-dazzle.
The Trail
The Backcountry Camping Trail is only 2 miles long, but that doesn't mean it's easy. Hiking in sand is always more difficult than hiking on hard ground, since each step requires stabilization by ankle, feet, and leg muscles, and the sand itself slides, decreasing the distance you gain with each step. There is also no shade and no water along the trail, and in the summer many hikers suffer heat illness. The recommended minimum amount of water to carry with is a gallon per person per day (which will definitely make you glad that the trail is short). From the trailhead, follow orange trail markers (with a spade symbol) through the sand; there is no constructed trail, just shifting sand, as you wind your way up and over several steep dunes. Once you've pitched your tent (pick somewhere sheltered from the wind, so you and all your belongings don't get covered with sand), head up the nearest dune to take in the stars.
Why are the Dunes White?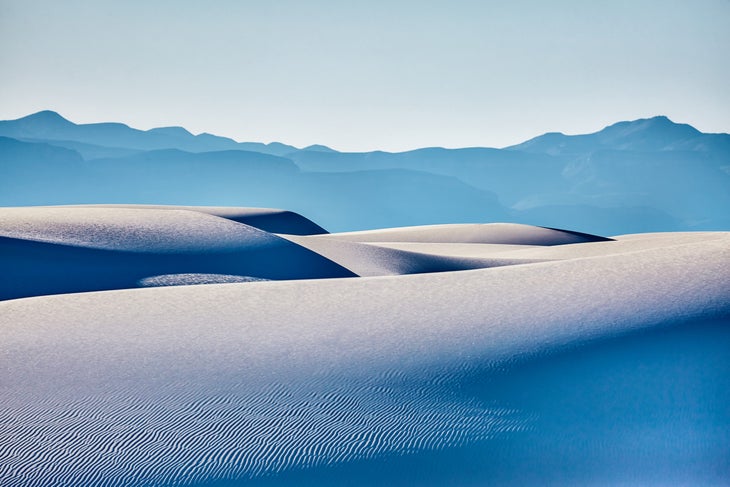 While most sand is formed of quartz, the most common mineral in the world, or another widespread mineral called feldspar, the dunes at White Sands are made nearly entirely of gypsum. Though it isn't particularly rare—gypsum is often used in plaster, drywall, and chalk—it dissolves extremely easily in water and so is rarely found in sand. Gypsum is almost always white or near-white, though other colors do occur, and it's main chemical components are calcium, sulfate, and water. It's found in such abundance at White Sands because the much of New Mexico was covered by a shallow sea around 250 million years ago, which deposited gypsum when it evaporated. During a period of increased precipitation in the Pleistocene, that gypsum was all washed downstream to the basin where White Sands National Park now sits. When that water, too, disappeared, the gypsum began to form dunes.