White Pinnacle Peak, Nevada
This hike will tempt you to pack a parachute as sandstone peaks reach 1,500 feet above Red Rock Canyon National Conservation Area's valley floor.
Heading out the door? Read this article on the new Outside+ app available now on iOS devices for members! Download the app.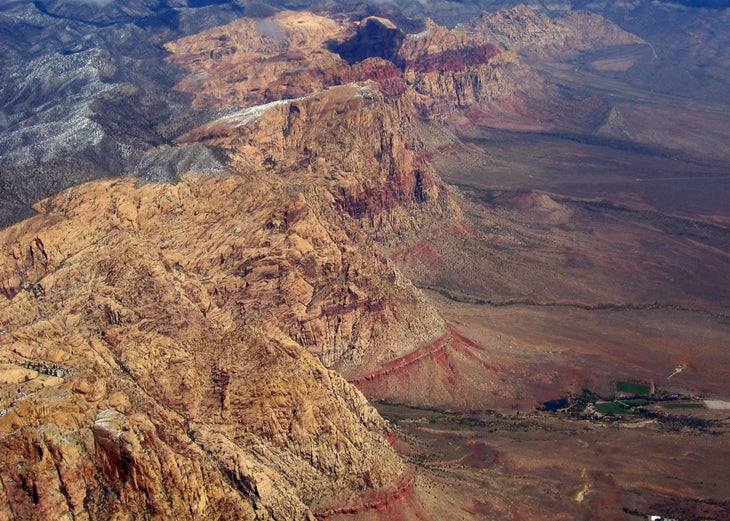 Challenges
Exposure,
class 4 scrambling
Payoffs
Solitude,
king-of-the-hill
satisfaction
→You'll be tempted to pack a parachute to visit this airy, confidence-testing point of sandstone hovering 1,500 feet above the valley floor. Though it's a subpeak of 7,070-foot Mt. Wilson, it upstages its superior with greater thrills and a shorter approach (4 miles round-trip). But half the route is off-trail, and involves stemming up sandstone narrows and scrambling across small foot- and handholds. And the final 75-yard ridgewalk above sheer, 1,000-foot cliffs unnerves even the most confident climbers, making this hike both a mental and physical challenge. "You're just a step away from a fatal plunge," says Bob Sihler, an experienced scrambler who summitted 5,550-foot White Pinnacle on his third try. "The exposed parts aren't technically hard, but there's no room for error." That and the wide-angle views give this peak its unique thrill: Suspended in air, you feel more like a hummingbird than a hiker.
DO IT Wear sticky-soled approach shoes, carry a 30-foot rope for hoisting packs, and go on a dry day. "The sandstone holds crumble when wet," says Sihler, who once had to turn back within sight of the summit because of rain. From the First Creek Canyon trailhead on NV 159, follow the trail for a mile, then veer right on a user path to a seasonal waterfall. Cross the wash, and enter the gully on looker's right of White Pinnacle Peak. Scramble up a class 4 crack and stem up the chimney, hauling packs with rope. Then scramble up a sandstone slope to the exposed, 75-yard ridgeline to the summit. Info blm.gov/nv