Rip & Go: Watchtower to Sheephead Loop – Selway-Bitterroot Wilderness, MT/ID
Have rocky ridges and sparkling alpine lakes all to yourself.
Heading out the door? Read this article on the new Outside+ app available now on iOS devices for members! Download the app.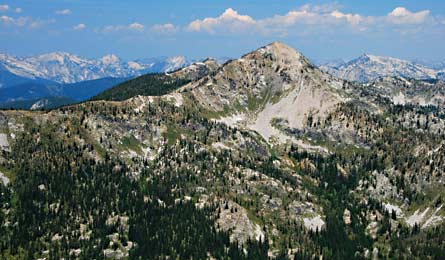 Watchtower's Peak South Face (Michael L. Hoyt, Corvallis, MT)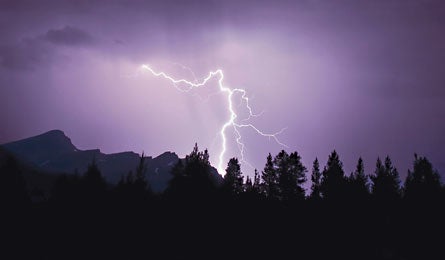 (Photo by Clarke Wiebe/Age Fotostock)
Do It
Broad, conifer-covered ridges extend like fingers off of the Bitterroot Divide, creating a complex mountain topography rife with bighorn sheep, moose, mountain lion, gray wolves—and plenty of solitude. This three-day, 21.6-mile wilderness loop winds between craggy peaks and deeply quiet aspen forests. Park at the Watchtower Creek trailhead (1) and start the 5.6-mile hike along Watchtower Creek Trail (#699). Cross the creek on a footbridge at mile .7, keeping an eye on the high canyon walls for sure-footed mountain goats and bighorn sheep. Ascend 850 feet, with easterly views of 9,355-foot Mt. Jerusalem, and camp in the flats (2) below Watchtower Peak—with tent-door vistas of the glacially gouged river way.
Next morning, ascend 1,200 feet over .8 mile to crest the Bitterroot Divide (3) and begin the 2.6-mile off-trail ridge walk along the Idaho-Montana border. Expect tricky routefinding and class 3 scrambling (see p. 26). Stick to the western side; your ankles will tire on the talus, but the slope is less steep. At mile 9.7, summit Peak 8,450 (4) for commanding views of the valleys and side canyons that channel snowmelt into the Selway River. Continue to follow the divide, then link up with the Schofield Ridge Trail (#34) (5), .3 mile southwest of 8,315-foot Indian Hill.
After 10.8 miles, you'll enter a large, forest-fringed meadow (6) where tall grasses can make the path hard to find. Look for switchbacks entering lodgepole pines (7) to the southwest. Pick up Stateline Trail (#16) (8) at mile 11.6 and continue .8 mile to a campsite at the headwaters of Indian Creek (9). Start your final day with five miles of canopy-shaded hiking. Reach open vistas after the intersection with the Southern Nez Perce Trail (#13). Turn left (east) and hike along Fales Flat Trail (10), which grows increasingly steep on the 4.3-mile descent to the trailhead (11). No shuttle? Walk east 2.3 miles on Nez Perce Road 468 to close the loop.
Trip Planner
Get There from Missoula, take US 93 south 57 miles to MT 473 west. Go 14 miles and turn right on Nez Perce Rd. 468. After nine miles, go north at the Watchtower Creek sign and park.

Gear Up The Elusive Moose, 1369 US 93, Victor. (406) 961-3991; theelusivemoose.com
Map USFS Selway-Bitterroot Wilderness Map, South ($10, nationalforeststore.com) Contact (406) 363-7100; fs.fed.us/r1/bitterroot
Key Skill: Lightning Safety
In summer, afternoon lightning strikes along the Bitterroot Divide are as reliable as death and taxes. Here's how to recognize advancing storms so you can act before you get zapped.
Prepare On day two, look at the sky before leaving camp. Your route ascends an exposed ridge; stay below treeline if storms threaten.
Calculate Hear thunder? In most cases, the storm is within six to eight miles. Estimate its proximity by counting the seconds between lightning and thunder. Divide that number by five: that's the storm's distance (in miles) from you.
Bail Using aerial photography and topo maps, preplot escape routes that lead directly (and quickly) from exposed areas (above treeline and meadows) to sheltered areas below, or in forested margins.
Shelter Avoid hilltops, water, and shallow caves. A safe bet: low-elevation forests. Fold a closed-cell foam sleeping pad in half and crouch or sit cross-legged on it. Stay at least 15 feet from others, so multiple people don't get injured by the same strike. Resume hiking 30 minutes after the last thunder clap.
Locals Know
Opportunities for solitude are practically a dime a dozen in the Selway-Bitterroot Wilderness, but for that million-dollar dose of alone time, add an extra day and camp lakeside by Watchtower Lake (UTM: 11T 0695279E 5079937N). Break from the Watchtower Creek Trail (#699) at mile 5.6 and follow the intermittent and faint use trail due north for 2.3 miles (and 1,400 vertical feet). Arrive at the small alpine tarn pooling in a steep-walled cirque. On cloudless days, the cirque's southern opening means you'll wake with sunlight splashing the gray walls a warm shade of orange—and perhaps see mountain goats roving up above.
See This
Wolverines
The 1.3-million-acre Selway-Bitterroot Wilderness is home to one of the country's southernmost population of wolverines. These 30-pound critters make their dens in snow caves or natural crevices in medium-density forests. They feed on roots, berries, small mammals, and birds, and rely on stealing other predators' kills and scavenging carcasses to survive the winter. If you spot this rare animal—the largest member of the weasel family—consider yourself lucky: One study suggests a single wolverine requires 25 square miles to itself.
On The Menu
Breakfast 1 On the road
Lunches 1 and 3 Grilled cheese bagel with tomato
Dinner 1 Better-Root Stew (below)
Breakfast 2 and 3 Granola with raisins and honey
Lunch 2 Tuna fish bagel with cheddar and chips
Dinner 2 Selway Curry (below)
Snacks Jerky, trail mix
Better-Root Stew
A fresh, tomato-based stew.
1 golden potato, diced
1 yellow onion, diced
1 sweet potato, diced
1 carrot, diced
1 packet tomato soup mix
1 packet beef jerky
4 cups water
Sauté onion and carrots in olive oil until soft. Stir in remaining ingredients. Reduce heat and simmer 15 minutes, or until potatoes have softened.
Selway Curry
Sweet, spicy, and simple.
1 box couscous (unflavored)
2 teaspoons curry powder
½ cup dried cranberries
½ cup dried apples, diced
¼ cup cashews
1 teaspoon olive oil
Add couscous to 1 ½ cups boiling water and olive oil. Remove from heat and stir. Add cranberries, dried apples, and curry powder. Cover and let sit for 10 minutes; fluff with a fork, add cashews, and serve.
The Grocery List
(Aisle # – In nearest store below)
[ ] 1 pack beef jerky (service counter)
[ ] 4 bagels (bakery)
[ ] carrot (produce)
[ ] golden potato (produce)
[ ] sweet potato (produce)
[ ] tomato (produce)
[ ] 1 block cheddar (1)
[ ] 1 box couscous (1)
[ ] tomato soup mix (3)
[ ] dried cranberries (3)
[ ] dried apples (3)
[ ] 1 pouch tuna (3)
[ ] 1 box granola with raisins (4)
[ ] 1 small jar honey (4)
[ ] 1 small bag potato chips (8)
[ ] Pack Curry powder, olive oil, salt and pepper
NEAREST GROCERY STORE
People's Market
801 North Main St.,
Darby, MT; (406) 821-3612
PIT STOP Wolf down a prime rib so big it barely fits on the plate at The Naughty Moose. You can get it regular or blackened. 5338 US 93, Conner, MT; (406) 821-9955
Mapping by Kim Phillips and Kris Wagner