In Montana's Bear-Filled Crazy Mountains, Hikers Are Never Alone
The remote Crazies are a playground for more than just humans.
Heading out the door? Read this article on the new Outside+ app available now on iOS devices for members! Download the app.
I'm not usually a worrier, but the animal dangers of this trip to the Crazy Mountains started to seem real when my hiking partners and I debated whether or not to bring the bear canister.
"There will be trees to hang food. We don't need it," my dad said. I pointed out that anything over a dozen feet tall is rare at high alpine lakes in Montana, but our desire to not carry the awkward and heavy container overwhelmed that spark of logic.
It was early fall of 2012. My parents and I were planning to hike to a small but picturesque lake for a last quick trip before I started my junior year of high school the following week. The trailhead, marked by a tiny reflective marker miles of dirt road from the nearest human habitation, was remote even for the Northern Rockies.
As we started up the path, breathing hard under heavy packs on a brutal vertical predating any kind of trail grade standards, I found myself reflecting on the wild surroundings and my place in them. This time of year, dry grasses rustled in the meadows, but all was otherwise quiet. And then there was my family, noisily stomping our way up the mountain. I often feel like an interloper in nature when I go backpacking, and for good reason: Humans, even the most well-intentioned hikers, can disrupt fragile ecosystems and startle wildlife. I feel a bit guilty every time I accidentally spook a deer or chipmunk that would have otherwise just gone about its business, or trip into a patch of trailside flowers.
The final stretch of trail traversed a dizzyingly exposed scree field to a ridge above the lake. The dark, speckled stones clanked underfoot, announcing our presence to any and all wildlife in the area. Autumn forget-me-nots mimicked the blue sky among the rocks of the alpine tundra. Lovely as the scene was, though, it conspicuously lacked one very necessary resource: a suitable bear hang tree. So, after wandering about until the sun set behind the ridge and finding neither an appropriate tree nor any sign of bears, we hung the faded stuff sack in the tallest tree we could find and hoped to find it there in the morning. A hungry bear would have been able to reach up and grab it, so at that point it was really just a formality.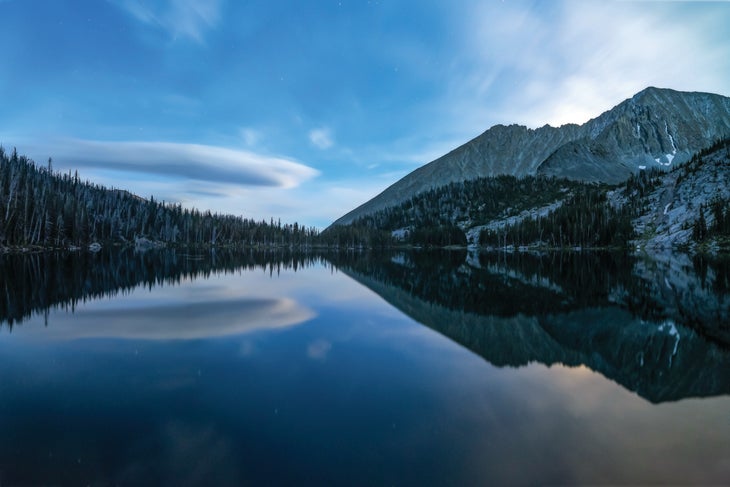 We awoke in the morning to a spectacular sunrise. The lake sat in an east-facing amphitheater of stone that glowed in the dawn,
setting aflame the unnamed peak above the water. To our great surprise, our food was still there—untouched by any hand, or rather, paw. We ate our instant oatmeal and watched a herd of mountain goats traversing the cirque with their kids, the little
ones following their mountaineer parents on uncertain hooves.
Suddenly, a burst of noise from the lake interrupted the stillness. When we peered around a bend in the lakeshore, all we could
see was roiling water, flashes of brown fur, and no sign of the half-expected hiker and dogs. Even the most enthusiastic labradoodle would be hard-pressed to create such tumult. Was it an irritated moose? The Loch Ness Monster of river otters? Eventually, the chaos resolved into two distinct shapes.
Oh. So that was where the bears were.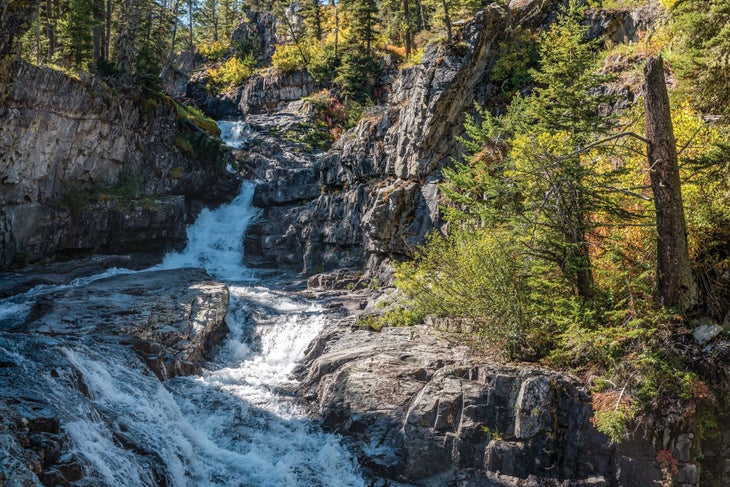 Big Timber Falls (Photo: David Rabenberg Photography)
Like two children, these young black bears, probably siblings, were gleefully splashing each other with geysers of water. After a few minutes, they leapt onto the bank and began chasing each other straight past the trail ascending out of the cirque. In no more than a minute or two, they had bounded to the top of a climb it would later take us a half-hour of slogging to complete.
At the summit, a copse of trees formed a boxing ring of sorts for the playful siblings. They wrestled, considerately taking turns at falling over so they could each have moments of victory. Eventually, they lost interest and loped out of sight.
If the bears ever noticed us, they didn't show it. Nor did they eat our food, though it was quite literally low-hanging fruit. This joyful sight was rare and special—not something you see often, even if you live in Montana.
As I watched the bears scamper away, I reflected on my earlier feelings of displacement in the natural world. Those bears goofing
off—and completely ignoring us two-legged trespassers—was a moment when I didn't feel like an unwelcome houseguest. The
goats didn't notice us either, and seeing them going about their business undisturbed made me less of an intruder; we were just part of the surroundings for them that morning. Only the pikas seemed to acknowledge our presence with territorial eeps.
So now, whenever I head out to explore the wilderness, I remember that even if mine is the only car in the parking lot, I'll have plenty of fellow travelers with me in the mountains. The backcountry is more than just a playground for backpackers; it's the goof-off spot of choice for wildlife, too. But next time I'll bring the bear canister.
Do It
Season May to October
Trailhead 46.0448, -110.2928
Permit None, but most access to the Crazies is through private land—check current trail closures before heading out
Distance 8.4 miles
Days 2