9 Incredible Night Sky Hikes to Do This Year
At these dark-sky destinations, the stars are out of this world.
Heading out the door? Read this article on the new Outside+ app available now on iOS devices for members! Download the app.
There's a lot of unbelievable stuff in the wilderness. Get to know it in our field guide to natural phenomena, starting with this member's-only story that we're making free to everyone.
After a long day on the trail, the temptation to climb into your tent and go to sleep can be overwhelming. But fight it: Brew that cup of coffee and wait a while. If you can hold off long enough, you'll enjoy the best show that the summer sky can offer. Read on for nine of our favorite places to peep planets, constellations, meteors, and more.
Grand Sawtooth Loop, Sawtooth Mountains, Idaho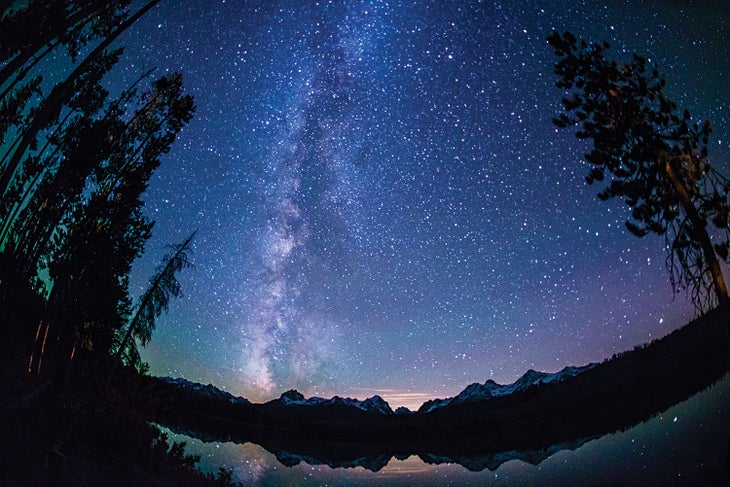 Darkness pools in central Idaho, where large swaths of designated wilderness hold the line against development and light pollution. In 2018, a 1,416-square-mile tract in Sawtooth National Forest became the first place in the United States to be designated an International Dark Sky Reserve by the International Dark-Sky Association, highlighting a peerless chance to meld untouched land with unmarred skies. You can't fully experience the place on an overnight. Instead, brush up on off-trail navigation and go for full immersion on the 70-mile Grand Sawtooth Loop. Start at Grandjean Campground and hike clockwise, sleeping under star-dusted skies at Camp Lakes, Baron Creek, Lower Cramer Lake, Ardeth Lake, and Elk Lake.
Trailhead Grandjean Campground Season Summer Permit Required (free); self-register at the kiosk at Grandjean Campground.
The Wall, Badlands National Park, South Dakota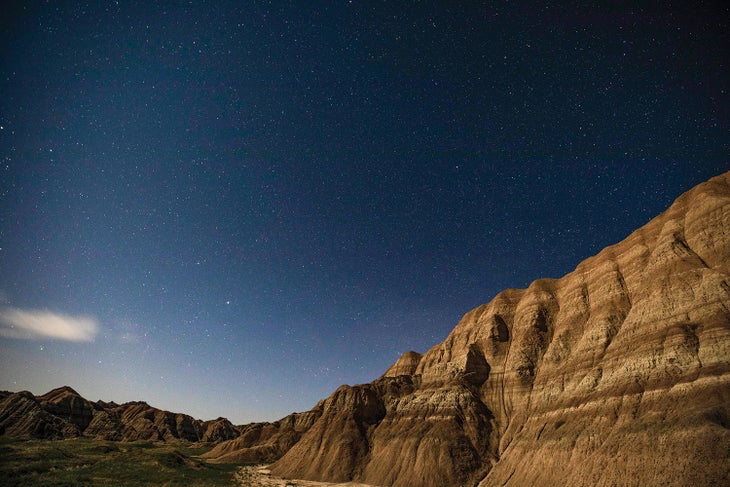 The Badlands North Unit's austere terrain has edge-to-edge skies, wandering bison, and nary a trail. When the sun goes down, its dispersed camping and lack of visitors makes for a private star show. Pack all your water and head toward The Wall, where a rampart of spires and pinnacles add silhouettes to your stargazing. Start by driving west along the Sage Creek Rim Road from the Pinnacles entrance, and when you see a portion of The Wall you like (it's visible from the road), park and head in. Camping rules are simple: Trek at least half a mile and make sure no one can see you from the road, preserving that sense of awesome isolation.
Trailhead Sage Creek Rim Road Season Spring and fall Permit None required, but you can self-register at Sage Creek Basin Overlook.
Duck Harbor, Isle au Haut, Acadia National Park, Maine
If you want to ditch the crowds and see the stars by yourself, you have to visit the lesser-visited sibling island in Maine's only national park. Hop the mailboat from the dock in Stonington en route to Isle au Haut, disembark at the Duck Harbor dock, and set up in one of the five primitive sites in the adjacent campground. It's a 2-mile hike south on the Western Head Trail to watch the sunset over mainland Maine from the southernmost tip of the island. Stay put as the stars blink on, and don't forget to look north—in the fall, if you get lucky, you might be able to see the aurora borealis from here.
Trailhead 37 Seabreeze Ave., Stonington, ME Shuttle $40/round-trip Season May to October Permit Required ($20/night)
Star Dune, Great Sand Dunes National Park, Colorado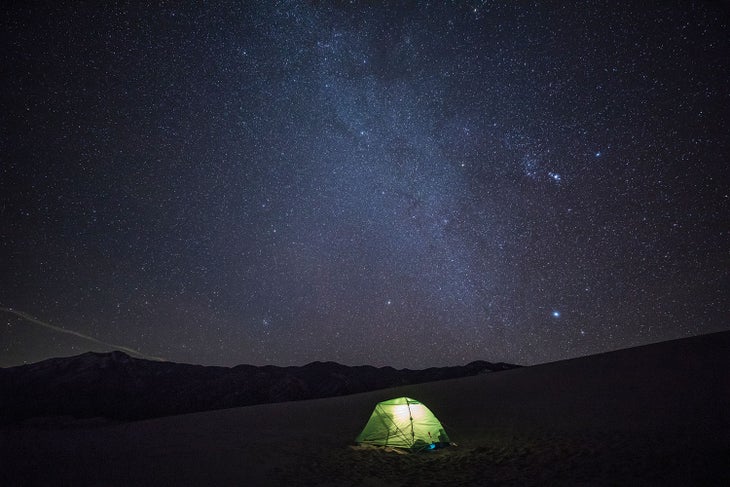 Welcome to the country's wildest sandbox. In unpopulated southern Colorado, rows of folded dunes trap pockets of perfect darkness and, on windless nights, absolute silence. You can't go wrong camping anywhere in this sandy wilderness, but if you need a target, aim for 775-foot Star Dune, the tallest one around. There are no trails out on the dunes, so head northwest from the Dunes Parking Lot, crossing the braided and shallow Medano Creek (widest with spring runoff in late May) en route to High Dune, the tallest pile of sand you can see from the creek. After a mile or so (hiking on sand is slow going; bank on travelling about half your normal speed), you'll crest it, unlocking a viewshed that includes the marbled Crestones, which cling to their snowy mantle until early summer. Star Dune lies another 1.5 miles west. Find a flat spot in a dune's lee to set up camp and bring all your water.
Trailhead Dunes Parking Lot Season Late spring and fall; the surface of the sand can reach 105°F in summer. Permit Required (free); obtain at the Visitor Center.
Eagle Mountain, Joshua Tree National Park, California
With an absence of shade and a proliferation of granite that reflects the moonlight, you can leave your headlamp in your pack for the final climb of Eagle Mountain, the 5,350-foot highpoint of the Eagle Mountain Range. Start by daylight at the Cottonwood Visitor Center and head east, off-trail, toward the large draw below the peak. Set up camp at the foot of the mountain (around mile 4), then fill a light pack for the last mile to the top, where dry desert air erases distortion between you and the heavens. Tip: Bring a GPS for backup navigation on the return trip from the summit; routefinding can be tricky, especially in the dark.
Trailhead Cottonwood Campground Season Spring and fall Permit Required (free); self-register at the trailhead kiosk.
Stoney Indian Pass, Glacier National Park, Montana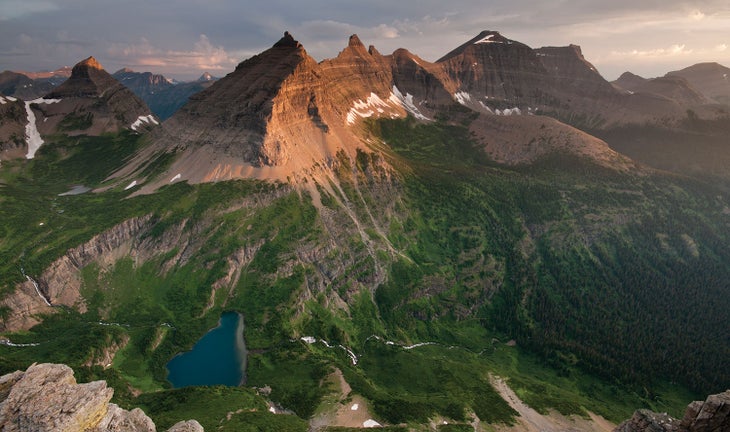 Climbing higher into the atmosphere does more than make you feel closer to the stars; where the air is thinner, the visual clarity improves, so the stars look closer. Set out for a three-night, 36.3-mile out-and-back, starting on the Belly River Trail and camping beside Glenn's Lake after 12.8 miles. Push up and over 6,908-foot Stoney Indian Pass before descending down to Stoney Indian Lakes campground at a high-elevation tarn. Pitch your tent, eat dinner, then pack your sleeping bag and pad and truck .6 mile (and 583 vertical feet) back up the pass to watch the sweeping, west-facing ridgeline above Stoney Indian Lake catch the day's last light. And then: the stars. Spend your last night at Glenn's or Crosley Lakes—it's hard to go wrong in Glacier's backcountry.
Trailhead Belly River Season Summer Permit $40 + $7/person per night
Camp Lulu Key, Ten Thousand Islands National Wildlife Refuge, Florida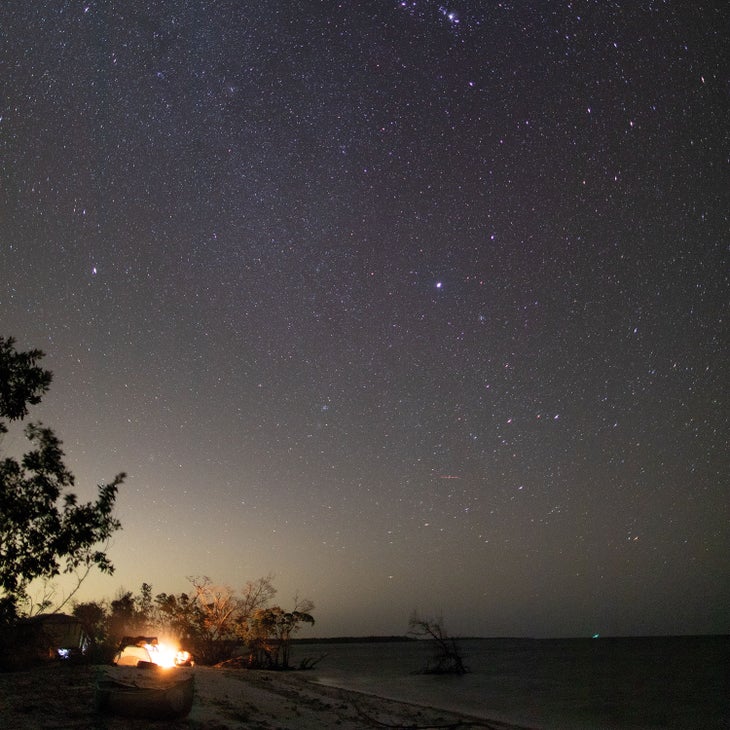 Here's what tropical stargazing looks like: a private beach, bathtub-warm water, wildlife galore, the soothing sound of gentle surf, and soft sand on which to lie on your back and watch the stars spread out overhead. To set up in this slice of paradise, start paddling from the Everglades Gulf Coast Visitor Center in Chokoloskee Bay, avoiding the boat lanes to Indian Key and opting instead to follow the west end of the bay for 9 miles out to the key. Strong navigation skills are a must, as it's easy to make a wrong turn among the area's mangrove islands. keep an eye out for dolphins and manatees beneath the surface and more than 200 species of birds above. On landing at Camp Lulu, pitch your tent (anywhere; first come, first serve; BYO water) on the windward side to keep the bugs at bay—if that happens to be the south side, you can set up your tent perfectly to watch sunrise, starshine, and sunset from your door.
Trailhead Gulf Coast Visitor Center Season  October to April Permit None
Olympic Hot Springs, Olympic National Park, Washington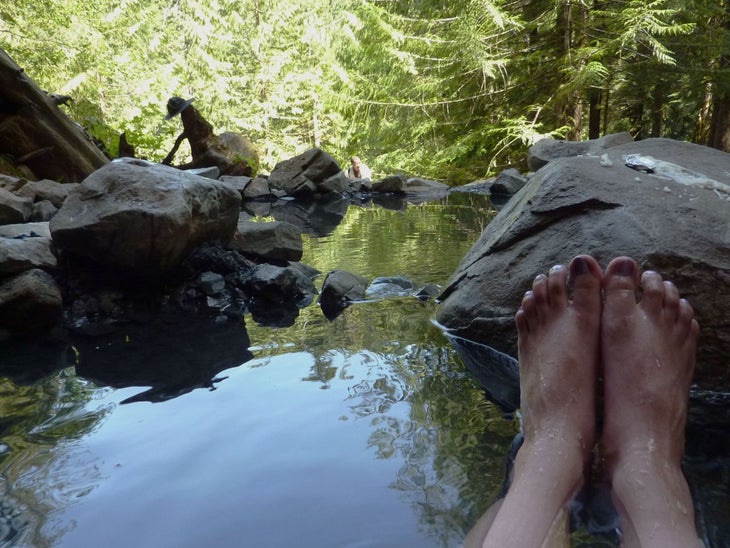 Deep in the park and walled off from Port Angeles by rain-soaked forest and 5,000-foot-tall Happy Lake Ridge, the smattering of hot springs in this backcountry hideaway offers one of the darkest soaks in the country. Earn it on a 28.7-mile out-and-back that crests Appleton Pass, where the snowy domes of the Olympic Range dent the southeastern horizon, and home to your first night's camp. Next day, think of the hot springs. Your legs will be pining for them by the time you descend 2,600 feet over 4 miles to the North Fork Boulder Creek. From here, it's 1.7 miles to Boulder Creek Campground. Throw down and hike .1 mile to cross Boulder Creek, then ascend through the conifers for .2 mile to the natural, rock-rimmed springs. The lower pools are more lukewarm (80°F), while the higher ones get as hot as 118°F. Darkness comes quick in a forest this deep; enjoy the show.
Trailhead Sol Duc Season Summer Permit Required ($6 + $8/person per night); obtain at the Wilderness Information Center in Port Angeles or recreation.gov.
Last updated April 2022