The Best Hikes on O'ahu
From summit scrambles to lowland rainforest, there's a hike on O'ahu for every hiker.
Heading out the door? Read this article on the new Outside+ app available now on iOS devices for members! Download the app.
Best known for Pearl Harbor, Waikiki Beach,  and big wave surfing, O'ahu also features outstanding hikes, many a short distance from Honolulu. The upside: This island makes it easy to experience tropical splendor, with or without a car. These itineraries explore fascinating World War II monuments, tropical rain forests, and exposed mountain ridges, providing an introduction to the island's natural beauty that's as accessible as it is gorgeous.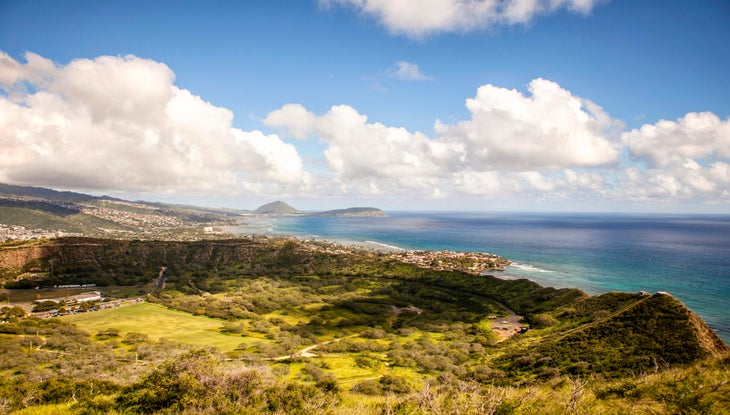 1.8 miles roundtrip

899 feet elevation gain

Out and Back
The popular Diamond Head Summit Trail climbs the iconic headland (Le'ahi in Hawaiian) that dominates the Honolulu skyline. The trail was built in 1908 to service the military installations at the summit, a critical part of O'ahu's coastal defense system. The trail gains 452 feet as it zig-zags its way to the summit, climbing steep stairs and passing through a lighted 225-foot tunnel (irresistible to kids). At the top, explore those military bunkers that are open to the public and enjoy sweeping views of downtown Honolulu and the vast Pacific, with the possibility of glimpsing migrating humpback whales. The trail is open daily except Wednesdays. Heads up: Diamond Head State Monument locks its gates at 6 p.m.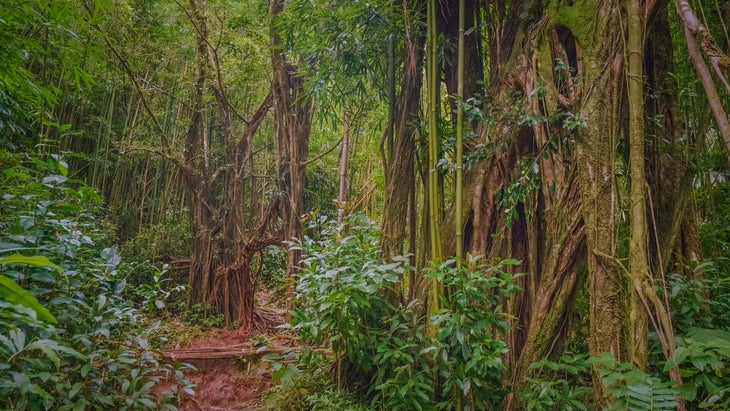 1.7 miles roundtrip

633 feet elevation gain

Out & back
Breathe in the scents, sights and sounds of a tropical rain forest on this walk near the University of Hawaii that explores native forests teeming with bird and plant life. Smell the menthol of eucalyptus trees and the scent of tropical flowers as you hike past banyan and bamboo groves. Nearby Waikiki may be warm and dry, but the Manoa Valley experiences drizzle and warm rain;. It's easy to see why producers of the TV show Lost and the movie Jurassic Park filmed certain scenes right here. At the end, contemplate 100-foot Manoa Falls, which flows down a sheer rock face. Don't expect a shower or dip in the pool, though, as bacteria in the water makes it unsafe. Closed-toe shoes with a tread work best on the wet and sometimes muddy trail.
Find the route on Gaia GPS here.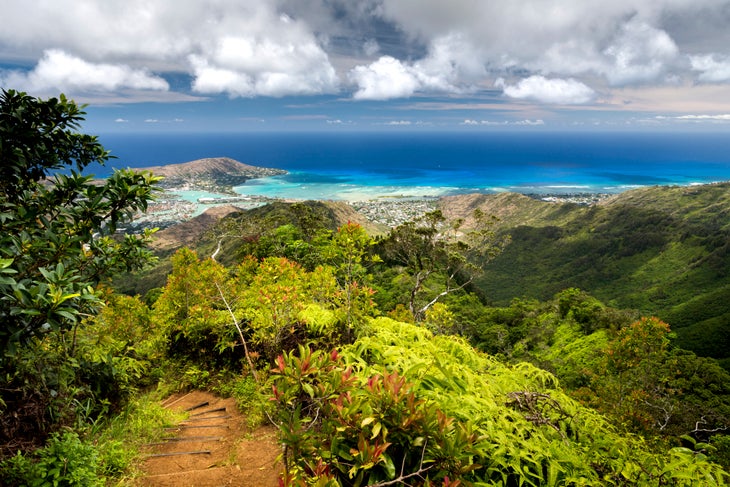 4.6 miles

2,253 feet elevation gain

Loop
Enjoy sweeping vistas along the Kuliouou Ridge Trail as you ascend through forest to reach a series of ridge rambles, providing spectacular views of the Kuliouou valley, sandy beaches, and the Pacific Ocean. The trail begins in the Kuliouou Forest Reserve, zigzagging up the hillside to reach the east ridge top with airy views and cool breezes. Enter a grove of Cook pines then emerge on a red dirt hill where you scramble up to the top of Pu'u O Kona summit (2,202 feet). Take the connector trail along a knife-edge ridge to reach the west ridgetop before descending to your starting point. We recommend long pants due to the waist-high vegetation along the west side trail and connector. 
Find the route on Gaia GPS here.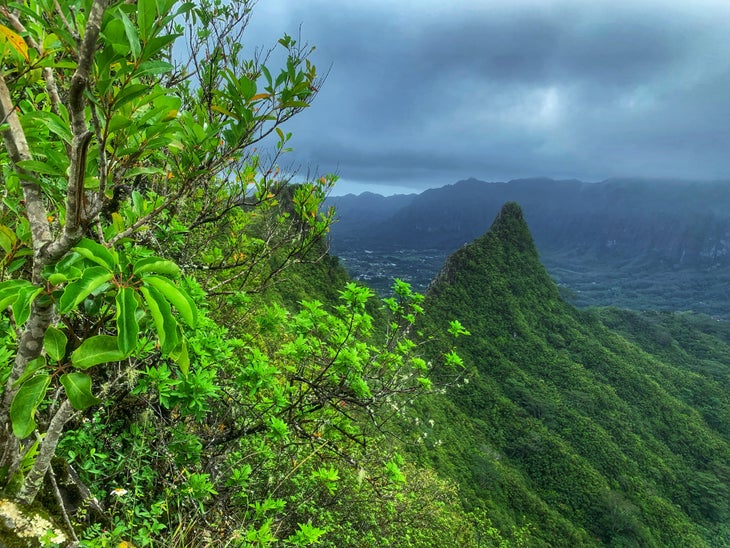 4.4 miles roundtrip

1,856 ft elevation gain

Out & back
Experienced scramblers with a taste for adrenaline and a tolerance for exposure will relish this exploration of three spectacular summits. Located in Kailua, on the windward side of O'ahu, the trail begins in dense forest and ascends steadily with a few steep sections augmented with ropes (check that they're secure before committing) before reaching the first peak of Mt. Olomana (1,644 feet). Less experienced scramblers will be content to stop here to admire the staggering views of forest and Pacific Ocean. Those with the skills can continue on, earning thrilling views as they negotiate the sometimes narrow and exposed trail to reach the second and third summit and even wilder views of the tropical forest and the wide expanse of O'ahu. 
Find the route on Gaia GPS here.
Best Adventure Hike on O'ahu:
Moanalua/Kamananui Valley Trail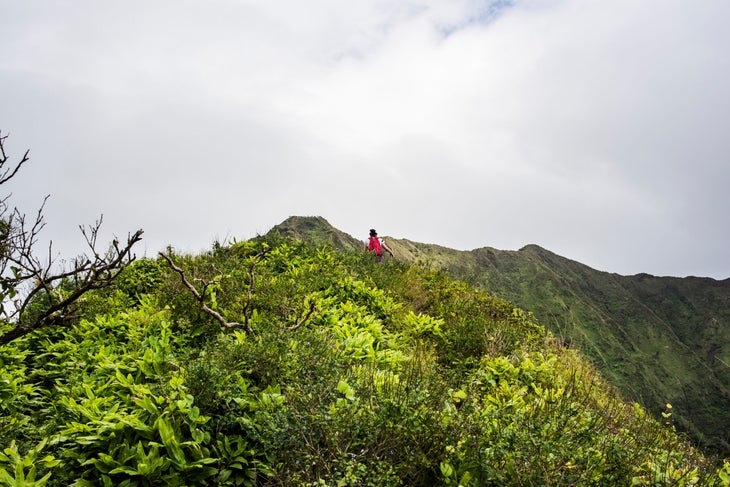 9.6 miles

3,074 ft elevation gain

Out & back
Enjoy a full day of outdoor adventure on this trek from verdant rain forest to airy ridges with panoramic views of both sides of O'ahu. The trail follows the twists and turns of the Moanalua Stream through the Honolulu Forest Reserve, passing monkeypod trees, stone bridges, historic estates and dense tropical vegetation. The track ascends toward Moanalua Ridge, zigzagging up steep sections draped with ropes (check for core shots and attachment points before using). The track continues along the ridgetops with views spreading out in all directions before reaching the summit of 2,759-foot Puʻukeahiakahoe, a windy, cool, spot from which to view all of O'ahu. Bring sturdy shoes, a jacket, plenty of water and mosquito repellant.
Find the route on Gaia GPS here.
Best Climb on O'ahu: Kokohead Lookout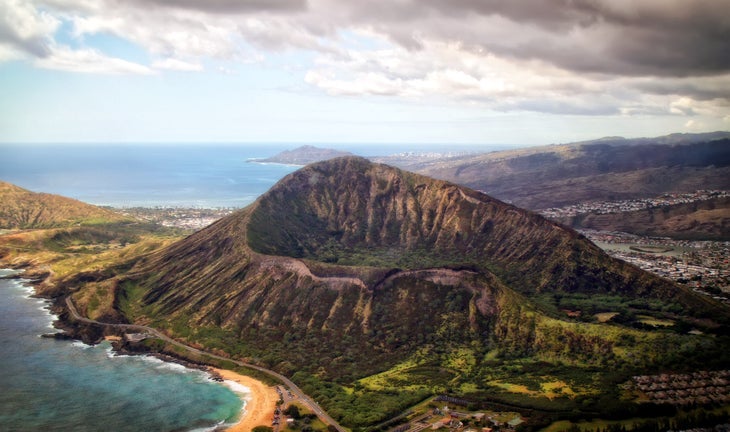 1.6 miles roundtrip

885 ft. elevation gain

Out and back
The views just keep getting better on this short, steep escalator of a trail near Honolulu. The track is made of railroad ties that run along the crater's west side to the top; the military used them during World War II as part of a tram to transport supplies to a lookout at the summit. Things really get exciting halfway up with a short bridge over a vast chasm, but there's a bypass if you're afraid of heights. Enjoy the views of the city and island at the top, then wander through the Koko Crater Botanical Garden featuring a cactus garden, Hawaiian Koa trees, and a Dragon's blood tree from Madagascar. This hike also makes a great early jaunt to avoid the crowds and greet the sunrise over the Pacific. 
Find the route on Gaia GPS here.
Best Hike on O'ahu for Hot Weather: Aiea Loop Trail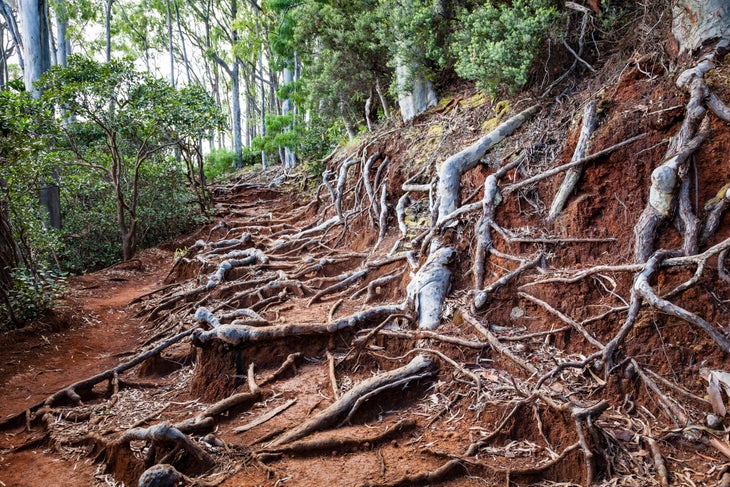 4.9 miles roundtrip

1,309 ft. elevation gain

Loop
Beat the heat on this forest ramble through pungent groves of eucalyptus trees. A well-maintained route popular with trail runners and families, the red dirt track passes shady Norfolk pines and palm trees, with strategically situated benches providing places to rest and contemplate the forest landscape. It's dog friendly, so it's possible to bring Fido provided he's on a leash. The trail meanders through forests and ridge tops, looking out on the Halawa Valley and the southern coastline of Oahu. Watch out for the occasional wild pig.  
Find the route on Gaia GPS here.
Honorable Mentions:
Koko Crater Arch Trail
Check out the impressive lava rock arch on this quick trail.
0.9 mile

347 ft. elevation gain

Loop
Makapu'u Point Lighthouse Trail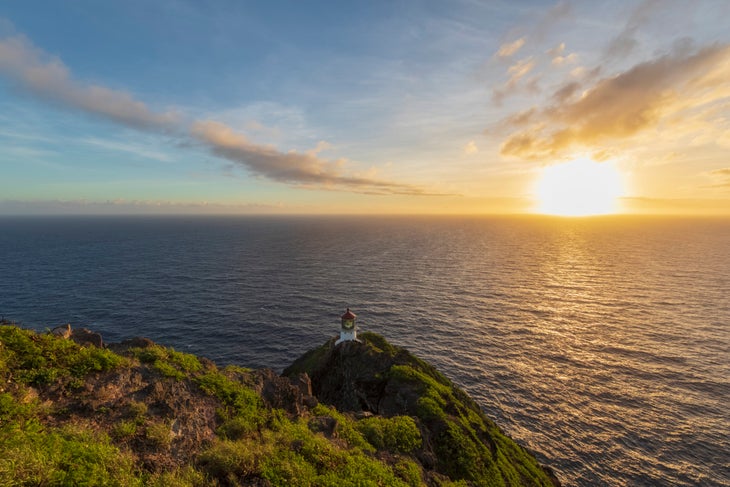 Find great whale watching from a high-up vantage point.
2.5 miles

505 ft. elevation gain

Out & back
Kuuli'ou'ou Ridge Trail 
Take in panoramic views from this ridgetop.
5.2 miles

2,004 feet elevation gain

Loop
Pele's Chair and Shoreline Trail
A short hike to the ocean
1.3 miles

170 feet elevation gain

Loop
Hanauma Bay Lookout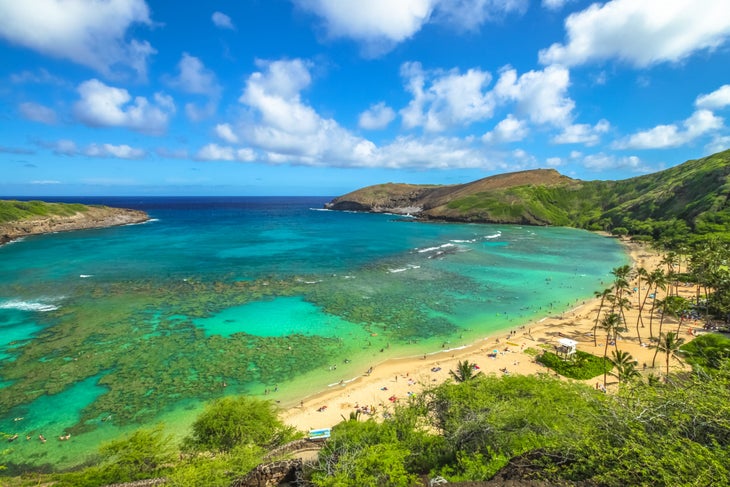 Bring your snorkeling gear on this 0.8 mile loop down to the stunning Hanauma Bay Nature Preserve
193 feet elevation gain

0.8 miles

Loop
Nicholas O'Connell is the founder of www.thewritersworkshop.net.