Explore an Ocean Forest in Florida's Ten Thousand Islands
Located off the coast of the Everglades, the Sandfly Island Loop is an intro to sea kayaking that even beginners can do.
Heading out the door? Read this article on the new Outside+ app available now on iOS devices for members! Download the app.
I was grabbing my rental life vest off the rack when I noticed my two friends and a National Park Service employee standing at the edge of the water, staring into the shallows. I walked down the stone-and-pavers boat ramp—past a sign asking divers and anglers to report sightings of smalltooth sawfish, a critically endangered, shark-like ray—to see what had gotten their attention.
There, just a few feet offshore, were a pair of those very same sawfish. Though juveniles, they were already big, probably 4 feet from the tip of their chainsaw-like noses to their tails. Oblivious to overfishing, pollutants, and climate change, they floated, fanning their fins back and forth. I don't know if fish have a sense of humor, but it was a pretty good joke either way.
This was our welcoming committee to the Ten Thousand Islands, the strip of coastline where the dense wilderness of the Everglades meets the Gulf of Mexico. In this tangle of mangroves, tidal flats, and sandy keys, wildlife thrives: colonies of chattering seabirds, turtles, even large predators like bobcats and Florida panthers. This morning, we'd be temporarily joining them.
The plan was to paddle the Sandfly Island Loop, a 5-mile sampler that circles around one of the nearest isles to the put-in at the park's Gulf Coast Visitor Center in Everglades City. We three were the remnants of a destination bachelor party that a Covid cluster had decimated the day we were supposed to leave, and if we weren't expert paddlers, we were enthusiastic enough to make up for it.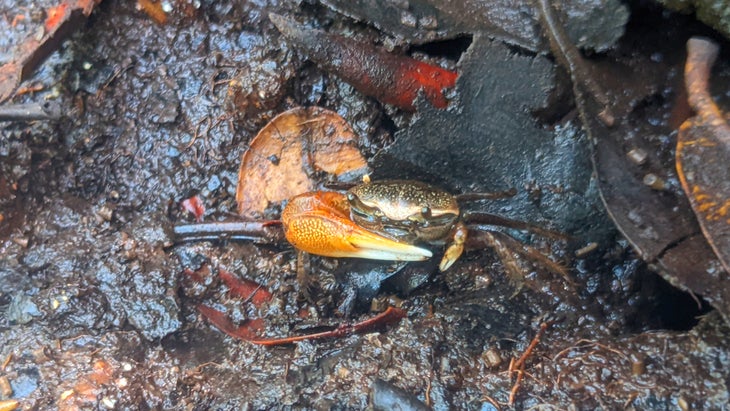 Paddling out with the tide, we crossed the biggest stretch of open water, Chokoloskee Bay, in less than an hour. By noon, we had hauled our boats up onto Sandfly Island's gravelly beach, sending a crowd of fiddler crabs scurrying for cover, and were setting out on the mile-long loop trail that crosses the island.
As wild as it looks, Sandfly Island bears the marks of hundreds of years of human habitation, starting with the area's earliest known Native inhabitants, the Calusa, who built up the entire shoreline of the island to aid them in fishing. Centuries after Spanish colonization and American expansion decimated the tribe, the island was home to settlers including Charlie Boggess, who built a two-story home and farmed tomatoes on the island beginning in 1912. While the tomatoes, and the house are long gone, the concrete well—drilled in 1922—still stands, and is the only source of drinkable water in the islands.
We followed the packed dirt and boardwalk trail as it wended through the mangroves for about a quarter-mile before we ran into a swarm of ground-dwelling bees. After several fruitless attempts to find a way through, we decided jointly not to begin our vacation by getting stung. We headed back to the beach, shoved off, and headed deeper into the islands.
Surrounded by trees on all sides, it was easy to forget we were paddling on the ocean. For the next two hours, we slowly worked our way through a maze of mangroves, through cul-de-sacs and dead ends, and deep, marked channels that we shared with motorboats. Blue herons perched on downed logs, scanning the shallows for fish to snatch. This placid corner of the ocean could have been an inland swamp—until the tide began to slowly but insistently tug us back toward shore.
Do It: Sandfly Island Loop
Length: 5 miles
Time: 2.5-4 hours; budget more if you want to hike the Sandfly Island Trail (0.9 mile) or stop for lunch on the beach. Time your departure for an hour or two after high tide for an easy return trip.
Rentals: Everglades Florida Adventures ($40 for an 4-hour rental)
Hurricane Damage
We did this trip before Hurricane Ian rocked southwest Florida last September; the disaster caused more than $50 billion in damage and killed nearly 150 people in the state. Due to storm damage, the Gulf Coast Visitor Center is currently closed. While the boat launch is still open, other services are limited, and no drinking water is available onsite.
Navigation
We called the Ten Thousand Islands a maze for a reason: Finding your way through the twisting passages that separate these islets can be challenging, and it's easy to get turned around. Bring a chart, compass, and the knowledge to use both of them, or plan on navigating by GPS. (Outside+ member? We used Gaia GPS's NOAA Nautical Charts, which members can access for free.)
Gear
Besides navigation equipment, sun protection is a must (for the sunniest days, our editor recommends the Bight Solstice Graphene Hoodie, $79, which features 55+ SPF protection and a roomy hood that's easy to fit over a cap.) Pack a few liters of water and a method of communicating in an emergency (a PLB or Spot device works, or an SOS-equipped iPhone 14). If you plan on hiking the Sandfly Island Trail, bring a waterproof daypack (we brought the Mustang Survival Highwater 22L), or a pack combined with a lightweight drybag (try Sealine's Blocker PurgeAir Dry Sacks).
Mangroves
The trees in the Ten Thousand Islands that we call mangroves are actually three different species: the red mangrove (Rhizophora mangle), black mangrove (Avicennia germinans), and white mangrove (Laguncularia racemosa). All three thrive in saline and brackish water thanks to evolutionary adaptations like roots that filter out salt. Besides providing habitat to hundreds of species of birds, fish, insects, and arachnids, mangrove forests protect coasts from erosion by stabilizing the ground on which they grow and providing a buffer against storm surges and wave action.