The Easiest 14ers in Colorado
If you're new to Colorado's 14ers or simply looking for a day hike into the clouds, try these (relatively) easy adventures on Colorado's tallest mountains.
Heading out the door? Read this article on the new Outside+ app available now on iOS devices for members! Download the app.
Let's get this out of the way: there are no easy 14,000-foot mountain hikes in Colorado. 
The 58 summits that are generally agreed to make up the collection of 14ers offer a range of difficulties. The least difficult of these peaks are walk-ups on well-established trails. Compared to the toughest 14ers, the "easy" ones don't require high levels of fitness, savvy route finding, or highly exposed scrambling. 
However, they can still be unpredictable. Lightning storms, icy conditions, or even ornery mountain goats can add unexpected challenges to any 14er. Assuming you are prudent enough to get an early start (on-trail by 6 AM), check the weather, and respect the wildlife, the following 14ers are some of the less demanding (but still satisfying) high altitude hikes. 
Before we start, a quick note on what are technically the easiest 14ers: the ones you can drive up. 
Mount Evans & Pikes Peak: The Drivable 14ers
Both of these venerable mountains have paved roads that offer access over 14,000 feet. Pikes Peak (14,110') has both a road and a cog-rail train to the top. Mount Evans (14,264') boasts the highest paved road in America, climbing to an elevation of 14,130'. From the high parking area, it's a humble 5- 10 minute hike and 134-foot vertical ascent to the true summit block

So, if we are technically accurate, Pikes is the easiest 14er as all you have to do is basically step out of your car once on top. Evans is the easiest hike when taken from the high parking lot. These outliers earn themselves an asterisk courtesy of their motor vehicle access—they are rightfully not what most hikers would consider a real hike. 
With that being said, onto the good stuff. 
The 10 Easiest 14ers in Colorado
Presented in no particular order. 
1. Mount Evans via Summit Lake
Summit Elevation: 14,264′
Starting Elevation: 12,850'
Elevation Gain: 2,000'
Class: 2
Distance: 5.5 miles round-trip
Biggest Challenges: Getting a parking spot at Summit Lake, slight scrambling near the summit
Wait, Mount Evans again? 
Yes! But this time the hike begins at 12,850' at the Summit Lake parking area, so it's not as simple as the walk from the highest parking lot. Hikers follow a well-worn trail up a mildly steep shoulder to a sub-summit of Mount Evans, 13,842' Mount Spalding. Past this, a rocky Class 2 trail curves along the west ridge roughly a mile to the summit—where you will likely see many of the people who did the shorter version of the hike from the summit parking area.

This hike is a great preview of the moderate 14ers, many of which add an additional thousand vertical feet of elevation and 2 – 3 more miles overall.  From the sparkling waters of Summit Lake to the spacious views along the ridge, this is a great outing that is well-known for its local population of mountain goats. 
Note: The Mount Evans scenic byway has implemented a reservation system for the road in 2021. You can find more information here. Single car fees are currently $15.00 for a 3-day pass (there is no one-day pass option).  
2. Mount Bierstadt
Summit Elevation: 14,060'
Starting Elevation: 11,670'
Elevation Gain: 2,850'
Class: 2
Distance: 7 miles round-trip
Biggest Challenges: Dealing with the crowds on weekends, the occasional moose encounter in the lower willows
Mount Bierstadt benefits from its easy-to-reach parking area at the top of the paved Guanella Pass. This trailhead is roughly an hour from the Denver metro area, so it can be a very busy place on summer weekends (get ready to stand, or hike, in line). In 2020, the Colorado Fourteeners Initiative estimated the traffic on the peak to be 38,204 hikers for the year. Aim for a mid-week hike in the summer if possible, or an autumn shoulder-season weekend in October to lessen the impact of crowds. 
So what makes this 14er so popular? Besides being a relatively short jaunt, the hike itself transforms from dense, creek-riddled willows at the base to wide-open, rocky slopes at the top. Along the way, wooden walkways guide hikers through the swampy lower stretches. Breaking through the treeline, the trail has a gritty but welcome presence as it ascends toward an accommodating summit. The path up threatens to narrow down to an exposed ridgeline, but never actually does—unless you have the gumption to traverse the famous Class 3 Sawtooth Ridge that connects Mount Bierstadt to the shoulder of Mount Evans. 
3. Quandary Peak
Summit Elevation: 14,265'
Starting Elevation: 10,850'
Elevation Gain: 3,450'
Class: 1
Distance: 6.7 miles round-trip
Biggest Challenges: Weekend crowds
Quandary Peak was the most climbed 14er in 2020 as measured by the Colorado Fourteeners Initiative. A whopping 50,000 hikers aimed for the summit in that year and the trend does not seem to be slowing down. This is partially due to its easy auto access from Breckenridge and the fact the standard route is mostly safe from avalanches, making it one of the very few 14ers that is relatively safe to hike year-round. 
The standard route via the East Ridge is basically a straight-up ramp to the top along a very broad ridgeline. There is no nuance or difficult route finding. Views of the Mosquito and Tenmile Ranges that surround the peak are outstanding. Summits in view en route include glacially smoothed peaks within the Breckenridge ski area (including Peak 10 and Peak 9) as well as the sharp, toothy summits of Fletcher Mountain and Drift Peak to the west.
Quandary is one of the best shoulder season hikes, especially in years where November snowfall has been minimal.

Note: Summit County is experimenting with a permit system starting July 30, 2021. This reservation system includes a shuttle system. 
4. Grays Peak / Grays and Torreys Peaks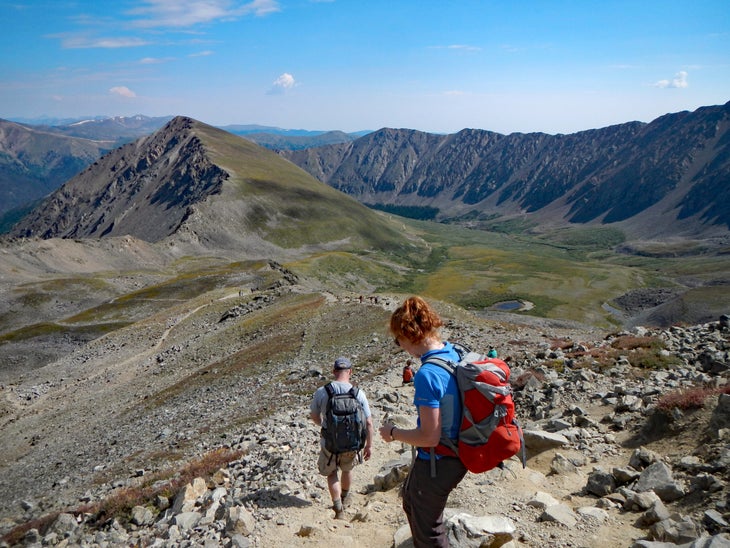 Summit Elevation: Grays 14,270' / Torreys 14,267'
Starting Elevation: 11,280'
Elevation Gain: 3,550'
Class: 2
Distance: 8 miles round-trip
Biggest Challenges: Crowds, driving up the dirt access road
Have you started to notice many popular 14ers are also the most crowded? The 14ers that are within 90 minutes of the Denver/Boulder/Golden area draw in the throngs, but fear not: less-crowded 14ers are coming later in the list. 
Grays and Torreys, however, are downright social. Humans and dogs alike flock to this popular duo. 
Hikers often climb the two together, courtesy of the wide saddle that joins the peaks. From the common saddle, each peak is a 30-40 minute walk up, so bagging two 14ers in a day is extremely doable. The hike starts in the old mining basin of Stevens Gulch and ruins can be seen from the trail. As the trail ascends, it gracefully emerges from treeline at the foot of the behemoth mountains. Switchbacks lead hikers first to Grays Peak, where the option to traverse to Torreys is irresistible for most.

Parking can be a pain, especially on summer weekends. As of 2021, there is not an official permit system but one has been discussed for years so, by the time you read this, it may be in place. Even mid-week, day hikers should try to score a parking spot by arriving at 5 AM or earlier. The drive up is a bumpy, rutted dirt road that is better-suited for SUVs than cars, though you'll likely see passenger sedans at the trailhead. 
5. Mount Antero
Summit Elevation: 14,269'
Starting Elevation: 12,000'
Elevation Gain: 2,400'
Class: 2
Distance: 7 miles round-trip
Biggest Challenges: Bashing up the 4×4 access road to the high parking area
Mount Antero is a bonafide hulk. This chunky 14er has a massive footprint, moothed and rounded by ancient glaciers. The upshot of millennia of erosion is that there's a mining road to within a quarter-mile of the summit. You'll need a good, high-clearance 4×4 to reach the high parking at 12,000′. Stock SUVs can get the job done if they have good tires and you're not afraid to scratch 'em up a little. The road is rutted, bumpy, and quite narrow in a few sections.  
The hike simply follows the remaining Jeep road up to the last quarter-mile, where an easy Class 2 walk across a rocky trail leads to the summit. Views from the top look out on the Sawatch Range, home of the highest peaks in Colorado. Small red garnets can be found in the open on and around the summit. It's a simple summit to be sure, but what it lacks in charm it makes up for with spacious vistas. 
6. San Luis Peak
Summit Elevation: 14,014'
Starting Elevation: 10,500'
Elevation Gain: 3,600'
Class: 1
Distance: 13.5 miles round-trip
Biggest Challenges: Remote access road, long hike in
Don't let the half-marathon distance intimidate you! San Luis Peak is a numerically-pleasing 14,014' mountain that is a true Class 1 hike through some of the most beautiful alpine terrain in Colorado. Lush fields of brilliant wildflowers line the lower basin, where streams trickle down mountainsides and merge into the mellow Stewart Creek. The entire ascent is a gradual climb, which accounts for the long mileage. The trail eventually reaches the rocky shoulder of San Luis, adorned with tufts of crimson grass, before topping out on the flat summit. 
Perhaps the hardest part of this adventure is the long drive to the trailhead along semi-signed dirt roads. Guidebooks and sites like 14ers.com can help lead the way. It's not terribly difficult to reach, but these roads are best navigated in daylight. 
7. Culebra Peak
Summit Elevation: 14,047'
Starting Elevation: 11,650'
Elevation Gain: 2,700'
Class: 2
Distance: 5 miles round-trip
Biggest Challenges: Ponying up $150 per person for access
Culebra rarely tops any "favorite 14er" lists, more so for bureaucratic reasons than for anything aesthetic about the mountain. As a hike, Culebra is a straightforward, pretty mountain that often stays greener than other 14ers due to its southern location in the Sangre de Cristo mountains. And fitting for this list, it's an easy mountain, with no technical terrain and gentle ridges on its brief 2.5 mile walk to the top. 
The catch when hiking Culebra is the $150 per-person fee required to hike it. Cielo Vista Ranch privately owns the land Hikers will need to visit their website to set up a reservation and pay up. You can read about the sordid and occasionally frustrating history of the ranch here. Despite decades of effort from Colorado public lands groups to acquire the land for public use, Culebra Peak has remained privately held, passing hands between Texas millionaires for the past 50 years. As of 2021, that is still the case. 
8. Redcloud Peak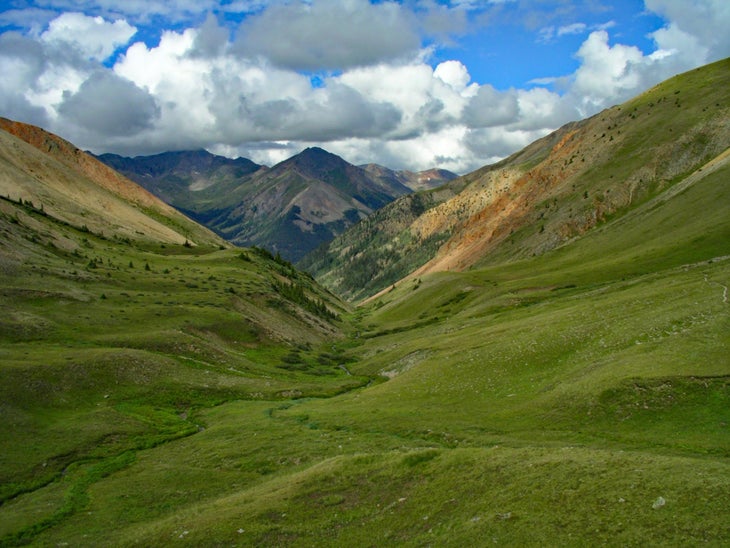 Summit Elevation: 14,034'
Starting Elevation: 10,400'
Elevation Gain: 3,700'
Class: 2
Distance: 9 miles round-trip
Biggest Challenges: Sustained elevation gain
Redcloud is often paired with its neighbor, the barely-a-14er Sunshine Peak (14,001'). But even as a single-summit out-and-back, it's a pleasant hike, highlighted by the namesake red rock that adorns its upper slopes. The amphitheater that precedes the northeast ridge is an amazing spectacle, crowned with a curved ridgeline dented with the timeless flow of numerous small creeks. 
The red sand and rock high on the peak is unlike any other 14er, especially in the morning sun.  The switchbacking trail to the summit is smooth and solid, especially once above treeline. As a bonus, views high on the ridge offer excellent perspectives of neighboring San Juan Range peaks, all without the wicked exposure that sometimes accompanies hard-earned overlooks. 
9. Mount Sherman
Summit Elevation: 14,036'
Starting Elevation: 12,000'
Elevation Gain: 2,100'
Class: 2
Distance: 5.2 miles round-trip
Biggest Challenges: Moderate crowds on weekends
Mount Sherman is the perfect quick-strike 14er via its standard Southwest Ridge route. It has a high elevation trailhead that is accessible by stock SUVs or sport utility cars like Subaru Outbacks. From there, a well-traveled trail ascends a direct, logical path to the summit. Western views from the summit ridge look upon Colorado's two highest peaks, Mount Elbert and Mount Massive.

There are many intact mining ruins in the area, including the Leavick Site, a large, decaying mill structure en route to the trailhead. Because the hike is above treeline, you can spot other mining buildings and prospecting caves  throughout the day. Sherman is a classic first 14er for many hikers. Even though it draws a modest amount of traffic, it's not nearly as crowded as the popular Front Range 14ers. 
10. Mount Elbert
Summit Elevation: 14,433'
Starting Elevation: 10,040'
Elevation Gain: 4,640'
Class: 2
Distance: 9.5 miles round-trip
Biggest Challenges: Stiff elevation gain, especially at the start of the hike
Mount Elbert is arguably the hardest of the "easy" 14ers as a result of its big-time elevation gain. It's the highest summit in the Rocky Mountains—and by default, the highest peak in Colorado. As expected, views are impressive in all directions. Notable is the shimmering, dark water of the Twin Lakes far below the peak. 
Much of the steep hiking is over early while hikers are still below treeline, after which it yields to a gradual ascent along the broad Northeast Ridge. The trail is very easy to follow, there is no significant exposure, and there is only one brief section of simple scrambling near the summit itself. 14er forums often debate if the route is Class 1 or Class 2, but given the rocky terrain near the final push, Class 2 seems fair, even if the majority of the route is Class 1. Whatever the rating, this is a big but straightforward hike that will put you on top of the world. Well, at least on top of Colorado. 
Hiking Colorado's Easiest 14ers—Mileage May Vary
As with any subjective list, several other peaks could have fit the criteria for "easiest". Handies Peak, Humboldt Peak, and Huron Peak could have nudged their way in. And keep in mind these suggestions are for the standard routes on these 14ers.

Note that there are always tougher ways up these mountains for those looking for a challenge—for example, Quandary Peak's thrilling Class 3 west ridge. 
But for those just getting going on the 14ers game or hikers looking for a less-demanding day hike, this list is a solid start. For any high altitude hike in Colorado, keep in mind these tips:
Start early. 5 AM on the trail is a good rule, regardless of the weather forecast.

Check the weather and always keep an eye on the sky. Being off summits by 11:30 AM is a good bit of advice. Summer storms tend to build around 1 PM and hit most afternoons between 2 PM – 4 PM.

Bring sun protection and don't forget to use it!

Bring adequate food and water. 48 oz. per person of water is a good rule.

Altitude sickness is a real thing. Being a little out of breath—especially over 13,000'—is normal. Pay attention to nagging headaches, confusion, and labored breathing that doesn't recover even when resting. If you feel bad, head down. Altitude can be an X factor on any 14er, even the "easy" ones.

Finally, remember to leave no trace on these amazing mountains. This includes picking up trash that isn't yours, especially on the crowded peaks.