The Complete Guide to Hiking the Colorado Trail
The Centennial State's namesake route offers a tour of some of the country's best high alpine scenery in one monthlong hike. We break down the prep, practice, and travel you'll need to bag it.
Heading out the door? Read this article on the new Outside+ app available now on iOS devices for members! Download the app.
For 485 miles between Denver and Durango, the Colorado Trail (CT) winds over rocky, 13,000-foot peaks and passes, through wildflower-filled meadows, in and out of dusty mining towns, and past snow-clad vistas as it draws a line through Colorado's Rocky Mountains. The route links eight groups of mountains, six National Forests, and six Wilderness Areas in one of the most coveted high-alpine areas in the country.
But taking on this classic middle-distance long trail is no small feat: Due to its rugged nature, the Colorado Trail requires almost as much planning and prep as longer hikes like the Continental Divide Trail (which shares over 200 miles of its route with the Colorado Trail) or the Appalachian Trail.
This step-by-step guide to the Colorado Trail will help you get ready for this month-long trek from start to finish.
History of the Colorado Trail
A relative newcomer to the nation's long trail repertoire, the Colorado Trail was created in the 1970s and 80s as a cooperative project between the U.S. Forest Service and the Colorado Mountain Trails Association. Workers pounded in "golden spikes" at Molas Pass, Camp Hale, and Mt. Princeton to symbolize the completion of the trail in September of 1987.
When Should I Hike the Colorado Trail?
The Colorado Trail's average elevation is over 10,000 feet, which makes the season to take on the route relatively narrow. Before mid-June, the higher elevations and passes can still be thick with snow, and after late September and early October, there's a very real risk of experiencing a snowstorm at the same elevations.
For those reasons, most hike the trail over the summer, taking advantage of longer daylight hours, warmer temperatures, and readily available water. Others will attempt the route later, closer to the fall, to take advantage of smaller crowds, less lightning danger, cooler weather, fluorescent aspen trees, and other fall foliage. Much of this, however, depends on the previous winter, and getting a lucky weather window will always be part of the long trail experience.
How Long Does it Take to Thru-Hike the Colorado Trail from Start to Finish?
If you're a reasonably experienced hiker, expect to spend between four to six weeks traveling between Denver and Durango. However long you take, plan on finishing before mid-September.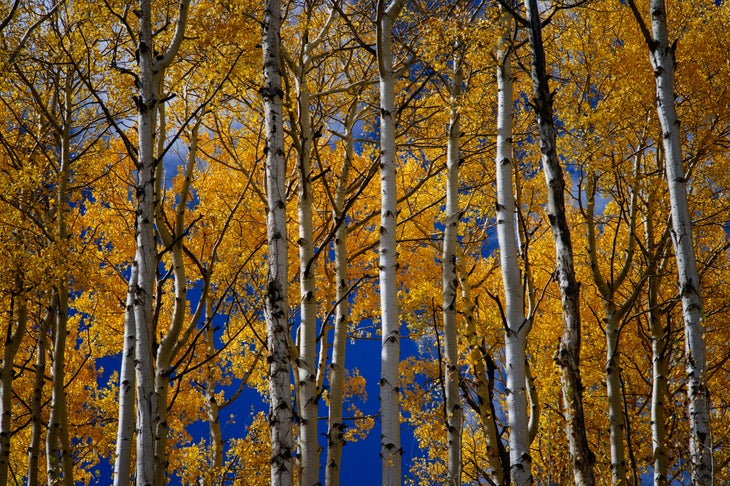 Which Direction Should I Hike the Colorado Trail?
Hikers have the option of starting from either either Denver or Durango. The trail is more difficult starting in Durango with the high elevations of the San Juan Mountains challenging hikers from the beginning. The relatively mild start from Denver entices most hikers to head southwest, easing into the difficulty. The San Juans are also a more scenic way to finish than by coming through Waterton Canyon outside Denver. However, ending in Denver makes it easier to travel home, and later in the season, hikers can extend the good weather by traveling northeast.
Preparing to Hike the Colorado Trail
What Gear Do I Need on the Colorado Trail?
Generally, your typical lightweight backpacking setup will get the job done on the Colorado Trail. If you've never hiked a long trail before, start with our list of the best gear for hiking the Continental Divide Trail, and pay special attention to the following equipment:
A guidebook or map. The official Colorado Trail guidebook is a good place to start. Consider also carrying the National Geographic maps for the north and south sections of the trail.
Flashlight or headlamp.
Sun protection. With the trail's high elevation, hikers can burn in a matter of minutes. Pack plenty of sunscreen and/or UV-protective clothing and a sun hat. Don't forget sunglasses!
A lightweight puffy for cold alpine nights.
A wind shirt or breathable, light shell to protect you from the breeze when it's warm out.
Raingear for summer storms.
What's the Weather Like on the Colorado Trail?
In the Rocky Mountains, the temperature swings when the sun goes down, and the weather can change at the drop of a hat. The Colorado Trail Foundation tells hikers to expect temperatures from 80 to 30 Fahrenheit—potentially lower if you're hiking at the tail end of the season. Summer thunderstorms are frequent; if you see lightning, descend and seek shelter.
Where Can I Find Water on the Colorado Trail?
Hikers on the CT get their water from mountain streams. With a few exceptions, sources are usually easy to find. The longest dry stretch on the trail is on Segments 17-19, where hikers can go as far as 40 miles encountering little or no water.
Do I Need a Permit to Hike the Colorado Trail?
In certain wilderness areas, you'll be required to fill out a free self-issue permit before entry, but you don't have to worry about fighting a quota to secure any sought-after permits for the trail before you hit it.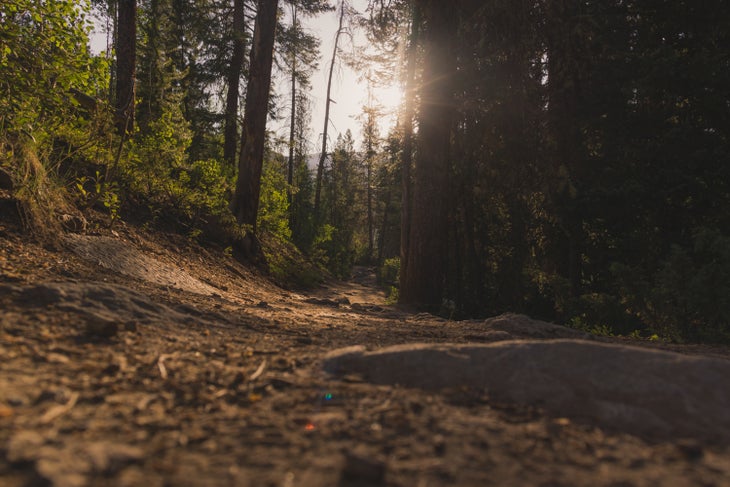 How Much Food Should I Pack, and Where Can I Resupply?
It would be incredibly difficult to carry a full month's worth of food at a time, so resupplies along the route are vital. They allow you to carry just enough food for a few days at a time before getting off the trail and heading into town to pick up more. Most towns along the trail have everything a hiker could need, but for anyone in a rush (or anyone negotiating specific dietary needs), shipping packages to various post offices along the way is another viable option.
Most hikers don't stop in between each section, so for those buying as they go, there are a handful of typical resupply locations along the trail:
Jefferson/Fairplay (72 trail miles from Denver)
Breckenridge/Frisco (105 miles)
Leadville (143 miles)
Twin Lakes (177 miles)
Buena Vista (200 miles)
Princeton Hot Springs (230 miles)
Salida (248 miles)
Creede (343 miles)
Silverton (410 miles, and 75 from Durango)
In many cases, hitchhiking is the best and quickest way to get to many of these towns to resupply. Thankfully, locals all along the route are familiar and used to lending a hand to thru-hikers. (As always, be safe and use your best judgment.)
The Route
The Colorado Trail is broken up into 28 segments, most of which are divided by roads and other access points, allowing hikers who can't take a whole month off to chip away slowly at the full route by section hiking. They're also convenient bail-out points should something go wrong (i.e., injury or bad weather), and determine where hikers can resupply.
| | | | |
| --- | --- | --- | --- |
| Segment | Locations | Mileage | Elevation Gain |
| Segment 1 | Waterton Canyon Trailhead to South Platte River Trailhead | 16.8 miles | 2,830 feet |
| Segment 2 | South Platte River Trailhead to Little Scraggy Trailhead | 11.5 miles | 2,482 feet |
| Segment 3 | Little Scraggy Trailhead to FS-560 (Wellington Lake Road) Trailhead | 12.2 miles | 1,975 feet |
| Segment 4 | FS-560 (Wellington Lake Road) Trailhead to Long Gulch | 16.6 miles | 3,271 feet |
| Segment 5 | Long Gulch to Kenosha Pass | 14.6 miles | 1,858 feet |
| Segment 6 | Kenosha Pass to Goldhill Trailhead | 32.9 miles | 5,196 feet |
| Segment 7 | Goldhill Trailhead to Copper Mountain | 12.8 miles | 3,674 feet |
| Segment 8 | Copper Mountain to Tennessee Pass Trailhead | 25.4 miles | 4,417 feet |
| Segment 9 | Tennessee Pass Trailhead to Timberline Lake Trailhead | 13.6 miles | 2,627 feet |
| Segment 10 | Timberline Lake Trailhead to Mount Massive Trailhead | 13.6 miles | 2,627 feet |
| Segment 11 | Mount Massive Trailhead to Clear Creek Road | 21.5 miles | 2,910 feet |
| Segment 12 | Clear Creek Road to Silver Creek Trailhead | 18.5 miles | 4,866 feet |
| Segment 13 | Silver Creek Trailhead to Chalk Creek Trailhead | 22.8 miles | 4,296 feet |
| Segment 14 | Chalk Creek Trailhead to US-50 | 20.4 miles | 4,007 feet |
| Segment 15 | US-50 to Marshall Pass Trailhead | 14.3 miles | 3,576 feet |
| Segment 16 | Marshall Pass Trailhead to Sargents Mesa | 15.2 miles | 3,184 feet |
| Segment 17 | Sargents Mesa to Colorado Hwy-114 | 20.4 miles | 2,810 feet |
| Segment 18 | Colorado Hwy-114 to Saguache Park Road | 13.8 miles | 1,447 feet |
| Segment 19 | Saguache Park Road to Eddiesville Trailhead | 13.7 miles | 2,239 feet |
| Segment 20 | Eddiesville Trailhead to San Luis Pass | 12.7 miles | 3,104 feet |
| Segment 21 | San Luis Pass to Spring Creek Pass Trailhead | 12.7 miles | 3,104 feet |
| Segment 22 | Spring Creek Pass Trailhead to Carson Saddle | 17.2 miles | 3,829 feet |
| Segment 23 | Carson Saddle to Stony Pass Trailhead | 15.9 miles | 3,515 feet |
| Segment 24 | Stony Pass Trailhead to Molas Pass | 17.2 miles | 3,475 feet |
| Segment 25 | Molas Pass to Bolam Pass Road | 20.9 miles | 3,779 feet |
| Segment 26 | Bolam Pass Road to Hotel Draw Road | 10.9 miles | 1,827 feet |
| Segment 27 | Hotel Draw Road to Kennebec Trailhead | 20.6 miles | 4,186 feet |
| Segment 28 | Kennebec Trailhead to Junction Creek Trailhead | 21.5 miles | 1,897 feet |
| | | | |
| Collegiate West 1 | Twin Lakes (near the middle of Section 11) to Sheep Gulch | 9.8 miles | 3,606 feet |
| Collegiate West 2 | Sheep Gulch to Cottonwood Pass Trailhead | 25.9 miles | 6,122 feet |
| Collegiate West 3 | Cottonwood Pass Trailhead to Tincup Pass Road | 15.9 miles | 3,532 feet |
| Collegiate West 4 | Tincup Pass Road to Boss Lake Trailhead | 15.9 miles | 2,750 feet |
| Collegiate West 5 | Boss LakeTrailhead to Ridge Above South Fooses Creek (rejoins near the middle of Section 15) | 15.7 miles | 3,750 feet |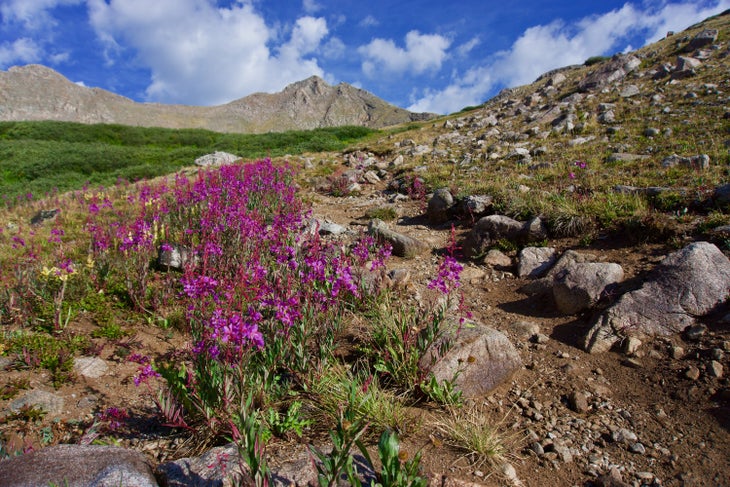 The Collegiate Options
Since 2013, the trail has forked into two possible routes through the Collegiate Mountains between Twin Lakes, CO, and Monarch Pass. Both come in at around 80 miles. The newer Collegiates West option follows sections of the Continental Divide Trail, diving deep into the mountains for a more scenic, rugged, and remote hike. The original eastern option skirts the edge of the range, staying lower and closer to civilization.
The Collegiates East option is preferable for anyone who wants to do less climbing (the western route has over 2,000 feet more of it, and its average elevation is much higher), face less exposure, and have fewer challenges when the weather is questionable.
Peakbagging on the Colorado Trail
The 14,000-foot peaks that surround the Colorado Trail are irresistible for many hikers, and once you've seen them, it's easy to understand why. Colorado has 58 "Fourteeners," many of which sit in the mountain ranges that the CT winds through.
Mount Elbert (Colorado's high point) and Mount Massive (number two behind Elbert) are both near the Leadville/Twin Lakes area and are only side hikes from the CT, making them both popular detours, separate or together.
San Luis Peak is 1.5 miles from the top of San Luis Pass, making it another easy offshoot. Mounts Harvard, Columbia, Yale, and Princeton are the dominant peaks of the Collegiate Range and are popular extensions for those hiking the Collegiates West leg of the CT.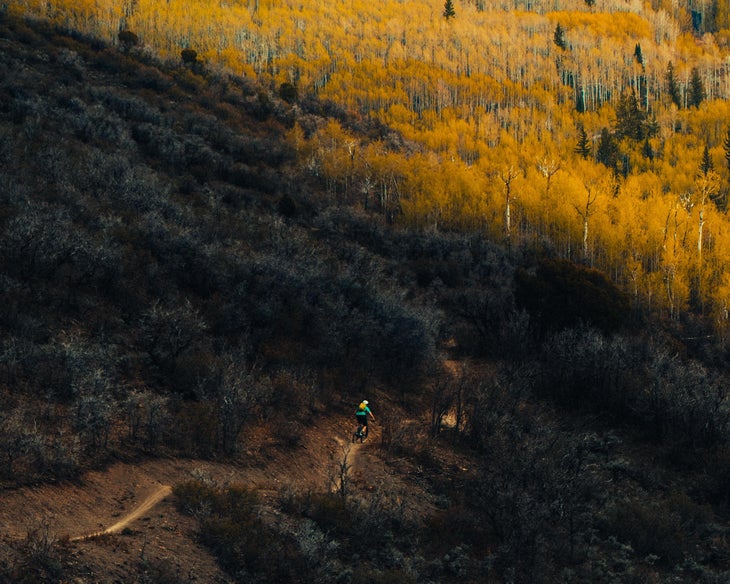 Can I Mountain Bike the Colorado Trail?
While mountain bikes aren't allowed in the Colorado Trail's wilderness areas, a series of detours from the official route make a Denver to Durango ride possible. The 539-mile bike route can take riders anywhere between 8 to 18 days—far quicker than the boot-sole method.
What's the Fastest Thru-Hike of the Colorado Trail?
Ultrarunner Bryan Williams set the current Fastest Known Time for the Colorado Trail in 2017, finishing the route in eight days and 30 minutes with the help of a support crew. He ran between 54 and 89 miles a day.
Can I Hike the Colorado Trail With my Dog?
Dogs are allowed along most of the Colorado Trail, with some exceptions. They are not allowed in Waterton Canyon from the terminus to about trail mile 6. Wilderness areas may also impose their own rules on dogs. The Colorado Trail Foundation recommends that hikers check with the national forest and district offices that manage the areas where they'll be traveling.