15 Ledge Hikes That Will Make Your Palms Sweat
Get on a high ledge, a crumbly cliff, or a knife-edge ridge and your body will recognize the feeling before your brain catches on.
Heading out the door? Read this article on the new Outside+ app available now on iOS devices for members! Download the app.
Pumping heart, sweaty palms, weak knees—they're telling you that, no matter how strong you think you are, you will never win a fight against gravity. But even when your brain balks, hikers know that the seam between safety and danger is hallowed ground, the place where limits are found—and exceeded. In these 15 places, the trail narrows to the exact size of that seam, putting you face to face with your own fears and some of the country's most mind-bending views. Here, the risk is worth the reward.
Nelson Rocks, Nelson Gap, West Virginia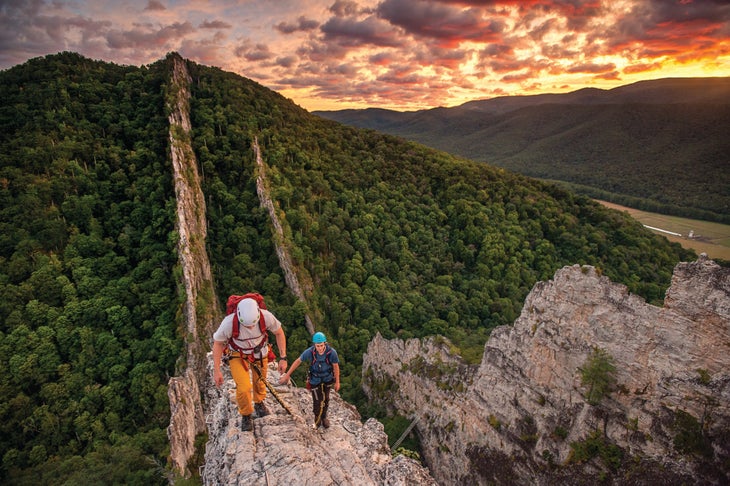 If you're comfortable climbing a ladder up a skyscraper, we've got a trip for you. The Nelson Rocks via ferrata system takes you up and across two plates of Tuscarora sandstone, each rising from the forest floor like spines on the back of a dragon. It's privately operated, so get your gear and guide from NROCKS (see below), then clip in and start chipping away at the 1,085 feet of total gain (it takes most people four to five hours). After scaling the first crag, cross a suspension bridge that hovers 150 feet off the ground, then top out on the second knob on the edge of a 2-foot-wide fin, 300 feet above the canopy. Beneath your boots, hardwood forest (turning in mid-October) spiderwebs out in every direction, running past naked rock and state highpoint Spruce Knob before mellowing out in the grassy hills and farmlands.
Trailhead NROCKS Outdoor Adventures Welcome Center (38.7004, -79.4721) Season Year-round, but fall is best for cool temps and foliage. Guide Required (starting at $80/person) Contact
Distance 1 mile (point to point)
Time 1 day
Fear Factor 4 out of 5
Knife Edge, Baxter State Park, Maine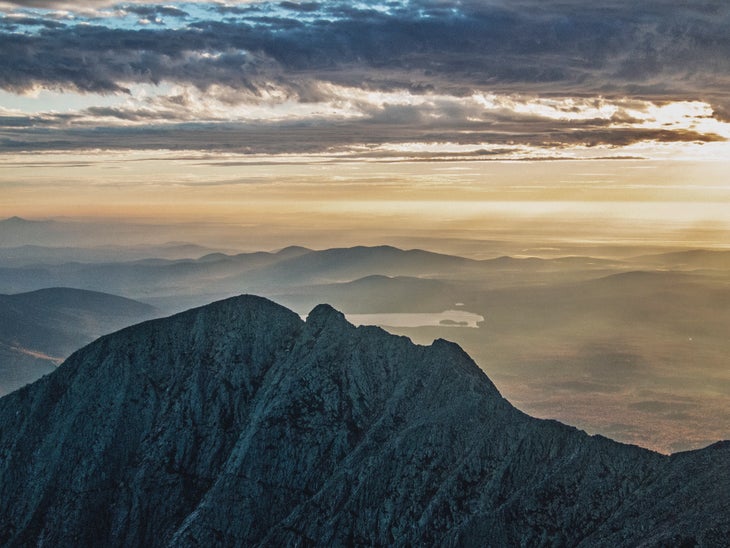 Six months, 2,190 miles, nearly half a million feet of elevation change. By the time they reach the Appalachian Trail's northern terminus, thru-hikers have seen it all. Or so they think. They must still ascend Katahdin, and Katahdin is no ordinary peak. The state highpoint boasts more than 4,200 feet of prominence, its gray massif rising above the forested lowlands like a great wall.
Though you don't need to cross the Knife Edge to summit 5,267-foot Katahdin, even thru-hikers can't pass up the opportunity, often weaving it into their itineraries. At its narrowest, the mile-long arête between Katahdin's west and east peaks squeezes down to less than 2 feet wide with 2,000-foot drops. Make it the centerpiece of an 8.3-mile overnight that side-steps parking-lot crowds and cashes in on great camping at Chimney Pond (reservation required). From Roaring Brook, hop on the Chimney Pond Trail, trekking 3.3 miles to a campsite below Katahdin's sheer north face. Next day, head up the mountain on the boulder-strewn Cathedral Trail, summiting Baxter Peak near mile 3.9. Next comes the Knife Edge, where, if you can tear your eyes from your feet, the views over the glacier-carved cirque and primeval forest below are worth the vertigo. From Pamola Peak, head back to the trailhead on the mellower Helon Taylor Trail.
Trailhead Roaring Brook (45.9197, -68.8574) Season May to mid-October Permit None Contact
Distance 8.3 miles (loop)
Time 2 days
Fear Factor 4 out of 5
Clouds Rest Arête, Yosemite National Park, California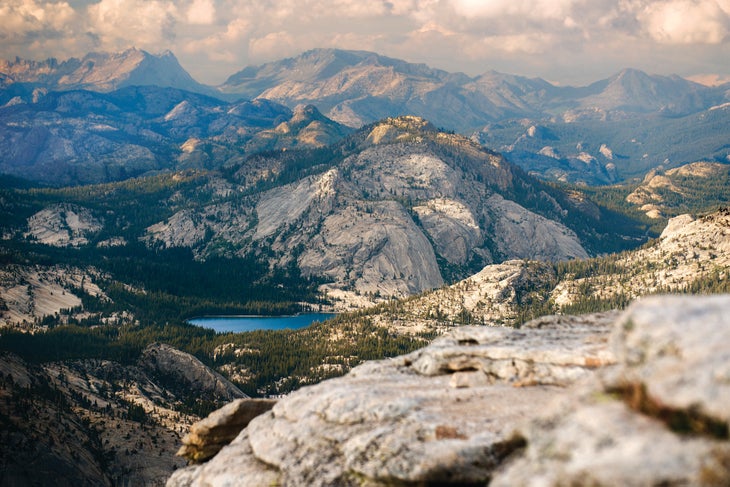 Atop 9,926-foot Clouds Rest, you won't be on top of the world, but with a sea of granite, evergreens, and cobalt water in every direction, you'll feel like it. Much like the route up its better-known neighbor, the climb up this dome is spicy, narrowing to 3 feet wide with 3,000-foot drop-offs. But unlike Half Dome, you don't need to wear gloves to manage cables or join the masses to reach the top. Since you do need to plan well ahead to land a wilderness permit to camp, your best bet for a last-minute climb is a burly, 12.4-mile dayhike. From Tenaya Lake, wander through stream-threaded forest to Clouds Rest's northeast ridge, where you earn your first view down Tenaya Canyon to Yosemite Valley, more than a vertical mile below. But stay focused: The real prize is the arête, where you'll have a private showing of El Capitan, North Dome, Half Dome—and the string of people lined up its northwest flank.
Trailhead Sunrise Lakes (37.8258, -119.4701) Season June to November Permit None (to dayhike) Contact
Distance 12.4 miles (out and back)
Time 1 day
Fear Factor 3 out of 5
Goat Trail, Buffalo National River, Arkansas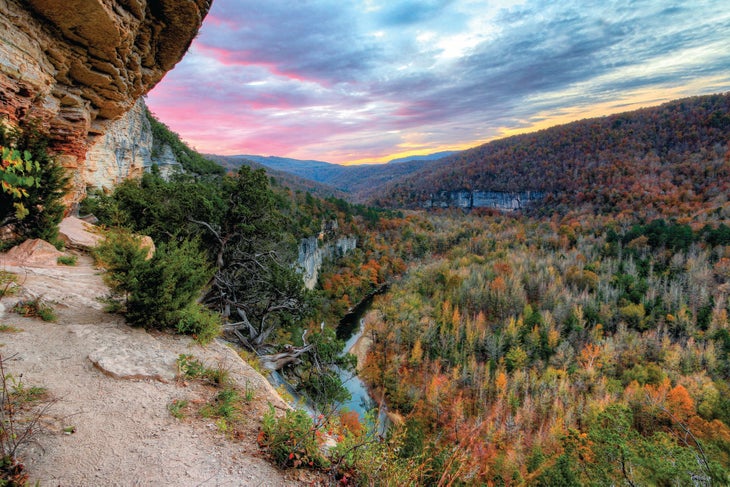 At 550 feet tall, Big Bluff is one of the tallest natural features between the Appalachian Mountains and the Rocky Mountains, serving as a sort of exclamation point in Middle America. The Goat Trail runs along its face, following a 5-foot-wide lip in the rock, hundreds of feet above the Buffalo River. Get there near mile 2.5 of a 9.7-mile loop. Follow the Centerpoint Trail east for 2.5 easy miles to the Goat Trail, where you'll crawl through a natural tunnel (an "eye" in the rock) before continuing onto the cliffy bit, which soars 350 feet above a perfect U-bend in the Buffalo. Glance down at the oaks and hickories (which turn in October), then continue negotiating the gnarled, old-growth junipers sprouting out of the cliff face to the Old River Trail at mile 3.2. Follow it across the Buffalo (camp here with a view of Big Bluff if you overnight) and west to the Chimney Rock Trail, which wends north to the trailhead.
Trailhead Centerpoint (36.0640, -93.3604) Season Year-round, but September to November is best for cool temps and fall foliage. Permit None Contact
Distance 9.7 miles (loop)
Time 2 days
Fear Factor 2 out of 5
Knife Edge, Goat Rocks Wilderness, Washington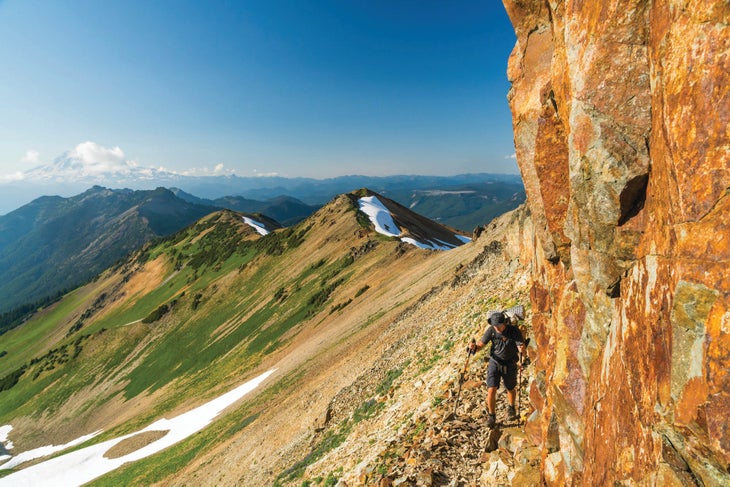 The section of the Pacific Crest Trail that teeters along Old Snowy in Washington's Goat Rocks often gets top billing as the most dangerous stretch of the entire 2,650-mile footpath. Blame the Knife Edge, where the trail follows a ridgeline that narrows to shoulder width as it dances above glaciers for half a mile. Crumbly, volcanic rock makes for sketchy footing, while patches of snow sometimes linger into August—but look up from your feet to enjoy one of the Pacific Northwest's finest tableaus, including Mts. Rainier, Adams, St. Helens, and Hood.
There are infinite ways to build an itinerary around the Knife Edge in the trail-happy southern Cascades, but for easy logistics and a route that packs in the highlights, try this 18.8-mile, three-day adventure. From the Snowgrass trailhead, link the Goat Ridge and Lily Basin Trails for 6 miles to Goat Lake, a turquoise tarn with camping beneath granite cliffs in the shadow of Old Snowy. Next day, continue 2 miles on the main trail to a junction at Snowgrass Flats; head downhill to scout out a campsite along the Bypass Trail and load up a summit pack. With only the essentials on board, continue back up the southwest flank of Old Snowy on the PCT, topping out on the ridge below the summit near mile 11 (bag it on an optional .2-mile scramble). From there, head north on the hikers-only branch of the PCT: the Knife Edge, where you can empty the book identifying volcanoes. Take a well-earned breather by looping back on the main PCT, landing back at Snowgrass Flats near mile 14.5. Next day, cruise 4.3 miles back to the trailhead on the Snowgrass Trail.
Trailhead Snowgrass (46.4642, -121.5191) Season August to September for best conditions Permit Required (free); self-issue at trailhead. Contact
Distance 18.8 miles (loop)
Time 3 days
Fear Factor 3 out of 5
Kelso Ridge, Arapaho National Forest, Colorado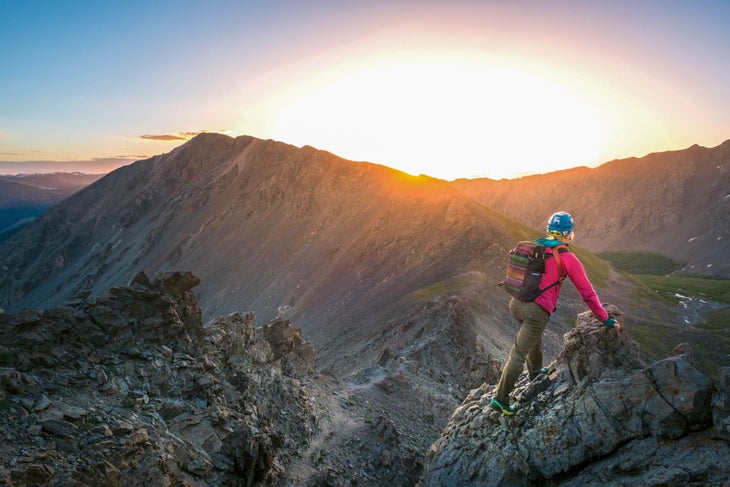 There's something strangely satisfying about the exposure on Kelso Ridge. After all, connecting two 14,000-foot peaks shouldn't be a gimme. Easier said at the trailhead, of course, because once you're balancing on a foot-wide piece of the Continental Divide and probing for handholds, you just might curse your decision to double-dip. To bag twin Fourteeners Grays and Torreys, tick off the classic, 7.5-mile lollipop-loop from the Grays Peak trailhead. It's popular, even by Colorado standards, so consider going midweek and getting a jump on the morning (dispersed camp in the woods near the trailhead).
First, take the Continental Divide Trail 2 miles south to a junction, the point of reckoning. The standard walk-up goes straight, hitting 14,270-foot Grays on a, well, boring out-and-back. But that's not why you're here: Veer west (hiker's right) to tackle the 3.5-mile loop up both Fourteeners by ascending Kelso Ridge (you do not want to descend it), a .5-mile-long arête leading to 14,267-foot Torreys Peak. By the book, it's easy class 3, but the drop-off to the west plummets 3,000 feet to Grizzly Gulch. To the east isn't much better, spiraling 1,000 feet down to the walk-up trail you passed on, a thin thread barely discernible from this perch. On Torreys, kiss solid ground and chill out with a view over the crest of the Rockies before taking the connector to bag 14,270-foot Grays, a mile away. Then it's smooth sailing: Descend via the Continental Divide Trail.
Trailhead Grays Peak (39.6609, -105.7846) Season July to October Permit None Contact 
Distance 7.5 miles (lollipop-loop)
Time 1 day
Fear Factor 4 out of 5
Telluride Via Ferrata, Uncompahgre National Forest, Colorado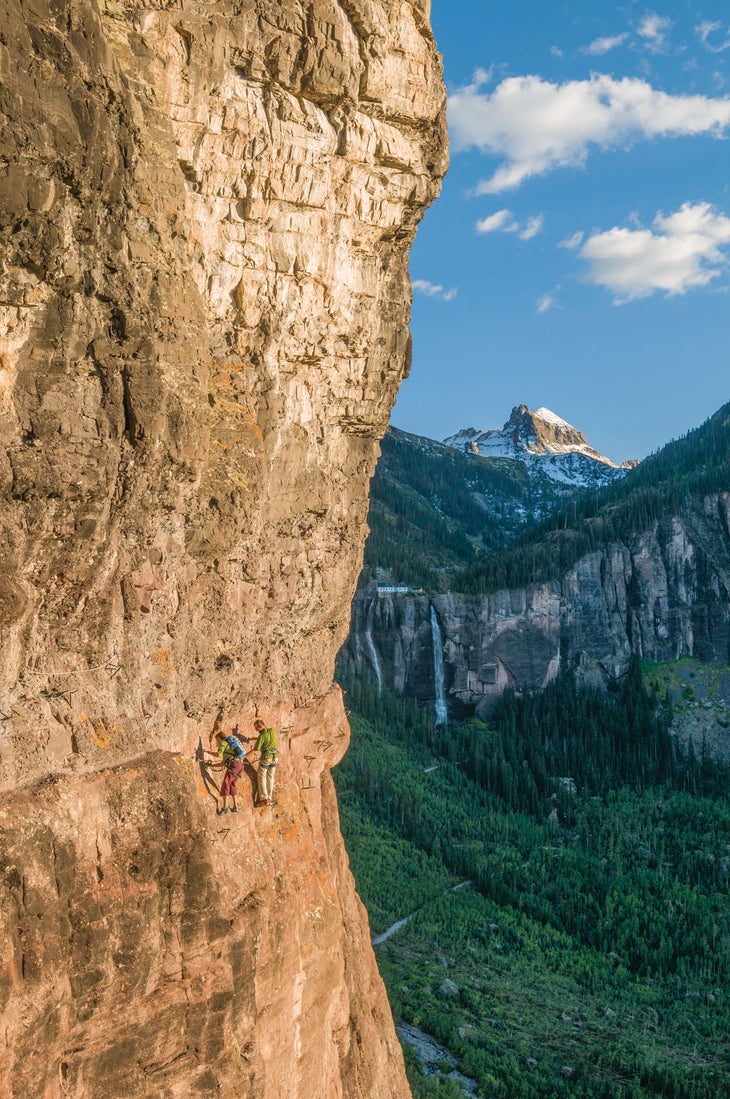 Unlike most of the via ferratas in Europe, Telluride's "iron way" is a horizontal traverse, moving along the top of Pipeline Wall, a popular climbing crag in a box canyon below 12,785-foot Ajax Peak. And unlike the majority of via ferratas in the United States, this one is on public land, free of charge. It was built by a local metal worker and climber, Chuck Kroger, who took it upon himself to install iron rungs into the rock in 2006. (His pals finished the route after he died of cancer a year later.) It remained underground and illegal for a decade, until the volunteer Telluride Mountain Club legitimized it and opened it to the public.
Follow the dirt road (FR 648) to Bridal Veil Falls, park at the first switchback after the cascade, and hit the unmarked trail. The adrenaline starts pumping soon after, as you begin the 1.5-mile traverse on a foot-wide ledge, then intensifies: Near mile .7, transition to the "Main Event," a 100-foot stretch with no ledge at all, just iron rungs mounted across the rock face, 680 feet above the valley floor. Views of the canyon, the town of Telluride, and 365-foot-tall Bridal Veil Falls don't get more dramatic than when you're clinging to the side of a cliff. (Circle back on the access trail to return to your car.)
Trailhead Bridal Veil Falls (37.9222, -107.7657) Season June to October Permit None Contact
Distance 2.3 miles (loop)
Time 1 day
Fear Factor 5 out of 5
Grandfather Trail, Grandfather Mountain State Park, North Carolina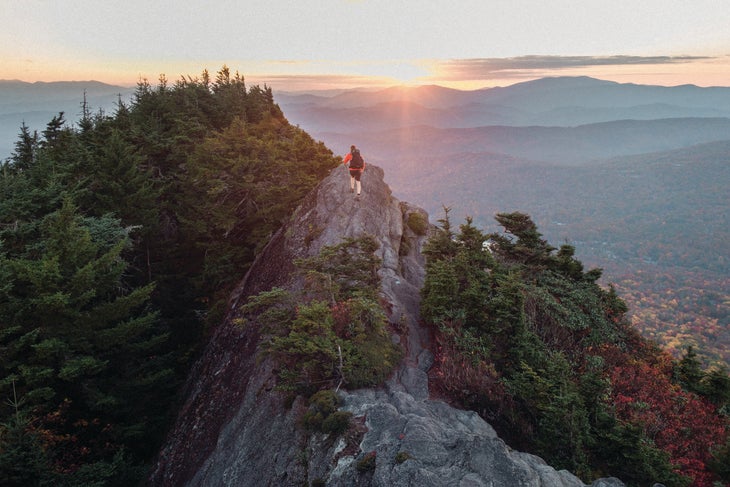 When the first settler scaled MacRae Peak in 1794, he thought he'd high-pointed the New World. We know better now, but you can see what he meant when you power through the 2-mile lollipop-loop up this 5,845-footer. Though there isn't one standalone scary bit that you have to work up to, it's an accumulation of little moves and moments that give the route its kick—and make it feel higher than it is. Climb ladders and negotiate some hand-over-hand moves, passing squeezy cliff walls along the way to the granite summit fin, where you can see fall's shades of red and orange spilled across the valleys that link the tallest mountains east of the Mississippi. Loop back around on the Underwood Trail for new scenery, merging with the Grandfather Trail near mile 1.7.
Trailhead Grandfather Trail (36.0960, -81.8319) Season May to October Permit Required (free); self-issue at trailhead. Contact
Distance 2 miles (lollipop-loop)
Time 1 day
Fear Factor 2 out of 5
Precipice Trail, Acadia National Park, Maine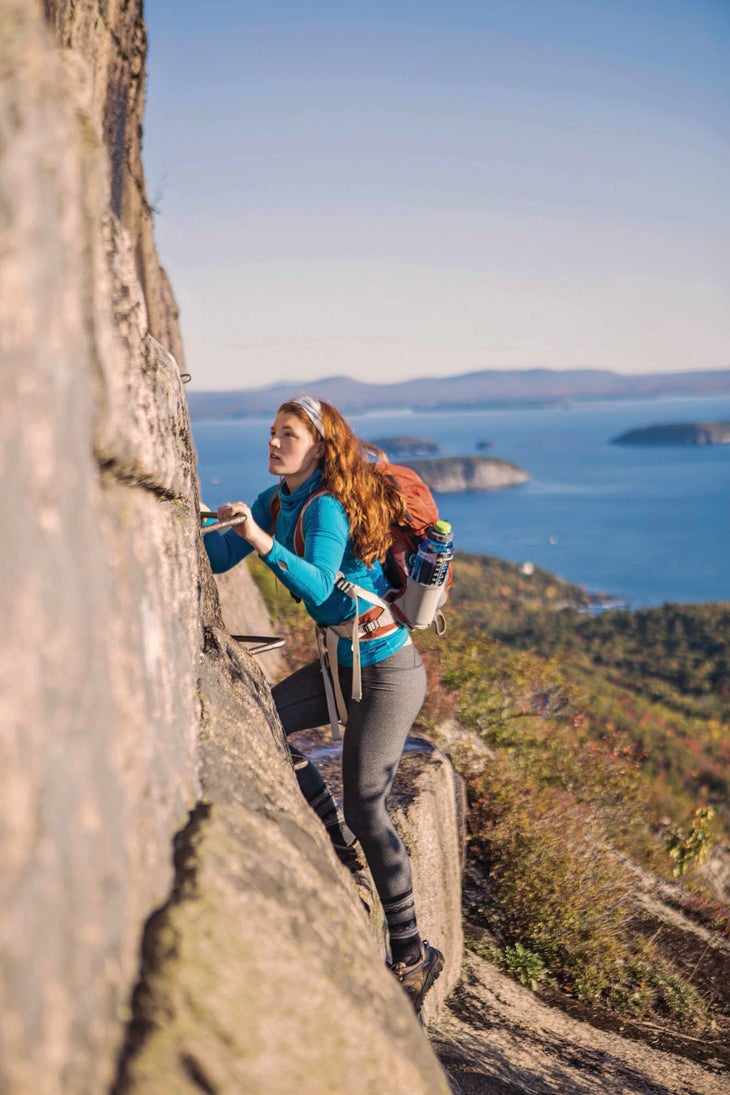 Mt. Desert Island might be best known for its coastline, but the Precipice Trail gives visitors reason to turn their gaze toward the sky, as it climbs the east face of 1,058-foot Champlain Mountain in dramatic fashion. Using a series of fixed ladders and aids, the nontechnical trail ascends the peak from sea level to summit block in about a mile.
Do it on the first leg of a 3.2-mile loop. The fun starts almost immediately with "The Intimidator," a boulder that demands a couple of awkward, hand-over-hand moves, then gets even better. Make your way through a scree field to the base of the peak near mile .4, then begin climbing in earnest, scrambling along the base of a cliff to the first iron ladders. Go up, up, and away to reach the 2-foot-wide ledge that leads to the summit block. Railings and iron rungs placate your nerves at the sketchiest sections, but the drop-off to the Atlantic still brings to mind The Princess Bride's "Cliffs of Insanity." Take in the view of Bar Harbor and the Porcupine Islands to the north before looping around on the Orange and Black Path.
Trailhead Precipice (44.3495, -68.1879) Season August to November (it's typically closed spring through midsummer for nesting peregrines) Permit None Contact
Distance 3.2 miles (lollipop-loop)
Time 1 day
Fear Factor 3 out of 5
Pfeifferhorn East Ridge, Lone Peak Wilderness, Utah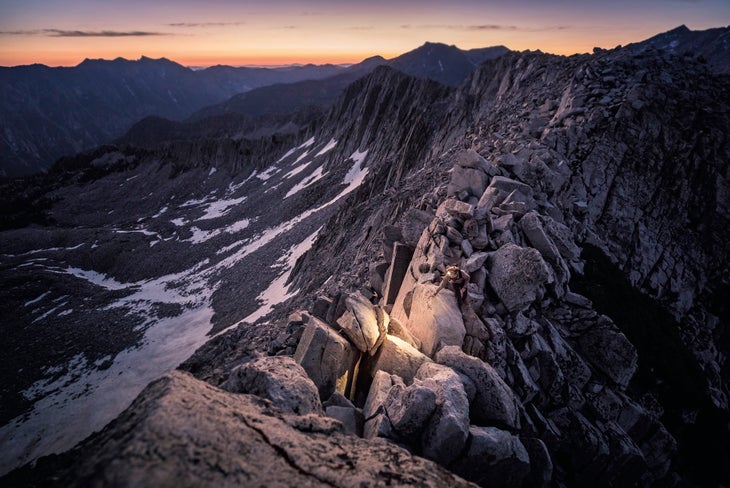 The 11,326-foot pyramid of the Pfeifferhorn rises from the edge of Utah's Lone Peak Wilderness like a shark's fin. It stands more than 700 feet above the other points on the ridgeline, a uniquely high vantage over the rest of the Wasatch, including a stunner of a view down Little Cottonwood Canyon, just 3 miles north.
Snow-free ridges offer beginner-friendly scrambling and routefinding, so head out now before the season ends. From the White Pine trailhead, thread together the White Pine and Red Pine Canyon Trails to the upper Red Pine Lake near mile 3.5. The teal teardrop makes for a nice stop if you can grab a wind-protected site among the Douglas firs at the edge of treeline. Next day, scramble .5 mile to the East Ridge before taking on the adrenaline-pumping, class 3 shimmy along a knife edge full of jumbled talus to the true summit.
Trailhead White Pine (40.5755, -111.6812) Season July to October Permit None Contact 
Distance 9 miles (out and back)
Time 2 days
Fear Factor 3 out of 5
Torrent Falls Via Ferrata, Red River Gorge, Kentucky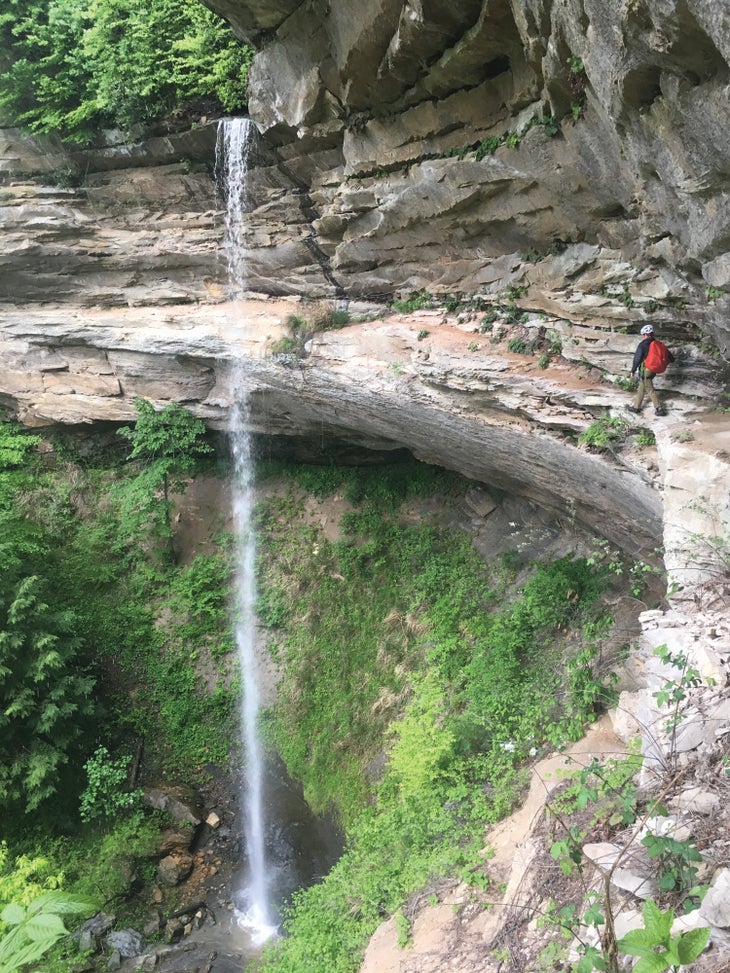 Iron, water, and lots and lots of air—that's what you get when you traverse the vertical sandstone cliff behind Torrent Falls. The first commercially operated via ferrata in the United States (it opened in 2001), the iron-rung route is a local classic, so grab a day pass and then clip in for a grand traverse of the .7-mile-long, horseshoe-shaped canyon.
The route is broken into six sections that are varyingly difficult. For one, you'll cross behind Torrent Falls (pictured); for the fourth segment, you'll air it out 120 feet off the ground, standing on a skinny piece of iron. As you move along the rock walls, the gorge seems to swallow you whole, granting you views across the forest to the other big walls. When the hardwoods turn in fall, the space between erupts into a rainbow of reds, purples, oranges, and yellows. Add a bit of intrigue by knocking out the course under the full moon.
Trailhead Torrent Falls Visitor Center (37.7196, -83.6620) Season March to December, but fall is best for cool temps and foliage. Permit Day pass required ($48); reserve at (606) 668-6613 and sign in at the Torrent Falls Visitor Center. Contact 
Distance .7 mile (point to point)
Time 1 day
Fear Factor 3 out of 5
Bear Creek Trail, Uncompahgre National Forest, Colorado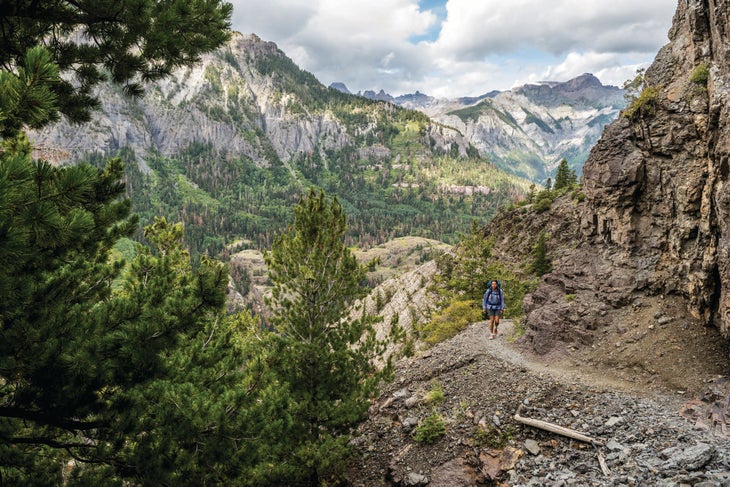 There would be no Bear Creek Trail without gold. In the late 1800s, miners in Ouray discovered ore in the steeps surrounding the brittle, slate-and-quartzite canyon walls of the Bear Creek gorge. They promptly blasted a path along the side of the vertical cliff to access the seams, but it's no cakewalk: It narrows to just 2 feet wide as it teeters 200 feet above serpentine Bear Creek.
Today, you can follow the historic mining trail—which has earned National Recreation Trail status—on a 7-mile out-and-back. Start out hot, climbing 1,000 feet in less than a mile through stands of aspen (foliage peaks the last two weeks of September) before leveling off for the catwalk: For .8 mile, balance on the shoulder-width, dynamite-hewn shelf above Bear Creek. After crossing a rock drainage near mile 1.8, you're back on solid ground and moving again through aspen groves on a wide trail. Look for abandoned mining equipment starting at mile 2; you'll pass the Grizzly Bear Mine before continuing on to Yellow Jacket Mine (do not enter either one) at mile 3.5. Set up camp in the meadow for a tent-door view of 14,150-foot Mt. Sneffels.
Trailhead Bear Creek (38.0029, -107.6620) Season July to October; July and August for wildflowers, September for foliage Permit None Contact
Distance 7 miles (out and back)
Time 2 days
Fear Factor 3 out of 5
Highline Trail, Glacier National Park, Montana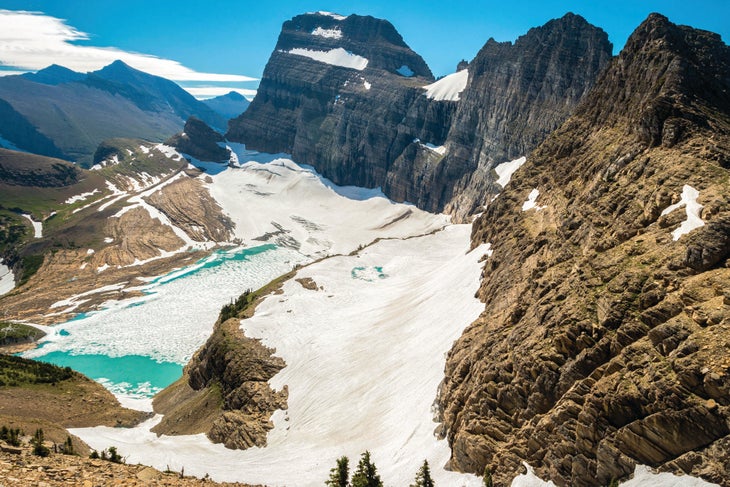 As you can imagine, the Continental Divide is pretty inhospitable, featuring little more than rock and thin air on its north-south course across the country. But Mother Nature made an exception in Montana, where the crest dips to 8,400 feet and mingles with a perfect cocktail of sunlight, oxygen, and precip to create an oasis for flora and fauna. Mountain goats, wolverines, and bears (both kinds) call the area home, while meadows choked with wildflowers cling to the slopes. And so will you, on the 7.6-mile trip along the Garden Wall.
The Highline Trail hits you with major exposure right out of the gate, delivering you to a 3-foot-wide shelf etched into a rock wall with 500-foot drop-offs in the first quarter-mile. Though the stress-sweat section lasts a mere .3 mile—and a hand cable on the cliff adds a layer of safety—there's no railing, so make the rock your friend. After that, leave the crowds as you hug the cliffs of the Garden Wall on a relatively mellow journey to Granite Park, bobbing through alpine meadows with long views of Glacier's toothy topography. At Granite Park, you can head about 4 miles down to Going-to-the-Sun Road via the Loop Trail to catch the shuttle back, or stay awhile: Spend the night either in the Granite Park Chalet (reservations required; graniteparkchalet.com), an early-1900s hiker's hostel with cots and a stove, or in the tree-shaded campsites nearby (reservations also required). Once you've gotten this far, you simply can't go wrong.
Trailhead Logan Pass (48.6956, -113.7177) Shuttle Take the free return shuttle to Logan Pass. Season July to October Permit Required ($7/person per night); reserve online for $40 extra. Contact 
Distance 11.6 miles (point to point)
Time 2 days
Fear Factor 2 out of 5
Maroon Bells Traverse, Maroon Bells-Snowmass Wilderness, Colorado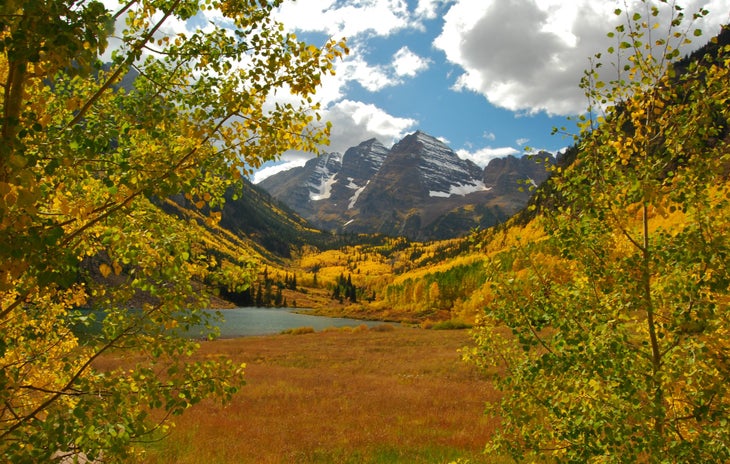 Full disclosure: The traverse between 14,156-foot Maroon Peak and its sister summit, North Maroon Peak, is as much of a climb as it is a hike. You'll face low-class 5 climbing moves while hanging onto mudstone thousands of feet above safe ground (technical gear required). But if you have mountaineering chops and a taste for the dramatic, there's a certain satisfaction that comes with standing on top of the peaks made famous in countless photographs—the cover of this magazine included.
Complete the traverse as part of a 10.5-mile loop from the uber-popular Maroon Lake area. Dayhikers literally show up by the busload (Aspen runs a shuttle to the Bells), but you'll leave the tourists behind quickly: Peel off the Crater Lake Trail and test your commitment on a soul-sucking, 4,000-foot climb up Maroon Peak's class 3 east face. Summit near mile 6, where you'll find a view of the other five Fourteeners within the wilderness area. If that initial climb was borderline for you, turn around for a 12-mile out-and-back. If not, go for North Maroon via the .5-mile Maroon Bells Traverse, which has more exposure than an X-rated movie and requires a few class 5 moves around towers and chimneys. (Don't attempt without a 40-meter rope, a light trad rack with small to medium cams, and a helmet.) Hit North Maroon Peak near mile 6.5, but don't relax yet: You've got a class 4 scramble down the other side before you're truly safe. Get an alpine start and expect to spend 14 hours car to car if all goes well.
Trailhead Maroon Lake (39.0985, -106.9406) Season July to October Permit None Contact
Distance 10.5 miles (loop)
Time 1 day
Fear Factor 5 out of 5
Angels Landing, Zion National Park, Utah
No list of scrambles is complete without the mega-exposed walk to Angels Landing, a crows-nest promontory above Zion Canyon. The trail, which narrows to less than a few feet wide, has hand chains, 1,500-drop-offs, and, apparently, flash floods. As of press time, the access to Angels Landing from the Grotto had been washed out, closing it indefinitely. The park has plans to open it again by the end of the year, though, so start planning a trip to the fin-like ridgeline now. There's no better vantage over the teal ribbon of the Virgin River—at least on this Earth.
Trailhead The Grotto (37.2591, -112.9516) Red tape Keep tabs on Angels Landing at nps.gov/zion. It should open up again before 2019. Season April to November Permit None Contact
Distance 5 miles (out and back)
Time 1 day
Fear Factor 3 out of 5
A Word of Caution
The trips here are grand, but they're not the places to test unproven skills. Most of these hikes require class 3 scrambling, meaning the terrain is steep, but hand- and footholds are abundant. (If you can handle heights, you can handle class 3.) Be wary of class 4 terrain, which requires three points of contact (ropes recommended), and, of course, class 5 terrain, which requires straight-up climbing and full gear. Via ferratas are a class of their own: Literally "iron ways," these routes travel vertical terrain by way of rungs, railings, and aids. They always require a harness, helmet, and some combination of slings, locking carabiners, and/or lobster claws to clip in.