Chase Alpine Solitude on Yosemite's Border
Ditch the crowds but keep the views at Boundary Lake in California's Emigrant Wilderness.
---
Join Backpacker
Create a personalized feed and bookmark your favorites.
Join Backpacker
Create a personalized feed and bookmark your favorites.
Join for free
Heading out the door? Read this article on the new Outside+ app available now on iOS devices for members! Download the app.
I unzip my tent door to reveal silky granite rock faces crowning Boundary Lake and a quiet so still and peaceful, it's almost like the Earth is holding its breath. I'm in the backcountry on the northern border of Yosemite National Park, where I've seen zero people in 48 hours. Two days ago, I headed into the mountains on the boundary line between national forest and national park. Halfway through the 13-mile trek, the landscape changed from sugar pine forest inundated by families of quails to slabs of granite peppered by alpine lakes and, rumor has it, mountain lions. When I got to Boundary Lake at 7,500 feet, every single campsite was open for the choosing. My only real dilemma in this slice of solitary paradise? Convincing myself to look away long enough to sleep.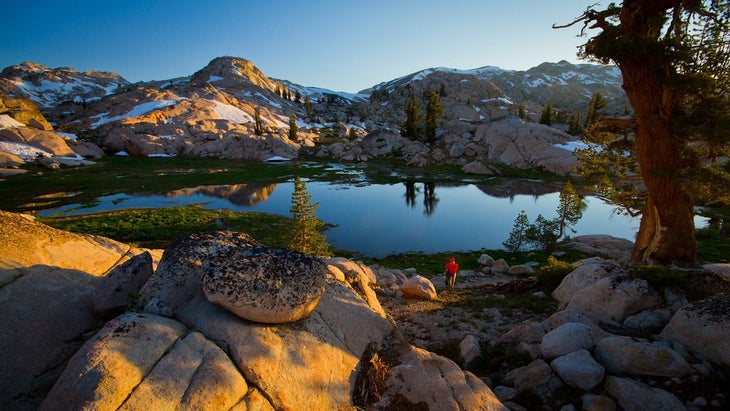 Trip Stats
Distance: 26.6 miles
Time: 2-3 days
Difficulty: 4.5/5
Overall:  4.5/5
Turn-by-turn from the Lake Eleanor trailhead off Cherry Lake Road
(1) Head 2.2 miles north through sugar pine woodlands on the unsigned trail toward Shingle Springs. Before the road washed out and closed beyond Lake Eleanor, Shingle Springs used to be the trailhead. 
(2) Continue north, going uphill toward Kibbie Ridge, then turn west (right) toward Styx Pass at a signed junction at mile 3.4.
(3) Near mile 4.8, cross a mostly stagnant stream and the first of many boundary markers, entering the Emigrant Wilderness.
(4) Climb to the ridgeline and 7, 072-foot Lookout Point at 7,072 at mile 6.5, gazing out over Yosemite to the east. 
(5) For the next several miles, enjoy a fairly flat forest walk through ferns and young spruce. Don't be alarmed by the helicopter sounds; that's just quail. At mile 9.5, top off your bottles from Sachse Spring. 
(6) After Styx Pass at mile 11.8, follow a dozen switchbacks down into a striated granite bowl.
(7) Pick your way southeast toward a screen of trees hiding Boundary Lake at mile 13.3. 
(8) Retrace your steps back to the trailhead.
Trip Data
Permit Free through Groveland Ranger District (bear canister required) Contact Emigrant Wilderness GPX Boundary Lake