Arkansas's and Oklahoma's Ouachita Trail Is Pure Mountain Magic
Two thru-hikers find unexpected trail magic on one of America's lesser-known thru-hikes.
Heading out the door? Read this article on the new Outside+ app available now on iOS devices for members! Download the app.
The deciduous forests of Arkansas' and Oklahoma's Ouachita Mountains aren't a typical dream destination, especially in late fall. Clouds hang low and gray over the hills, and even without leaves, the branches create a dense dome overhead, obscuring almost all views. But in November, as we laid down our maps in our living room to plan out a new route, the 223-mile Ouachita Trail seemed like the best option for a spur-of-the-moment thru-hike for my girlfriend Maggie and me.  
For the past several years, I've explored new regions outside my home state of Montana by thru-hiking them. I crisscrossed Alabama by hiking the Pinhoti Trail, climbed rocky northern Vermont on the Long Trail, and traversed jungles of Costa Rica via the summit of 12,536-foot Mount Chirripó, the tallest peak in the country. This year it would be the Ouachita Trail in Oklahoma and Arkansas—my first time in either state. 
The Ouachita Trail is the centerpiece of a corridor of public lands that stretch from eastern Oklahoma to western Arkansas. It is not well-known nationally, but is a source of pride for regional hikers. Hunters, bikers, and backpackers all make use of the dense forest that blankets most of this long trail. 
Maggie and I flew into Oklahoma City and were welcomed by a hiker I had met briefly on the Colorado Trail two months earlier. I had contacted her before this trip, and her family saved us dinner despite the late hour and stayed up to ask about our upcoming adventure. The next morning she drove us out to the trail. Our host didn't seem to mind the six-hour drive; she chatted the whole way about the landscape and cultural history of the area. It was our first introduction to the kindness and generosity of the region's locals.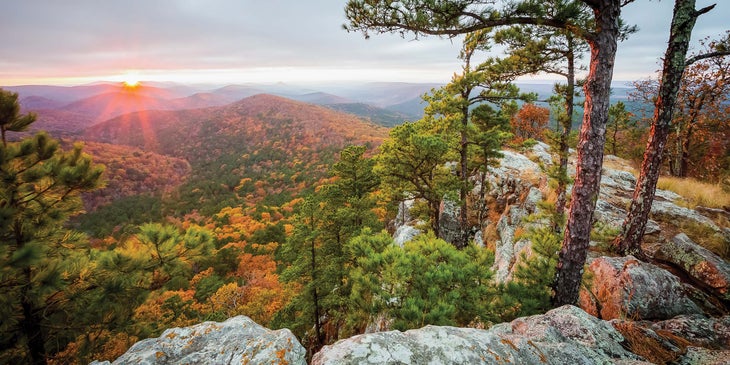 November daylight hours are limited, so we started from the trail's western terminus at Talimena State Park in Oklahoma well after dark. Maggie stepped ahead and squinted through the narrow beam of her headlamp.
"This trail is blazed?" she asked, turning around and temporarily blinding me. Sure enough, our headlamps reflected off blue marks carefully painted on trees, right at eye level and as even as those along the Appalachian Trail. 
This is when I realized how little we knew about our two week thru-hike. Blazes are common on East Coast trails, but largely absent elsewhere, and we were pleasantly surprised to find them here. We hiked for several hours the first night, stopping to take photos of stick bugs slowly crawling on bare branches while leaves crunched under our feet. There was plenty of life and beauty to find, even in late autumn; with the occasional roaming hunting dog trotting across our path and delicate deer prints pressed into the dirt, it was hardly the gloomy late-fall trek we had imagined.
I was impressed when we reached the first lean-to: A three-sided structure far surpassing the quality of those on the Appalachian Trail. It was newly built, and surrounded by a large camping area. The trail itself was well cared for—maintenance completed with obvious passion by volunteers who, we would find, take the same pride in this trail as they do in their reputation for generosity. 
Over the next four days, the trail continued up and over rocky, rolling hills. Though we stayed under trees, the clinging mist and dense fog created an atmospheric, cozy-feeling trail. It was like our own small bubble away from the rest of the world. Deer darted across the path, and turkeys flew off as we approached. We crossed forest service roads and two-lane highways every few hours, but still felt deeply immersed in the wilderness. 
Unlike the thru-hikes of the West, the Ouachita Trail has little competition for local trail volunteers: This hidden gem is the sole benefactor of local trail enthusiasm and volunteers. As we continued past that first shelter, the care became even more evident. Every single mile is marked with reflective signs. Shelters equipped with a broom and a trail register dot the route every 10 miles or so, all in remarkably good condition. Not a single roof leaked. 
As we pressed on into day four and mile 61, the terrain remained challenging but rewarding. The climbs were short but steep, and rocky sections required constant attention to where we put our feet. We basked in the intermittent sun, reminded not every state has a bitterly cold November like Montana. The Ouachitas don't overwhelm with mammoth mountains or sweeping views, but the meandering path through the dense forest has its own appeal and mystique. The landscape subtly changed throughout each day from deciduous groves to pine forest, the trail underfoot from dirt to rock and back. The beauty was in the details: the fog clinging to the hills and the subtle signs of life—fox and coyote dens tucked in clusters of rocks, crawfish beneath the clear water at every stream crossing.
Even when we were the only ones on the trail, the presence of the volunteer community was everywhere. There were phone numbers in each shelter to call in emergencies and an active social media group of volunteers and enthusiasts. It instilled a feeling of wanting to give back and volunteer on our local trails. When Maggie popped her sleeping pad a week in, I was able to connect with a local trail angel  who, just a few days later, set up a surprise of tacos and her choice of three inflatable pads at a trailhead. It was the kind of trail magic you'd expect on major, heavily trafficked trails, not a little-known route that sees just a couple hundred thru-hikers each year. It made the experience all the more special. The above-and-beyond kindness of the trail community was incredible.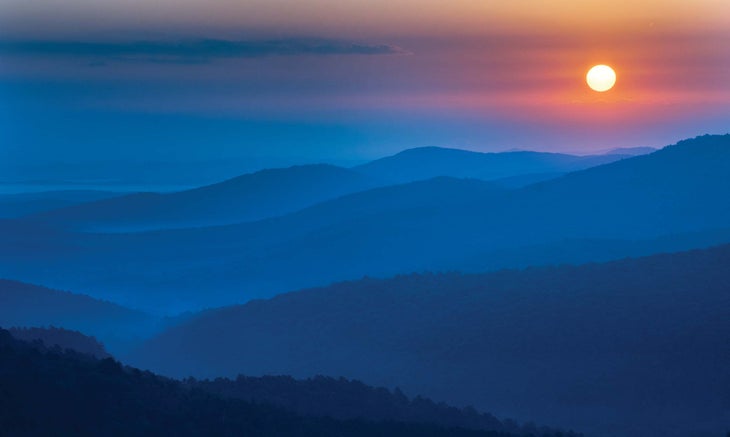 Thanksgiving was fast approaching as we closed in on the eastern terminus near Little Rock, Arkansas. It was our first Thanksgiving as a couple, and we were getting to spend it on a thru-hike: What better way to celebrate? We had been on the trail for 10 days, with three more to go, and we were ready for a reason to have a relaxing evening in the woods. Maggie and I grabbed an easy hitch to Hot Springs Village and picked up packaged instant turkey dinners from Dollar General, then got another quick ride back to the trail. Back at our shelter for the evening, we warmed our dinner over a small fire, scraping chunks of turkey and gravy out of the thin plastic container. We didn't need a four-course meal or even four walls. Spending Thanksgiving outside in nature, 190 miles into a hike, meant more to us than a traditional feast would. 
The atmosphere of help and generosity didn't end with the trail angels. Conversations sprung up with every passing hiker, store clerk, and driver—people seemed to genuinely care about our adventure. The idea of hikers traveling to their region for a backpacking trip brought more questions and smiles than I've ever experienced in my 30,000 miles of hiking. Some had heard of the Ouachita Trail, and some had not, but nearly all wanted to know about the wildlife we had seen, our gear, and if we were going to stay safe in the upcoming storms. 
As we neared the end of the trail, the terrain smoothed, and we walked briskly over the flat shores of Lake Maumelle in central Arkansas. The sun was out, and the landscape had turned entirely to thin trees opening up to views of the expansive lake. It was still November, but it felt like summer. The weather quickly changed one last time, though, before we hit the terminus. 
With only a couple of hours to hike in the morning, we dressed in everything we owned and walked with our heads hung low in a torrential rainstorm. It wasn't a picturesque last morning, but the driving rain and wind pushed us to Pinnacle Mountain State Park, just outside of Little Rock, Arkansas, and the completion of our 13-day thru-hike. 
Over 223 miles of the Ouachita Trail, I experienced more regional pride, generosity, and community than on nearly any of the more well-known trails I've been lucky enough to explore. We never felt like outsiders. From the unexpected trail magic to the pristine condition of the trail and shelters, the constant welcoming I found on this trip brought me a feeling of belonging in a land I'd never been to before, but to which I'll happily return. 
Do It:
Hike the Ouachita Trail
Season year-round
Trailhead 34.7834, -94.9511 See it on Gaia
Permit none
Distance 223 miles
Days 10-15